Boxcryptor updates its desktop app with Windows 10 support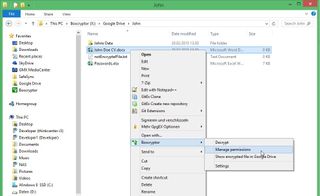 While we mostly focus on alerting you to Windows 10 apps that can be downloaded from the Windows Store, we are making an exception with the latest desktop Windows release for Boxcryptor. The company has recently released version 2.2 of the app, and it adds full support for Microsoft's latest operating system.
For those of you who are not familiar with Boxcryptor, the app allows its users to encrypt their data before uploading and storing it to a cloud storage service such as OneDrive or Dropbox. This week the company announced:
Aside from Windows 10 support, version 2.2 of Boxcryptor also has some general performance improvements. However, there are two known issues with this version:
Cannot add a folder of the Boxcryptor drive as location to the Windows Photos app.
Due to a driver incompatibility, Strato HiDrive is currently not supported in this version. If you want to use Boxcryptor with Strato HiDrive, please do NOT update to this version and instead use Boxcryptor for Windows v2.1.417.123. We are working on this issue and try to resolve it as soon as possible.
Once again, this update is just for the desktop version of Boxcryptor. The company has not yet indicated if it will update its Windows Phone or Windows 8.1 apps to add Windows 10 support as well.
Source: Boxcryptor
Windows Central Newsletter
Get the best of Windows Central in in your inbox, every day!
I thought Win32 apps could be put in the store now. Or is it not supported yet. Would be great to get everything in one place.

Not supported yet..it is supposedly coming sometime in 2016

The way I understand it is those apps are wrapped up and isolated, I think it would restrict the apps to similar storage as Windows Store apps (I could be totally wrong here haven't read enough about it yet), if that's the case then it will be difficult to integrate with the file system in the same way, not sure it would even be possible at this point...

Support means! adopting the Toast Notification of windows 10 with notification center. When will the Skype desktop app will follow? dont like thier notification .

Glad to see it. This has been one of the stoppers for me upgrading my desktop to Windows 10.

Windows encryption works on Onedrive and it's built in to Windows. In other words, no additional program required. http://windows.microsoft.com/en-ca/windows/encrypt-decrypt-folder-file

I updated to Windows 10 but have been very much in need of this application update. I'm glad it's available now. Thank you Boxcryptor.
Windows Central Newsletter
Thank you for signing up to Windows Central. You will receive a verification email shortly.
There was a problem. Please refresh the page and try again.