Brazil mall may be revamping a Nokia retail store with Microsoft branding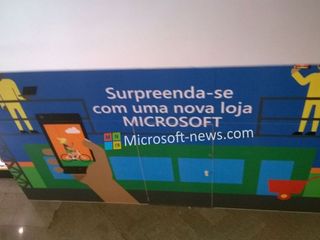 A new report suggests that a Nokia-branded store in a Brazil mall may be getting a makeover and will reopen soon with Microsoft branding. However, it's not clear if this will be a full-featured Microsoft Store like the ones that are in North America.
The report from Microsoft-News.com includes a couple of images from the Mall Eldorado in São Paulo, Brazil. The photos show a familiar image for shoppers when a store is making changes with a cover designed to hide the work going on inside. The cover has a message which translated means, "Surprise yourself with a new Microsoft store."
However, this could be just a store that sells Microsoft Lumia smartphones and not a full store that sells other hardware and software from the company. Brazil is one of the biggest markets for Windows Phones.
Microsoft announced on Monday its plans to launch its first full retail store outside of North America in Sydney, Australia, but there's no word on when it might open.
Source: Microsoft-News.com
Microsoft should hire Adriana Lima as their Lumia brand ambassador.

She is so gorgeous, but with all the fuzz about Giselle retiring, maybe she could be a more talked about option.

Cool! from Nokia phones to all Microsoft products

Got my Lumia 930 there a few months ago. Nice store. A little too small to be a fully fledged MS store, I guess.

Convert Philippine Nokia Stores to Microsoft Stores as well.

Should be worth noting that the vast majority of the "Nokia Stores" didn't actually belong to Nokia. They were franchises operating under the Nokia brand. So this could end up being a franchised Microsoft Store not a Microsoft-owned Microsoft-Store like the ones in the US.

Keep em coming! Microsoft needs a store in London and other key cities in Europe.

I need one in my freaking neighborhood!

Well you have a coffee in Berlin "unter den Linden". The latest tech standing around and you can play the xbox. Just make sure you log out of accounts using those tablets.. seen email accounts still being logged in

Come here in India please!

All I want is Surface to be sold here but I won't holding my breath for it.

I second that. I need to replace my Surface 2 for a Surface 3 ASAP!

I third that, LOL
I would buy the upcoming Surface on Day 1 if I could, I have the first Pro bought in Canada.
Would have bought the pro 3 already, but now it's to late.

YOU need to replace a Surface 2? But you know what? I'm still using Surface RT!!!. Worse than that, the left side is not recognizing touch anymore. Jokes aside, I just want Microsoft selling those things at least online here in Brazil.

Nossa, mano, que merda!! Hauahau
O meu ta todo descascado e tem uns dead pixels no canto inferior esquerdo da tela. Enfim, eu quero pegar o Surface 3 justamente por ele ter o Windows 8.1 completo (e pronto pro Windows 10) e não ser necessariamente tão caro quanto o Pro 3.

expectativa: surface 3, band realidade: lumia 640 laranja

There are no Nokia-owned stores in Portugal. So only when either Microsoft decides to put their building in Expo to good use (seriously, they could have a major Flagship store there...argh...) or when the franchises using the Nokia-Brand decide to do it. Which is unlikely since the Nokia Stores that actually belonged to Nokia were all bought by Ensitel or closed in 2009 after Eflop took over. And Ensitel uses their own brand.

Hummm i know. But perphaps someday Vasco da Gama Mall could have a MS Store.

I have been there. It might be an indirect sales shop. The area is also not that big for a MS-Store, but I could be wrong. The Mall has a very good reputation in São Paulo. Cheers!

OMG!! I was so expecting this! Hopefully it'll reopen soon. Although I believe it'll only be a WP store and not a full-fledged MS stores like the ones in the US.

May be till 2016 they are going to change every Nokia store to Microsoft store.

Well, I saw the other pics and realized this has nothing to do with the former small Nokia Store I knew there. So, wow! Literally big news!

Do we even have one in south Africa

That's where I bought my Lumia. It's a very small shop, with phones and accessories only. But the mall is great, one of the most populars in SP.

Cool news, too bad SP is too immense for mento go there purchase my Microsoft stuff. MS should have more than one store in São Paulo as the city is really huge.

The other article mentions "It's worth mentioning that the company might rebrand the exisiting Nokia Store — which is situated in the same mall. Here's the advertisement", so the picture would be from the exiting store being rebranded (was there the day before yesterday, the cover was just blank). So besides this one *another* store can be expected? Wow! I can be happy with that :-)

I was saying the same today on Microsoft tribe on the Verge.. Why doesn't Microsoft convert the Nokia stores to Microsoft stores.. Granted they maybe small.. But something is better than nothing..

actually that is already on cards.. there is already a Microsoft store at Phoenix Market City in Bangalore.. been about 3-4 months atleast.. its only phones so far.. but there is a plan to expand to other devices / software etc..

Yup, Phoenix market city in Bangalore has one Microsoft store, should take a picture and tip here.

Only in Bangalore..? Well that's a bummer.. They should seriously expand to all other cities ASAP.. And need to get the Surface here.. Not to mention a tonne of money marketing their products.. It's as if barely anyone knows about them..

According to Elop, Brazil is the second biggest market for Windows phone, it sells better than iPhone here

Damn, I'd like this in Philippines. I'd also love it if they bring the Surface products here.

That store is the one I bought my 920 two years ago. Although it's a good looking store, it's too small for anything other than Lumias. So, if they're not changing location in the mall, it'll still be a store just for phones. Whish Microsoft Brazil would one day wake up and realise that Brazil shoud have gotten a MS store since they started opening stores. Brazil is a huge market for Microsoft. Sometimes, it really feels that they don't have any intentions of making money in Brazil. IMO. :-)
Windows Central Newsletter
Thank you for signing up to Windows Central. You will receive a verification email shortly.
There was a problem. Please refresh the page and try again.