BulletAsylum joins the Windows Phone Red Stripe Deals of the week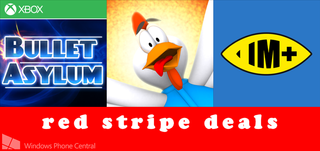 Windows Phone 8 gamers are currently enjoying this week's new Xbox title, the delightfully free and also just plain delightful Jetpack Joyride. But you can never have too many games, especially when you're addicted to Xbox Achievements. Your mouth gets dry, the shakes start to set in, and only a new game will keep you from eating a family sized bag of Whoppers (wrapper and all) in your delirium.
Enter the Xbox Red Stripe Deal of the Week, only too eager to ease the pain! The latest weekly sale title is BulletAsylum from UberGeekGames. Normally priced at $2.99, it's now discounted to 99 cents. BulletAsylum previously went on sale for $1.99 once in May 2012, so this is a better deal… Probably what the game should always have cost, in fact.
The new non-Xbox Red Stripe Deals are indie game Chicken Invaders 3 from Betacom and popular instant messaging app IM+ Pro. Both cost only a dollar this week, which is an especially good deal for the normally $5 IM+ Pro. Read on for more details, screenshots, and download links!
BulletAsylum (Windows Phone 7 or 8)
Regular price: $2.99 Sale price: $.99 Download size: 16 MB Store Link
BulletAsylum is a modern take on the arcade classic Missile Defense. Aliens rain down from the sky and it's up to your turrets to stop them. You can use a single finger to fire all your weapons at one area or two fingers to split the fire. Game modes include the extremely easy Arcade, an endless Survival mode that has no Achievements for some reason, and the frustratingly hard Architect mode.
It's easy to get into BulletAsylum thanks to the pretty colors and flashing lights. The unlocking system is decent, and the Achievements are attainable for most mortal men and women. Still, I found the gameplay far too simplistic to maintain interest; the lack of depth really keeps the game from having much staying power. At least it's only a buck right now! Check out our review to learn more.
Chicken Invaders 3 (Windows Phone 7 or 8)
Regular price: $2.99 Sale price: $.99 Download size: 19 MB Store Link
This indie game is a clone of Galaga but with an aggressive army of poultry serving as the enemies. Downed enemies dropped fried chicken for players to collect. Score enough of it to get screen-clearing bonus missiles. Silly premise aside, Chicken Invaders 3 is kinda-sorta pretty and probably plays better than the poorly-controlling Galaga Legions DX. It also comes in Christmas and Easter variations, but only the main game is on sale. Give George's review a look if you're curious about the gameplay.
IM+ Pro (Windows Phone 7 or 8)
Regular price: $4.99 Sale price: $.99 Download size: 3 MB Store Link
Wouldn't it be convenient to have one instant messaging app that can communicate with all the different IM networks you use? IM+ Pro does just that. It supports: Skype, Facebook, Google Talk, AIM, Yahoo!, ICQ, Jabber, and a bunch of foreign networks as well. The only missing feature I'd like to see is Steam chat support, but I assume the Steam platform is closed to IM developers. On Windows Phone 8, the app even supports fancy lockscreen notifications. IM+ Pro comes in free and this paid, ad-free version. If you hate ads but love chatting on your phone, it might be time to drop a dollar on this one.
Thanks to Marcel at InsideGames.ch for the tip!
Paul Acevedo is the Games Editor at Windows Central. A lifelong gamer, he has written about videogames for over 15 years and reviewed over 350 games for our site. Follow him on Twitter @PaulRAcevedo. Don't hate. Appreciate!
BulletAsylum here I come .. :)

Finally IM+ Pro at .99. Now just need the windows 8 version to do the same.

Does IM+ really bring something to the table when you already got Skype, WhatsApp and Facebook messenger installed?

It does if you use Google Talk, AIM, Yahoo!, ICQ, Jabber, "and a bunch of foreign networks" :P

Nothing I use, so I think I can skip it. Thanks!

my phone stopped sending store notifications - I have to check every single app manually to update it! has anyone experienced a similar issue with their WP? it's been like this for two weeks now!

I thought it was just me. Hopefully its just temporary.

Me too!Is there anything we can do to fix it on our own?

The update notification takes time .. Like a day or two

have you read the whole post?

I have stretches of weeks where this is the case. Some will you say to you wait a day pr two. I go weeks not knowing an update exist unless I go to a thread here in the forums where people share what's been updated.

First thing to know is that updates checks occur every day at a fixed time. So make sure to leave your phone on with data connection available for a few days.
Anyway, there is a known problem with the store tile sometimes getting stuck. Try following this sequence:
1) unpin store tile
2) clear IE cache& history (parameters, applications, IE)
3) Soft reboot phone (off switch+volume down for then seconds, until phone vibrate)
4) Re-pin store tile
5) set back time and date
6) switch off and switch on phone normally
Then let your phone on with data connection for 2-3 days and see if you receive updates.
If not, try again by replacing Step 3 (soft reboot) by the installation of a new keyboard (parameters, keyboard, add a keyboard) with a different character set than the one(s) you already have (one that includes a download). This will trigger an update of the operating system with spinning gears, reboots, migration of parameters, etc (be prepared for 15 mins of anguish), but this should solve the problem without loosing all phone content.
The extra keyboard can be safely removed just after (removal will not trigger an update of the system)
So far it happened twice to me and both times, I could get the store tile working again following these steps.
Good luck!

Thank you for posting that, man. Nicely said.

I find I have to connect to mobile data, as opposed to just WiFi, before heaps of updates come in

Delete your store tile from the front. Then Go to internet explorer and delete your cache/ history. Restart your phone. When it comes back on, repin to the front and it should now work.

Is Skype in IM+ Pro more power efficient?
Does it support fast toast messages?
When i use skype, the battery drain is very high...

I friggin' LOVE the game. Good luck getting over 1M in Architect mode. BTW, loved the musician Imphenzia since this. Add me to beat my scores, if you'd like: same name.

I still don't think that IM+ Pro is worth the buy, just to remove the ads. I'd rather keep my free version and keep hoping that Trillian eventually releases, because it's a much better application.
Windows Central Newsletter
Thank you for signing up to Windows Central. You will receive a verification email shortly.
There was a problem. Please refresh the page and try again.