Buy an NVIDIA GTX 970 or above, receive Rise of the Tomb Raider for free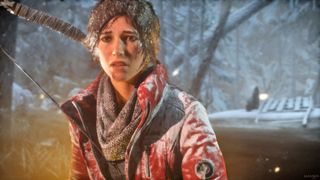 Various retailers are currently running a deal where you can grab a free copy of Rise of the Tomb Raider should you pick up a brand new NVIDIA GTX 970 or above. We've spotted this offer on Amazon in the UK, as well as Newegg in the US. If you're on the hunt for a new graphics card, you may want to check out this promotion should you be a fan of Lara Croft.
Do note that this offer doesn't cover all GTX cards by NVIDIA. Only those in the GTX 970 range or above will be accepted for the promotion. You can view the full list of retailers who are participating in this deal over on NVIDIA's website (opens in new tab).
Windows Central Newsletter
Get the best of Windows Central in in your inbox, every day!
Rich Edmonds was formerly a Senior Editor of PC hardware at Windows Central, covering everything related to PC components and NAS. He's been involved in technology for more than a decade and knows a thing or two about the magic inside a PC chassis. You can follow him on Twitter at @RichEdmonds.
Ermmm... Wasn't Tom Rider a generally an AMD game. With trexFX and stuff?

Tomb Raider* and good point.

It was, but you could run tressFX on CPU just fine if you really wanted to on an nVidia rig. But this is not that game, this is the sequil.

TressFX is a DX11 compute effect and runs on the GPU.

Ruse will still have TressFX 3.0, except it will also feature Nvidia's next gen AO implementation (which is awesome).

Windows store or steam version?

Yeah guys buy a $600 chip that makes a your game corners look crisper, the snow flakes more hexagonal and your players hair a little shinier because you are made of money.

Right, because equating owning a computer with genocide isn't offensive at all...

My pc:
I5 6600K skylake
Gtx 960 4G
16G ram
Msi lg1151 k6
I bought this pc because i really love RPG MMORPG and strategy games but still i spend more time with my x360 , ofc and my pc is better than Xone and Ps4 but i spend 1100€(without monitor keyboard,mouse) so i cant understood this logic to compare a pc 1100€ with a console 325€.
Console Peasant Race FTW

Gtx 970 retails for as little as 300 bucks. It also allows you to run these games at 1440p. Let's see your console do that.

I don't see where the OP even remotely mentioned consoles, but as long as you enjoy PC Master Race-ing.

http://www.newegg.com/Product/Product.aspx?Item=N82E16814500362&cm_re=gt... $299, that's as little as $300. Technically I could get it much cheaper if I sell my AMD cards too.

Isn't this card obsolete when Pascal comes out in a couple months?????

So tempting right now!
DVDFab just released an update allowing h.265 GPU encoding on these cards which would bring a bluray rip from a 6-10 hour process down to an hour or two. Plus a fancy new game that looks to be as good or better than the last one (which was fantastic if you have not played it yet). Only issue is that I am looking to upgrade to a 4K display at some point in the next year or so and the next gen GPUs coming out this summer/fall will be MUCH more 4k capable than anything available right now. So pick this up now and sell it in 6-8 months? Or just wait... decisions decisions.

I'd be surprised if a 970 was $600 USD, maybe AUD, recomended my mate buy a GTX970 G1, he picked it up last night in Czech Republic for $430 straight conversion - but he got the game with the GPU, not the GPU for the game.. :)

Ugh I barely purchase 750 Ti with my pocketmoney. I guess I'll get this game later separately

I doubt anyone is spending $300+ on a GPU to get a $50 game.

Poor Lara looks so upset in all her Rise of the Tomb Raider cameos. Even she scoffs at the funds required to run her game. This is why people raid tombs.

What is the latest powerful Graphics Card from NVIDIA company ? (For laptop and PC)

GTX 930! You will have to get the USB version though, if you want to use it on your desktop and your laptop....
Cheers

GTX 980Ti and 980 for PC and GTX 980M for laptop. For budget card look for GTX 950 or 750Ti

"If you're on a hunt for a new card...",
"You may want to check out this promotion...",
"Should you be a fan of Lara Croft...".
I don't know, but I found these three sentences stitched together funny.

Rather have a Readon R9 390x.

I've had the 970gtx for over a year but I guess im not from a poor 3rd world country :/

I'll wait for my mate to upgrade his SLI setup. I get a free game then. LOL!!!
Windows Central Newsletter
Thank you for signing up to Windows Central. You will receive a verification email shortly.
There was a problem. Please refresh the page and try again.