Call of Duty: Vanguard and Warzone — Season 1 release date and everything we know
New maps, modes, anti-cheat, and more drop into Vanguard and Warzone as part of the new season.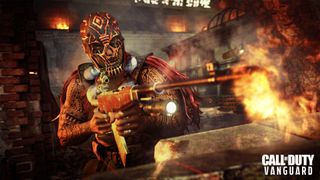 (Image credit: Activision)
Much like seasonal content released in 2019's Modern Warfare and 2020's Cold War, Vanguard's Season One will launch with a battle pass full of cosmetics alongside new maps and weapons. Call of Duty: Warzone, too, will benefit from the new season as players finally get to put boots on the ground in the new Caldera map for the free-to-play battle royale.
The release of the new battle pass and additional content comes as the game's publisher, Activision, continues to struggle with lawsuits alleging labor violations and calls for the CEO to resign amid claims that sexual assault allegations were mishandled. Employees staged walkouts in response to those allegations in the weeks leading up to the release of Season 1 that coincided with an unusual delay of the new content's release.
Call of Duty: Vanguard Season 1 release date and time
Players who own or purchase Call of Duty: Vanguard before Dec. 8 will receive 24 hours of exclusive early access to Call of Duty: Warzone's new Pacific-themed map, Caldera. Digital copies of Vanguard will have instant access during this special event, but if you have a physical version of the game you must install and boot Vanguard past its initial interactive screen before you can gain access.
The early access event will begin at 9 a.m. PT on Dec. 8, and will extend until 9 a.m. PT on Dec. 9, at which point the Pacific-themed update will be available to all Warzone players. An update released on Dec. 6 for Call of Duty: Vanguard has prepared the game for its Season 1 content, but players will not be able to access it until it goes live for everybody on Dec. 8.
Call of Duty: Vanguard multiplayer new maps, perks, and equipment
Call of Duty: Vanguard will receive two new maps with the launch of Season 1. The first map, Paradise, is entirely new to the Call of Duty franchise, and is built around the classic medium-sized, three-lane map style that is often popular among players. Paradise's name is a bit of a red herring, however, as the map is designed to resemble a weapons testing site and will feature an underground tunnel and pools of toxic waste.
The second map coming to Call of Duty: Vanguard is a reimagining of Modern Warfare 3's popular map, Dome. Now titled Radar, this map is a small radio station lined with cat walks that is sure to encourage hectic, close-quarters encounters.
For the first time in the franchise's history, two new multiplayer perks and a lethal grenade are being added as battle pass rewards. This sets up an unusual dynamic for the game, as players who purchase battle pass tier skips will have access to these much earlier in the season than those who level up through play. These rewards are available as free items through the battle pass, so you do not need to purchase a pass to unlock them.
The first unlockable perk, Serpentine, is at Tier 21 of the battle pass and will reduce incoming damage to a player while sprinting when it is equipped. The second perk, Intuition, unlocks at Tier 44 of the battle pass. Intuition is a hybrid of a past perk, High Alert, and Vanguard's Piercing Range but without the suppression requirement. Intuition is ideal for close quarters combat scenarios as it sends out a pulse that allows the player to see enemies — even through walls — so that they can prepare before another player bursts through a wall or jumps around a corner.
Another Call of Duty first comes with the new Special Incendiary Grenade, available as a Tier 39 unlock for the Season 1 battle pass. The special incendiary is a lethal grenade that puts the damage of Firebombing Run Killstreak in the player's hand. A large smoke cloud is produced by the grenade, with players taking burn damage when they are within range of it. The special incendiary grenade's damage scales with a player's exposure duration, and it lasts longer when detonated than Thermite or Molotovs.
The new special incendiary grenade will come in handy for closing off pathways through maps when Control returns as a game mode. Control is a popular mode among competitive players that combines the high stakes of Search and Destroy with an objective system similar to Hardpoint. Teams take turns between attacking and defending fixed zones with a limited number of respawns available. The attacking team must either completely eliminate the defenders so that they have no respawns left, or capture both zones within the time limit.
A second unannounced game mode is also expected to launch during Season 1's Festive Fervor event. While there are no specific details to what the mode will be, Sledgehammer Games has hinted that it will be a mode that veterans of the franchise will recognize from Modern Warfare 3.
Call of Duty: Vanguard Season 1 weapons and operators
Vanguard's Season 1 battle pass introduces a new Special Operations Task Force, known as S.O.T.F. 006: Trident, to players. Trident will feature three new operators throughout Season 1, with Francis "Kai" Lanakila being the first available. Lanakila and his default operator skin will automatically be unlocked at Tier 0 when a player purchases the battle pass. Two additional operators, Lewis Howard and Isabella Rosario Dulnuan Reyes, will be added before the season comes to an end.
Players who purchase the battle pass bundle will also receive an additional Legendary "Battleprepped" operator skin for Polina Petrova. While this legendary skin does outfit Petrova with a gas mask, it is purely cosmetic only. Players will not be protected from gas grenades or the circle collapse in Warzone despite the gas mask.
Five new weapons are dropping with the battle pass for players to shake up their loadouts with. The Cooper Carbine, Gorenko anti-tank semi-automatic sniper rifle, Sawtooth melee weapon, and Katana will all be a part of the battle pass launch, with the first three being unlocked via battle pass progression. Later in the season we will also see the Welgun added to the list of available SMGs.
Over a dozen new weapon blueprints will also be unlockable via battle pass progression, including the Legendary "Dirtdigger" LMG blueprint that will be available for free to players who are in a clan and progress to Tier 55. The Call of Duty franchise store will also see new bundles added for players to throw their COD points, with mastercraft and tracer bundles expected to make their appearance before the end of the year.
Call of Duty: Vanguard zombies new challenges and objectives
Zombies players will load up "Der Anfang" to find a new objective mode waiting for them. Purge will ask players to eradicate aetherial worms by capturing Control Runes while waves of enemies continuously attack. Sacrificial Hearts will be awarded after each completion, which can be spent at the Altar on one of 14 new Covenant upgrades that are being added for Season 1.
Players are able to access the new weapons unlocked via the battle pass in loadouts and the Mystery Box once they're unlocked via the battle pass. Additionally, all four Launchers are making their way to Zombies loadouts with Season 1.
Treyarch will be adding even more content for Zombies after the new year, including updates to the Mystery Box, Support Killstreaks courtesy of the Warmachine and Deathmachine, and the often-requested Server Pause functionality. Stalingrad will also see a makeover for the upcoming Festive Fervor mid-season event.
Call of Duty: Warzone anti-cheat and Pacific map
Verdansk — the map that has been the primary playground for the free-to-play battle royale, Call of Duty: Warzone, since its launch — has seen some cosmetic changes over the course of its integration with one of the best Xbox shooters, Call of Duty: Black Ops Cold War, but none were as transformative as the changes made for Vanguard. Season one of Vanguard brings about a much-anticipated refresh for Call of Duty: Warzone as players will be transported back to World War II's Pacific Front on the new Caldera map.
Caldera is not the only big change coming to Warzone, as Raven Software will be introducing RICOCHET Anti-Cheat alongside the other changes. Ricochet is an anti-cheat security initiative that was internally developed for Vanguard and Warzone via a PC kernel-level driver. The Asia-Pacific region will be the first to see Ricochet activated, with Raven Software planning to expand the active regions at an undisclosed future date.
A new Vanguard Royale mode will also be introduced that will be centered around WWII-era rules and will feature dogfighting planes and anti-air combat. Additionally there will be bombing runs that occur randomly throughout each game. Vanguard Royale will launch alongside standard Battle Royale and Plunder modes, where players will be able to access all of the killstreaks, loadouts, operators, and more from the last three Call of Duty premium titles.
Along with weapon balancing, Warzone will benefit from the addition of new vehicles like the fighter plane and utility truck, new contracts including Big Game Bounty, and new public events such as a restock that leads to all loot boxes closing and refilling with new loot. It's not all new additions, however, as the Stopping Power field upgrade is removed from loot and Loadout markers are limited to only being available for purchase after the first initial round of free loadouts have dropped.
While the Rebirth Island map is available for all players to access during the Pacific early access phase, the map will also be temporarily removed from Call of Duty: Warzone following the event. Rebirth Island is expected to be returned with the Week 2 playlist update on Dec. 16.
(opens in new tab)
Rise up and experience the fight against the Nazis on all four battlefronts through the eyes of four different Spec Ops characters. Call of Duty: Vanguard will feature a full campaign, fresh multiplayer experience with 20 new maps on launch, along with the new Champion Hill mode, and the prequel to Dark Aether story in Zombies.
Get the Windows Central Newsletter
All the latest news, reviews, and guides for Windows and Xbox diehards.
Cole is the resident Call of Duty know-it-all and indie game enthusiast for Windows Central. She's a lifelong artist with two decades of experience in digital painting, and she will happily talk your ear off about budget pen displays.