Capcom reveals Street Fighter 6, but there's no mention of it coming to Xbox
There was a little bit of a delay.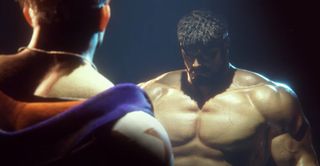 (Image credit: Capcom)
What you need to know
A mysterious countdown timer first appeared on Capcom's website, with an end date of Feb. 21 at 12am ET.
The countdown announcement was seemingly tied to the Street Fighter Pro Tour Season Final, which ran long and left fans waiting for the reveal for an extra half hour.
Street Fighter 6 and Capcom Fighting Collection were both announced.
Capcom Fighting Collection will release June 24, 2022.
After a mysterious countdown timer showed up on the Capcom official website there was plenty of speculation as to what the impending announcement could be. Everything from Resident Evil DLC to Devil May Cry 6 was on the table. Some even went so far as to speculate about potential acquisitions or Capcom themselves having been acquired. If you had Street Fighter 6 on your bingo card, you were correct!
The announcement lined up with the conclusion of Capcom's Street Fighter Pro Tour Season Final, a three-day long tournament featuring 31 professional Street Fighter V: Champion Edition players. In an odd turn of events, the competition ran a little long and fans were left furiously refreshing the Capcom website waiting for the timer to actually hit zero.
The Street Fighter series is celebrating its 35th anniversary this year, having started its life with an arcade only release in 1987. While Street Fighter 30th Anniversary Collection from 2018 was on the Xbox One, 2016's Street Fighter V (which was updated in 2020 to Street Fighter V: Champion Edition) has only ever been available on PS4 and PC. The teaser trailer for Street Fighter 6 seems to hint at a new exaggerated-realism art style, but beyond that, Capcom offered no details on Street Fighter 6 except to say more will be revealed in the summer. There's presently no word on whether or not Street Fighter 6 will hit Xbox, or will remain a strictly PlayStation and PC affair.
In addition to Street Fighter 6, an all-new Capcom Fighting Collection was also detailed, scheduled for June 24, 2022. Titles in the fighting collection are going to be loaded down with new features such as mid-game saves, online ranked and casual matches with rollback netcode, and online play for all included titles. The titles included in Capcom Fighting Collection are:
Darkstalkers: The Night Warriors
Night Warriors: Darkstalkers' Revenge
Vampire Hunter 2: Darkstalkers' Revenge
Vampire Savior: The Lord of Vampire
Vampire Savior: The Lord of Vampire 2
Street Fighter II The Anniversary Edition
Red Earth
Super Gem Fighter Mini Mix
Cyberbots Full Metal Madness
Super Puzzle Fighter II Turbo
Capcom Fighting Collection will be available on Xbox One, PS4, Nintendo Switch, and Steam. For the rest of the details about Street Fighter 6, we'll have to wait for the summer to find out more.
Windows Central Newsletter
Get the best of Windows Central in in your inbox, every day!
Cole is the resident Call of Duty know-it-all and indie game enthusiast for Windows Central. She's a lifelong artist with two decades of experience in digital painting, and she will happily talk your ear off about budget pen displays.
I have Street Fighter 4 and there is so many DLC options and upgrades to different versions I didn't know what I needed or wanted so I've just ignored it. I checked Street Fighter 5 (it's on a steam sale at the moment), and it's the same mess of multiple upgrades and DLC addons.
Half the battle is working out what you need to purchase in order to have a complete game.
I want to have fun playing games, not a headache before I even purchase it, so as a result, I'll continue to stay clear of the Street Fighter games from now on.

This is what I'm talking about when I say that Capcom are Sony shills. How can they not release their game for Xbox? Of course, they are purposefully paid not to. People talk about the risks about Microsoft buying game companies. Nobody bats an eye at Sony's anti- consumer tactics, they always play dirty with their rivals. Always signing shady deals that arbitrarily prevent games releasing on the competition, or just having the same features. This is disgusting and dangerous.

Everyone complains when any company buys exclusivety. And let's not compare Microsoft buying publishers to buying exclusive content, both are bad, but buying publishers is much worse.

I think you just proved fdruid's point. Sony has been making Japanese staple console franchises exclusive to their platform for quite some time. They did the same thing with Sega. When Microsoft does this everyone does scream anti-competitive practices and that is because MS has a reputation of it of course, but it is what it is and his point is valid.

Getting exclusivety deals with certain games is no where near the same as buying the biggest third-party publisher, I don't how people can even compare them. And alot of the Japanese exclusive games on Playstation are that way because Japanese companies don't want themselves to publish on Xbox, for example did you know that Persona 5 Strikers has a Xbox port already developed? It has, but Atlus/Sega for some reason won't publish it and it's not because of Sony, the Great Ace attorney games also aren't on Xbox because the Ace Attorney trilogy failed miserably on Xbox, the new version of Persona 4 Arena Ultimax isn't on Xbox despite the original version being on the X360, this is most likely because the original 360 version failed. There's alot more then metts the eye with Japanese exclusively When talking about exclusivety, though I doubt that's the case with SF5 And paying for exclusivety has been done for years (still bad) and every console manufacture has done it, wasn't Halo initially bought to be exclusive to Xbox?

Back @ 360 era, MS supported j-devs by providing tech support and teaching'em knowhow, hopping j-devs will stick (ironically, in the end, their effort, the techs and game making knowhow that they've taught, benefited Sony).
Sony on the other hand... paid for the exclusives. btw, during that period, online big mouth minority j-gamers at the time were calling those (including celebrities) who bought a Xbox, traitor. All those, doomed Xbox in Japan, but luckily, j-3rd-party-publishers are dying in their home turf. That is why from now on, all new games (including remakes) will most likely be a multiplat, unless Sony pays REAL good money, else, the gaming business is just not sustainable. * most FTG gamers in Japan are around age of 30~40. SF is also an old people IP.

Well, SIE isn't paying j-devs like they used to tho (and they've disbanded their j-studio cus of bad sales), because... Japanese 3rd parties (also SIE) are dying even in Japan (their sales in Japan shrinks YoY in the past decade, FF15 was a joke... and DQ is now an old man IP). That's why j-AAA-publishers need Steam (for Asia neighborhoods) and Xbox (for the rest of the world) now more than ever. Back then, sales outside of Japan were just a bonus to'em, now... "we know our games are niche, that's why we need more markets". btw, Japanese kids today don't know FF, DQ, robot anime or any other old people IP no more, they play Nintendo games, Minecraft, Apex and Fortnite.

Not an issue, just buy it on PS4/5, the only people they are preventing from playing is people who are adamant about not owning both consoles. Those who can only purchase one system will do so by choosing what has the games they want on it.
Windows Central Newsletter
Thank you for signing up to Windows Central. You will receive a verification email shortly.
There was a problem. Please refresh the page and try again.