Check out the best build for Remnant: From the Ashes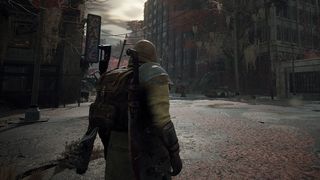 Remnant: From the Ashes features a slew of different armor and weapons. While there are always specialized builds which focus on maximizing health or outputting a tremendous amount of damage, they can sometimes leave you vulnerable to the most basic attacks. We've been playing Remnant: From the Ashes for weeks now, and feel that using the Radiant Set with select weapons and accessories is the best all-around approach.
To get the most out of the armor and weapons, you should upgrade them to the highest level. Below, you'll find everything you need to acquire.
Radiant Armor Set
Just like every other armor set in the game, the Radiant Armor Set comes in three pieces. You can purchase two from the Stuck Merchant in the Yaesha region of the game. He's hard to miss. The helmet can be found usually north of him in a dungeon he directs you towards.
The Radiant Armor Set stacks critical hit damage so it's devastating to enemies. It also offers great protection which can be supplemented with the right amulet and rings.
Weapons
Since the foes in Remnant: From the Ashes frequently kill you, it's best to equip the Ruin sniper rifle. The name is somewhat incorrect because it's really a pulse rifle with a scope. Ruin allows you to resurrect once as a Mod Power. While it takes a while to charge it up, using it as your primary weapon should fix that.
For your secondary weapon, the starting Repeater Pistol seems like the best option. It has a high rate of fire, so if you use it with the Wildfire Mod, you can shoot up to five explosive fire projectiles again and again. This comes in handy when you're taking on bosses, especially the final boss known as the Nightmare.
Accessories
For our build, we focused on defense above all other statistics. The Twisted Idol, the Mother's Ring, and Keeper's Ring increase armor effectiveness and enhance elemental resistance. There are other items that reduce melee damage or help with health regeneration, but we feel that these ones offer the best protection.
If you used this build and found it helpful, let us know. With this build, we were able to single-handled defeat the final boss in Offline Mode. If you tweaked it a little to make it better, let us know too.
Save the world
(opens in new tab)
Kill all monsters

Remnant: From the Ashes is a third-person survival action shooter set in a post-apocalyptic world overrun by monstrous creatures.
Jump into digital
(opens in new tab)
Xbox One S: All-Digital Edition
Ditch the discs

Secure your Xbox One S: All-Digital Edition today, Microsoft's new and ambitious disc-less console. It's the cheapest Xbox One ever made, bundled with three downloadable games like Forza Horizon 3. If you don't like physical media, then this is a great option.
Excellent and affordable Xbox accessories
Up your Xbox experience with one (or all) of these budget accessories, all of which are approved by the gamers of Windows Central.
PowerA Play & Charge Kit for Xbox One (opens in new tab) ($15 at Amazon)
This charging kit keeps your Xbox One wireless controllers juiced up, and it offers batteries for two controllers. At just $15, this is hands-down our favorite budget charging companion.
ElecGear 4 Port USB Xbox One S Hub (opens in new tab) ($19 at Amazon)
This brilliant little USB splitter hub attaches perfectly to the side of your Xbox One S console. It's ideal for use with chargers, controllers, headsets, and more.
Controller Gear stand (opens in new tab) ($13 at Amazon)
Proudly display your Xbox gamepads with this stylish and functional stand. The licensed design is minimalist and black, and it has a hidden storage compartment, making the price of $13 a real steal.
Asher Madan handles gaming news for Windows Central. Before joining Windows Central in 2017, Asher worked for a number of different gaming outlets. He has a background in medical science and is passionate about all forms of entertainment, cooking, and antiquing.
Windows Central Newsletter
Thank you for signing up to Windows Central. You will receive a verification email shortly.
There was a problem. Please refresh the page and try again.