Check out how DJ and composer, Joro Boro uses his Microsoft Surface tablet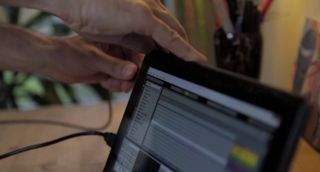 Tablets can be utilised to do multiple tasks, whether you require access to your Kindle collection for mobile reading or perhaps you're a DJ and composer. Joro Boro uses his Microsoft Surface for work and play, explaining how portable and powerful the products are in this latest advertisement. The best part about the Surface 2 Pro is how it runs full Windows 8, essentially turning the tablet into a fully capable PC.
With the second generation of Surface well on the way, consumers will be taking full advantage of the upgrades Microsoft has implemented. From the upgraded chips to the improved kickstand, it's certainly a refresh the family of products required, especially with poor first-gen sales ruining the office parties. That said, so far the signs look positive for the second Surface wave.
Let us know in the comments how you use your Surface (or any Windows 8) tablet.
Source: YouTube; thanks, Zeaneal, for the tip!
Rich Edmonds is Senior Editor of PC hardware at Windows Central, covering everything related to PC components and NAS. He's been involved in technology for more than a decade and knows a thing or two about the magic inside a PC chassis. You can follow him over on Twitter at @RichEdmonds.
First the worst, second the best, third the one with a hairy chest.

I always heard it as "treasure chest"...

I have a hairy chest and i ain't even third!

Well that doesn't really matter if that is all you have to say about it. How about that Chrome app on his task bar? MS could have at least removed removed that lol.

Get this guy the DJ Blade Stat!! Although I wanted to hold out for an 8" Windows device I'm really starting to want a Surface more and more. Apparently Win8.1 is really good according to my Co-worker who has a Gen1 Surface Pro. I think I'll pre-order the Surface 2 this weekend if I can make it to the MS Store.

You'll need a Windows 8/8.1 device to run the pro audio applications. Surface Pro, Surface 2 Pro, or any Intel Core based device. Windows RT 8.1 can not run the applications shown in the video, so Surface 2 or any ARM based device is incapable running these applications. Notice, I said applications as in desktop/legacy applications. With this knowledge, don't buy the wrong Windows device.

Yeah, let's see other tablets run full PC versions of Ableton❕... This is exactly the kind of stuff I would like to see from WP, W8, and Surface.. I want MS to show the world that these products are best for Audio/Visual production... AKAI is my favorite company, but unfortunately they are all stuck up Apples ass right now... MS needs to appeal to AKAI, Ableton, Roland, Korg, Tascam, Boss, Line6, and so on... I want that Akai MPC app on WP right now❕

As a former MPC 4000 owner, I think the Surface Pro 2 and MPC Studio would be a killer combo.

Now, if there was Ableton Live for Windows RT... =)

There could be one day.. More version would be sold for RT.

I wish the store had better DJ apps. Edjing is super slow loading tracks on the RT.

That because of mmc storage loading to DDR2 ram, the surface 2 should be better but if you are a professional, a Pro is almost a requirement (NAND ssd, i5, ddr3 ram)

Pro is a definite requirement.

Ok I really need a surface 2 pro.

I can't get the link to work...

Crazy. I would never use a surface for my sets lol.i like windows phone and all but leave with my mac for djing

A pox upon thy house. Someone had had to say something negative because you said 'Mac'. Those are the rules of the internet, apparently.

Perhaps the times are changing?

Honest question: Why are Macs preferred to DJing as opposed to Windows PCs? Is there a Mac-Windows software gap in terms of DJ programs?

That's great and all but could we just get the music app to sync my music across devices please.

This is a prime example of why brand confusion for Surface is a complete mess. The headline says "Check out how he uses his Surface tablet". But if anybody reads this and walks into a store asking for a Microsoft Surface, they'd be sorely disappointed after purchase to discover RT can't do that. Any iPad can pretty much do anything another iPad can do. Only the expensive Surface Pro can do stuff like this.

+1 Microsoft is screwing up the branding again for Surface 2 by not giving the RT version a distinct enough name. They have no clue how to market to consumers.

But Pros can actually RUN computer intended programs I.e: Steam.
RT us more like an iPad though, with the widows app store.

This is not a Prime example of a marketing failure. The media was successful at making it a failure with this confusion talk. If you're not clever enough to know what you're buying that's your own fault.
What's hard about the tablet versions(rt) being cheaper and the PC version(pro) being more expensive? Its not computer programming or anything complex, inasmuch you have to be rather naive to not know what you're buying and taking someone's word for it. My RT is awesome and I don't regret it at all.

Yes, the media did this to Microsoft. Nevermind having a "desktop mode" on a tablet that cannot run non-Office x86 apps. Nevermind saying it runs Windows, but cannot actually run x86 apps or "metro" apps in a window. Nevermind making the desktop tablet visually identical to the mobile tablet. It was the media....my God, the Kool Aid around here is strong.

Do you really think today's consumer walks into a MSFT store and just throws down $500 on a tablet that they don't know the capabilities of? I have an RT surface and I think they should have avoided the desktop mode completely, but I honestly don't think that the marketing or naming causes the issues you suggest. How about Apple's strategy? You can get an iPad 1st Gen or iPad 2 and then things get crazy with iPad retina display, unofficial naming iPad 3, 4, etc. I have an iPad 2, but have no clue how to keep track of the newer versions. That's way more confusing to me than Surface 2 or Surface 2 Pro.

Consumers don't really walk into Microsoft stores much for any reason, but if you think the confusion over whether your tablet display is "retina" or not is identical to whether or not you can only run a relatively tiny amount of apps from a nascent store or literally the entire history of desktop software.....don't know what to tell you.

Totally agree. Have you seen the ad featuring the Surface 2 & Surface 2 Pro together? Still confusing the average consumer, of which I'm not: I know what Surface(s) to buy.

It's great to see all the niche uses for Surface. It shows that it's more than just a tablet to surf the 'net with. Love my RT, BTW.

L-O-V-E my Surface Pro. Usually have Visual Studio, Team Foundation Server Express, Visio, OneNote, about a dozen webpages, and a handful of Modern apps all open at the same time. (I wish left-thumb app-flipping worked for desktop applications, though tapping the Task Bar works well.) Lately more and more people are taking notice and asking me about it, how I like it, how I use it. Sometimes they mention the Siri-disappointed-her-tablet-can't-do-that ad--"Is it that one?" I explain mine is the higher end model that can run all Windows aplications, whereas the one in the ad only runs Office plus all the tablet-like apps like book readers, web browsing, email, etc. Most admit they only do web browsing, email, and sometimes work on an Office document from work. They are glad to hear $350 gets them all the Office applications they use. I make it clear Outlook is a not yet on the model in the ad, and have thrown a fit. My little spiel has sold a few, and I am starting to see them show up around work. Friday, I noticed a co-commuter I haven't chatted with in ages has dumped his iPad-sized Andoid tablet for a Surface or Surface Pro. (I caught too-short a glimpse to check for the ventilation slot. Task for tomorrow.)
Windows Central Newsletter
Thank you for signing up to Windows Central. You will receive a verification email shortly.
There was a problem. Please refresh the page and try again.