Chuwi UBook Pro review: Great as a budget tablet ... not so great as a complete 2-in-1
Chuwi's UBook Pro is a Surface Pro lookalike that's less powerful but considerably more affordable. Can you live with the shortcomings to save money?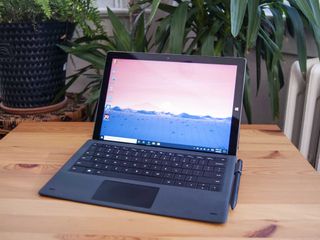 (Image credit: Windows Central)
The Surface Pro has spawned many clones over the years, some expensive and some affordable. Chuwi's UBook Pro 2-in-1 is a prime example of the latter, and it's a way to get your hands on a solid Windows device starting at less than $400. The tablet alone is mostly a respectable piece of hardware, but it runs into some issues when tested as a package complete with attachable keyboard and touchpad. I used it for about a week to see what it's all about and, ultimately, who it's for and whether or not it's worth a buy.
Bottom line: Without the attachable keyboard and touchpad, the UBook Pro is a worthwhile tablet available at a great price. It's not going to usurp the Surface Pro, but it's still worth taking a look.
For
More affordable than Surface Pro
Quality construction
Bright, colorful display
Decent port selection
Against
Intel Core m3 CPU is underpowered
Touchpad is almost useless
Speakers and cameras are not great
Battery life could be better
Chuwi UBook Pro at a glance
Chuwi supplied Windows Central with a review model of the UBook Pro. Although there is an entry-level configuration with Intel N4100 processor (CPU), the configuration tested in this review has the more powerful Intel Core m3-8100Y CPU, 8GB of LPDDR3 RAM, and 256GB SATA solid-state drive (SSD). All models have a 12.3-inch touch display with 3:2 aspect ratio and 1920x1280 (FHD+) resolution.
Models with the Intel N4100 CPU start at about $370 from Amazon, while the Intel Core m3 models start at about $526 at Gearbest. Keep in mind that keyboard and active pen are not included in these prices. A UBook Pro keyboard tacks on about $40, while the HiPen H6 costs another $40.
Take a look at a breakdown of the exact hardware found in this review model.
Swipe to scroll horizontally
Category
Spec
OS
Windows 10 Home
Processor
8th Gen
Intel Core m3-8100Y
Dual core
Up to 3.40GHz
RAM
8GB LPDDR3 RAM
Graphics
Intel UHD Graphics 615
Storage
256GB M.2 SATA SSD
Display
12.3 inches
1920x1280 (FHD+)
Touch, IPS, glossy
3:2 aspect ratio
Ports
Two USB-A 3.0
USB-C
Micro HDMI
3.5mm audio
microSD card reader
Audio
Dual speakers
Wireless
Intel Wireless-AC 3165
802.11ac
Bluetooth 4.2
Camera
Front-facing 2MP
Rear-facing 5MP
Battery
37Wh
Dimensions
0.35 inches (9mm) thin
Weight
1.7 pounds (780g)
What I loved about Chuwi's UBook Pro
The UBook Pro is a rigid, well-built metal alloy tablet. It's approximately the same size as a Surface Pro, with a similar bezel around the 12.3-inch display. There's hardly any flex, lines are smooth, and volume and power buttons along the top are well placed. It's relatively lightweight, and it feels good to hold.
Chuwi's tablet uses a U-frame stand instead of a solid flat panel. It folds out to about 145 degrees, enough for a comfortable drawing angle when using the pen. The stand cuts into the legs just as much as most other 2-in-1s sitting on your lap, but it gets the job done. There's a bit of twist to it — more than you find with a solid panel — though it seems like it can stand up to regular use.
Image 1 of 2
On the left side, you'll find USB-A and a 3.5mm audio port. The right side houses another USB-A, USB-C, Micro HDMI, and the small barrel charging port. The top edge rounds things out with a microSD card reader. Micro HDMI isn't seen too often, and investing in an inexpensive HDMI adapter will likely be the go-to move to get the most out of the port. The tablet does charge via USB-C if you forget the AC adapter behind, and it works with some relatively powerful docking stations to further expand connectivity.
One thing we've noted in the past about Chuwi devices is its ability to include quality displays in budget devices, and the same holds true here. The UBook Pro's touch display doesn't have as high a resolution (1920x1280) as some of the pricier 2-in-1s on the market, but it still delivers a 3:2 aspect ratio and good color. I tested with a Spyder5 Pro colorimeter and got back 95% sRGB and 74% AdobeRGB gamut coverage.
An overabundance of brightness was also unexpected. You should have no issues working in well-lit spaces despite the glossy finish thanks to nearly 500 nits brightness when maxed out. This review unit came with Chuwi's HiPen H5, though if you're buying the tablet, you'll likely see the newer HiPen H6 advertised with it. The latter pen delivers 4,096 levels of pressure sensitivity (compared to the H5 pen's 1,024 levels) and has two buttons on the side, making it better cut out for artistic work.
No matter the pen, though, the UBook Pro shouldn't be relied on for any sort of intensive design work beyond occasional sketches. It just doesn't have the performance hardware to back it up. It's ideal for note-taking and jotting down ideas, and it should be treated as such.
The review unit includes the more powerful Intel Core m3-8100Y CPU (compared to an Intel N4100), but it's still not a powerhouse by any means. All models come with 8GB of soldered LPDDR3 RAM and a 256GB SATA SSD. Like a lot of 2-in-1s, there's no obvious way to get at the internals, so don't expect any DIY upgrades after purchase. These tablets are fanless thanks to the CPU options, and they keep cool even under sustained load.
This hardware is meant for lightweight productivity work, and in that sense, it excels. You can browse the web with purpose, stream video, and fire up a word processor to take notes. The higher-end configuration will handle some (very) lightweight entertainment, but don't buy it expecting a full-time gaming machine.
I ran some benchmarks to see how well the UBook Pro stands up to other PCs we've recently tested, especially the new Surface Pro 7.
CPU
Geekbench 5.0 Benchmarks (Higher is better)
Swipe to scroll horizontally
| Device | CPU | Single core | Multi core |
| --- | --- | --- | --- |
| Chuwi UBook Pro | m3-8100Y | 797 | 1,136 |
| Surface Pro 7 | Core i5-1035G4 | 1,191 | 4,441 |
| Surface Pro 7 | Core i7-1065G7 | 1,205 | 4,852 |
| Acer Swift 5 (SF514-54T) | i7-1065G7 | 1,202 | 3,600 |
| Surface Laptop 3 13.5 | Core i5-1035G7 | 1,177 | 4,413 |
| Surface Laptop 3 15 | Ryzen 5 | 769 | 2,720 |
| Dell XPS 13 2-in-1 7390 | Core i7-1065G7 | 1,209 | 3,571 |
| Dell XPS 15 7590 | Core i9-9980HK | 1,176 | 7,624 |
| Dynabook Portégé X30-F | i7-8665U | 1,236 | 3,473 |
| Dynabook Tecra X50-F | i7-8665U | 1,241 | 3,043 |
| Dell Inspiron 13 7390 2-in-1 | i7-8565U | 1,111 | 2,965 |
I also ran an OpenCL GPU test with Geekbench 5 to see how well the integrated Intel UHD Graphics 615 performs. It delivered a score of 2,607, which is right about where it should be but by no means remarkable. This isn't a gaming PC, nor should it be used for any intensive design or editing work.
PCMark
PCMark 10
Swipe to scroll horizontally
| Device | Score |
| --- | --- |
| Chuwi UBook Pro | 2,100 |
| Surface Pro 7 (i5) | 3,992 |
| Acer Swift 5 (SF514-54T) | 4,415 |
| Surface Laptop 3 15 (AMD) | 4,006 |
| Dell XPS 13 2-in-1 (7390) | 4,427 |
| Dynabook Portégé X30-F | 3,881 |
| Dynabook Tecra X50-F | 4,128 |
| Dell Inspiron 13 7390 2-in-1 | 3,764 |
The PCMark 10 test measures how well the PC handles everyday productivity work. Compared to a 10th Gen Intel Core i5 CPU, you're going to get about half as much performance.
SSD
CrystalDiskMark (Higher is better)
Swipe to scroll horizontally
| Device | Read | Write |
| --- | --- | --- |
| Chuwi UBook Pro | 283.96 MB/s | 246.02 MB/s |
| Surface Pro 7 | 2,040 MB/s | 809 MB/s |
| Acer Swift 5 (SF514-54T) | 1,641 MB/s | 1,025 MB/s |
| Lenovo ThinkPad X1 Extreme (Gen 2) | 3,416 MB/s | 3,016 MB/s |
| Dynabook Portégé X30-F | 529 MB/s | 348 MB/s |
| Dynabook Tecra X50-F | 3,400 MB/s | 1,952 MB/s |
| Lenovo ThinkPad P53 | 3,567.23 MB/s | 2,813.25 MB/s |
| Lenovo ThinkPad P52 | 3,120 MB/s | 1,551.5 MB/s |
| Dell XPS 15 7590 | 3,000 MB/s | 2,796 MB/s |
| MSI PS63 Modern | 3,300 MB/s | 1,875 MB/s |
The UBook Pro uses an SSD, but it is M.2 SATA. It won't touch the speeds offered by M.2 PCIe.
The 37Wh battery inside lands about five or six hours on a charge, especially with display brightness turned down below 50%. That's not enough for a full workday, unfortunately, and the tablet seems to take its time charging with the provided AC adapter.
What I disliked about Chuwi's UBook Pro
As a tablet alone, the UBook Pro is mostly a winner. Respectable display, sturdy build, and decent port selection are certainly attractive. Battery life could be better, but it's excusable when the price is considered. What I don't find excusable is the attachable keyboard that's sold separately for about $40. It mimics the Surface Pro Type Cover with an Alcantara-like finish, backlit keyboard, and touchpad, but it's executed poorly.
The touchpad is almost entirely useless, partly due to the flimsy overall construction that bends when touched. Clicking down on the touchpad often closes all your windows and moves the cursor to a corner of the screen, while swiping only seems to register half the time. It's evident I wasn't the first to review this specific unit, but at most, a perfect keyboard would have weathered only a few weeks of use to arrive in this state.
While the touchpad is a writeoff, typing with the keyboard isn't nearly as bad. There's still a lot of flex in the body, but keys are at least large and comfortable. Because it's paired with the pointer, though, I recommend avoiding the official accessory and investing in a Bluetooth keyboard if you plan on doing any heavy typing.
Speakers live on the inside edges of the tablet, covered by the stand when not deployed. They're not as muffled as you might imagine with the stand over top, but there is a small difference. In any case, audio doesn't get very loud, and holding the tablet on its sides will often further muffle the audio. The speakers get the job done, but they're nothing to get excited about.
Like the speakers, the front- and rear-facing cameras are more a neutral point than strictly negative. They're exactly what's expected from a device this price, and they'll do for video conferencing and the occasional still image. Don't expect anything miraculous, and you won't be disappointed.
Should you buy Chuwi's UBook Pro?
For anyone looking to land a Windows tablet for casual use, Chuwi's UBook Pro is easy to recommend. It's more affordable than a lot of other options out there, it delivers useful ports, and the display is well above average, especially in terms of brightness. It's not going to win any races with Intel Core i5 and Core i7 configurations, but the Core m3 version I tested handled lightweight productivity work without complaint. It works with an active pen as well, making it great for jotting down notes and sketching out ideas.
The tablet and pen are, however, only part of the full package, and the attachable keyboard that enables a true 2-in-1 experience is dismal. Corners had to no doubt be cut to arrive at the relatively low cost, but I'm certain users would have gladly tacked on another $20 or so to get something superior. As it stands, I recommend avoiding Chuwi's keyboard and touchpad.
If you're not sold on Chuwi's tablet alone and need a full experience with quality keyboard and touchpad, have a look at our collection of the best 2-in-1s available in 2020.
Budget 2-in-1 PC
Great as a standalone tablet

Chuwi's UBook Pro tablet is an affordable winner, but steer clear of the optional keyboard and touchpad.
Get the Windows Central Newsletter
All the latest news, reviews, and guides for Windows and Xbox diehards.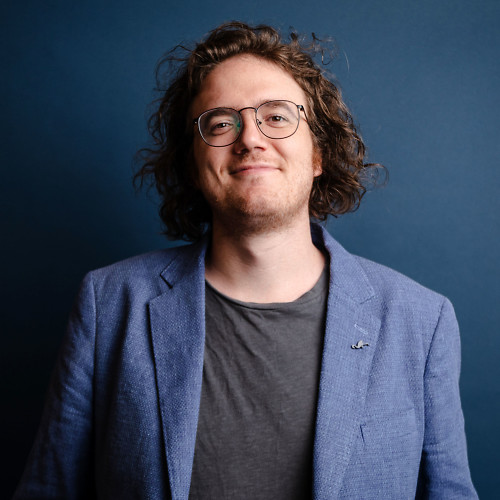 Senior Editor, Laptop Reviews
Cale Hunt is formerly a Senior Editor at Windows Central. He focuses mainly on laptop reviews, news, and accessory coverage. He's been reviewing laptops and accessories full-time since 2016, with hundreds of reviews published for Windows Central. He is an avid PC gamer and multi-platform user, and spends most of his time either tinkering with or writing about tech.