Cloud Storage on Windows Phone – which service is the best value?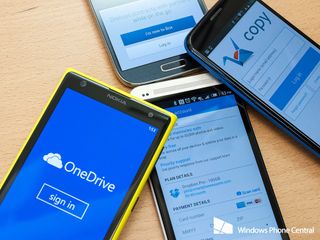 Earlier today, Google slashed their cloud storage pricing for Google Drive to some insanely low numbers. How low? For just $1.99 a month you get 100GB of storage. If you want to get 100GB on OneDrive you'll need to pony up $7.49 per month to do that. The pricing wars are now officially on for cloud storage and hopefully the only winners here will be us, the consumers. Let's check out how some of the major cloud storage services stack up against one another for pricing.
We'll compare OneDrive, Google Drive, Dropbox, Box, and Copy. You already have apps in the Windows Phone Store for OneDrive, Dropbox, Box and Copy. And we'll see soon have excellent unofficial clients like Google Drive from Rudy Huyn and his new CloudSix initiative.
The pricing we highlight below is what the majority of you will pay as a normal consumer. We'll ignore enterprise pricing and just look at options available to you today. For the free tier we'll focus on what's initially available on the onset. Most services, like OneDrive and Dropbox, offer additional free storage for referrals and other initiatives.
OneDrive
7GB – Free
50GB – $25/year or $4.49/month
100GB – $50/year or $7.49/month
200GB – $100/year or $11.49/month
Download OneDrive from the Windows Phone Store
Google Drive
15GB – Free
100GB – $1.99/month
1TB – $9.99/month
10TB – $99.99/month
CloudSix for Google Drive is an upcoming third-party app that will be available soon for Windows Phone. Google currently doesn't offer an official app in the Windows Phone Store
Dropbox
2GB – Free
100GB – $99/year or $9.99/month
200GB – $199/year or $19.99/month
500GB – $499/year or $49.99/month
Download CloudSix for Dropbox from the Windows Phone Store.
Copy
15GB – Free
250GB – $99/year or $9.99/month
500GB – $149/year or $14.99/month
Copy actually does have an official app out for Windows Phone. You can grab Copy in the Windows Phone Store.
Box
10GB – Free
100GB – $10/month
Download the official Box app for Windows Phone in the Windows Phone Store.
Your turn
We like polling you all and seeing what you think. Let us know which online storage service you're using in the poll below. Be sure to let us know what you think about Google's new aggressive pricing and whether or not OneDrive will respond with a comparable move.
Reading this in our mobile app? Head to IE to take the poll. m.wpcentral.com/cloud-storage-windows-phone
Get the Windows Central Newsletter
All the latest news, reviews, and guides for Windows and Xbox diehards.