How to stream games from your PC and become a broadcasting legend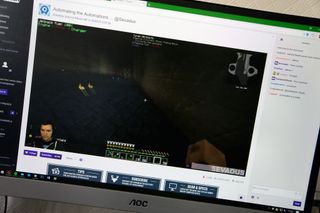 Streaming gameplay to an audience online is a fantastic way for anyone who enjoys a particular title to either go it alone, build up a channel and interact with a chat room of viewers, or hit up some friends and provide the best banter on any streaming website. Luckily, the most powerful PC one can build today is not required (but it certainly would help with more demanding titles) and there's a choice of software that help avoid a trip to the bank. We'll be going over exactly what you'll need to get started.
Before we look at the various things you'll need to check off your to-do list, it's important you begin considering which game you're going to be streaming. The "big four" on Twitch.tv are League of Legends, Counter-Strike: GO, Hearthstone, and Dota 2, though Blizzard's Overwatch is climbing up in the popularity ranks. Fear not if you're unable to make a decision — and we highly recommend doing this regardless — you could tune into popular gamers and see what they're playing for ideas.
Is your PC stream-ready?
Since your PC will not only be powering everything behind-the-scenes, including the streaming software, but also rendering the video game at your desired resolution and then throwing a copy online, it's safe to say you need quite the capable machine. There's no need to go overkill here and destroy your bank balance. Simply build a (or order a pre-built) system that will handle the game you wish to play at a comfortable frame rate of at least 30 frames per second.
According to Twitch, the company recommends you have at least the following specifications:
We'd agree with the above listing. It's a solid start for anyone looking to hop aboard the streaming train, though if you can we'd always recommend to go DDR4 RAM with a compatible, more recent and powerful motherboard and CPU. The graphics card isn't mentioned since the processor is actually the more important component with the broadcasting software requiring CPU time. That said, if you're rocking at least an NVIDIA GTX 1060 (opens in new tab) or AMD Radeon R7 370 (opens in new tab), you'll be absolutely fine with most titles.
Generally, should you hit a solid FPS level during gameplay, you will be okay with broadcasting software running in the background if you're at least rocking the above processor or higher. There's also the option of throwing a webcam into the works if you wish to not only broadcast the video game you're playing but also any visual reactions to on-screen content. The Logitech C920 would be ideal to record video for streaming, for example.
Lastly, and probably most importantly, is your internet connection. This is unfortunately a tough one for those with capped upload speeds, but running software to upload broadcasts at 30 frames per second and decent quality should be okay on even restricted connections. Just make sure it's stable before going ahead — bonus points are awarded for wired connections. For maximum quality on platforms such as Twitch, you'll want to aim for 1080p and a bitrate of 3500, which will require around 4mbps from your broadband upload stream.
Choose your platform
To Twitch or not to Twitch? That is the question. A number of streaming platforms are available, but the most popular is still Twitch.tv. The service — owned by Amazon — is convenient, easy to use and you can get set up and commence streaming within an hour. For this guide, we'll focus on Twitch as it's the most popular platform, but here's a quick list of a few alternatives:
Of course, you'll need a Twitch account if you don't already have one. In addition to enabling streaming functionality, an account would also allow you to interact with other Twitch account holders, follow fellow streamers, subscribe to channels, and more.
Head to Twitch.tv/signup.
Connect with Facebook or fill in credentials.
You're all set! Once we fire up your chosen broadcasting software we'll need to visit your Twitch Dashboard and account settings area for a few things, but it's worth spending a good 10 minutes having a browse around and see how you'd like things to be set up. For example, you can have Twitch automatically take backup copies of your broadcasts and make them publicly available for 14 days, or even export said recordings to YouTube for highlight videos.
A positive note about Twitch is the user-friendliness when it comes to configuring the channel and altering settings to achieve personalized results. It's also worth reminding now: don't share your Twitch key. To anyone. Use it in your broadcasting software and keep it secret. Keep it safe.
Other services offer similar capabilities, but the experience will alter slightly and thus you'll need to spend some time getting accustomed to how things work. The basic principle is the same, however. We'll be using broadcast software on our PC to record and stream video game footage to services like Twitch, who will then broadcast the content to potentially thousands of viewers.
Add a little streaming software
Unfortunately, Windows 10 doesn't yet have the necessary tools built-in to allow for streaming to various platforms. This is where broadcast software comes into play. Some require you to part with funds, while others are completely free. Just like we did with the platforms above, we'll highlight a number of choices and focus on one option, which will be Open Broadcaster Software (or OBS for short). It's a free suite that's incredibly powerful and works really well.
Here are a handful of broadcast suites that are available:
When opening OBS for the first time, the suite can appear confusing at first. Take a seat, grab a beverage and let's run over a few of the basics that should get you started on your quest for glory. In fact, if you're planning to use Twitch and OBS together, the streaming platform has put together its own guide for configuring all the available settings.
Setting up OBS with Twitch
Download OBS.
Read through the Twitch guide on setting up OBS. Seriously, read this.
Open OBS.
Right-click in the "Scenes" window.
Click Add Scene. Scenes are like your different profiles.
Enter a name for the scene.
Select the the new scene.
Right click in the Sources pane.
The source is where you will be able to configure what OBS will be capturing or displaying on the stream, be it a monitor, a specific program window, or even some text/image overlay. The best way to figure out how these sources work and what can be achieved with each option is to spend a good hour or two playing around. Run some tests, open various windows, programs, games and have a go at switching between them and working out how you wish your stream to look.
Other software will act in similar fashion, requiring the use of scenes and sources to configure how content on display is streamed. Don't be afraid to experiment.
Build an audience
You've started streaming, have played around with your software and selected platform, now you'll need to look at building an audience and making your channel grow (and subsequently fill up with as many Kappas as possible). There are various ways to go about this, including interacting with viewers while streaming and ensuring you remain committed to a regular broadcast schedule.
Interact with your audience
It's one thing to have your stream configured and ready to go, but it's something else to interact with those who invest time to check out your content. This can be achieved through conventional chat means (depending on the platform you use to stream) or by talking into the attached microphone. It helps to have more than one device or monitor at hand to keep an eye on what viewers are saying, both in relation to gameplay or general discussion.
When you begin to feel slightly overwhelmed by numbers pouring into your channel, it's time to hand off the mantle to a select few to be appointed as moderators. Not only can they help enforce rules and terms of service, but also aid in bridging the gap between yourself and your viewership. Just be yourself, friendly, welcoming and inclusive. Don't be afraid to pause the game for a minute or two to have a quick chat.
Choose a popular game
Can't work out what to play to grab everyone's attention? Spend a good 10 minutes searching through the most popular streams and see what game they're playing. It'll be easy to spot that the top spots are usually occupied by League of Legends, Counter Strike and a select few other titles. Have a play with a few choices and see which you prefer to devote some time in and develop skill.
Having a solid pick of around 5 titles will enable you to switch between them and have backups available — particularly useful if you plan on doing a 24-hour stream at some point.
Set a schedule
Before you do anything, draft up a schedule and start planning out the week ahead every weekend. Not only will this provide deadlines for you to meet, but it will also inform the audience as to when they can expect you to be online and streaming. It's generally recommended to publish a weekly schedule on your channel for anyone to glance at. Taking into account the point above, get a feel for what times are more ideal for your viewers, depending on time zones.
Automation
Setting up and configuring subscriber/follower and/or donation alerts that play visual and audible alerts on-stream is a quick way to show appreciation to those who either join your community or leave a monitory tip. It's a buzz to see your name called out on a popular stream and be thanked for your continued support. It makes it personal while also showing new viewers that you appreciate each and every one of your followers.
The same goes for chat bots, which can be set up to handle a variety of commands and can even lend a hand when it comes to explosive chat moderation with filters. These handy tools can be configured to post pre-set announcements (like featuring your social accounts with links), award points to viewers, and even start raffles. An example would be BlipBot for Beam.
Get social
You can't simply clock on at 7 in the morning, shut down your stream at 5 in the evening and call it a day. Not if you want to make it big. Social media plays a huge part in building up your profile. Get into the habit of uploading some montages, clips and other media to the likes of YouTube and Facebook. Utilize Twitter to send out alerts, communicate with followers, and publish shots on Snapchat.
Having a profile built up that is external to the streaming platform of your choice not only provides more ways of interacting with viewers when not at the computer, but it also helps with announcing exactly when you'll be streaming, sending out reminders, or even run competitions and giveaways.
Give stuff away
This one should be fairly explanatory. You give stuff away, people like you even more. It helps give those who may not have tuned in a reason to pop in and say hello. Sure, many will simply come, lose the competition and leave, but the reward in having a few that stick around is worth the investment.
Network
Get in touch with other streamers and build a network of relations. Hitting up others who play similar or the same games can prove invaluable if they stream at odd hours to your schedule. It's then possible for them to host (or feature) your channel when their stream is offline, giving you exposure to their audience.
Are you a budding streamer just getting started on the journey? Let us know how you're getting on in the comments, as well as if you have any tips that would help others.
Windows Central Newsletter
Get the best of Windows Central in your inbox, every day!
Rich Edmonds was formerly a Senior Editor of PC hardware at Windows Central, covering everything related to PC components and NAS. He's been involved in technology for more than a decade and knows a thing or two about the magic inside a PC chassis. You can follow him on Twitter at @RichEdmonds.
Why no mention of Beam in those alternatives?

Yes Microsoft buys beam.pro and windows central forgets it is real????? Wtf???

This guide is hardly complete. This is the very basic introduction to streaming. I'd like to see a guide written by someone who actually streams a good amount with audience participation. Things like chat integration, alerts, bots, contests, and the like. This is the bare minimum required to get started streaming.

So true. Even more from you a real streamer not a writer that doesn't even know beam.pro is real.

Good article I have problems getting views in any great number I would certainly interact if they came! Its also great to use Twitch to export your old feeds to YouTube if you don't have a dedicated game capture device. I am able to stream in 1080p and the exported vidoes look great when I can't bothered to fire up the elgato

Don't you have to scream like a girl at every little scary moment too? :)

Streaming is fun im not pro I dont know or think I will be. But I like restream.io so I can hit YouTube and twitch at the same time. Also beam.pro is a must. If I could get my friends to move to beam I would ditch the rest.