Cortana gets new Outlook email integration on Windows 10 and Invoke
Cortana can now check your email for you on Windows 10.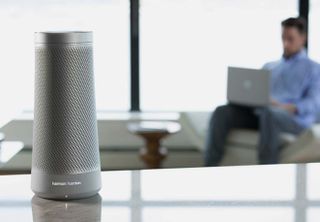 Microsoft's Cortana voice assistant is still trying to catch up to its rivals in many areas, but soon productivity may not be one of them. A new feature that lets you ask Cortana for new emails is now live for those using Cortana with U.S. English on Windows 10 or who use the Harmon Kardon Invoke speaker (see our review). Unfortunately, the feature does not yet work for iOS or Android, as far as we can tell.
The feature is simple enough. You just ask Cortana if you have any new emails. The assistant checks for and reads you a list of any unread messages, including who it is from and the subject.
You can then respond, and Cortana will take a "short note." And Cortana then sends the email on your behalf.
Cortana can get even more precise than that, however. Users can ask if there is any new email from a specific user or if there are unread emails since yesterday.
Microsoft has been putting Cortana in more places lately, including its Launcher on Android, and soon in iOS through Outlook. This trend is likely to continue over the coming year with more hardware and more software integrations for the fledgling A.I.
Here's hoping for support in more countries too.
See the Invoke Cortana speaker at Microsoft (opens in new tab)
Windows Central Newsletter
Get the best of Windows Central in in your inbox, every day!
Daniel Rubino is the Editor-in-chief of Windows Central, head reviewer, podcast co-host, and analyst. He has been covering Microsoft since 2007 when this site was called WMExperts (and later Windows Phone Central). His interests include Windows, laptops, next-gen computing, and for some reason, watches. Before all this tech stuff, he worked on a Ph.D. in linguistics, watched people sleep (for medical purposes!), and ran the projectors at movie theaters because it was fun.
i think I am flipping capable of looking to see if I have emails, not that it would work for me anyway as i do not use MS email service.

It's not so much the MS email

service

(this isn't 1999), it's Outlook, which, you know, you can add Gmail, Yahoo, your work, or even your lame @me.com email. It's an app. So, yeah, it becomes more useful, for some.

"I am flipping capable of looking to see if I have emails"

I'll be the judge of that. Test at noon, tomorrow.

Outlook in the webmail outlook or Outlook in the MS office software? I do nto use any anyway, do not have an MS account and tomorrow i will be disabling cortana again, now that I had to reinstall windows 10 again, since my computer do not like windows 8. I think I can read my own emails, I have been using thunderbird for a lot of years, so I think I know how to use it .

"I think I can read my own emails"

You don't sound certain, this is what concerns me. I think we need an intervention.

More useful if you're in the US maybe, otherwise nothing to see here as usual

Would be nice if I can ask Cortana to read text messages on command. Is this a thing?

It was with Windows 10 Mobile. They are working to bring it to Android.

Well, you could set it to ask you each time. But I was never able to ask it to read my recent texts. There were times I missed one, or I didn't have the feature turned to ask me each time.

This is something that I am REALLY missing.

not a feature i will probably use with alexa (if it ever comes to echo).. i always have 5-6 unread emails in my inbox.. wouldnt want it to read them all out loud! here is a question though. i dont have an invoke but does it recognize your voice? and it would only read your emails to you or anybody can ask and cortana would read your emails?

i do not use these digital assistants, The google one is disabled on my phone and tomorrow Cortana will be going bye byes.

This is literally a response to a question no one asked.

"i dont have an invoke but does it recognize your voice? "

No, currently it does not. It's one of the things they want to happen. It can kinda work like that on PC where it listens for your voice only (through training in Settings); but as of now, that trainer system is not on Invoke.

Do they share a pipeline of features they are working on or is it just what they choose to share/happen to announce?

And I'm still here, waiting for Quiet hours during meetings. But, I suppose, won't happen in scope of Focus Assistant

This works with Office 365 Outlook as well.

After Switching from my old lumia 930 to an Iphone 8 just 3 months ago, I can tell you that Cortana kicks Siri's ass really bad. It might still be behind google and Alexa regarding integration, but I believe that it can cover everything most people use this type of assistants for.

No, Cortana is way better and sounds more natural than both. Frankly it's sad that Alexa somehow sets the bar.

I'm in Australia, using an L950, with location set to Australia and Cortana set to English (Australian) and the feature seems to work fine here. 😎

I'd also like to be able to share an email TO Cortana to manually set up reminders. Right now there's no way in Mail to actually have it remind you. You can have Cortana check emails for times you promised to follow up, but it's not the same.

Daniel, can you clarify if this happens on the backend or through Outlook and Cortana on your computer to get the info to Cortana on the Invoke? Meaning, if my laptop is off will this still work, or do the services need to be running and connected to network/updating in order for it to work? Thanks!

It's mostly back-end. I don't have an Invoke (and see absolutely no reason to purchase yet another device that can hear me and respond to commands), but since it works exactly the same on all of our devices, it's pulling from the source information at the back-end. In other words, as long as Outlook.com reflects your emails properly, Invoke and any other device for which this feature is working can feed you the info. You don't have to have a W10 computer (or phone) running. While Microsoft was broadcasting it's Insider stream I complained that Cortana suffers from multiple personality disorder, though, since quite a few features and commands are consistent on all platforms. Brandon tried to insist Cortana is consistent, to which I called BS. If Cortana behaves differently on an Xbox compared to a W10 PC, a W10M phone or Android or iPhone, then you don't get to say Cortana is consistent. Heck, if Cortana behaves differently in the US than it does in the rest of the world, you don't get to say Cortana is consistent.

My invoke has done this with my work email O365 for couple months now. Am I on some kind of preview program?

Does this work with all accounts or specific one's like only on Office 365 Business accounts?

US ONLYYYYYY!!!! It's seriously getting old reading about new features that are US only.

I agree, the features of Cortana outside the US haven't improved since Cortana was first released. Microsoft need to do one of two things, either remove access to Cortana outside the US or give users outside the US access to ALL the features that Cortana has to offer as I'm sick of seeing integration that is US only, even the recent Spotify integration is US only and Spotify is available worldwide. This is the exact reason why Cortana lags behind Google Assistant, Alexa and Siri outside the US!!!!

Absolutely. I get they wanted to test it somewhere first but Cortana's been tested for a long time now. Time enough for MS to decide if it works or not and to actually make a decision. Either finally roll it out or admit failure, dump it and get working on something that works properly. Or at all.

And how do you set this up? All I see under connected services is things like gmail and outlook.com - how do you set it up to read all of your email accounts in outlook?

It only appears to work with Outlook.com and not the desktop version. So if your emails aren't set up as an alias in Outlook.com, Cortana can't see them. I have the same problem, whilst my calander and contacts are synched through Outlook.com, my emails aren't and so it doesn't work for me. Shame. Would have been useful in the car.

I've got it on windows 10 mobile, i''ve gone off it on the web for a while i's not as smooth as it once was, i'm using Thunderbird which is noticeably a more stable experience!!!

It would be cool if Cortana could alarm you to an email from a certain sender. E.g if from securityalerts@outlook.com then Sound an alarm

I suggested this feature long time ago. It's a bit late now since I engaged with Siri in the mean time. Cortana is way better though.

This works really well on Windows 10 Mobile, too. I tried it out while driving yesterday, and it's actually pretty slick. Like being able to handle texting hands-free, this really adds a nice capability when I'm on the road.

God I miss Windows 10 Mobile.... Silly me for thinking Android at least had the same features as a DOA OS.

Can someone please explain how to change the alarm sound on the Harmon Invoke (assuming you can do so)? I'm tired of the default alarm. Thanks.

Oddly me for me Cortana is only reading my work (office 365), but not my personal emails (outlook.com). Very odd.

Does anyone know how to link the Invoke to my One Drive music folder to play music? Is there any way to play my XM Sirius through my Invoke without Bluetooth from my computer?

I tried out the "Do I have any new emails?" It worked. Cool. I tried "Do I have any new text message?" and get "I'm sorry I can't search emails here yet." Cortana needs to get smarter and more contextual.

Is there a setting I'm missing? All Cortana replies with is "Sorry, I wasn't able to do that."

...and when I ask her to check my calendar she replies with "your account isn't posted to the cloud." I check the connected services and both Outlook.com and Office 365 are connected and listed as "On." Any support here?
Windows Central Newsletter
Thank you for signing up to Windows Central. You will receive a verification email shortly.
There was a problem. Please refresh the page and try again.