Cortana reportedly coming to Outlook for iOS and Android
Microsoft is reportedly testing Cortana integration in Outlook for Android and iOS.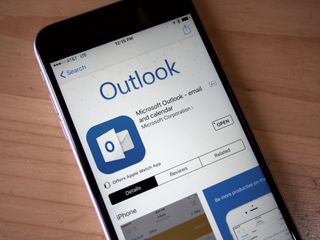 Microsoft has been gradually extending Cortana's reach to more of its services, and it looks like Outlook may be next on the list. According to The Verge, Microsoft is in the process of testing Cortana integration in Outlook on Android and iOS.
Bringing Cortana to the Outlook mobile apps would allow users to check their email using their voice. According to the report, Cortana will respond to general requests to read their emails or to read those from specific contacts. Microsoft is said to be specifically looking at how well the feature works over Bluetooth because of its potential usefulness during car rides
Word of Cortana integration in Outlook for Android and iOS comes not long after Microsoft brought Cortana to Microsoft Launcher for Android. Cortana also just got a new boss at Microsoft, Javier Soltero, who happened to head up Microsoft's Outlook mobile efforts before taking on his new role. For now, Cortana integration is being tested internally, according to The Verge. However, if testing goes well, expect the feature to eventually roll out to the release versions of Outlook on Android and iOS.
Windows Central Newsletter
Get the best of Windows Central in your inbox, every day!
Dan Thorp-Lancaster is the former Editor-in-Chief of Windows Central. He began working with Windows Central, Android Central, and iMore as a news writer in 2014 and is obsessed with tech of all sorts. You can follow Dan on Twitter @DthorpL and Instagram @heyitsdtl.
Reading text messages and responding over Bluetooth would be more useful. Biggest thing I miss from WP8.1/WM10.

I am 100% in agreement with you. I think there are hardware challenges presented here on Android and iOS though, which prevent this from happening. But, boy, do I miss Cortana handling this and "hey Cortana" while in my car. The available options on Android are garbage compared to what Cortana was able to do in the car over Bluetooth on Windows 10 Mobile.

Wait a minute! I thought the hardware and APIs on Windows 10 Mobile were inferior to IOS and Android??? Just kidding. This is exactly why I'm keeping my Lumia 950 XL.

I try and I try but no way is Android better than WinMo I still use everything on my 950XL because it works. Android is very temperamental. So until I can get and or those extras niceties are available or actually work on Android my 950XL is my main phone.

Yes Ms needs a text app for android as well as a phone app then integrate cortana so she can read text email and make calls via Bluetooth. That would kick ass.

That was what Skype was supposed to be used for.

On Android it still coule be. They just gotta do it. There are a bajillion SMS apps on Play, why not make Skype work for that? If they could get RCS support in there, all the better!

What's baffling is this: why the hell don't iOS and Android have this native functionality (reading texts aloud while you drive) when Windows phone had it BUILT IN literally years ago. Just another example of several ways WP was, and still is, ahead of the game, technology wise.

I don't know about Android, but iOS has had all that functionality for some time now. It reads and writes texts, emails, etc. Even reads you the news.

So you can make it so that when a new text comes in Siri will ask if you want it read and then based on your answer she will read it to you and if she reads it to you she will then ask if you want to reply to that message? If so, please let me know how. *please don't read this as snarky. If this is the case I really want to know how to do this.*

Google leaves much of that up to the manufacturers to implement on their devices. I know Motorola had this function on their phones but I never used it. Google Assistant will read your latest messages if you want as well. You just need to ask.

Add me to this list. Super annoyed this isn't standard in Android, the almighty, great OS. I was quite surprised to find out it wasn't.

"Android" isn't a set standard with every device exactly the same. It is an open platform and manufacturers are more than welcome to add this to their phones so it works with their messaging apps. If you ask Google Assistant, it will do this.

no google assistant doesn't read an incoming message in real-time it just read messages that already came.

Try DriveMode… it does similar things to Android Auto (including full handling of car mode), but is far more flexible. It also supports whatever messaging apps you happen to use, not just SMS... so Signal, Facebook Messenger, Skype, you name it. Available from https://drivemode.com/ with all the marketing and demo videos if you want to see it in action first, or just go straight to the Google Play store to download it. Also, Cortana on Android recently added the ability to initiate text messages by voice (e.g. "text my wife" or "tell my wife I'm on my way, no really")… it is a little buggy still, but it's good to see some of the old Windows phone functionality being added. Oh, and for Samsung phone users, a quick reminder of the existence of the bxActions app, which allows you to remap the Bixby button to do just about anything, including map it to Cortana... all without having to root your phone... it's available directly from the Google Play store.

I don't care, because it will be US only again, although Cortana does know other languages on W10.

Just give us a dark theme already! 😒

Having moved over to the PWA last week, I'll be curious to see if they can just bake her into Outlook.com eventually. Or even directly into Edge mobile.

Can it be set as default replacing Siri in iOS? That's the question!

So much MSFT can do on other platforms than their first party provider themselves makes me think if MSFT does something like this out of talent and full fledged effort in development with a great team it already has, W10 Core OS will be a successful pitch. All it takes is timing and bold move.

meanwhile microsoft can not fix outlook in windows 10 Lumia 950xl, outlook can not send emails from a personalized email account.

What do you mean it can't send e-mails from a "personalized e-mail account"? I have not had any problems linking the mail program on my Windows Phone or my wife's with of our various mail systems. Both sending and receiving. Syncing contacts and calendares. Etc. What specifically doesn't work for you?