Cortana reportedly getting closer integration with Microsoft Teams
Microsoft is reportedly working to let Cortana send files, start chats, and more in Teams.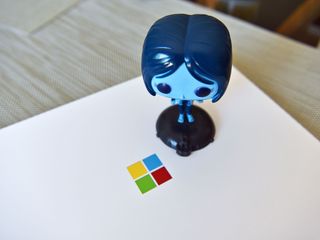 (Image credit: Windows Central)
What you need to know
Microsoft is reportedly working on more closely integrating Cortana with Teams.
New features would let Cortana send files, start chats, and more in Teams.
The report also notes Cortana is internally referred to as Microsoft 365 Assistant.
Microsoft is working to integrate Cortana more with Microsoft Teams, according to a report from Petri's Brad Sams. New features said to be on the way include allowing Cortana to "send files, create chats, present content while in meetings and quite a bit more." Currently, Microsoft is experimenting with Cortana's location within Teams, Sams says.
The report also shines a light on a potential new name for Cortana as Microsoft continues its transformation into a productivity assistant. Internally, Sams says, Cortana is referred to as "Microsoft 365 Assistant." While there's no indication Microsoft will publicly shift to this name, it could make the transition in a bid to more accurately describe Cortana's new focus.
Surface Earbuds appear to still be on track for a release this spring, as Microsoft previously announced after delaying their launch. Sams notes that Cortana's "Play my Emails" feature over the Surface Earbuds may be rebranded as "commuter." Under the new moniker, Cortana would read your emails, read your calendar, and allow you to interact with your agenda via Surface Earbuds while commuting to work.
Microsoft last week previewed Cortana's new role in the Windows 10 20H1 update as a productivity assistant, while also announcing some major changes. Among them, Cortana will go away in Windows 10 versions that are at their "end-of-support" dates. Cortana is also getting the ax in Microsoft Launcher and Microsoft is dropping third-party skills, along with music and connected home skills.
Dan Thorp-Lancaster is the former Editor-in-Chief of Windows Central. He began working with Windows Central, Android Central, and iMore as a news writer in 2014 and is obsessed with tech of all sorts. You can follow Dan on Twitter @DthorpL and Instagram @heyitsdtl.
Cannot think of a worse name than "Microsoft 365 Assistant". Don't de-personalize Cortana. People like personality. You don't see Apple rebranding Siri as "Apple Assistant."

They're refocusing Cortana to be more business focused.

Yeah, but business is people. As a business user myself, I am excited to see Cortana do more with Office and more embedded in Office 365, but I also want Cortana to continue to be called Cortana. I agree with QuietNine -- she should remain personal and continue to have a personality. Microsoft seems to continue to misunderstand that business users are also consumers. I think they create a feedback loop, where they pull consumer-oriented features, driving away consumers, and then conclude they were right to cut the feature because consumers stop using it. Microsoft of the past used to succeed because of their perseverance. Sure, their first launch was usually not great, but they kept at it until they mastered the subject and won the market. This fueled customer trust: "No matter what it is, MS will find a may to make it work, so I know it's safe to try and buy a new MS technology." Now, they seem to instead communicate: "If the market doesn't love it from day 1, we'll abandon it." This tells customers not to trust them, because customers don't want to buy into anything new that might not be around in the future. I don't think MS realizes the long-term cost of these decisions. They think it's wise to cut losers quickly before sinking millions or billions into them, which is a fair position, but it misses the long-term cost of lost consumer trust. They are making it harder and harder on themselves to launch new technologies.

Agreed, can you imagine having to say something stupid like "Office Assistant"? I don't call coworkers by their titles.

"Microsoft 365 Assistant, read my emails". Yeah, not very fluent.

After you going to be talking to it at all? That doesn't really make sense in an office environment. Typing commands seems more realistic.

True, but wasn't this the purpose of Surface Earbuds? So you can wear them in the office, communicate to Whatever-her-new-name-is and still hear others in the office?

You would still have to talk to your computer, annoying everyone around you and feeling weird. I don't see that being a popular option unless they have some killer functions they haven't mentioned yet.

I work with a lot of douches that already do that to their phones, mostly in front of others. 👍 That being said, I don't disagree with typing at a PC at all and in fact if I used it on PC, that's primarily the way I would do it. They just need to get some kind of strategy alignment going.

Agreed how they give up so quickly nowadays. They've been more visionary in the past, but so many missteps have hurt the company's reputation that people are skeptical of even trying Microsoft products and services. Windows Phone and Skype are clear examples of eroding trust. I hope Surface Dial isn't next.

So .. where does that leave my Invoke speakers and surface headphones? Hope Microsoft is prepared for a class action if they brick them.

They will switch them to Alexa or Google Assistant like they did the thermostat.

Found this on another thread and I hope it is true since I have four of them and basically control most of house using the Invoke: "In a statement to ZDNet, a Microsoft spokesperson confirmed that you'll still be able to control smart home devices and speakers with the Cortana apps for iOS and Android. However, this same capability won't be available through the new Cortana app on Windows 10 when the 20H1 update ships. This leaves some users in a bind, as the Cortana apps for iOS and Android were discontinued in some markets at the end of January."

That's ridiculous about the new Cortana app on Windows 10 not allowing smart home control. How we are supposed to take Windows 10 apps seriously when a 1st party app lacks functions that exist via the smartphone apps?

So I'll have to ask Microsoft Teams to sing me a song now?

I just want her on my Invoke.

Killing Cortona is so short sited, I use it everyday for work and home! Took me a while to move away from Siri, but now I much prefer it....same assistant for work and home!! Especially when I learned that Cortona can summon Alexa!! Hey MICROSOFT!! Why don't you just give up on consumer Windows and Office too? While unnoticeable in your skyscraper echo chamber, right now the Google termites are eroding your foundational offerings windows/office... and will eventually take down Azure. This is not 1990, the line between consumers and business, is blurry at best, eventually consumers drive what business uses.... think "blackberry" Blackberry is your future! Focus too much on business customers, and eventually you will get ousted for what consumers like.... IOS & Android. Once business stop using windows and office..... they will stop using Azure as well.... Well at least all that renewable energy you are investing in, instead of investing in cool consumer products, will be usable by the consumers that hate your software, when the last person at Microsoft turns off the lights... in about 7 yrs.

Correct. These days, mindshare is basically marketshare. If people don't have confidence and trust that you will grow your product/service, they will not even bother with it. The Cortana Skills Set blog is an example of where they tried, but it was obvious not enough resources were going into marketing Cortana and pushing more improvements. Only 14 posts about improved skills and integrations from September 2017 to May 2019 (last post). Not even 2 years and while Alexa/Google might have almost weekly updates, Cortana couldn't even get consistent monthly updates. https://techcommunity.microsoft.com/t5/cortana-skills-kit-blog/bg-p/cort...

They should be spending a little more time and effort getting Cortana to be the do-all, be-all, AI assistant that everyone really wants. I want Cortana to be able to rad my emails, tell me about the weather and also be able to play my playlists and/or send text messages for me if need be. Why can't MS just stick to one thing and try and get it to what their vision is? Why do they have to give up on their own products, specially the ones that could have so much potential? Innovators take risks, and lead the way to greatness. Cortana could be so much more, but alas MS is just messing things up. 'le sigh*

Agreed. There's no reason why Cortana can't have enhanced productivity skills in addition to enhanced everyday skills. This is basically regression, when a lot is eliminated. It seems short-sighted. What happens when Alexa/Siri/Google/Bixby start adding the same productivity skills? Cortana needs love; not relegated to office assistant status.

I would guess that Cortana or any other digital assistant is used more in personal private areas of your life than in office spaces. So pulling Cortana out of those personal spaces is a bad call.

*Office 365 Assistant The Cortana name is probably going away along with the day to day functionality.
Windows Central Newsletter
Thank you for signing up to Windows Central. You will receive a verification email shortly.
There was a problem. Please refresh the page and try again.