Dark Guardians, an endless battle Windows Phone game, is today's myAppFree Deal of the Week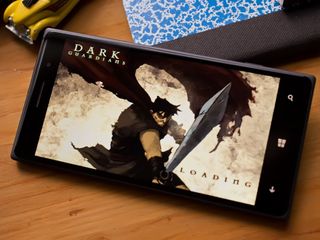 This week the myAppFree deals are focusing on Halloween themed titles. We started out with Count Crunch's Candy Curse and today, the Deal of the Week is Dark Guardians.
Dark Guardians is a fantasy endless runner game that has you racing through picturesque, mystical Celtic lands. To make your run interesting, you will have to battle a host of monsters that have inhabited these lands. Some of these monsters hold elemental powers, requiring you to match your strike with powers of your own.
The graphics and animations with Dark Guardians is well drawn up, the game play is challenging and if you are going to take advantage of this week's Halloween deals from myAppFree, today is the day. Dark Guardians is normally priced at $1.49 and through the myAppFree deals, you can pick up the Windows Phone game free over the next twenty-four hours.
Dark Guardian's primary menu offers you the option to rate the game, contact the developer, visit the help screen (that would be the T button) and jump into game play. The premise of the game has your hero racing through the forest where he will encounter an endless supply of monsters to slay.
The gaming screen has four control buttons spread across the bottom of the display that will control your attacks. You attack must match the elemental power or lack of elemental power of the beast you will face. For example, if the monster is on fire that is a fire element creature and you will need to tap the fire button. If the monster has no elemental power and is just a plain Jane type creature, a simple swing of your broadsword will do the trick.
Rounding out the layout of the gaming screen is your health meter and token count that is located at the bottom center of the gaming screen. Your gaming score is displayed in the top center of the gaming screen.
Dark Guardians will test your skills at timing and observation. A light precedes your runner and when the monster reaches that area, you tap your attack button to slay the enemy. Swing too soon, too late or tap the wrong button and your hero takes on damage. Run out of health and the game is over.
At the end of each game, you will be awarded gaming tokens that in turn can be used to upgrade your skills. Upgrade options include increasing your health points, extend your sword's reach and begin the run at the 200-meter mark.
In playing Dark Guardians for a short time, it comes across as an entertaining Windows Phone game. It is a good fit for those times you have just a few minutes to pass or if your gaming itch needs a little more time to satisfy. It is a quality addition to the endless/infinite game genre from the Windows Phone Store.
Dark Guardians normally runs $1.49 and through the myAppFree deal you can pick up the Windows Phone game free (a steal of a deal). If you try Dark Guardians, let us know in the comments below what you think of things.
Download Dark Guardians from the Windows Phone Store
myAppFree Halloween Extravaganza
Throughout the week leading up to Halloween, myAppFree will offer the same fantastic deals it always does but this week it will focus on Halloween themed titles, titles such as Zombie Warfare and Decay the Mare. The best way to keep track of it all is to download and follow all the deals from the myAppFree app (keep on reading).
myAppFree
Windows Central is proud to be partnering up with myAppFree to bring you savings on Windows Phone apps and games. myAppFree is a free Windows Phone app and service that highlights special deals for software in the Windows Phone and Windows Stores. Make sure you download their app to keep track of all the specials they run weekly, as you'll never know what you may find.
Windows Central will continue to highlight select Windows Phone and Windows 8 titles, such as Dark Guardians, from myAppFree on a regular basis as a benefit to the Windows Central community. Many of these deals will be for universal apps so you'll double your savings.
George is the Reviews Editor at Windows Central, concentrating on Windows 10 PC and Mobile apps. He's been a supporter of the platform since the days of Windows CE and uses his current Windows 10 Mobile phone daily to keep up with life and enjoy a game during down time.
Is there a myappfree substitute on android?... to be specific - on Google Play.

Why would you be asking here? You can always ask in the Android Central forums.

You will get whichever app free you want you won't need service like myappfree to install an app for free

Welcome to the Lagdroid Children's department of Windows Central. The meds are on the left. The strait jackets are on the right.

This looks like really good quality for an endless runner game. Good theme aswell

Same developers who made Dark lands, George?

Not that I am aware of, but it does have that Dark Lands mood.

Checked it. And it's not. But looks great. Got to give it a shot.

This is so very clearly based on the Berserk manga series.

Not bad for what it is. Running smooth on 512 RAM.

Was there something else featured between Count Crunch (Sunday) and Dark Guardians (today/Tuesday)?

There was Zombie Madness II and there will be other 3 Halloween apps here at myAppFree during the next 3 days. Please mate, check our app everyday ;) no tricks, just treats :D

Thanks for that! Was Count Crunch the first one of the Halloween apps? It's surprisingly fun. I'm looking forward to finding out what the next three are.

I'd like Guardian Heroes please. :)

Lol, but yes, even if it's paid I buy that game in a heartbeat. Played to death on Sega Saturn and then purchased again when it hit xbl and now voting for BC for X1. That games is just epic.

Test trên Lumia 640 thì thấy đồ họa của Game nhìn hơi xấu

Wish you could save your progress. It also has a few issues 1. When you go to upgrade your skills the touch system doesn't respond until you hit the refresh icon in the upper right of the screen click no then go back to the menu and upgrade your skills. 2. The different element attacks a far too close together sometimes and you don't have time to switch to the different element blades. I think this game maybe stolen look up Soul Fighter by Soulio it's exactly the same game but they were out months before this game.
Windows Central Newsletter
Thank you for signing up to Windows Central. You will receive a verification email shortly.
There was a problem. Please refresh the page and try again.