Dark Knight Rises, ARMED, and Weave are the newest Windows Phone Red Stripe Deals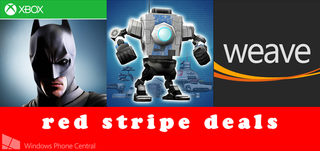 With no new Xbox release for Windows Phone this week, gamers in search of a fix will have to look to the Xbox Red Stripe Deal for their entertainment. The latest deal game is Gameloft's Dark Knight Rises for Windows Phone 8. It's on sale for $2.99, as it also was back in June. If you're looking for a long and meaty game, it should fit the bill.
Non-Xbox Red Stripe Deals include the phenomenal strategy game Armed from Sickhead Games for 99 cents, plus the popular app Weave News Reader for $3.99. We've got details and Store links after the break.
The Dark Knight Rises (Windows Phone 8 with 1 GB RAM)
Regular price: $6.99 Sale price: $2.99 Download size: 774 MB Store Link
Everybody knows Gameloft for their mobile clones of popular console and PC titles. But Gameloft also produces fairly high quality licensed games. This one is based on the final Chris Nolan Batman film – the one with all the plot holes like Batman surviving a nuclear explosion somehow. Me, I prefer the animated The Dark Knight Returns, which recently came out in a wonderful deluxe release on Blu-ray (opens in new tab) and DVD.
As for the game itself, it looks and plays much like Amazing Spider-Man. You can take on the story missions following the film's plot or run around doing random missions in an open world setting. Batman doesn't web sling, but he does get to drive vehicles.
Dark Knight Rises is a pretty good movie game, but like other 3D Gameloft titles it suffers from a lower than optimal frame rate. It also has one Achievement that is a little iffy but can be attained by a grinding workaround. Putting those concerns aside, Dark Knight Rises is a must-buy for fans of open world games and the Caped Crusader.
Armed (Windows Phone 7 and 8)
Regular price: $1.99 Sale price: $.99 Download size: 65 MB Store Link
We haven't written about it in a while, but Armed (AKA ARMED!) used to be one of the most popular and technically impressive indie games for Windows Phone 7.
A turn-based strategy game with 3D graphics, Armed! features some seriously slick menus and UI that put many games from larger companies to shame. On top of single-player battles against the AI, the game also boasts cross-platform online multiplayer. You can battle against Windows 8, PC, iOS, Android, and Ouya players, which is pretty awesome.
Sickhead hasn't made a new game in a while; hopefully we see something from them soon. In the meantime, don't miss Armed if you like strategy games.
Weave News Reader (Windows Phone 7 and 8)
Regular price: $7.99 Sale price: $3.99 Download size: 3 MB Store Link
Weave is one of the best Windows Phone news readers around (neck and neck with Nextgen Reader), but it's also pretty costly. Starting out at ten bucks, it normally sells for $8 nowadays. Luckily for people who find that too rich for their blood, it's half off this week.
Weave is exclusive to Windows Phone and Windows 8. You can find the Windows 8 version here (opens in new tab), or try the free ad-supported Windows Phone version here.
Features:
The first time you open the app, pick from a few of the more popular topics. If you don't see something you like listed, don't worry - there are a lot more topics in the browsable library we've included with the app!
We've also provided a TON of customization options - everything from different fonts, font sizes, and reading theme colors (try the "night" reading theme when you're up late reading the latest news!).
We even let you choose what voice you want to hear when Weave speaks an article to you!
Share articles at the touch of a button: we make it easy to share articles via Instapaper, email, SMS, and social networks (Facebook/Twitter/LinkedIn).
We almost forgot to mention the absolutely gorgeous Live Tile, which cycles through up to 9 images from your latest news articles.
Come see why many have called Weave the best news app they've ever used!
Thanks to Marcel for the tip!
Paul Acevedo is the Games Editor at Windows Central. A lifelong gamer, he has written about videogames for over 15 years and reviewed over 350 games for our site. Follow him on Twitter @PaulRAcevedo. Don't hate. Appreciate!
Wasn't the point of the explosion at the end reasoned through with him having fixed the autopilot weeks prior but just lying about it? Not that its totally relevant to the articles. Nice deals!

That's one way of looking at it. The film definitely misleads viewers about him having fixed it if that's the case though. Movies and books are my secondary passions after games. :)

Well at the end, (or maybe it was an extra, I don't remember :P) they specifically talk about a software patch having been put through by Bruce Wayne, I think It mentions autopilot as well :)

They mention the autopilot is broken and it doesn't come up again AFAIK. There could be more details/explanation in the extras though.

There's a scene after the explosion where Fox finds that the Bat's autopilot was repaired by Wayne six months prior to the explosion. The timing of the pre-explosion sequence is questionable but the point still stands.

i want to use weave, but alwways go back to nextgen, weave doesnt pull enough articles for some feeds.

ARMED! for me over all else. Closest i can get to C&C while mobile.

I don't get it. I could run this batman game on an android with a single core 1 gig nexus s with 512mb of ram but a dual core sbapdragon s4 pro with adreno 305 in my Lumia 520 with 512mb of ram cannot run it ? Am I missing something here ?

Your 520 has what???? That's more powerful than my 920. It only has a dual core Snapdragon S4 and adreno 225 and 1GB RAM. I thought i had flagship???

He's correct, but the 520 is 1GHz, the 920 is 1.5GHz. CPU model is MSM8227 (520) vs MSM8960 (920). The 305 GPU is still slower, despite the higher version number.

Weave is regularly $8?!?
That's insane.

For $3 I'll take batman. I already have Armed! (and love it on my tablet too) though it should be an Xbox Live game IMO as its awesome and hrs of fun.

Weave used to be $3 (I am 99% sure) back before WP8. As soon as WP8 came out Weave wove some higher digits on it's price and became the obscene $9.99.

Well at the end, (or maybe it was an extra, I don't remember :P) they specifically talk about a software patch having been put through by Bruce Wayne, I think It mentions autopilot as well :) But up until then at least, I agree it was definitely rather misleading haha.

Even $4 for a news reader isn't a deal.

Weave seriously needs some attention. It hasnt been updated in a while. Makes me question the devotion of the developer.

I'm guessing they're too focused on the Windows 8 version at the moment. WP version is too expensive though (for a reader).

Wait, did I buy Weave for my surface? I thought it was free. Why so expensive on WP?

As mentioned in the article, there is also a free version for WP. Windows 8 just doesn't havea paid, ad-free version yet.

I use Weave regularly for Windows Phone and find it quite useful but there is no way it's worth that hefty price tag on Windows 8.

I wonder how they justify the cost. Remind me how much NextGen Reader costs?

The Windows 8 version is free and supported by ads.

Actually I was talking about the WP version which also has a hefty price. Even as a red stripe deal it's a bit much.

My reply was to Worzel who was talking about Windows 8, y'see. There is the free WP version for people who find the paid version too expensive, at least.

Paul, you've confused me now. I am already aware that the WP version is free but you initially said that the Windows 8 version also comes free and add supported? Others have said that there is no free version for Windows 8.

I linked to the Windows 8 version in the article, my man. Just follow it and you'll see.

So Paul, are you saying that there is a free add supported Windows 8 version along side the Windows Phone 8 version? If there is then please ignore my original comment, although having to pay such a hefty price tag to remove advertisements seems a tad excessive to me.

I'm the dark knight!!! I AM BATMAN!!!

Drinking dark guiness all day does not make you the dark knight ;)

Bought ARMED! because of this deal and I'm really liking it so far. Would love to try this on a tablet too.
Windows Central Newsletter
Thank you for signing up to Windows Central. You will receive a verification email shortly.
There was a problem. Please refresh the page and try again.