Huge Gameloft Windows Phone sale includes Amazing Spider-Man and Dark Knight Rises!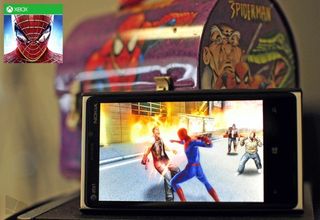 The Xbox Red Stripe Deal of the Week doesn't update until Thursday, but that doesn't mean you won't find a new Xbox Windows Phone deal today. The good folks at Gameloft are running a little sale of their own, with almost every single one of their titles marked down in price. The best deals of the bunch have to be The Amazing Spider-Man and The Dark Knight Rises for three bucks apiece - those games only came out in March!
Full list with descriptions and store links after the break.
The Amazing Spider-Man (Windows Phone 8 devices with 1 GB RAM)
Regular price: $6.99 Sale price: $2.99 Download size: 542 MB Store Link - Review
The Gameloft sale starts out with a bang thanks to this very good licensed game. Based on the underrated Andrew Garfield film of the same name, Amazing Spider-Man is an open-world action game. Players can web sling or run across a fairly large city, fighting random thugs and taking on little side missions. Or run through the story and try to thwart the Lizard's evil plans.
Amazing Spider-Man has just two problems. The frame rate is less than ideal. I still found it perfectly playable, but some players won't care for it. Also, the game suffers from two broken Achievements. Sadly, Gameloft rarely fixes Achievements, so I'll be mentioning this same issue in several other games' descriptions.
Asphalt 5 (Windows Phone 7 or 8)
Regular price: $2.99 Sale price: $.99 Download size: 110 MB Store Link
Before Gameloft graced Windows Phone 8 with the stellar Asphalt 7, they published a good port of the less amazing fifth game in the Asphalt series. It was actually supposed to be a launch title but came out almost two years later in July 2012.
Actually, Asphalt 5 looks and plays very well for a Windows Phone 7 racing game. My only complaint is some of the race types are difficult to figure out, which can eventually prevent players from progressing in the game. Asphalt 7 thankfully dropped those problematic race types.
Regular price: $4.99 Sale price: $1.99 Download size: 139 MB Store Link
This might be the single most frequently discounted Xbox Windows Phone game. Does anybody not own it yet?
Assassin's Creed is a 3D platformer/action title set in the middle ages. With great graphics and full voice acting (though the acting is atrocious), it feels like a DS game squeezed into a mobile title ('cause it is). The controls are fiddly and the platforming can be frustrating, but the story and action mostly make up for it. Easy Achievements too.
Brain Challenge (Windows Phone 7 or 8)
Regular price: $4.99 Sale price: $1.99 Download size: 112 MB Store Link
Brain Challenge is a collection of brain-teasing minigames that you should be wary of. It sports an amazing five Broken Achievements – the most of any Xbox Windows Phone game. Seriously, Brain Challenge is buggier than an entomologist's laboratory. Skip this and get the superior XBLA version instead.
Regular price: $6.99 Sale price: $2.99 Download size: 774 MB Store Link
Want an open-world action game for your phone that doesn't have any broken Achievements? Dark Knight Rises fits the bill. Some of the Achievements are difficult to actually figure out, but they are all attainable.
As for the game itself, it looks and plays much like Amazing Spider-Man. You can take on the story missions following the film's plot or run around doing random missions. Batman doesn't web sling, but he does get to drive vehicles. As long as your phone can run the game and you don't mind the frame rate, Dark Knight Rises is a must-buy.
Regular price: $4.99 Sale price: $1.99 Download size: 170 MB Store Link - Review
Let's Golf 2 is an arcade-style golf game modeled after Sony's popular Hot Shots Golf franchise. Features include cartoony players, clean 3D graphics, six 18-hole courses, and both Career and Challenge modes.
Initially Let's Golf 2 launched with two broken Achievements, though a subsequent patch fixed one of them. Unfortunately, the 'Secret Code' Achievement remains unattainable by design. That's right, the Achievement's requirement of inputting a special code in order to unlock the ninth golfer is simply impossible in the Windows Phone version of the game. Still, if you can overlook that blunder, Let's Golf 2 remains a lengthy and fun title.
The Oregon Trail (Windows Phone 7 only)
Regular price: $4.99 Sale price: $1.99 Download size: 59 MB Store Link
Oregon Trail was not compatible with Windows Phone 8 initially. Then in December we reported that it became available for WP8 again. Unfortunately, the WP8 compatibility appears to have been a mistake on Microsoft's part. The game is only available on WP7 once again. Too bad, 'cause I'd totally buy it at this price.
The Oregon Trail is an edutainment title, focusing on the emigrant trail used by thousands of American settlers to travel from the Missouri River to Oregon during the 1800s. It features a lively cartoonish art style and several minigames. Plus you get to die of dysentery (opens in new tab)! The Achievements are mostly easy, but one is semi-glitched. Make sure you follow the instructions in this Achievement Guide to unlock it.
Real Soccer (Windows Phone 7 or 8)
Regular price: $2.99 Sale price: $.99 Download size: 40 MB US Store Link - International Store Link
Like Asphalt 5, Real Soccer was supposed to be a launch title but came out super late – September 2012 in this case. And unlike Real Soccer 2013, this entry is a traditional soccer game unmarred by an overly greedy freemium pricing model. Buy it and play as much as you want.
The Achievements from the US and international versions even stack, so players who buy both versions can earn them all twice. BUT both versions suffer from an Achievement that is impossible by design. 'Man of the Match (opens in new tab)' is tied to a mode not found in the WP game.
Regular price: $4.99 Sale price: $1.99 Download size: 160 MB Store Link - Review
Conviction is a port of the excellent Xbox 360 game, sharing the same premise and much of the fully voiced story. Series protagonist Sam Fisher must investigate the death of his daughter and eventually save the president of the United States from terrorists.
The level designs are different from the console version, but this one still plays like a Splinter Cell game with lots of sneaking around and killing enemies from the shadows. Despite the rudimentary 3D graphics and a few annoying difficulty spikes, Splinter Cell is a fun and easy 200 GamerScore overall. Too bad it doesn't run on Windows Phone 8 though.
UNO (Windows Phone 7 or 8)
Regular price: $2.99 Sale price: $1.99 Download size: 59 MB Store Link
Nobody NEEDS a single-player Uno game, and in fact Gameloft still has the multiplayer Uno & Friends in the works for Windows Phone 8. But there is one very good reason to buy this early Windows Phone release: easy Achievements! Seriously, you can get them all in just an hour or so. Given the simplistic core gameplay, I doubt it will keep anybody busy beyond that.
Paul Acevedo is the Games Editor at Windows Central. A lifelong gamer, he has written about videogames for over 15 years and reviewed over 350 games for our site. Follow him on Twitter @PaulRAcevedo. Don't hate. Appreciate!
Dam,dam,dam. Can they hold this for a further 2wks till i get paid???

Do you have carrier billing? That's how I defer my own payments...

I'll say it again. If you don't have money to buy these cheap games now... You probably shouldn't be buying them period. Just saying

I would agree with you if i didn't just purchase Spectral Souls. This month happens to be one of my more expensive that's all.

But some people have different budget spendings. Maybe some allocate certain amount of money in their monthly budget for games and other entertainment goods.

Also, some people have their bills stacked on one paycheck. All of the guy's bills might be due during one paycheck, so he makes all of those bill payments with one check, then the rest is mostly spending money. I know this to be the case at times, because my mom has it happen where her first paycheck is almost entirely used on bills, then the second is mostly extra money.

Dude, BING POINTS. 515 points gets you 5 dollars for windows phone purchases.
Everything I have bought for my WP has been free because of this.

You shoud thank your parents for being American. When I finish college, I'll try to get a job in your awesome country were there are such things as Microsoft Stores and Bing Reward Programs... It's my biggest dream since I remember!

Time to use the $25 credit I got for getting a Lumia 928 :)

$6.99 I would not pay but, $2.99, dam good deal. Grabbed batman and Spyder man...
If UNO was $0.99 (not worth much more than that in my eyes), I would of grabbed it but, at $1.99, I'll skip it..

I hope this are the new prices, not a temporarily discount. :)

I am thinking of buying Spiderman or Dark Knight .. Which one is less buggy ?? Need all the cheevos too .. :P

I have a feeling that the article answers that. ;)

Both the games have frame rate drops according to the article , so I asked which one is less buggy .. :|

Broken Achievements = more buggy than working Achievements, y'see. So Dark Knight Rises wins. Both are worth playing though, depending on how much storage space and time you have.

No storage problem here .. Lumia 920 .. B)
Dark Knight it is then

Dang good deal, just nabbed Dark Knight and Ultimate Spidey.

Normally when a developer on windows phone discounts the price means that they are not willing to continue the development (I.E. Fruit Ninja)

What? They updated their app (not lattest update though) and just releaes Joyride. Wtf?

yeah, but I appreciate an update after 2 years for fruit ninja

The formatting for Let's Golf 2 is wonky. The store has it at $1.99. Is that the sale price?

That's right. Thanks for catching the mistake.

Now I'll get Batman and Spiderman.

I see at least two downloads in my future.

What abt todays xbox game of the week?

Is it possible to pay for these games (Spiderman and Batman) and not have to download them now so I can download them another time?

Yeah .. Just pay and when the downloading starts cancel it

I know that but is there a way to buy the game and not start the download at all because I have no space on my phone to download it so I want to buy it now, not start the download, and download it later on when I am able to

Just buy it through the web via PC and cancel - that way it doesn't check for storage space.

Not working if no space left on the phone.

Real Football on sale. Windows Phone 8 users change marketplace to any country but usa

And here i was hoping for Minion Rush.

Any word of todays release Paul?? Great as these deals are, I like most, already have them

No news yet, unfortunately.

Let's hope it will be something popular AAA WP8 only title like pudding monster,CTR time travel etc....

Agree.
Stingy sales for bad ported and outdated titles!

Downloading and purchased Dark Knight... But I wish they released Oregon for WP8 too. :)

I want to support Gameloft but can because MS still refuse to fix the "Other" memory/space problem.

Got some these titles for 99 cents for iPod touch, it was a sale for memorial day, wonder why they don't have the same sale price for WP.

So, Asphalt 7 is an over 800 MB install on your phone, but will install on a 512 MB Windows Phone 8 device.

Meanwhile, Asphalt 5 is a 110 MB download....and requires 1 GB of RAM on WP8. What the heck?

It's a common issue with WP7 games. WP7 and WP8 handle memory differently, is all I can tell you.

Always glad to see WP7 games on sale.

Aaaand they're all 50c more expensive in Australia :P

Does anyone know how to do carrier billing on Verizon and the Lumia 928??? I can't figure out how to do it???

$2 still seems pricey for such old games, especially given that many of them have glitches. I might have tried Spiderman, but the fact that Gameloft hasn't improved framerate issues means I'm not going to bother with the game.

Looking at some of the reviews Gameloft seems to be a company to avoid due to the lack of support,but thanks anyway

two games with broken chievos on sale = fail. specially brain challenge with 5 broken achievements = epic fail.
Gayloft should fix these games before putting them on sale. This is the 3rd time LG2 is on sale and still no fix for the glitched bug.
Paying for glitched, buggy games is like paying for a car with 3 wheels. You can still run with it but not for long, forever.

Three games! As for the broken Achieveents, while I agree those are bad, they wouldn't ruin a game for most people.

i don't mind paying full price for the glitched games as long Gameloft do something about it and fix them for good. If Gameloft fix them (wich i doubt now since LG2 and BC are pretty old now) I don't mind showing to them some respect and support for future games. The problem I have with GL is not the price of the games, it's the support they give after a game is released, specially game with bugs (I don't talk about achievements only but bugs in general, like slow framerates, slowdowns, crashes that people experience with the batman and spiderman games on WP8).
The only game I bought from them at full price is UNO, I was able to 100%, no bugs at all and this is what i expect from any of their games too. I still play it because it's a fun game. I also grabbed Earthworm Jim HD and AC HD when there was a glitch/price mistake at the store and both were free for 1-2 days but I still didn't touched them because of the hard controls/gameplay.
For me achievements are also important, so if a game has 1+ glitched achievements, it's a no go. I don't like starting a game and end up with 1 or more locked achievements for years but that's me.

post corrected just now under this one

Actually, 5 games have glitched achievements (if you count the 2 Real Soccer version, 1 for the US and 1 for UK/Europe)
Just copy-pasted from Trueachievement's post:
The Amazing Spiderman (1 Achievement)
Brain Challenge (5 achievements)
Let's Golf 2 (1 achievement)
Real Soccer US (1 achievement )
Real Soccer UK/Europe (1 achievement)

I don't think it's fair to count Real Soccer twice, but yeah, it's definitely at least 4, not 3.

Real Soccer is for the US and Real Football is for Europe so that's 2 differents games even if they are the same game in term of gameplay and features. Both games have their own separate achievement list that you can stack.

I'm aware of the two different versions, but they're both the same game. It's just stackable. We wouldn't call the British Blu-Ray of a movie "a different movie" than the US version.

you have to pay for the game twice and change the region of the phone too in order to get the 2 games on the same phone. It's like paying for two different games. Most people will only grab 1 version depending of the store they use but achievement hunter will probably grab both.
Same with the Who Wants to be a millionaire games, they released 5 versions fot his game with 5 different achievement sets

Agreed on those counts. I'm somewhat into the game stacking scene, as I've got both US and Japanese versions of Castlevania SOTN and Bionic Commando Rearmed on XBLA, for instance.

Saving my Bing Rewards for Halo, or I'd consider one or two of these. Actually, I probably wouldn't. The two I'd most be nterested in are Oregon Trail and Uno. The former isn't on WP8, and the latter has no multiplayer, so it is rather menaingless to play.

I MIGHT grab the Batman demo and see if its issues keep it from being enjoyable or not. If not, I might grab it (will have to see if I'll still have the $7.25 or so Halo will cost). Good sales and all, but they really shoudl show some decent support and fix their games.

Not enough space on my phone to download a single one of these. :(

Uno link not working (using WPC app)

Strange. Just tried it on the PC and it worked fine.

I sent you guys this news tip about 16 hours ago...some great deals but you have to hate gameloft with a passion when it comes to achievements. Still very good news

Huh, didn't see your tip, man. That early though? First tip I got was 7 hours ago.

No problem, all good man. Thanks for your reply!

I'd like to buy those but can't because of the infamous "Other Storage" taking so much space and I can't install those.

Anyone with a L920 and Spiderman/Batman/Hot Shots that can comment on whether your phone feels like its on fire after 10 minutes of playing any of these games?

I haven't tried any of those games yet, but the top end of my 920 gets hot even when I'm just playing Puzzle Quest 2, and I wouldn't really say that's a graphically intense game. Though according to Google I'm not the only one.

Thanks guys! Thought "feck it" and bought every game I didn't already have with the exception of Brain Challenge. I can just about forgive 1 buggy achievement (or two at most if I'm feeling generous), but 5? No thanks.

If you aren't using Bing points to get your free $5 WP credit, then you are doing it wrong.

I already have the DS version of Oregon Trail, but I'd love to have it on my phone as well because I think that's one of the games I couldn't transfer to my 3DS.
Windows Central Newsletter
Get the best of Windows Central in in your inbox, every day!
Thank you for signing up to Windows Central. You will receive a verification email shortly.
There was a problem. Please refresh the page and try again.