Dead Island Definitive Collection brings the zombie game series to the Xbox One on May 31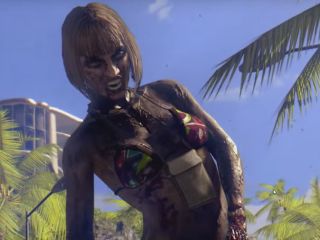 Xbox One console owners will be able to play the games in the Dead Island zombie action series for the first time on May 31. That's when publisher Deep Silver will release Dead Island Definitive Collection, a bundle of both the original Dead Island and its stand-alone expansion Dead Island Riptide, for the Xbox One, along with the PC and PlayStation 4.
For its current generation release, the Dead Island games will get a graphical revamp from developer Techland, and they will use the same engine that the developer created for its more recently released zombie game Dying Light. Here's a look at all of its improvements:
Higher Quality Textures - Game textures have been redone in a higher resolution and the level of quality has been improved across the board
Photorealistic new lighting system - The lighting system in the game has been vastly improved, providing a much more realistic look to the beautiful sunny tropical setting
Physically based shading - The introduction of new physically based shading techniques due to the latest iteration of the Chrome Engine means a higher quality look to the game models and objects as they react in a more realistic way to various lighting conditions
Image quality enhancements via anti-aliasing - The addition of more sophisticated anti-aliasing means that console players can now experience Dead Island without unsightly "jaggies" – meaning a much cleaner look throughout
Improved-quality game models and geometry assets - All major geometry assets (for example: NPCs and character models) highlight a marked quality increase
HBAO and motion blur effects - The introduction of Horizon-based Ambient Occlusion adds a extra layer of depth and realism to the world through a better implementation of object shadows, while the all-new motion blur effects will provide a much more cinematic feel to the game experience.
Updated game UI - Providing a more consistent look between both Dead Island and Dead Island Riptide. Increase to equal quality level for seamless game experience.
Also, Power Fists Power-up, which was originally made as an unofficial mod for the PC version of Dead Island, will be added to the new console and PC versions of the game.
Dead Island Definitive Collection will include an all new endless runner/side scrolling mini game called Dead Island Retro Revenge. It will include "power-ups, super attacks and a combo system" along with its own leaderboards and achievements. Dead Island Definite Collection will be priced at $39.99, and Deep Silver will also sell Dead Island and Dead Island Riptide separately for $19.99 each.
Source: Deep Silver
Yuck! What an awful zombie

They're supposed to look ugly and awful...

I guess we know why the two 360 titles were on sale last week... last minute cash in before announcing this. Glad I didn't buy them... I might be interested... have to look at some reviews.

I bought Escape, I figured 4 bucks couldt be that bad..

I may have to buy this even though i have each already. I have to say, there was NO better trailer I have ever seen, than the original Dead Island trailer. Absolutely phenominal and powerful. https://www.youtube.com/watch?v=G0E31788Nfg

I can't open the link right now. I'd this the one with the little girl?
If so, I remember when Geoff Ramsey from Rooster Teeth did a reaction to this. He could not watch it, it was too heartbreaking for him. Sent from my leather-coated Lumia 950 :3

If you are interested:
https://youtu.be/rv-SQc6LA2E Sent from my leather-coated Lumia 950 :3

I remember watching that trailer repeatedly and sharing it. Couldn't wait for the game, which was ok, but pretty disappointing overall.

Just gave up my xbox 360 copies since I no longer need them but I will be buying this when I get chance :D Great games ;)

Or buy Dying Light Enhanced Edition and play something from that team that is legitimately great.

Haha zombies are not persons so it's ok to hack them and blast their limbs off... However for the sake of political correctness, she is wearing a bra. The hypocrisy at its finest. /rant
That being said, I enjoyed Dead Island.

Good game. I'll buy if it's under $50. If not, I'll just wait for the sale.

Uh.....the article states that both games with the bonus endless runner game is $39.99?

After Dying Light I don't know how anyone could go back to this series. Posted via the Windows Central App for Android

I enjoyed the original dead island and boy that upgrade looks nice.

I love this game on PC. Well, Riptide is not that good, unfortunately, but original one is the best zombie game I ever played.

Nothing beats LAST OF US.
Windows Central Newsletter
Get the best of Windows Central in in your inbox, every day!
Thank you for signing up to Windows Central. You will receive a verification email shortly.
There was a problem. Please refresh the page and try again.