Slaughter zombies in the Dead Rising 3 demo, while you wait for "Operation Broken Eagle" DLC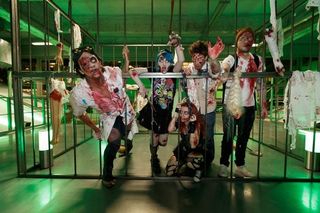 What could be better than sitting in front of your Xbox One and dismembering zombies with a variety of chainsaws and customizable weaponry? Nothing – absolutely nothing. Today, Capcom has announced a few surprises for fans of their latest masterpiece, Dead Rising 3, including a downloadable demo and the game's first expansion pack that will be available soon.
The Dead Rising 3 demo is now available to download now from your Xbox One's marketplace. As Major Nelson points out, simply use the "Xbox, Bing" command and search for "Game Demos" to see all games currently available for demoing.
Capcom has stated that they have hidden some "cool hidden goodies" in the demo for players to find. A super combo weapon dubbed the Ultimate Grim Reaper can be found, along with other "cool combos to try out".
For those of you who already have your hands on a full copy of Dead Rising 3, you can get ready for the latest downloadable expansion pack – Operation Broken Eagle. The new add-on episode isn't available yet, but Capcom has been awesome enough to give the Xbox community a few comments on the plot.
There will be four "Untold Stories of Los Perdidos" experiences and Operation Broken Eagle is the first. Each experience will show you the Dead Rising 3 story from a different character's point of view. Have fun destroying Zombies, while seeing where the episode lines up with Nick Ramos' main storyline.
The first expansion will feature Special Operations Commander Adam Kane. Capcom describes Adam as a man "relatively good willed in nature facing military opposition". You will be able to get your hands on some insane military weaponry and vehicles to take down those zombie hoards.
Are you enjoying the slaughter in Capcom's Dead Rising 3? Will you be picking up Operation Broken Eagle when it is released on Xbox One next week?
Source: Microsoft
Windows Central Newsletter
Get the best of Windows Central in in your inbox, every day!
This was my first purchase, with the second being AC IV. It's an awesome game. There really are an insane amount of zombies on the screen at one time.

I love playing it, I have finished the plot, but now I am going back and doing all the side missions I didn't do before and picking up all the items... I'd like to get to level 50 so I can have indestuctable cars :-D Quick question... When you do the new storylines, I assume your level drops to 0 and it starts all over again?
Add me BarnesMorgan2 :-)

Nope you have the same level, same blueprints and items in safe houses.

Wish there was a way to start the download away from home

There is, add it to your Xbox live cart and if its in ready on mode it should download in the background

Where's the link to add it to your cart from the webpage? Was unable to locate it anywhere.

A demo is exactly what i wanted for this game! I bought Dead Rising long after it came out and while it was fun I wouldn't have been happy if I'd bought it at retail. I've been thinking about this one and will give it a try to see if a purchase may be on the horizon.

Is this Xbox-only, or is there a PC version?

They could real do to integrate the demos in to the smart glass app and then you can add it to you queue and it is ready when you get home, assuming you have the always semi on mode set.

Lol, will download later. Thanks for the information.

u can only play the demo for 20min and thats it.

That's dumb and they got a check to include hidden goodies in the demo for you to find... in 20 minutes I'm going to find all the hidden stuff... yeah right!!

Will wait for the DLC to go on sale. Still have so much to do in the base game. They give you too much!
Windows Central Newsletter
Thank you for signing up to Windows Central. You will receive a verification email shortly.
There was a problem. Please refresh the page and try again.