Dell announces new Windows 8.1 notebook and tablet made for schools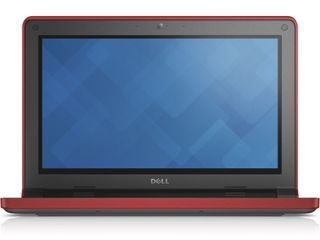 Dell has announced it will sell a new Windows 8.1 notebook and tablet made specifically for the education market. The Dell Latitude 11 Education Series notebook will have a starting price of $299 and the Dell Venue 10 Pro Windows tablet will start at $329.99. Both products will go on sale March 3.
Dell says:
Inside the Latitude 11 has an Intel Celeron processor (no clock speed was revealed), and a 250GB hard drive for storage. The touchscreen version won't go on sale until sometime in June.
The Dell Venue 10 Pro tablet will allow students to use it from five different positions with an optional keyboard. The company states:
Dell has yet to reveal the specific hardware specs on the Venue 10 Pro.
Source: Dell (opens in new tab)
So they will get them and learn how to use them just in time for the start menu cry babies to get their way and see Microsoft dump the 8 setup?

Seeing as you're still welcome to set up a full screen start menu in windows 10, i guess not.

They are not very similar right now. Th tablet mode leaves much to be desired

We have not seen tablet mode for windows 10 we should not even be considering that as one talkless of accepting it.

If we haven't seen it, then what is the tablet mode button in the notification center that changes apps to full screen mode. Or how come when I disconnect my keyboard from my surface I am asked if I want to go to tablet mode. I hope you are right, that this "tablet" mode is not even close to complete. But it seems to be something we have indeed seen.

Well, nobody will upgrade. Budget joke

How powerful is the celeron?

This is for kids' use in school. Celeron is good enough.

Is a celeron better than and a4 1ghz?

Fast enough to hack the school's network or browse for porn... I mean, run office apps and watch educational videos. It is a student laptop... not exactly designed for anything but office and web browsing, and a quad core Atom (which I assume is what this 'celeron' is) should be up to the task for that.

Yes. The current Celeron (and Pentium) are using Bay Trail cores. So basically, they are Atoms with higher clocks, significant enough to supercede Atom lines. I don't know whether they also came in form of SoC or not since Intel usually makes their SoC in Z series (which is Atom) while Celeron and Pentium are N (for mobiles like laptop) and J (for desktops).

i7 mostest powerfull (can play hardcore games) and video editing like stuff.
i5 powerful enough to play modern but not that hardcore games, awesome experience if u an average user
i3 Powerful enough for playing web games, office stuff. Recommened for normal users who wants to surf The web and do basic stuff fast
Pentium: Is like i2. Can do fast web browsing, photo or video viewing etc
Celeron is less powerfull than pentium. But Great for education
Atom processors performance level are scaled between i3 and celeron
SORRT FOR BAD ENGLISH :D

i5 is enough powerful for current games, also it depends on which core i5.

AMD cheap enough to play hardcore modern games.Btw have fx8320 black edition and gtx750 ti and playing Ac unity on high settings which is shit on i5 processors fyi.

This is just wrong in so many ways. You don't need anything above an i5 to play any game in the world. Games are about the graphics card your PC has, and much less what CPU you have. An i3 would be sufficient for something like 99% of all gamers if they have a high end GPU. Even last generation Pentiums (before they were made from Atoms) did a great job in games.
An Atom does not perform between a Celeron and an i3. An Atom is the absolutely worst Intel CPU on the market.

If you're talking casual games, then yes. Or, if you don't mind turning certain details way down (typically distance-related), then yes. But the CPU still makes a big difference in terms of gaming performance. If you're a gamer and intend to play any modern hard-core games, you want an i7 with high-end graphics (which always requires a discrete graphics chipset and dedicated VRAM). I agree with everything Omer620 wrote, except that Atom is between i3 and Celeron. Unless somebody has some evidence to the contrary, I'm pretty sure that Celerons are more powerful than Atom's within a given generation (i.e., a modern Atom will beat a 10 year old Celeron).

If you're gaming in 4k the CPU power will have a say, but not as much as your GPU. When comparing hardware you must look at the same or nearly the same generation. But Atoms have always been the lowest tier of CPUs from Intel. Celerons and Pentiums have now been diminished in strength but are still more powerful than Aoms.

For practical use, its plenty strong. But it really depends on your use case... its usually GPU that is the bottleneck for graphic intensive use (i.e. games). Even a tablet with Intel Atom works plenty fine for browsing, email, youtube, and movies. I have one with 1 GB memory and on the whole it runs great, but I think at least 2 GB is a better recommendation. A Celeron isn't a bad buy for a first computer or for something more budget friendly/ for kids if you don't want a tablet.

The HP Stream tablet sold this past Christmas was cheaper, $199, and good enough for kids school work.

The tablet was $99/£79, wasn't it?

Basically FREE. It was 79$, 25$ Microsoft Store Card, and 1 year of Office365. I picked one up last weekend from the Microsoft Store. It's a nifty little tablet. In retrospect, I think now I might like one that had pen support - because I can now imagine a use case for me taking notes and not because I need it. It's a great couch tablet, versus my Surface Pro 3 which is for serious tableting. /wink

This is much more robust though. And has more storage. All around a nice PC. Wonder if they'll sell direct to home users.

It's bwst to hold off for Cherry Trail for now.

Would love if they released an update for the Dell Venue Pro 8, thinner, lighter and with the Windows button in the place it should be since the beginning...

Hopefully our school district gets these to replace the MacBook Air's that 95% of the students run Windows on anyway.

Funny. Our developers at my company do the same thing.

It's really hard to get these kind of deal here PH.

This is actually really cool to read. I was at a conference last fall, and in one session a group of us educators were talking about the lack of durability with Chromebooks. Samsung's hot selling one was like the worst and so on. But Toshiba got the highest marks for durability. So having a company as trustworthy as Dell come out and say, "We built this for education with durability in mind," and the price points not be much different from Chromebooks......it's a good selling point. Kudos to Dell for taking charge with that mindset.
Windows Central Newsletter
Get the best of Windows Central in in your inbox, every day!
Thank you for signing up to Windows Central. You will receive a verification email shortly.
There was a problem. Please refresh the page and try again.