Dell Venue 8 Pro Windows 10 tablet goes up for sale with Full HD display and LTE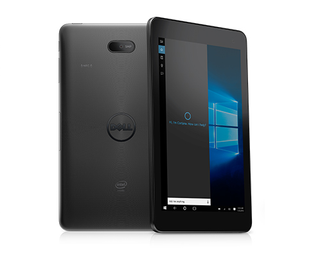 Dell seems to be on a roll this last year with many new great Windows 10 devices, and that is continuing with the newly refreshed Venue 8 Pro 5000 series tablet. Dell had previously updated this tablet last fall, but with only minor changes.
The new 2016 edition, however, takes things in a new direction with more 'pro' specs making this tablet a more intriguing purchase.
Here's what's changed between the old and the new:
Swipe to scroll horizontally
| Category | Venue 8 Pro (old) | Venue 8 Pro (new) |
| --- | --- | --- |
| OS | Windows 8.1 | Windows 10 Home or Pro 64-bit |
| Processor | 1.8 GHz Intel Atom Z3740 | 2.24 GHz Intel Atom Z8500 |
| Display | HD (1280 x 800) | FHD (1920 x 1200) |
| RAM | 2GB | 4GB |
| Cameras | 1.2MP, 5MP | 2MP, 5MP |
| Ports | micro USB | Thunderbolt Type-C |
| Storage | 32 or 64GB | 64GB eMMC |
| SIM | No | Yes, micro SIM |
| NFC | No | Yes |
Dell has upped the specs of the Venue 8 to make it similar to the now shelved Lenovo ThinkPad 8. From the newer, faster processor to the jump to full HD for the display, everything about this tablet looks fantastic. The front-facing camera even gets a small boost from 1.2MP to 2MP for conference calls and like all Dell tablets, this does support their optional Active Pen for note-taking and drawing.
For those concerned about RAM Dell has answered by bumping it from just 2GB to a more palatable 4GB.
Dell is committed to the full-spec Thunderbolt ports on their new laptops and tablets, and this device is no different with a Thunderbolt 3/USB-C port also on board. With this single port you can charge the tablet or use adapters for full video out, Ethernet and more without limitations.
Finally, we are very surprised to see the inclusion of a micro SIM and NFC with this tablet in addition to the regular micro SD slot. Those features make this tablet very tempting for those who need all the power of Windows 10 wherever, whenever.
Dell is selling the Venue 8 Pro 5000 for $641 but is on sale for $449. That price is certainly higher than the original Venue 8, but seeing all the improved specs and it is easy to see why. You could knock off $50 if you take the Windows 10 Home option bringing the price down to a friendlier $399. Dell's Active Pen will cost you can extra $40 and change during the configuration stage.
If you order now, shipping of the tablet is expected within 11 to 14 days. We ordered one up ourselves and will feature it on the site when it arrives.
Let us know what you think of this tablet in comments. Did Dell do right?
Order Dell Venue 8 Pro 5000 direct from Dell (opens in new tab)
Thanks, @jason_wun, for the tip!
Windows Central Newsletter
Get the best of Windows Central in in your inbox, every day!
Daniel Rubino is the Editor-in-chief of Windows Central, head reviewer, podcast co-host, and analyst. He has been covering Microsoft since 2007 when this site was called WMExperts (and later Windows Phone Central). His interests include Windows, laptops, next-gen computing, and for some reason, watches. Before all this tech stuff, he worked on a Ph.D. in linguistics, watched people sleep (for medical purposes!), and ran the projectors at movie theaters because it was fun.
Oh that is tempting as a living room remote.

you should check out the HP Envy 8 Note.

I'm still rocking the original 8pro, which isn't bad. Less than $100 and often barely used on eBay in the states.

That's only 2/32GB though. This is 4/64. I've already got a 2/64 and I'm looking to upgrade because of the RAM.

The 32gb is much more limiting than the 2gb.

Limiting, perhaps. Experience wise though adding the other 2GB is like night and day - at least if it's comparable to other devices available in both configurations.

my nokia 2520 is better than this

Your 2025 can't run UMA
It's Nokia though.....Long Live Nokia

I love my 2520. It gets used many times over my SP2 and SP4. It's sweet. But, it is NOT better than this Dell. At least not on paper. No way. In fact, this is the first threat to my 2520 I have seen. And this sale price is awfully tempting.

Love my 2520 as well, but figured it's utility was coming to an end with Win 10 and UWP apps. I opted for a Surface 3. Surprisingly the size is quite comparable, I got an LTE version, and it offers way more capability. I have avoided any X86/64 apps on it, working exclusively with store apps. I have it set up to boot into tablet and not switch out of that automatically. Functionally it works, and I use it, much like my 2520, though I miss 'metro' IE, Skype, & OneDrive. (yes I do). I picked up the ability to use a stylus, and charge off 'normal' 5v USB chargers, and battery packs. I have my 2520 in the keyboard case almost all the time, and is very awkward when I want to be more tablety. No such issue with the Surface. With keyboard on both the Surface and the 2520 the weights are comparable. I really like the idea of a 7-8" device, but I'm not sure I neeed anything sized between my 950XL and the 2520/Surface3 sized device.

Also considering a Surface 3 to replace my 2520. I wish there were more 10" options.

I have a 128 GB Surface 3 with LTE and 4 GB RAM. I like that I can get online just about anywhere but the atom chip in it just seems too slow surfing the web. Overall it just seems slower than my iPad which is 3 Years older. I would happily buy a Surface Pro 4 with builtin LTE or Surface book with LTE to give me more speed. Hopefully this year. The Atom processor is just too slow - I want a real i5 or i7.

Nfc may be in anticipation of onePay.

I own ASUS Vivotab Note 8 and I regret buying it. I bought it to read books and take notes via its pen. But its battery life is so short that I need to charge it everyday. Even if I let it idle, the battery dies after 1 day. Whereas iPads last more than a week when they are left idle, and they immediately wake up whenever you need them. Whenever I take my tablet to my hand I see that the battery died so I switch to my computer. So it is useless to me. And I am not sure if my problem is related to my particular tablet model or if Windows just isn't as efficient on tablets. Maybe some other users can post their experience with other tablets?

I own one too. I bought it brand new. Like any device is battery longevity reduces with time and use. Initial I got over six hours of video time now I get over 5 hours. Games such as Halo Spartan assault last less than 4 hours, while jetpack jolly r ride and sparkle unleashed lady longer. On standby, the device lasts me three days. My issue is with the stylus. It doesn't work most of the time. I regularly use it for word and excel work and watching movies.

IOS is a mobile OS of course battery life will be better than running Windows 10

The vivotab note 8 would have been 'great', but I feel they just cut back on the critical finishing touches. I have one myself. The baytrail is a decent and fairly impressive performer, and it actually has an active digitizer built in. But the poor screen resolution, cheap feeling plastic screen and case, unreliable stylus and relatively small battery just did the vivotab in. They would have been better off adding say 80-120 USD and releasing a superior product. I still use my surface pro Wacom stylus on it occasionally but I would soon relegate the vivotab 8 to the retirement stables as soon as I get one of the new high res 8inch tabs...

Lol while intel claims efficiency/buttery life its up to the OEMs to pair it with components that work with that goal in mind whereas arm theres a little more wiggle room

It looks great! I'm excited to see some reviews.

For a second there I read the headline and thought this was a new Dell Venue Pro (the phone lol)

Great specs, but I already bought a Shield K1 for $200.

But that crap runs Android. No comparison.

I originally wanted a Windows 10 tablet, but I need DTCP-IP support to watch HD video from my cable company anywhere in my house. Windows dropped that feature in Windows 10, so Windows tablets weren't an option. I sure as hell wasn't buying anything Apple, so I got the Shield K1. Android 6.0 + $89 for a 128 GB UHS-3 microSD card means I got a 144 GB HD tablet for $288. That's $111 less than the Dell. If it makes you feel any better, 3 of the 4 PCs in my household run Windows 10 and the 4th runs Linux Mint.

To bad they dropped the tegra line

Tegra is the CPU, and powers quite a few current generation products, including Pixel C and Nexus 9. It's far from "dropped."

It doesn't have battery or what?

Both devices have battery, not sure what you're referring to.

Wow. I almost bought the old version, but got a SP2 with 8GB ram. :) This newer model Venue 8 Pro looks great, especially the SIM and NFC. Nice!

Why'd you get the sp2, when it runs Windows RT?

Every model of the surface pro (sp2) line can run windows 10. You are thinking of the regular Surface 2.

FHD on that small of a screen is amazing but I already have a hard time seeing and using the small text on the original.

Windows 10 though lets you adjust text size on the fly through the OS; really not an issue anymore when compared to 8.1.

And Lumia 950 XL has 2k...

Windows have scaling already and Dell is smart enough to use that by default. Lumia phones with similar FHD or even higher resolution don't suffer from small text because they're scaled properly. This is not a problem anymore except on Windows 10 though about desktop apps are scaled properly, some don't fully support it that results to blurry UI, still it's usable for most part with few minor issues.

My original Dell Venue 8 never got the display touch jumpiness resolved. I loved using the device but when web pages, cursors and documents started scrolling all over and keyboard entries would double tap and double digit on their own... It became ridiculously frustrating. Password entries became a game. I'm sure they sorted it out.

10 helped my touch issues!

Had the same issues on my Venue 11. Windows 10 helped but still have an over sensitive keyboard.

In contrast, after upgrading my Venue 8 to W10, I actually began experiencing strange scrolling web page anomalies. It was so bad, I rolled back to W8.

I've been waiting for a updated model. Might have to pick this one up

So getting this for my wife. And of course I'll get to use it too. :)

The tablet with the terrible name just got better... Every time I swear I will never buy another Dell, they go and do something like this...

My thoughts exactly!!! Boycotted Dell but always had my eye on the Venue Pro

64gb should be a min for full windows and 16gb min for phone when it comes to storage. So good they did that.

+1 32GB min, 16GB is nothing nowadays...

16 and expandable storage is fine. Shoot, 8 and expandable storage works fine too :).

Not quite... There are some apps that can only be installed on internal memory...

I've been wondering when updated 8" windows tablets would finally show up...was starting to think there wouldn't be any. Glad to see this. Still hoping for a 8" surface or at least a Surface 4 (not pro) in the near future.

What would you want in a Surface Mini? If a surface phone is on it's way, I suspect it will have two factors at least, but I'd prefer a 6" surface phablet over a 8" tablet. To me there is no increased mobility between 8" & 10.1" when it comes to the surface based on what you do with a surface (ARM vs x86/64 apps in mind)

My use case may not be the majority's, but what my main use for an 8" device is for reading ebooks and consuming other electronic print media. Secondary use is for the occasional movie/tv show for the kids in the car. I don't need a surface pro for that, and a 6" device would be too small. 7"....maybe. Again I realize that may not be the typical use for most, but that's what I'm interested in. And no, I don't want to go with Android. I'd prefer to stick with Windows. Reading some of the other comments in here, I somehow missed the HP Envy 8 Note...that looks interesting.


Fair enough. I still got a Fire 7" tablet because it's cheap and I wanted a bigger screen for Netflix over my 5" L640 but I always wanted a reasonably priced windows tablet which is why had my eye on the Venue. I saw the Envy and in the end it was undecided Dell if I go by brand...HP by price). This new version beasts on specs.

I had a Venue 8 Pro that I thought had the perfect screen size - When that died I just used my SP3 for my tablet use. I picked up a very cheap HP Stream 7, and it's pretty crap in comparison. One annoying thing about it is the screen is just slightly too small. The DV8P was the perfect balance between the Stream and the SP3 in terms of power and size.

I want an 8 inch Surface mini. 4GB ram, 1080P + screen 128Gb hard drive, built in kick stand, great build quality, 9+ hrs battery life, active digitizer Real Windows. I'd pay $600 for that, to bad their is not a tablet on this planet that matches all of that.

They should make a windows 10 mobile version, I would take it if it ran mobile. Posted via the Windows Central App for Android

Is there really a difference between Windows mobile and Windows (ARM) Stores?... Windows 10 already advocates universal apps, so it's up to devs to sort that part out.

Why? You have apps on the PC Version too, and has less bugs.

Also the PC version has Bluestacks 2 so you can use any app Windows 10 Mobile doesn't have. Atom Z8300 and 4GB of RAM should run Bluestacks 2 pretty good, as good as Android on a Samsung Galaxy Tab 8 tablet. Just my 2 cents.

@Arturo8450. Well guess what the mobile o/s the 950, 950 XL, 550 use :P.

5mp camera? Hahaha. Id rather just not have one.

Does anyone know off hand if the active pen works with prior dell venue pro 8s?

Lol - What's "Dell" gotta' do with it? - Parts made in China/Taiwan....lol

Dell still be shaking the poor reputation they brought on themselves 4-5-ish years ago by selling lemons. Hopefully the quality issues have been resolved by now.

Yeah I've had an extremely bad experience with Dell a few years ago. Not sure if anything can shake those feelings. I don't think I'll risk spending >$400 to see if they changed their ways.

Dell made one of the best win.7 phones back in the day.

Is this the same type of stylus that was on the original Venue 8 Pro? Because it was horrible!

Had the original Dell Venue 8 Pro and the Wi-Fi issues drove me crazy. Decided to get HP Envy 8 Note and am much happier and pen was included. So, no thanks Dell. You blew it with the first edition.

I'm glad you like the HP. Still, I can't imagine getting a 64bit OS with only 2GB of RAM. If the HP had 4GB I would consider it.

I've always loved dell's devices. They truly ooze quality and build. This should be a treat with windows 10. U can take that iPad and shove it up your ****.

It looks like a nice device but 450$, No. If your spending 450$ buy the Surface Pro, you don't have to guy the latest or greatest ore but you will bet a much better product for that price.

I would cause I don't want an atom chip. Maybe if this had an new M chip. But I do want something 8ish inch screen size. The Pro's are to large for my needs. So in the end no new tablet for me.

Nice tablet. Can it make normal phone calls?

That's why the SIM support us included....

I think the SIM is meant for mobile data capability (4G, LTE, etc). I guess it could technically make phone calls though, since it has a mic and speakers (plus the new Windows 10 phone app).

Normal cell calls no. It doesn't have the telephony stack. But VoIP calls sure

Add the telephony stack and it's a... Surface phone?

This! Technically it should but I guess regular Windows 10 needs the actual telephony stack to make it possible. We almost got it with the Phone app which is for now only for Skype (not sure if other services like Viber takes advantage of Phone app).

All depends some carriers have the necessary software to enable this(though I doubt most have updated since w7 8.x maybe)

I wonder how a dell smartphone would turn out to be

Wouldn't mind seeing them giving it another go. Their WP7 effort wasn't terrible compared to others phones available at the time.

After the incident of DVP7 , I will avoid Dell mobile unit like plague

I have a Venue 8 pro and aside from my Surface Pro 3, it's the best device I've ever owned. The price I got it for was $250 as Costco. I can't see spending $500 for a small tablet like that. If they placed it in the $300-$350 range... maybe.

Same here. Got my Venue 8 Pro for $250 in 2013. Love it and have been waiting for an upgrade for 2 years. I won't buy it for nearly $500 though as my original 2GB/32GB Venue 8 Pro still does everything that I need it to do. I may upgrade next year as I do want more RAM, USB Type-C and and the better, faster, more powerful GPU. Side note....my 950XL just restarted itself on my desk while typing this. I hope we get a new build of Windows 10 Mobile this week. I recommended and my daughter bought this tablet today: http://www.microsoftstore.com/store/msusa/en_US/pdp/ASUS-Transformer-Boo... It has a 1280x800 resolution screen but still has 4GB RAM and 64GB storage plus SD slot and USB Type-C. It is missing some tech that dell has but it has the same Atom X5-Z8500 so performance should be similar at a lot cheaper price. I don't need the keyboard but it is a nice bonus and will shield the screen in transport. The lower screen resolution (excellent veiwing angles though) should provide good gaming performance. NOTE: The X5-Z8500 process in the new Venue 8 Pro is clocked at 2.24 GHz while the Asus is at 1.44 at up to 2.24 GHz. Maybe Dell is just listing the max frequency OR it is actually clocked that high as a standard. I have seen reports that the X5 runs hot and throttles so I cannot say that performance will be better or worse for the same chip at varying frequencies if throttling kicks in. It will be interesting to find out. Tablets have come a long way and we have many great devices to choose from.

I got a Venue 8 Pro in 2013 for CAD$199.99 at Future Shop (now Best Buy). I still can't write beautifully with a normal stylus like I can with an iPad... but I'm not regretting it, nor am I in the market for another tablet.

For writing, I think you are better off with a proper active digitizer like on any of the Surface Pros. I haven't used pen and paper for any of my courses, research and journal notes for over 2 years since I got the Surface Pro. Best decision I ever made for my research work! You won't believe how much more productive you'll be when you can just fire up OneNote and open handwritten notes or annotated papers you made years ago, at any place, at any time, on any machine! Pure productive bliss!

Yes I know. I'm also in school and have been using OneNote for almost 4 years. My problem is that I can't find a digitizer pen (or at least I just haven't looked at all retail stores). At this time it's already a bit old and I don't plan on buying it any accessory.

Oooooo, that sounds pretty good

I have the old version of this and it is a surprisingly capable device. I bought it on a sale and I have kept it on the coffee table as something I can just grab when I want something bigger than my phone to look at something. I also used it to test out Windows 10 in the insider preview, it has always worked surprisingly well for insider builds, and I still have it on the fast ring.

For all tablets they add wide edge in front for screen, looks very bad. If the screen is big and edges are small than it might look smart also. Looks uncool...

You have to hold it somehow. You can hold a phone by the edges from behind. Without basketball player hands, you are going to hold a tablet differently so you need enough bezel to do that. It is practical.

When you get your device will you elaborate on the OS architecture. Does this device run 64 bit Windows 10? Does it use SSD standards for storage or only eMMC? For all intents and purposes this is possibly a very similar configuration to what could be an Intel based phone. Shrink it, throttle it a bit for thermal dynamics and battery and it is phone contender. Specs say Z8500 series is 64bit and capable of 8GB RAM as well.

@TDH69, it's listed in the article - W10 Home or Pro 64bit and emmc.

this looks real nice. I do wish it had the realsense rear camera that the android version has.

Great specs. Tempting. Wonder if you connect with a Microsoft Dock if it makes for a nice mobile PC too.

This would be perfect if it had a 3:2 or 4:3 aspect ratio.

This I want , solid Windows 10 device at a fair price.

I have the original. WiFi hardly ever worked and after about a year it stopped charging due to the fact that the mini USB port and the charger were not really compatible. Won't be getting another one.

Sent mine to Dell when charging port died. They replaced the motherboard. The charger was garbage. I use a generic 36W Anker two port iq Usb charger, with an Anker 3ft. micro-USB cable. Charges fine, for the past year.

I have 2 dead original Dell Venue Pros (for this same reason). Both were back to Dell twice for this issue.When they finally died the third time they were out of warranty. The whole thing soured me on Dell, because I couldn't imagine them not realizing that it was a design flaw, and more importantly I couldn't imagine them repairing it knowing it was just going to have the same problem again and again. Luckily I won mine otherwise I'd be a lot angrier about it.

I love my (old) Venue 8 Pro. Such a nifty little guy.

I wonder if the Microsoft Continuum dock works with this?

Wondering: Does the previous gen active stylus work with this one? Is simultaneous charging/data possible (serious problem with the original)? Does the original Dell Bluetooth keyboard work with this one, because it doesn't work with any of my non-Dell machines? Did they solve the wiFi radio issues? I love my 64Gb Venue 8 Pro. I used it for an entire year, as a laptop replacement, when 8.1 upgrade killed my old laptop. This thing was brilliant, in a pinch, and aside from the simultaneous charging/data qualm, and WiFi issue, I love it. That HP Note looks fantastic, but $429, is a LOT, for an 8 inch device.

"Does the previous gen active stylus work with this one?"

I'd venture to say yes. The tech has not changed, but been modified and improved via software.

It does not, the new pen is Wacom and not synaptics.

No it does not, they switched to Wacom.

This uses Wacom no no pen but the rest will work. This has the same specs as a Surface 3.

Sounds rather nice I must say.

So, does the inclusion of Thunderbolt means in theory you could pair this to a graphic amplifier?

Yes. however, at least for Razer, the OEM would need to have modified the BIOS to support it. Won't work out of the box.

This could create a pretty interesting scenario. I'd love to be able to boost my small tablet's performance/hard drive space via an amplifier box. Realize it would be limited due to weak cpu but I would think it could handle some 3d gaming on lower settings just fine.

It's about time we started to see more affordable high dpi Windows tablets. There's generally a big gulf between the affordable tablets with about 150 ppi and the premium tablets with about 300 ppi. Having a higher dpi is essential for viewing documentation such as PDFs so it's good that cheaper tablets are now coming out with a decent ppi, but there needs to be more with a bigger range of screen sizes.

Plug this baby into the display dock you use with your Lumia 950 and it'll charge and do dual screen. Yay USB-C!

I wonder if the case and pen for my original venue pro 8 will work with this one. At $400 I'm inclined to go for it!

ahh this is the one i've been waiting for, at last a <10" tablet with a high res screen!!! if we get the home edition but have keys for pro can it be upgraded?

So many gadgets to shop for. One might go insane picking the best for the price for their needs. Not a bad thing though.

I paid $139 for and open box Dell Venue 8 Pro that included a full Office license shortly after launch. The price is nuts on this.

Dissapointed in dell's quality. My dell venue 11 pro started randomly shutting off completely and now it won't even boot up. I think it might be an issue with the motherboard... Been gathering dust for over a year now... Typing on a surface 3 and I absolutely love it! Only complaint I have is that sometimes it won't recognize touch in certain areas of the screen. I though the digitizer might be bad but once I restart the issue goes away. Weird.

$450 for an Atom? Nah, my current Venue Pro 8 cost me $80.

Its been up for over 2 weeks but with not LTE option available. Waiting on that.

Can't wait to see the reviews on this bad boy. One picture at a time -- LG V10

Nice specs, but not ready for prime time. Whole sorry saga of early purchasers' experience is here. http://forum.tabletpcreview.com/threads/new-venue-8-pro.67572/page-9

Intel HD graphics on this? Would be nice for some basic gaming. Pinball FX2 lags on medium settings on my orginal DVP8

This one without LTE. I still think about HP http://h71016.www7.hp.com/dstore/MiddleFrame.asp?page=config&ProductLine... But there are not enought review to decide

That is extremely tempting. Pricier than I expected, but I've been waiting for a Full HD version of the Venue Pro 8, just wish it was standard 1080p. The LTE I probably won't use, but if they made the stylus battery life last longer, this is a no brainer for me.

Much awaited.. When in India????

Great device except 4G broadband not avaliable as an option. If it had this available, I would have placed order today. Without the broadband included, price is way too high IMHO. I have the SP3, S3, SP.

It has a sim card slot now. Aren't they the same thing?

The model Dell is selling doesn't have LTE functionality even though the description on the site mentions Global LTE (compatible with AT&T, T-Mobile, Verizon, etc.). When I tried configure the device, I couldn't add LTE option. I chatted with rep and he confirmed that this option isn't available. I assume a future model will have LTE (sim).

As I understood it this does indeed have the sim slot, you just cannot order a sim with it?

It does have a sim slot but does not support 4G LTE at this time. I also just confirmed this with a rep. As jamearl suggests, it's probably set up for a future version that will support 4G LTE broadband.

Lol this is why I didn't order xps10 since the cost to import was to high(lte version was never available outside US)

FINALLY! Been waiting on this development for a long time. Now I can replace my original 64GB Venue 8 Pro.

I know the previous version used Synaptics as the pen technology. Any word on whether they are using a better technology for this tablet and pen?

Looks awesome. Still using my super solid first get VP8. The revised pen was much better than the first. Out side of my surface pro 3, the VP8 is my mobile computer with wedge keyboard and mouse. If it broke, which I has been dropped out of my fj cruiser, I would buy this new one easily. Great job dell. They have really gotten back some passion.

Did anyone else who had the older version of the dell pro have any problems with their usb slot? Aka breaking?

So no expandable storage?

Did they ever fix the screen sensitivity? Typing was sometimes pretty difficult...

Totally gonna buy this, is also listed in the Mexican Dell Webpage and the price is almost the same with coin conversion, so, I'm gonna wait a couple of months to see some reviews (and to see if nothing else is around at the time) and then buy it. How do you think this would perform with some light work with Photoshop?

Too much money for a 8 inch device. For $399 I could get a more functional 10 inch 2in1 tablet/laptop.

Size alone should not mean it has to be cheaper. Personally I find 10" tablets too big, I love the 8" size as I can easily hold it with one hand with tiring. It's a great size for reading and media consumption. You couldn't get me to buy a 10" no matter what specs or price if I wanted primarily a tablet and not a laptop. It's true that on-the-go functionality would be sacrificed, it simply would be more awkward to use a bluetooth keyboard and have a tablet folio stand. But at home or work using Miracast and bluetooth (or a USB-C dock) to connect to a monitor, keyboard and mouse would make a 8" Windows tablet perfectly functional for work. It's something a smaller Windows tablet has over the Android and iOS equivalents, they aren't /just/ consumption devices since they run full Windows and it's now easy to hook up peripherals. It's a shame the OEMs can't execute properly.

My Dell 8 Pro worked great on 8.1 its been really problematic with 10 regarding drivers and i cant sign into Xbox on apps on the SD.

As mentioned by others, the article needs to be corrected as the $449 price does NOT include LTE (and presumably not NFC either from what I gather from user reviews on TabletPCReview forums). The device itself suffers from audio issues, thermal throttling, overheating, BSOD's, wifi problems, and poor battery life (less than what the old V8P got). For a two-year old update it is all very dissappointing. Dell completely screwed up. None of the upgrades (FHD screen, updated processor, 4 GB of ram) justify a price increase after two years of tech progress especially when compared to Android and iOS competition. That it gets /worse/ battery life despite no improvement in dimensions and has an assortment of issues are just nails in the coffin. I was looking forward to the update but now I'm either going to try out a cheaper Chinese 8" Cherry Trail tablet like the Mi Pad 2 or wait for next gen; maybe Willow Trail will provide the performance and battery life improvements I was hoping would come from Cherry Trail. And perhaps MS will release a Surface Mini to show the OEMs how it should be done.

As well, welcome to over a month ago: http://forums.windowscentral.com/dell-venue-8-pro/399914-new-venue-8-pro-5855-a.html

Wow. I own original dvp8. It's awesome... I love the pen. Hope this doesn't have wifi, pen issues which plagued first version.

Review please when that is available and if possible comparison with the previous one. Thanks

Ok a nice upgrade but the $641 regular price is waaayyyy too high for an Atom 8" device. The $399 (w/ Windows Home) sale price is better, but still adding back $40 for the stylus may be a bit too much for my blood. I also had the original Venue 8 Pro (which I returned) and a Dell Android tablet that I got free with my Alienware Alpha and both kind of left a bad taste in my mouth about Dell tablets The HP Envy 8 Note is definitely a competitor, and is more likely to get my business at this this time. But that USB C and 4GB of RAM is very appealing....

Did Dell do right? Oh heck yeah! I'm waiting to get a Windows 10 tablet and this could be the one. I don't actually need LTE but it is a nice to have.

At that price a Surface 3, is a much better buy. At least to me. I had the orginal Venue 8 Pro, that I got at a MS Store during the first ever, 12 days of deals. I paid $99. That was all it was worth. I had the microUSB port replaced twice in 1 year. My wife had 1 replaced. The Pen was awful. Screen not so great, but much better than a competing HP Envy x2, which I got a year later. That was the worst product ever. For me, at 8 inches I want Windows 10 Mobile. But, I want the 4gb of RAM and the storage, More is better. I would love for someone like Dell to give us options on OS. Those that want Full W10 could get it. And those that want W10 Mobile could get that. My next 8 inch tablet search continues

Try the HP Envy 8 Note, its less expensive than Dell Venue 8 Pro, but with equal peformance since both come with same 64-bit CPU.

That Micro USB port is exactly why I would never buy a Surface. Unfortunately Panos seems dead set against using modern connectors on Surface devices. USB-C is a 100% requirement for any device I buy. I hope we got some decent devices sooner than later.

I think the processor is really nice. It's clocked at 2.2 GHz. Take that Qualcomm!

I agree, Qualcomm is really expensive, Even a Intel Atom BayTrail of 2014 beats the performance of a Snapdragon 800 which was found on flagship devices of 2014 (Lumia 1520, Nexus 5, Lumia 930).

Dell should make a Venue Pro phone again.

Btw, why would not anyone prefer $500 Surface 3 over this?

Because Micro USB is a terrible port. I will never buy anything with that port ever again. USB-C is a 100% requirement for any new device.

Sirs, mobile broadband not included in configuration for 449$

This is with the HP Envy 8 Note the Surface Mini devices we were all looking for that Microsoft didn't build. This has the same chip on the Surface 3, but its a smaller device, I'd rather get a tablet like this instead of Surface 3 since its smaller. RAM and storage are about the same, so the only difference is in size, and I prefer smaller devices.

It is a shame, their are several owenrs of this tablet on the PC tablet forums and this tablet seems to be a completel disaster. http://forum.tabletpcreview.com/threads/new-venue-8-pro.67572/page-36 Bad battery life (3-4hrs) Bad Drivers, BSOD, Issues with volume, CPU throttling, heat issues Very simialr issues to the HP 608 G1. Seems Cherry Trail and 8 inch windows tablets do not mix well and are just not done well. Cherrytrail in general seems really disapointing as Baytrail had better battery and more stable CPU. I want an 8 inch windows tablet with 4GB ram, 1080P+ screen, 128 GB hard drive, 9+ hours battery life and have it run stable. seems this combination of tablets do not exist.

It looks like a nice device, but I still don't get windows tablets. Windows Store apps are still poorly written. Even ebay and amazon, which are designed to get you to buy stuff, are a joke. And while it's great you can run desktop programs, who is running them on a 10" screen? I don't even like using my laptop, to be honest.

Love the original DVP8. Still use it daily. Can't wait to pick this one up but probably have to wait until summer so that I can get Dell Employee Discount :)

But where is the Venue 10 Pro 5056?
Windows Central Newsletter
Thank you for signing up to Windows Central. You will receive a verification email shortly.
There was a problem. Please refresh the page and try again.