Dell XPS 13 vs. HP Spectre x360: 13-inch Ultrabook battle royale!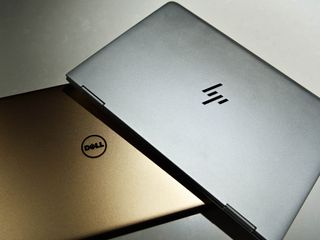 Updated February 14, 2017: We refreshed this article with a few updates to hardware — namely HP's 4K offering and the optional XPS 13 fingerprint reader.
In late 2016 consumers have a great problem when buying a premium Ultrabook: too many good choices. Just a few years ago, Windows users were afflicted with Apple hardware envy — the MacBook laptop line was phenomenal hardware that shamed nearly every PC on the market — but those positions are now ironically reversing.
Today, we pit the redesigned Spectre x360 against the refreshed XPS 13 (9360), so you can have a better idea of the pros and cons of each. Both are at the top of our list for best premium Ultrabooks, but only one can be king.
Specifications: What's different?
You can't start a showdown without comparing specifications. For the most part, both devices offer similar hardware in the 13-inch Ultrabook range. Specifically, they're both using seventh-gen Kaby Lake Intel Core processors, can go up to 16GB of RAM (non upgradeable) and up to 1TB PCI-e solid-state drives (SSD) (user replaceable).
There are some significant differences, however, and those can make all the difference for some people. Here is a simple chart of where these two differ.
| Feature | XPS 13 | Spectre x360 |
| --- | --- | --- |
| Convertible | No | Yes |
| Precision yrackpad | Yes | No |
| QHD display option | Yes | No |
| Matte FHD option | Yes | No |
| Glossy FHD option | No | Yes |
| 4K display option | No | Yes |
| SD card slot | Yes | No |
| LED battery check | Yes | No |
| USB Type-C port | One | Two |
| USB Type-C Fast Charge | No | Yes |
| Thunderbolt 3.1 | Yes | Yes |
| Thin display bezel | Yes – 3 sides | Yes – 2 sides |
| Pen support | No | Yes |
Obviously, some of those are a bigger deal than others. Personally, I find a 4K display option and the ability to convert to "tent mode" to be significant differences.
Display
When it comes to screens, both laptops offer fantastic displays. Dell offers two choices – non-touch Matte FHD (1920x1080), and a glossy QHD (3200x1800), touch option. HP offers a glossy 1920x1080 touch configuration, as well as a glossy 4K (3840x2160) touch option.
Dell's IGZO Infinity Edge is no slouch and is probably the better option for most people — especially anyone who values better battery life and a non-glare display. If you want the best display, however, you can't go wrong with HP's 4K touch offering with HP Pen support. It does come at a price, though — it's $300 more than the touch FHD version.
Update: The Microsoft Store sells a unique XPS 13 option: Full HD with Touch (opens in new tab).
Winner: HP
See at Best Buy (opens in new tab)
Keyboard
HP and Dell both deliver better-than-average keyboards. Dell's is black plastic and prone to picking up skin oils, although it does have better backlighting. HP goes for larger, all-metal keys that gives you more room when typing.
Travel is good on both, at 1.3mm, but HP's has a little more bounce-back and is less mushy.
While both are solid, HP's is better.
Winner: HP
Trackpad
The trackpads on these devices are difficult to evaluate. Here's why: HP has better hardware (smoother and larger), but it relies on Synaptics for software. Dell's hardware is good – not great – but it uses Microsoft Precision for better gestures and movement.
Honestly, it's a wash. Both rate higher than average, and most people should be OK with them. But personal preference will matter here.
Winner: Tie
Build quality
HP opts for an all-metal chassis while Dell divides it between metal and premium carbon fiber. Dell's keyboard is plastic, but that is the only place you'll find it.
Personally, I like the all-metal unibody design. It just gives a better impression, and it feels great. Nonetheless, I can't complain about the XPS 13 either. In fact, the soft-touch finish is more inviting to use since it's not cold to the touch.
I'm going to give HP the nod here, but there's nothing damning about the XPS 13 either. Both are excellent.
Winner: HP
Features – Windows Hello, Wi-Fi and more
The HP Spectre x360 brings Windows Hello to the table with an IR camera so that you can log into Windows 10 with your face. Dell has added an optional fingerprint reader to its XPS 13 that costs an extra $25.
The Spectre x360 also turns into a tablet – a major feature – while the XPS 13 is a "classic" laptop. Both offer touchscreens.
Dell's XPS has a Killer Wireless AC35 card in it, but it's not something on which to decide. In most cases, Wi-Fi feels the same.
HP also has USB Type-C fast charge so that you can get a 90 percent charge in 90 minutes. You do need to use the proprietary charger, though. (Other chargers work, just not at full capacity.)
HP includes no less than four speakers (two on top, two on the bottom) that can get super loud, as in "this-is-possibly-the-loudest-laptop-ever" loud. Dell uses just two but offers more bass and is richer sounding. Both have advanced software tuning abilities.
Both companies are great for software and driver support, offering frequent updates and fixes. I like HP's update system a bit better, though.
Dell does give you a dedicated SD card slot. For some people, that is a major feature they still want and need.
Overall, for features, HP comes out ahead because of Type-C Fast Charge. And it's a convertible. It's also stupid loud.
Winner: HP
Battery
HP features a 58Whr battery in its FHD models, while Dell now squeezes in a 60WHr one across the line. Both laptops are great "all day" choices, but Dell can get further especially if you choose the Full HD, non-touch display.
Winner: Dell
See at Dell (opens in new tab)
Performance
In testing both devices with a Core i7 dual-core processor, it should be no surprise that they get similar scores on Geekbench 4.0 in single- and dual-core tests.
Geekbench 4.0 benchmarks (higher is better)
| Device | Single core | Dual core |
| --- | --- | --- |
| XPS 13 (9360) Core i7 | 4,120 | 7829 |
| Spectre x360 Core i7 | 4,100 | 7469 |
There is some slight difference with the SSD performance, with the XPS getting faster write speed and the Spectre getting slightly faster read scores.
CrystalDiskMark benchmarks (higher is better)
| Device | Read | Write |
| --- | --- | --- |
| Spectre x360 512 | 1,332 | 589 |
| XPS 13 (9360) 256 | 1,287 | 794 |
For all intents and purposes, when evenly spec'd, these laptops are the same.
Winner: Tie
Pricing matters
To be clear, my favorite Ultrabook and "ultimate" Windows 10 laptop is still the Surface Book with Performance Base. If money is no object, I think that device is the one to consider. Nonetheless, that Surface starts at $2,400 and goes up to $3,300 (opens in new tab), putting it out of reach for most users.
By comparison, a maxed-out Dell XPS 13 (9360) is $2,250 (opens in new tab) (with 1TB SSD) while the HP Spectre x360 with a 4K display (opens in new tab) and a 512GB SSD sits at around $1600 — an FHD model with a 1TB SSD also sits around the same point. Starting price for the Dell is just $799 with a Core i3, while the Spectre x360 starts higher with a Core i5 at about $1,050 (opens in new tab).
In other words, you can still get a premium laptop that looks and feels like something in the $2,000 range for a lot less money.
Which laptop is the "best" comes down to what you specifically need. For instance, if you value pen and inking, the Spectre x360 with 4K touch display is a better option.
There is no doubt, though, that your dollar goes further with the HP Spectre x360 than with the Dell XPS 13.
Winner: HP
The overall winner is …
Winning five categories is HP versus Dell's one. Both laptops are tied for two categories.
But whichever one you choose, you should be very pleased. Both Dell and HP have shown the world that they can deliver premium and drool-worthy hardware that's on par or beyond the Apple-quality threshold.
Nonetheless, it's hard to deny that you will pay more for less "stuff" with the Dell XPS 13. A lot of that is because of that IGZO QHD Infinity Edge display. It is not cheap, and it's just marvelous. Still, it's hard to pass on the value found in the Spectre x360.
Dell XPS 13:
XPS 13 | See at Dell (opens in new tab)
For those on a budget, it's a bit reversed. You can get a Dell XPS 13 (9360) with a Full HD non-touch display, Core i3, 4GB of RAM, and 128GB of storage for $799. While those are not amazing specs, you're still getting a high-end premium laptop for well below a thousand bucks.
Update: The Microsoft Store sells a unique XPS 13 option: Full HD with Touch (opens in new tab).
HP Spectre x360:
If you have a little more room in the budget, however, the HP Spectre x360's starting price of $1,050 goes a lot further than the same cash spent on a Dell XPS 13.
A note on the XPS 13 2-in-1
Dell recently released a convertible XPS 13 that closely resembles the original notebook. We'll post standalone face-off between the XPS 13 2-in-1 and the HP Spectre x360 when we've had a chance to compare the two models.
Daniel Rubino is the Executive Editor of Windows Central, head reviewer, podcast co-host, and analyst. He has been covering Microsoft here since 2007, back when this site was called WMExperts (and later Windows Phone Central). His interests include Windows, Microsoft Surface, laptops, next-gen computing, and arguing with people on the internet.
There actually is a FHD w/touch option for the 9360 and 9350. Check the Microsoft Store.

Oh yeah, that's such an odd thing. Never seen one myself.

Personally, I think you can stop reading after "Convertible" and "Windows Hello". Heading into 2017, I'm not interested in any computer that doesn't have both of those (I own the 2016 Spectre x/360 and love it).

It's a fair point. Though I'd say the XPS 13's secret weapon is that IGZO display, it's so impressive.

Hey Daniel!! Messenger recieved an update with new UI and loads of new feature

I'm still a massive fan of matte screens, i wish more devices used them as sunlight can still be a major issue in usability. I never actually use my Surface as a tablet so I'm not sure I'd miss that feature. Windows Hello though, my God I wish I had that on my PC.

The downside, though, is that it's a Dell. And Dells are the worst.

When is the last time you used a Dell? Sure, all manufacturers have their issues and all make cheap laptops but none of the XPS line are cheap or problematic. You sound like someone who had a bad experience with Dell Support in the mid to late 2000's and is holding a grudge against the entire company.

I used to think Dells were horrible too until about 2 years ago when they redeemed themselves with better laptops. But yeah he is behind on the news. He obviously never read a full review of an XPS 13 or XPS 15.

And plus dell driver support is just epic

I returned a Dell XPS 15 last year that was the biggest POS ever. To make matters worse, their tech support has sold my information to every scam artist on the planet and I get calls about that computer (which is long gone) being hacked every other day. Dell has a huge problem with their $2 a day, third world slugs selling your information.

I totally agree Daniel. The screen on the Dell is hard to bypass

I have Spectre x360 2015 and love it. But have not used the convertible feature more than 1-2 times during the time I have had it. To me it does not count much.

I've started to grumble a little whenever I sit down at our desktop and have to type a password. My other devices all have Hello: 1. HP Elite x3 (phone): fingerprint or iris scan 2. HP Spectre x360 (home laptop): face scan 3. ThinkPad T450 (work laptop): fingerprint, although it's not nearly as reliable so I do end up typing a password a lot Passwords need to die. I wouldn't have called it a must have feature before I bought it, but now I have a hard time imagining going back.

Have you tried using Window 10's Picture Password option? It still is my preferred way of logging in on my Surface Pro 4 and desktop due to good balance between reliability and ease. Works well with both touch and mouse and does not require specialized hardware like camera or fingerprint scanner.

I still have a hard time to understand what's the point being convertible and not having the possibility for a stylus. There are more things that could be inputted to a computer these days than just typing, and touching controls with fingers. For me, as good this HP is, it's a fail.

I generaly prefer ASUS, but if I had to pick one, I'd go with the XPS 13. For two main reasons: the display which is amazing and the fact that it comes in black. Backlit silver is pretty pointless given how faded the light becomes. And I'd need to see the keys well in low light. Unfortunately for Dell and fortunately for HP, Dell computers are nowhere to be seen in this country. We can't buy one. Which pretty much would ensure that I'd end up having to buy either the 360 if I could only pick between the two. Which is a shame.

@DJCBS
What country do you live?
No Dell computers?
Surely, you must be able to order at Dell website.
In UK, Dell is easily the most popular brand in corporate environment.
Although, my company give you choice between:
Dell desktop
Surface Pro 4
Mac Pro (last gen)

Thanks for the excellent discussion, Daniel. I have a first generation X360 (on which I use digital inking every day), and I am glad that HP has improved on that already excellent device for 2016. I have seen emotion-laden negative statements regarding quality control against both HP and Dell in these forums, but the fit and finish on my HP have been flawless for me. This is a great time for PC users, as there is so much high-quality tech made by many different manufacturers. The decision to buy a particular PC comes down to what combination of features does one need. The "best" 13-inch laptop is the one that fits your needs, and not necessarily what other people think about the device. Thanks again.

Cheers. Yeah, the quality control issue is funny. I follow all the forums closely and AFAIK they all have that same rep. Even Razer. And it's not that they are bad in QC or CS, but people have personal bad experiences and generalize them to all devices or ignore that companies can improve. Nonetheless, I do think all these companies could get a bit better. Even Microsoft has had some QC issues with Surface. It's a hard problem.

Quality of HP has historically been miles ahead of Dell. Not that it was all that good, just that Dells are beyond awful. I don't know about recent history, but I literally had multiple Dells explode in the 90s and 00s. One just made an incredibly loud bang and then smelled like ozone (no pieces actually went flying and there was no fire, but it never turned on again) and two others burst into smoke/sparks -- one at the power supply and one inside the laptop. It may well be that Dells are better now, but I will never trust them again. I have PDSD (post-Dell stress disorder). Indeed, for about 15 years, my one piece of advice to anyone looking to buy a PC has been, "Just not a Dell." A few people have not heeded my advice. Every one of them has regretted it.

I don't know about that....I had 3 DV series HPs all take a crap on me. I had 3 dells that were perfect. Acer was actually the most reliable Computer brand in my stable. I had probably 30-35 of them with nothing more than a battery replacement (which was really just from the amount of use it had)....

Agreed, I've had three DELL machines over 20 years, and they've been very good and solid. My favorite laptop is my Acer Aspire V5, an excellent machine for the (very little) money.

Not my experience at all. I have 2 first gen XPS13 that are still running like a champ, both were scratch and dent versions from the Dell outlet. I wished they would die so I have a better exceuse to buy on of the FHD with touch XPS 13. I manage over 100 Dell desktops in our office and they are going on 6 years old and still chugging along. The biggest reason I recommend Dell is I believe their customer support is better than HP, not that either one of them are outstanding, but when I have needed parts and repairs they were always good and quick about getting it done. In the mid 2000s there were a bunch of computers, not just Dells that had the capacitor issue where the capacitors were bulging, but that seemed to be an industry wide problem.

"I have a first generation X360 (on which I use digital inking every day)" Does the first generation have sylus support?

Pity about the missing Hello, but I still prefer the Dell, because of the minimum bezel. Maybe if I wait long enough they will add a fingerprint reader.

Can I open the Spectre's top with a hand?
I know I can't with the XPS, but nobody has shown this stuff for HP's jewel.

I mention it in the review, no. It's close, but you can't.

Dell has let me down way to many times to ever return to that mess.

I feel colors on XPS are over saturated. Personally I prefer HP in regards to Color accuracy...

Dell has always overcharged for what you get, I mean they even screwed up Alienware.

I opted for the new Spectre, despite researching the XPS 13 for a long time. I love using the Spectre in tent mode for video. Just wish HP used a better trackpad...

Great comparison! Thumbs up to Windows Central.
It's great to see HP offering base model with 8Gig RAM and 256Gig SSD storage. I think this should be a standard starting 2017. As for ports, I'd rather OEMs continue to support legacy ports like Type A, HDMI, SD Card reader, Headphone jack etc. until such time industry finds a single standardized solution for them all preferably USB C. And if you have to add USB C for battery charging, better support fast charging and Thunderbolt 3.1+ protocols while you are at it. All these should be a must along with precision trackpad and active digitizer with box included digital pen. I don't think OEMs are getting the direction Microsoft is moving in. As for screen, I'd love to see a matte OLED FHD touch screen (with digitizer support and box included pen as mentioned above). Really love true blacks and punchy colours of OLED. Another must that OEMs tend to omit is backlit keyboards. Backlit keyboards are so necessary in dark I don't know how can they even decide to omit them. That and 360° hinge, with touch and pen supported OLED screen, thin and light weight (under 3lbs) and some of the other specifications mentioned above will make a perfect recipe. Of course you have to find a balance in all aspects.

I'm really happy with my new Spectre x360. The only thing it didn't have that I wanted was a 1440p or 1800p display. Bit 1080p on 13 inches is still pretty good. Other than that it's awesome! If Dell didn't screw up the webcam on their XPS 13 then I would have actually gone with that instead. A half inch taller bezzel on the top of the XPS 13 for a web cam would have made me a buyer, and the screen still would have looked awesome.

When I click the Full HD option with touch link, I keep getting redirected to Apple iTunes download. http://target.georiot.com/Proxy.ashx?TSID=15093&GR_URL=https%3A%2F%2Fwww.microsoftstore.com%2Fstore%2Fmsusa%2Fen_US%2Fpdp%2FDell-XPS-13-9360-Signature-Edition-Laptop%2FproductID.5078713400

i just have to put in my two cents in since I have owned the latest Dell XPS 13 (I bought the highest spec'd unit two weeks ago). I have not been happy with it but oney was no object. I wanted an excellent not best experience. The Dell felt a bit short on a number of fronts. The keyboard was a tad bit too small so I constantly misstyped. The trackpad however was excellent but I cannot get past the screen size. The resolution that I need to use is unusable on a 13.3" screen.. This is most likely the biggest error on my part. I love how small and compact it is. The battery life sucked. I only got about 4-5 hours using it surfing th web. I won't elaborate much since this is a blog of sorts but there are a dozen reasons I did not like it. I have not used the latest HP laptop so I cannot coment on how it is to use, but I did replace the Dell with a Lenovo X1 Carbon. It was a gut retching decision but it was completely worth t. The keyboard is a thousand time better, The extra inch makes the screen resolution I need availabale but still a bit small but I will manage. I wanted Thunderbolt and USB-C but my timing for a replacement laptop is unfortunate for me but happy to move on from the Dell. Dell has alot of room to make the XPS 13 great but this last iteration they have decided to milk the platform instead of doing some small adjusments like "Hello". I'm a programmer and I am hapy to choose the 14" Lenovo.

I have the latest spectre x360 and it is truly a fabulous machine. Best laptop I ever had by a huge margin. I use it as a full development machine (I have the core i7, 16gb memory, 512gb ssd version) and it delivers! Coding and compiling is a breeze! I actually stopped using my desktop (which I bought last year and has excellent specs but it is less reliable). My only real gripe is that the fan noise is too loud under heavy load. Other than the screen is super sharp, speakers are loud and clear, touchpad is precise (for the first time in my life I don't need a mouse when I use a PC!), keyboard is excellent (but in some lighting you can't see the keys) weight and size is delightful and build quality is super premium. Really, you can't get wrong with it.

I had an hp spectre x360 but had to return it cause my battery was slowly draining, even when I shut it down. Did you experience the same thing?

yes, i installed the sphinx firmware and it fixed it.

Could you please explain in detail. I am having the same problem. What does this software do? Does it make sure all drivers on the computer are up to date? Thanks

desktop pc less realiable as a laptop? best joke ever

Not a joke. Hardware is not stable on my desktop. On the HP they did a superb job of making sure all components play nicely together.

Would like to see a similar head-to-head with the Lenovo 910 and the Spectre x360. I'm guessing the HP still comes out on top, but for those of us that view a 2-in-1 device as table stakes it'd be nice to have. Similarly, I'd like to see the XPS 13 pitted against the Spectre laptop and Asus Zenbook 3. Haven't read much about the latter yet. PS - Hey PC makers, how about giving us some color choices on day one?!?! I want that black/gold option with a x360 today.

I know this sounds totally outrageous but what if Microsoft and Apple merged. I also know it can and probably never happen, but what are your thoughts on this? It would be the ultimate thing. We would have the best laptops, phones and the most ultimate hardware. What do you guys think? And not to forget all the iphone fans boy too. I have and iphone I love it, I also have a HP Spectre x360 and love it too. What do you guys think. ;-)

I wonder why HP added an additional key column on the right side, thats pretty annoying especially in bed + small Enter arrrgh! Bad idea. Now i have to wait if they remove it in next refresh... or... Fingerprint reader is missing too...

So much value per dollar in both offerings. I don't have enough for either but its great that you can get those kind of laptops for around $1000! :)

so confused. I swear there are models of the Spectre's where there are digitizers and pen support. I need that and need a thunderbolt 3 port, for possible later use for gaming using a Razer core type device for use on external GPUs. I know both HP and Dell have gaming brands in Omen and Alienware , respectively. This is hopefully why they'll support this option. Anyone know if pen support, external GPU support is available in a light 2-1 option yet?

The thing is, you need more than a GPU to game with good detail. Your still stuck with the same CPU and RAM that the host device has when using one of these external GPU solutions. This means for a 2 in 1, you usually have a low spec dual core 'U' CPU. The gaming devices will have the better quad core CPU. You may not get the performance you expect from an external GPU on a 2 in 1.

I'm not going to buy any of these. Probably any laptop in the near future, I like my monster Pavilion DV7. Anyway, what's the difference between Synaptics and MS Precision? I know I have Synaptics on mine, I'm just curious.. Uh, and also there's a typo - "yrackpad"

I picked up the new HP Spectre x360 with the 4K display last week to upgrade from my old Surface Pro 2. This device is fantastic. I was going to get the XPS but I went to Best Buy and played with it and the keyboard is so much better on the HP than the XPS. It's hard to describe it but I felt like I had to throw my fingers down on the keys to get it to work. That said, both are fantastic.

We tested the XPS laptops for a month and noted that there is 1 flaw with the XPS series; the webcam sits at the bottom of the screen. If you have ever been in a meeting where someone is connecting over video, it looks terrible! If that person is typing while in that meeting, all you can see is their fingers typing in front of the webcam. In addition, the end user would be dis-figured which their hands or lower body would be wider and taper upwards. Another issue that we saw was when Women were using the laptops during a video call, they were quickly turned off becuase of the angle at which they were being viewed (at times almost indecent). We brought this up to Dell and they have no plans on changing this.
Windows Central Newsletter
Get the best of Windows Central in in your inbox, every day!
Thank you for signing up to Windows Central. You will receive a verification email shortly.
There was a problem. Please refresh the page and try again.