Laptops were designed to be portable, but resting them on your lap is often uncomfortable, inefficient, and bad for the computer. Luckily, the LapGear eDesk Lap Desk is on sale today at Amazon so you can find a bit more comfort no matter where you decide to get to work, and at just $15.99, you'll be snagging a match of its lowest price in history there. When not on sale, this lap desk has a regular price of $25.
LapGear's eDesk lap desk is suited for laptops up to 15.6 inches and has a built-in media slot where you can prop up your smartphone, tablet, or ereader. Meanwhile, the tapered pillow on the bottom sits comfortably on your lap and conforms to your shape so it's both comfy and stable.
Get To Work Wherever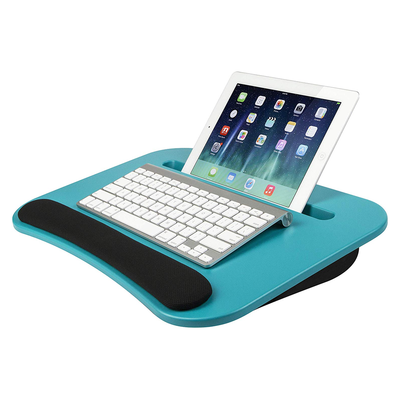 LapGear eDesk Lap Desk
LapGear's eDesk is suitable for up to 15.6-inch laptops and has a media slot where you can prop up your phone or tablet at an angle. Meanwhile, the bottom has a tapered pillow that conforms to your lap to keep you comfortable while you work.
$15.99 $24.99 $9 off
The integrated ergonomic wrist pad helps reduce fatigue from writing and keeps your laptop from sliding around, while the surface is smooth and flat so your laptop can get the proper ventilation. Since the desk is both compact and lightweight, you'll have no trouble bringing it along the next time you decide to work somewhere other than the office or at home.
At Amazon, nearly 175 customers left reviews for LapGear's eDesk resulting in a rating of 4.2 out of 5 stars.
While you're getting setup for work on-the-go, our list of best travel accessories in 2019 has several essentials you should consider bringing along with you, from travel adapters and backpacks to headphones, charging cables, and more. There are plenty of other smart ideas to make yourself a bit more comfortable while working away from your regular desk, such as this reading pillow or a portable speaker.
We may earn a commission for purchases using our links. Learn more.