Do you use the Windows 11 Chat app powered by Microsoft Teams?
Windows 11 has been out for almost a month, and we'd like to know if it's driven people to try its Chat app.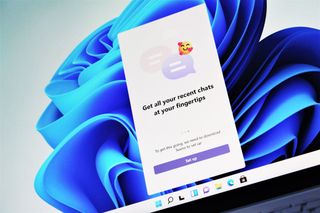 (Image credit: Windows Central)
Windows 11 started rolling out on October 5, 2021. The operating system brings a new Start menu, a refreshed interface, and several new features and improvements. It also includes a Chat app powered by Microsoft Teams. This is the default communication app on Windows 11, and it can sit comfortably in the Taskbar. Now that PC owners have had a chance to try it out, we'd like to know if they use the Chat app on Windows 11.
In our Windows 11 demo video, our senior editor overviews the Chat app. It's a simplified Teams experience for the consumer version of the service. It can send messages, make calls, and be used for meetings. It's a separate version of Teams that's lightweight and aimed at quick communication.
There's a chance that people weren't familiar with the consumer version of Teams before the release of Windows 11. By having the Chat app appear on the Windows 11 Taskbar, Microsoft introduced the app to many potential users. The question is if that translated to people using the app.
Before the launch of Windows 11, we asked our readers if they would use the Chat app on Windows 11. 33.48% of voters said that they would try it out, and an additional 16.33% said they'd use it as their main chat app. Another 14.66 said they'd use the Chat app occasionally. Just over 28% of voters said that they wouldn't use the Chat app at all. Now that Windows 11 has been out for almost a month, it will be interesting to see if similar numbers appear in our new poll.
If you'd like to use the Chat app but don't know how it works, we have a full guide on how to get started with the Chat app on Windows 11.
News Writer and apps editor
Sean Endicott brings nearly a decade of experience covering Microsoft and Windows news to Windows Central. He joined our team in 2017 as an app reviewer and now heads up our day-to-day news coverage. If you have a news tip or an app to review, hit him up at sean.endicott@futurenet.com (opens in new tab).
I do use it more than I thought I would. It's a quick and easy way to send texts to family and friends while working.

I guess you happen to have all your friends and family using Teams Chat though? I use Teams for work but don't know anyone outside of work/clients who use Teams. The boat sailed on other platforms years ago.

Not really. I use it mostly to send SMS.

I'd say it's among the tragicomically few functionalities (so far) in the new Windows 11 operating system that are compelling at all, another one being the Android app support. But, those way too strict hardware requirements, including but not limited to TPM 2, added with all the related and non-related ambiquities et cetera are keeping Windows 11 firmly at bay here.

"including but not limited to TPM 2" What, other than TPM 2.0, serves as any kind of hardware hurdle? There are some CPU requirements, but essentially any platform released in the last 5 years is in the list.

More than 5 year old PC hardware in use. Including CPU(s) like Core i7-2700K... The PCs still work fine for a lot of stuff. Also, some of them are bought a year or two ago as second-hand business PC hardware, before any hint of Windows 11 or the forecoming requirements. Same kind of situations are actually very common in vast amounts of (smaller) businesses, and the public sector etc. Microsoft is causing unnecessary e-waste.

They are, but only because people dont realize that they can install W11 on their old hardware just fine, like my Surface Pro 1st gen which runs it fine and gets more battery. This misdirection is on MS solely, who is looking like they shot themselves in the foot more and more everyday with Windows 11.

I've got a 2 year old HP laptop that MS says the AMD CPU is not up to it so no Win 11. My 10 year old desktop works fine on Win 11 even though it fails mist of the compatibility tests.

My Surface Go was built in the last 5 years and it isn't in the list. It's made by MS BTW.

I would use it if it supported business accounts. I try to get my friends to use it, but no go.

I reckon because it's too limited. It's only the Chat part from Teams and plain bizarrely despite being called Teams it's missing the USP teams feature. The Teams Desktop App, Desktop App, Mobile Apps all have significantly more features. It would send the wrong message Teams only means Chats, when there's a lot more.

I uninstalled it, I am pretty sure that no one I chat uses it, I doubt many people i know even have Windows 11 on their machines and teams is certainly not an app the majority of people would use, it is still thought of as a business thing. Even then, some companies have trouble getting their staff to use it, the company I work for have been testing team for everyone instead of just managers for 7 weeks now, it was supposed to be a 4-week week trial and yet the only ones who post on there is one manager. i use discord myself at home, I won't touch Whats app.

Clearly you wouldn't touch it, you can't spell it 😂

It's useless because it only supports personal accounts. I would love to use it for business chats. Instead, they force you to install the Teams business version, and then that was very confusing because the icons are nearly identical and the names of the apps aren't clear at all. Badly mishandled. Love almost everything about windows 11 except this feature.

I like it that way. I use the desktop app for business and the chat app for texting private contacts.
I do get where you're coming from, though.
If I wouldn't use the chat app with my private account, I'd want to be able to use it with my business account.

This is being fixed if I read things correctly. The business app is being rewritten from scratch to get rid of the Electron crap. The Win 11 app is the start of this.

Thank goodness. Electron Teams is an absolute abomination. On my Windows 10 tablet, which sports an i5, Teams just chews through the battery and takes about two minutes or so to be input-ready upon launching. Pressing unmute lags by about 10 seconds when I'm trying to talk. I never understood why Microsoft didn't write a UWP app from the start for Teams. I get they're now concentrating less on UWP but back in 2017, one of the criticims was that Microsoft didn't even bothering writing UWP apps themselves. And they wonder why the platform's adoption was so poor.

"I never understood why Microsoft didn't write a UWP app from the start for Teams" Because it wouldn't work on Windows 7 or Windows 8. The Skype team did just this, managed a Win32 app and UWP app for years, then in 2020 killed the much superior UWP app because they didn't want to continue to support two platforms. Agreed they picked the wrong app to kill. Windows 7 isn't even still in support. The only UWP Microsoft care about is Your Phone and its so buggy, auto-closes daily.

The separation between business and consumer Teams is a backend issue, not something MS can easily fix with a new app alone. It's a tragically stupid design to separate Work and Personal accounts in the way they have. It makes it virtually impossible to unify the apps. Having said that, Outlook works with both, so there is precedent.

Outlook doesn't. Same UX now but Outlook.com and the Outlook 365 Online apps are separate.

Yes it does. You're referring to the web apps, not the application. The installable Windows application called Outlook (just like Word, Excel, and PowerPoint) is the same whether you get Office for personal/family use or as part of Microsoft 365 for enterprise. And that Outlook application (not talking about the web app) integrates fully with both Microsoft accounts at @outlook.com and Work/School Exchange accounts or tenant-based domains. It even provides an integrated calendar, so you can see your personal and work events, or those of work colleagues and family members on the same calendar. Teams should work like this, but doesn't. Even better, they would merge the processes on the back-end, to avoid the problem altogether, treating @outlook.com, @hotmail.com, @live.com accounts the same as work accounts.

Outlook does support both personal and Enterprise e-mail, but they are separated within it. You switch between accounts. The TEAMS app, early on had that functionality, as it still does today but only with enterprise accounts. You can select which account you are working with, and it effectively signs you out of one and into the other. I sort of have mixed feelings about adding personal to that. It is already pretty easy to forget which tenent you are currently in. Adding in personal could make it a bit too easy to mix personal and work information.

This is why Teams for Consumers should be called teams, but something else. Maybe just Microsoft Chat or something that won't be associated with Teams. Thing is, this gets quite convoluted on Microsoft portfolio when it regards to chat. Skype is what suppose to be their consumer chat service, but due to its brand waned from most general consumers and Microsoft is not really focusing on it anymore, we got Teams instead for personal use.

Yes, I was not too surprised that MS used Teams branding for the consumer version but they shouldn't it makes no sense but Microsoft Chat is a good one that should be available as it's own app on the app stores but powered by Teams. Rather than a Microsoft Chat overlay on Teams for Consumers.

It would then be "yet another messaging platform everyone ignores". How many times have Google tried that? Don't see it working whatever they do, to most people "Teams" and "Windows" means "work".

They shouldn't have killed off Skype brand in the first place. I don't understand why they haven't used the popularity of Skype to push it into the consumer market even further, meanwhile underlying its Microsoft legacy. Instead they made two brands for communication and push the businness solution to the consumer market. I can see only ONE reason for this to have happenned. It's the popularity Teams has gained during the pandemic. But it's clear that the pople who chose it during the first wave, did it for professional purposes, not private one. For family reunions etc. Messenger has been used. Here, they will gain nothing and I predict that in a couple years' time a lot of people will forget abour Teams.

They haven't killed off Skype on the consumer side, and have said they have no intention of doing so (at this time). Skype for Business has been deprecated and replaced by TEAMS.

Uninstalled it. Nobody uses it for personal use. We live in a mobile first world and people already have many chat/video call apps on mobile for which there's a pc version available too. Reality is, people chat and video call on their mobile. The only time you actually use your PC, is for work meetings on Teams or zoom etc.

I hope to shift my group and personal video calls to Chat/Teams. I just need to be the ones organizing the call so I can do that. 🙂

You can always have a newcomer come out and do well. Look at Discord. it became popular even though other wildly popular chat apps were out there and Discord was PC first.

Discord offered something that wasn't already out there.

I like Discord, I managed to get a group of us to change from Skype to Discord, it took some doing, but I got it done. I doubt many of them would change to Teams.

I don't have anyone that would use it as they are not on windows 11. They should have rebranded it Microsoft chat at all levels for consumers. Change the icon when you run the full app. Having it really be "teams" is going to make consumers not want to use it. They advertise teams during the pandemic as a work tool. Not as a family tool. They failed the consumer yet again. MS is so enterprise focused - they forgot about the consumer yet again. Closing the stores didn't help either. They need to realize people would use their products at the consumer level if they put effort into marketing and designing it for "play" not "work"...

I use it to send texts, simple SMS. So none of my private contacts really needs to have windows 11 or teams.

That's nice to have, but I'm not sure what that experience offers that Your Phone doesn't do better. For example, it seems like many emojis don't work (for example literally saying "wink" rather than the emoji). It also means that if someone texts me, it gets split between Teams and messages apps...

Well Your Phone is very buggy, so that's not a good start. Auto-closes daily.

For me it's simply faster and more convenient. But that's just my personal preference.

But when someone texts you normally, rather than replying to the message from Teams, that doesn't come into Teams,right?

There's also an Android App, IOS App and the Desktop Apps/Web Apps can be used for either Personal or Business account. You don't need Windows 11 to use Teams Chat.

Absolutely you don't. But Win 11 has by default nailed a Chat icon, and only Chat, for only TEAMS personal, smack in the middle of the middle of the task bar.

My friends and family have used Skype since Vista. Then when it became Microsoft's version of imessage it was amazing, since they've decided to make teams the new default, we've all upgraded to teams. Works great, dark mode looks great now after last night's update on Android! Just needs default sms app support like Skype had on Windows 10 mobile.

Lucky you. My family and friends group chats are stuck with Meta's (Facebook's) Messanger.

Yeah I know we're in the minority, but skype/teams was as used as Apple people use imessage and FaceTime. After all it was microsoft goal for a while, we used windows phones since 7, so Skype was front and center and cross platform with our ios and Android family, so even they preferred it for that reason alone.

The Chat works great. I am finding Windows 11 easier and better than I thought. Love it. Thanks for the informative tour Zak!

Would use it, but nobody else does...

No. I don't know anyone else running Windows 11 and I don't know a single person who uses team for families.

You can text people with it too. 🙂

I mean, you can also just install the PWA for messages.google onto W10 or W11 or Linux and send RCS & SMS from your desktop. And it syncs with the default app you were using to chat from your Android phone anyway (google messages).

Nope as it is personal use only. Use teams for business all the time.

I've never seen it. Removing Teams became my habit just as removing Skype was. I knew one person who used Skype after Microsoft acquired it. Everyone else moved on Viber and later adopted Discord. Often people just kept using both of those and have them active on their PCs as well as their phones and tablets.

It's the only one that checks all the boxes for my kids.
1. Doesn't require a real phone number to use
2. Auto launches with Windows so I can always contact them
3. Also works on their Android tablet
4. Does video chat
5. They can start a video call on their own with 2 clicks.
When teams for families came out last year, I tried EVERY other product. Teams is the only one that checks all of these boxes.

Did they frop the phone number requirement? We use consumer version at work, and the phone number requirement was a hurdle.

None of my contacts use it so I couldn't use it even if I wanted to. Here in Greece everyone uses Zoom for teleconferences so I cannot use it even for that. And it has many drawbacks as a chat app too, for example no end-to-end encryption. I tried it when I first upgraded of course, but I ended removing it from the taskbar.
Microsoft had a video chat app that everyone was using back then, Skype, and they managed to ruin it. Now it's too late to bring anyone back to their own chat app.

Windows Live Messenger was very popular. Microsoft killed it to try to force Skype. Everyone that I had on WLM moved to Facebook Messenger instead, and then more and more people got iPhones for the iMessage/FaceTime convenience. Skype was already dying when Microsoft got it. It was clinching onto the users, but the market was in the process of shifting away from tools like Skype onto other more agile messaging platforms.

We use Teams for work, so I use the Chat function a lot!

Hmmm. This article will get me to try it. Until now, when I was on my laptop I just used the Teams app with people you had Teams and Your Phone app for SMS. I gather I can use this feature for SMS. That will be useful

I might need to investigate this chat app since I just got a new laptop on Friday with Windows 11. Once Windows finished installing on the laptop, I simply removed the chat app from the task bar and dismissed it outright. I should probably have not been so hasty in removing it.

You don't really play around with your new devices but the sound of. Not trying all the new features or apps?

I've outgrown that. I have far better ways to spend my time, these days. When I get a new device I go through all the settings to set everything up after uninstalling all bloatware and running Windows Update and Windows Store Update. Reboot, install my software, Rebook... and I"m done. The end.

I haven't found a use for it. No one in my circle uses it, I can't use it to open links to a meeting (it opens in the business app instead) and I can't use it to make phone calls to regular phone numbers. Recently decidued to disable it

In typical Microsoft fashion, it's a separate teams client from the one I need to use for work. OneDrive anyone? Why would I want TWO of every client from Microsoft. I uninstalled the Win11 one pronto.

Yeah MS has really shot themselves in the foot with the way they have a hard wall between Work and Personal accounts. Outlook works with both, but even there, the experience is different. Instead of leveraging their success in enterprise to consumers, they've isolated it, making it hard to build one success into another. Strategically stupid, in my opinion.

I like it for texting. However, it seems to use a different number to my contacts rather than linking to my phone to send texts with my number. I guess that's what's Your Phone is for. I would like to use it more but too many people I know are stuck on Messenger for group messaging.

No one I know wants to sign up with their phone number. Only Windows 11 allows you to sign in without one. All of the macOS, Windows 10 and Mobile (Android/iOS) apps require one. I've gotten a few people to download it, but once they get to that step they balk. So, I disabled the Chat Pin and uninstalled Teams. I'm not even willing to give my number for this, when there are options that are far more widely used that don't require you to do that. If I can't use it on my Phone or iPad, it has no place in my life.

I use It for my daughter on her win11 PC

"Now that Windows 11 has been out for almost a month, it will be interesting to see if similar numbers appear in our new poll." Where's the poll?

Odd, that's it not showing up for you. As It's in the same article and it's showing up in the app. Haven't checked the mobile site.

To help us figure out why it's not appearing for you, do you have an adblocker on?

I hope Microsoft incorporates the features from Rooms into the chat app.

I would use it if they integrated Teams Personal with Skype (because that's what all my friends and family use if they're not using FaceTime). I don't know anybody that uses Teams outside of a work/school context. I still think Microsoft is stupid for not just migrating Skype to the Teams backend and then rebranding Teams Personal as Skype. Instead they now they have a crappy old service that everybody knows and uses (Skype), and a great new service with a terrible name that nobody uses (Teams Personal).

I had it set up but no reason to use it

I would love to use teams and skype or Kaizala or whatever new chat services Microsoft keeps throwing at me but if 99.99% of my contacts are not only NOT on teams, but also refuse to switch over from WhatsApp- i don't really have a choice. The one or two close friends who i did manage to convince to at least install teams and try it- they gave up within an hour- because of how resource intensive the App- both android and desktop version - is. Its painfully slow to load open, and messages always are delivered at least 1-2 seconds after i have pressed. And that is on a good Wi-Fi. If the network is patchy- one can forget about using teams altogether. And that texting feature? doesn't work here. Also, i think it will be better if new chats opened right there in the teams panel, instead of a new window Would make for much more clean experience. I was extremely excited about the widgets panel when they announced it- "the beautiful sheet of glass gliding over" - Panos Panay. 😠to hell with the glass! It's useless!! if i must open my browser to do everything i will just go there instead. why go through so much trouble, especially on a non-touchscreen device. The Live Tiles were more useful in my opinion for information at a glance. They really need to make the widgets more self-contained. And make teams easier on resources- CPU, RAM and bandwidth.

Personal chatting/texting is a mobile thing. No one is going to sit at a desk with Windows to chat. Not to mention that the photos/videos that get shared are on the phone. Yes, this all CAN be done from Windows, but why bother?

People absolutely are going to sit at a desk with Windows to chat. I do it every day. On TEAMS enterprise. Yea, unlikely I'm going to be doing this personally. Too bad the Chat app forced into dead center of the task bar on Win 11 ONLY supports personal TEAMS.

Never was interested in it. Zoom on PC or my Note is good enough.

There really should be an additional choice: I don't have Windows 11.

No: slow and heavy like widgets, web tech in first party apps and specially in the OS should die
Windows Central Newsletter
Get the best of Windows Central in in your inbox, every day!
Thank you for signing up to Windows Central. You will receive a verification email shortly.
There was a problem. Please refresh the page and try again.