Poll: Does your hardware qualify for Windows 11?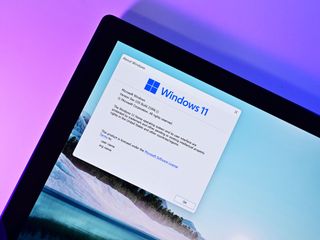 (Image credit: Daniel Rubino / Windows Central)
It's finally here: Windows 11 has been formally announced by Microsoft, and people are excited! Well, some people. Others are either disinterested or irritated because, according to Microsoft, their PCs aren't ready to run Windows 11.
Microsoft itself admits its "are you ready for Windows 11?" health checking diagnostic tool hasn't been doing its job as well as one would hope, and that updates to it are planned, including one that just recently went live to help clarify what's keeping your machine from achieving Windows 11 eligibility. Work with the tool and cross-reference with the official Windows 11 hardware requirements. Does your machine meet the cutoff?
Note that Microsoft has very clearly outlined a hard floor and soft floor cutoff in its Windows 11 guidelines, so those of you who at least meet the soft floor are in no danger of being excluded from Windows 11; you'll simply be "advised" against going with it by Microsoft. But this is Windows, and you know the rules. Nothing is set in stone until launch, and even if the official requirements stay just a tad out of reach for you, that doesn't mean there won't be other ways to get the OS running on your rig.
A lot of confusion stems from Windows 11's current TPM requirements, which is a facet of the spec cutoffs not a lot of people are familiar with. Most recent machines are equipped with this security-minded component, but plenty are falling outside the bounds of what Microsoft recommends.
Of course, this issue hasn't been immediately apparent to everyone using the health checking tool. In its launch form, it neglected to state what the specific issues were with users' configurations, leading to confusion for those with extraordinarily strong gaming rigs that could run the latest games at maximum settings but apparently not Microsoft's next entry-level-user-tolerant OS.
Robert Carnevale is the News Editor for Windows Central. He's a big fan of Kinect (it lives on in his heart), Sonic the Hedgehog, and the legendary intersection of those two titans, Sonic Free Riders. He is the author of Cold War 2395. Have a useful tip? Send it to robert.carnevale@futurenet.com.
I have a 3 year old Dell XPS desktop, and according to the tool it is not supported by Windows 11. It's sad that Microsoft has decided to pull this stunt. Windows 11 looks like it'll be the best version of Windows since Windows 7, but they've successfully found a way to botch the launch by excluding a large portion of the Windows community.

I think your right there. it's not going to land on many machines by the look of it, only if you've bought a new machine with it. At work and in other places I can still see 7 and 10 being the OS used.

My 5 years old laptop with 6th gen i5 runs fine, although a little slow. The touch screen still works. Microsoft says my laptop isn't compatible, due to my cpu not being 8th gen. Even if it says your machine isn't compatible, you should give it a try.

What does the requirements check tool say is holding your PC back?

No secure boot. It does say disabled in bios but can't seem to switch it on.

I have disabled secure boot in BIOS but my PC passes the check, I enabled fTPM. I've never used secure boot

I see the survey currently shows 44% of respondents reporting Win 11 won't run on their hardware, and here on Windows Central we're probably more up-to-date with our hardware than PC users as a whole. While it's possible that Microsoft's response to all this will be that those users should just keep running Windows 10, I highly doubt that. If that were a big part of the plan, that would have been a significant component of Panay's presentation just for the reassurance effect. To be fair, he did point out that the new Store is coming to Windows 10, so maybe... But I think it's FAR, FAR more likely that these requirements will be adjusted so that it's closer to 80% of existing Windows 10 PCs can upgrade to Windows 11. When you see things like Surface Book 2 and Studio 2 can't upgrade, that seems a clear sign that the requirements have been incorrectly announced or that there's a problem with the testing methods. I would be shocked if those remain unable to upgrade by the time Windows 11 goes into general release. And if those can get Windows 11, yours probably can too.

4 year old Alienware 17 R4, did not make the cut. My specs are pretty much up to date but MS and Dell have not included it in the update... frustrating

I have the 15 R3 which should be the same. I think it will run, just not recommended. It fails the soft requirements but passes the hard requirements.

If your **** is 4 years old it's by no means up to date brotha.

7th Gen processor and Dell not updating the drivers

since I cant have folders in the start menu im not ever getting window 11

I have a Dell Inspirion i5559 with a quad core processor with speed more than double Microsofts baseline. App says its not eligible. I think the same happened for Windows 10. I will install 11 anyway.

What's holding it back? The 2.3 update to the health check app should tell you what the issue is.

Everything but my processor it seems... If Microsoft doesn't change this super strict processor list, then they're going to face the biggest fragmentation of Windows since Windows Vista

I'm hoping they hold firm. It's generating some backlash now, but it's needed to move the platform forward. Besides, by the time Windows 10's support ends most of the unsupported hardware will be at least 7 years old on the low end and 9 years old on the high end.

You should be able to by a $1,200 (or more) PC, and legitimately expect it to last at least eight years with the latest OS and updates, and not be left out of a new OS after four.

In the meantime smartphones of almost $1,000 get updates for about 2 or 3 years and nobody cares

Android phones, yes. iPhones get at least 5 years of support.

Windows 10 devices also get years and years of support. Just not an upgrade to the new OS. People should not confuse getting updates to a new OS with getting support for your current OS. You DO get support for years to come on Windows 10.

I don't buy $1000 cell phones these days and I'm not going to upgrade my 2 year old laptop because it's CPU fails the Win 11 test. I'll move to a Chromebook next.

But secury must improve faster. If not Microsoft will be left behind. Obsolecence ins't only hardware.

I started live chat support with MSFT. They sent me a link for w11 support which was reloading continuously. When I asked him to provide another link for the same, he left the chat with reference number. It seems that these support officers are also confused.

I've got 2 Surfaces. They're ready. I tested my wife's desktop, it's ready. But my desktop isn't. It is 7 years old, so I am not surprised. The question is can I upgrade the motherboard? Or must I get a new desktop?

Depends on what's holding it back (TPM, Secure Boot support, etc) and what your mobo is.

I'm in the same situation. I've been waiting for years to upgrade my CPU, Motherboard, and RAM. Looks like I finally have a reason.

My PC doesn't support Secure Boot (ASUS P8Z68-V Pro mobo) which puts it out of contention for Windows 11. Nvidia's also dropping regular driver updates for my GPU (GTX 680) in October. With all that in mind, I'm up for a new gaming PC - a daunting prospect at the moment given the absolute mess that GPU pricing and availability is right now.

Well, In my case, Asus H310 mobo has Secured Boot feature unidentified by 'buggy tool'. Good thing is my i5-9th gen processor in that list. Apart from this, I am using an old Nvidia 210 card for display (just display). Maybe Nvidia will release another cards for mining this fall and I'll get 3060 or 3060ti at MSRP.

Do you have Secure Boot turned on in your BIOS settings?

Yes.
Under Secured Boot options, it asked for setting UEFI which I set to Windows.

Surface book 1...this feels personal 😡

Surface Book 2 also failed the test... even worse! 😡🤬

Evidence that the tool isn't ready yet, more than anything about your actual compatibility. There is no way MS won't let Windows 11 work on Surface Book 2, and I would be surprised if it won't also run on Surface Book 1.

What Surface Book 2 do you have? Mine passed. (Core i7-8650U, 16GB Ram, 512 SSD)

I bought a Surface GO 2 a month ago and it doesn't pass 'the test'...

My Surface Go 2 LTE did not pass the test because of the processor (m3-8100Y). The processor is on the compatible processor list and the Surface Go 2 is on the compatible Surface devices list. What is going on?

Same, m3 Go 2 bought *last week*, fresh out of the box and failed the check, both before and after the "update" to the system checker tool. THE SURFACE GO 2 IS ON THE LIST OF WINDOWS 11 COMPATIBLE SURFACE DEVICES, WTFFFFFF

My guess is that Microsoft will do a bios update for most surface devices. Atpeast iPhone they will.

same here-- makes no sense

I laid out a crazy amount of money for a Surface Studio 2, max'd configuration. Top of the line. Nope, won't run Windows 11 because the Intel Core is 7th generation -- needs to be at least 8th gen. Theoretically, I can circumvent the requirements by downloading beta versions via the Insider program (FYI: Insider will throw you to the Release Channel but you can manually flip it back to Beta). We shall see. This is how Microsoft treats its most dedicated (and lucrative) customers?

I believe that the Insider build might not run. They've done that before where some systems weren't eligible for Insider, because they hadn't addressed hardware-specific issues yet, but I would be shocked if the final release version of Windows 11 doesn't run on the Surface Studio. There is no way MS would do that. They have a 100% track record of providing broad support for existing systems at each new Windows launch. I expect that only the oldest systems that don't run Windows 10 well will be denied Windows 11.

"This is how Microsoft treats its most dedicated (and lucrative) customers?" You may be dedicated, but you are far from lucrative. Enterprises (and governments) are the customers that MS cares about. They spend in a month what you have spent in your lifetime.

I'm a bit bummed that there HP Spectre laptop (circa 2017 - 7th generation Intel) I have won't be supported by Windows 11. At the very least, Windows 10 will be supported for a few years more... Maybe some 3rd party applications out there can bring some of the Windows 11 goodness. I remember an application called Window Blinds long ago was able to skin Windows a fair bit. I'll have to look it up to see if it's still around.

Looks like the nays have it.

I'm wondering if ms will roll out next weeks build to people with the windows 11 leaked build 🤔 or just windows 🪟 10 folks on the dev channel?

I had to enable the TPM in my BIOS and now it says it is good to go. My PC is a BYO with a 10th gen i5 so I'm glad I'll get Win11 .... now to find a newer GPU... …. …….. …………………………..
I give up

Now that I activated TPM, yes! my PC qualifies, Yay! Can't wait to try Windows 11 myself 🤓

What we can hope for at this point is that - because of all the rage this has been causing - Microsoft gives up on these ridiculous requirements and this kiddo David Weston gets, at least, fired.

The software doesn't even run on the surface pro x as far as I can tell. I wish MS would be more transparent and say which surface devices will and won't get the upgrade

And yes I have seen the supported cpu list. No ARM or missed it

I have two Dell computers less than 3 years old and neither one qualifies for 11. Looks like I will be looking for a nice Chromebook and say goodbye to windows.

My only obstacle now is that damned TPM 2.0 chip. My laptop has AMD's PSP 1.0 Device which theoretically supports fTPM but I can't, for the life of me, figure out how to enable AMD's fTPM. Worse, I just formatted my laptop and clean reinstalled W10 so I can convert my firmware to run on UEFI (instead of BIOS), GPT (instead of MBR) and at least activate Secure Boot. Now I've been kicked out of Insider Dev and have no other option available besides Release Preview so I can't even test out W11 next week. MS wouldn't even let me back to Build 21390. This is such a nightmare.

I already have an Android phone and two Android tablets so dropping windows won't bother me much at all if any.

Yes, but only after I went into my BIOS and turned on SecureBoot and fTPM. I think there will be a lot of people who never do that and therefore won't qualify.

No. I have a surface pro 4. No win 11 for me.

I got leaked build running on SP4 for testing. Waiting for insider builds now.

I feel like I would be more willing to do so on an older pc, rather than my new one. I guess this means I will not even for my new pc. If not many people move up will they change? I have a pc that was first xp that is now win 10. I guess the windows ten will be come the new xp. Microsoft will be pushed to support or have media backlash.

My m3 Surface Go 2 said no. This is a modern Microsoft computer and they say it will not run their own updated OS. Without saying why. I am not sure that I any longer believe that their employees are smart. Surely this is the sort of thing someone in grade school would have thought about?

Fwiw the updated checker tool says its the processor.

The processor is on the list of supported processors in their design guidelines for Windows 11 devices, so I assume this is bug in their checker tool. I think I'd not entirely trust what the tool says until they have ironed out the bugs.

16 GB ram - check;
UEFI enabled - check;
TPM 2.0 enabled - check;
i7 7700k - not check; My PC can't run Windows 11 because my processor isn't supported.
Da fuq, Microsoft? Are you joking?? It's from 2017. This is still a beast of a CPU. There's no valid excuse for this.

7th Gen Intel Core is the only thing holding me back. UEFI, TPN,8GB Ram, 1TB SSD... everything else is great. I will still try to install it. If it fails, I'll bleed this system dry until Win10 LTSC updates end in 2029. :D

4 of my 5 PCs meet all the requirements. My gaming desktop neither has TPM nor a supported processor. 🤷🏻‍♂️ Heck of a time for an upgrade... Oh well, I'm happy to do so as long as Microsoft holds firm to these requirements. Microsoft needed to be a little more scorched earth to help move the platform forward. As long as they don't cave to demand this will pay off in the long run.

I'm a bit curious why do you want to buy 5th PC just for windows 11? You still have 4 years to wait for a better option and currently 4 systems compatible with W11.

Because it's my gaming desktop, the rest are laptops or 2-in-1s. I've been meaning to upgrade it for a while (haven't upgraded anything except the SSD in 6 years) but I was waiting to do everything at once. Instead, I'll just upgrade the CPU, Motherboard, and RAM now and worry about the GPU later once prices and availability return to normal.

I can feel you pain. My case is a bit similar. I skipped GPU while assembling custom build in mid of 2019. From that year, I didn't get 2060 from any shop. This year, I made my mind to get RTX 30 series and I'm getting 3060 at $955 from retailer which is not a good option.

My brand new build supports it but only after turning on PTT in the BIOS. My old desktops won't. Not surprised that my 2008 Core 2 build isn't supported but a bit annoyed that my 4th Gen Haswell build isn't supported. Partly as TPM support wasn't included in K series chips like my 4670K, but the TPM header only supports TPM 1.2 chips. So that won't take it despite running Windows 10 pretty well. My OG Spectre x360 also won't take it since it's Skylake, but that's weird as despite finding that TPM was disabled in the BIOS and having the option to enable it, there's no sign of any TPM chip inside it, 1.2 or 2.0. Think the biggest concern is my OG Surface Go. It's less than 3 years old and can't take Windows 10? That will definitely lead to some questions regarding why from me as it's pretty unacceptable to not offer a new version of Windows on a sub-3 year old device that I'd reasonably expect to have ~10 years of Windows support. Microsoft could also have really done themselves a favour and correct the "Windows 10 is the last version of Windows" statement as I suspect that might be a lawsuit or 2 heading their way, especially if they force TPM 2.0.

As long as they keep supporting Windows 10 on your Microsoft device for a reasonable lifespan of the device, they have no legal problems at all. (they are not forcing TPM 2.0 on Windows 10 which was sold to you on your device) Technically, windows 10 IS the last version of Windows, for your device. So they didn't lie at all.

My five year old dirt cheap Chuwi two in one is running it fine! Not risking my SP4 with an unofficial build, but it will be ironic if that doesn't run it and the Chuwi does 🤣🤣

The Surface Pro 4 won't run it as the processors, being 6th gen Intel, aren't compatible.

I got leaked build running on SP4 for testing. Waiting for insider builds now.

According to the written requirements YES. According to the PC Health Check and the Insider Program, NO. The Insider Program allowed me to sign up. But it also told me that when Windows 11 is released, I will be dropped from the program and must manually reinstall Windows 10. I have a Surface Go 2 LTE.

It told me "no" until I turned on TPM and now it's a "yes". I think at least the entire Surface line back to the Pro 4 should have been included, honestly, and certainly the Surface Studios.

I had the Health Check App say no initially but after checking my BIOS I had to enable fTPM and Secure Boot. Still said no after that though. Then I found that I actually has to disable the Compatibility Support Module (CSM), but to do so I also had to convert my SSD from MBR to GPT which I was able to do thanks to this article from two years ago on here. Luckily I found it because I was on the verge on doing a fresh install. https://www.windowscentral.com/how-convert-mbr-disk-gpt-move-bios-uefi-w...
After that the Health Check App finally said yes to the W11 upgrade.

I had to disable the CSM when installing Windows 10 but the process you mentioned above is what I had to do to get my custom built desktop to be compatible as well. I suspect that is the same with the vast majority of people commenting on here.

yep, windows 11 ready. I'm one the luky ones

Originally, my custom built PC wasn't. But after a bit of messing around in the BIOS, I eventually got it right according to PC Health Check.

This is actually not going to affect me it's time to buy a new computer anyway hopefully there are lunch Studio 3 Can't wait to play around with the surface Neo meal with Windows 11x

Well, my Surface Pro 6 will run it. The next question is, do I really want it at launch. I think I will wait and see what features it will have at launch and see what MS does with it.

All three desktop machines my family actively uses do. Not a surprise, they're all 9th or 10th Gen Intel CPUs. My laptop won't unless they change the requirements and support the first-gen Zen architecture. It's an Elitebook 735 G5 with a 2500U, released May 2018. Not that mad about it, Windows 10 is fine, but find it a bit surprising that they aren't supporting back to at least Zen and Skylake.

Depending on your CPU and mobo, you may be able to turn on PTT (Intel) or fTPM (AMD) in your BIOS. Check your mobo manual for instructions.

I have an Intel Core i9-7900x , which is not listed as supported CPU for Win11, but the PC Health Check app giving me the green light !!!
I tried to compare the i9-7900x to listed supported i9-10900x and I can't find a single difference in CPU specs and instruction sets, except for clock speeds, and they both run on the same identical HW MB chips and rams . I'm waiting to see should I replace my CPU or not!

For some reason the poll widget on this article is not appearing when I use Edge lol. Anyways, the more updated Health Checker app said that my PC's not fit for Windows 11 because of the unsupported CPU. I got pissed at this reason since I'm using a Surface device (Surface Pro 2017) and I was hoping that they'd have longer support, especially for devices like mine. This is quite a throwback to the Windows Phone 7.5/Windows Phone 8 fiasco. How can I be "inspired" to use Windows if 'll be stuck in Win 10 in the long run while I work my ass off to get myself a newer laptop with Win 11? lol

Your Surface pro 2017 still has years of support... on Windows 10.

for my laptop yes
my much powerful desktop nope.

I have a couple of years old HP OMEN desktop with a i7 processor (8th Gen). I used the tool and said the PC is ready for windows 11 🥳

Nothing in my house can run it. I consider myself lucky. 11 is less functional, less customizable and ugly. Pass. The good news is, I won't be bombarded with messages to "upgrade". I also won't be forced to upgrade, like many unsuspecting 7 users were when 10 was forced on everyone. I actively prevented 10 from being installed against my will.

How would you know that though seeing as you haven't used it?

Surface Pro 6 meets requirements

Again, Microsoft is shafting dedicated followers. I own five separate MS systems, purchased within the past 3 years:
1. My Surface Go 2 will not accept the update
2. My Surface Pro 6, with all higher-end components, won't accept the update
3. My Surface Laptop 2 will not accept the update
4. My Surface X will not even download the app to check it's status--I'm guessing it's a no.
Again, I look at the ways MS has pushed me toward the fruity realm by developing great products and software, then leaving me high-and-dry: Windows phone, Surface Band, Cortana, Surface X, and ????

In the Microsoft Store, the Surface Go 2 and Surface Pro X say they will receive a free upgrade to Windows 11.

I hope that's correct. It appeared the African American gentleman who showed the voice function was using a Surface X--or maybe the new generation of Surface Pro 8 (hopeful thinking because I LOVE the form factor of the Surface X!). Finger's crossed. Thanks for the response!

My laptop can run Windows 11 as can my desktop, the desktop required a bit of configuration to get it to be compatible though. The only device I have that isn't compatible is my Surface Pro 4 as that has a 6th gen Intel processor.

How would a poll like this reflect anyone with multiple PCs?

The Surface Laptop Go is ready for Windows 11.

I got leaked build running on SP4 for testing. Waiting for insider builds now.

My kid's/grandkids hand-me-down Lenovo laptops are not qualified, and my wife and my laptops are a year or two old. I am going to have to prematurely landfill them for 'security' because Microsoft refuses come up with a way to implement a secure TPM in their OS vs. forcing everyone to a new hardware standard. This is a terrible idea. My grandkids aren't the age to appreciate a more precise keypad experience. They are particularly needing a more secure computing environment to keep them out of trouble. Giving them Chromebooks or Linux isn't an answer if the idea is to get them familiar with the wordprocessing standards business uses every day. This is just a cash grab by Microsoft, hardware and software vendors (who will charge $ for the new version for Win 11). Multiply that across a large family tree and it is easy to grasp the problem.

I have 5 computers and none of them are compatible, but all run Windows 10 just fine. I would love to see Microsoft release Windows 11 lite, without stringent security requirements for people who know and accept that their technology is not secure, at least until they can afford to upgrade all their hardware.

Nope. But I'm not surprised with my laptop being 10 years old and on its last legs.

Microsoft says my laptop isn't compatible even though it meets all the requirements except for the CPU. My 2016 Spectre x360, running 6th gen i5 runs without a problem. Although pressing a windows button is slow and action centre as well. Could it be because it is beta software?
Windows Central Newsletter
Get the best of Windows Central in in your inbox, every day!
Thank you for signing up to Windows Central. You will receive a verification email shortly.
There was a problem. Please refresh the page and try again.