DOOM Collector's Edition will include a 12-inch Revenant statue for $120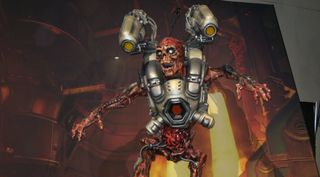 DOOM fans who want to get id Software's long-awaited reboot on May 13 will also have the opportunity to buy a Collector's Edition of the first-person shooter for $119.99.
In addition to the game itself, the DOOM Collector's Edition comes with a metal case for the game and a foot-tall statue of the game's most popular enemies, the double chaingun-armed Revenant.
Pe-orders for both the Standard and Collector's Edition of DOOM will get some extra content with the Demon Multiplayer Pack. It will include items like a demon armor set with three skin variations, along with six metallic paint colors and three id Software patterns to customize your weapons and armor. It will also have six Hack Modules, which are in-game consumable items that are supposed to give players in multiplayer matches some advantages.
Source: Bethesda.net
Pe-orders
Why would i pee order? There's restrooms for that

That last part is sad, that they're going to let you pre-order for multiplayer advantages. I generally don't care about these statue things, but I might order this one. I'm just too excited for DOOM.

You can pre order, get the multiplayer and then cancel the pre order ;)

That assumes you get the extras before picking up the game. Many lately have put such content in first-print copies of the game, saying it's a pre-order bonus actually available to anyone who buys that first print. It also misses the point that I don't like their tactics of pay-to-win.

He has shoulder mounted rocket launchers...not chainguns.

I wish you could get the option to get the game in a digital download, and not just on disc.

If you want it on PC, Steam says hello.
http://store.steampowered.com/app/379720/ I don't see it on the Xbox store yet.
Windows Central Newsletter
Get the best of Windows Central in in your inbox, every day!
Thank you for signing up to Windows Central. You will receive a verification email shortly.
There was a problem. Please refresh the page and try again.