DOOM Eternal reaches 1,000 FPS on PC cooled by liquid nitrogen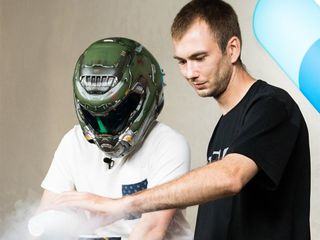 (Image credit: Bethesda)
What you need to know
Bethesda enlisted hardware experts to show off the prowess of id Software's id Tech 7 game engine.
The goal was to push DOOM Eternal to 1,000 FPS.
A team lead by Polish hardware retailer x-kom achieved the task as part of QuakeCon at Home.
A team of hardware and overlocking specialists successfully managed to create a custom PC that could run DOOM Eternal at 1,000 FPS as part of project for QuakeCon at Home.
Bethesda's Polish community manager Lukasz Lesniewski challenged Polish hardware retailer x-kom to show off the power and versatility of id Software's id Tech 7 game engine by figuring out a way to achieve the record-breaking framerate. X-kom's head of R&D Marcin Rywak and tech blogger Piotr Szymanski put together a platform using Intel's eight-core i7 9700K processor, an ASUS Maximus XI APEX motherboard, Samsung's 512GB M.2 drive, and power from Be Quiet 1200W Straight Power.
That device was able to push the game to 500-600 FPS, but hitting the goal required using liquid nitrogen in order to overclock the PC without it overheating. Using the custom cooling system, the team was able to get all eight cores running at nearly 6.6GHz and achieve 1,006 FPS in the opening corridor of DOOM Eternal's "Hell on Earth" level.
Related: Our full DOOM Eternal Xbox One review
Demons, death, and destruction
(opens in new tab)
Journey into Hell

DOOM Eternal had its work cut out for it after DOOM 2016 shocked the gaming world with its incredible visuals and combat, and it delivered on every promise. If you're looking for a sandbox in which everything is trying to kill you and you're, well, killing everything instead, DOOM Eternal is the game for you.
Windows Central Newsletter
Get the best of Windows Central in in your inbox, every day!
Thank you for signing up to Windows Central. You will receive a verification email shortly.
There was a problem. Please refresh the page and try again.