Dungeon crawler 'Operencia: The Stolen Sun' is coming to Xbox and the Epic Games Store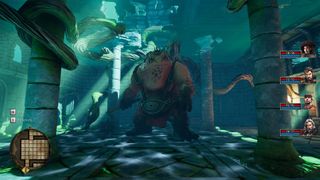 Zen Studios is known for creating pinball games, but the team has experimented with other genres in the past. Today, the studio announced an Xbox One console exclusive called Operencia: The Stolen Sun. According to the developer, Operencia: The Stolen Sun embraces everything you love about classic first-person dungeon crawlers, enhancing the old-school turn-based role-playing (RPG) experience with modern sensibilities. Your goal is to guide a team of memorable characters through a world inspired by Central European mythology.
Operencia: The Stolen Sun has an extensive listing on Steam so this may come as a shock to those who prefer that platform. Since it's probably being funded to some degree by Epic Games, it's probably not going to release on Steam anymore. Yesterday, Deep Silver announced that Metro Exodus would only be available on the Epic Games Store on PC until 2020. This decision didn't sit well with a lot of gamers and they've been "review bombing" the previous entries in the series — Metro 2033 and Metro: Last Light — ever since.
The gaming industry is incredible competitive nowadays and many smaller studios and projects fail as a result of not finding a large-enough audience. It's understandable that Zen Studios would want to partner with companies like Epic Games and Microsoft to make sure they can keep on going.
Zen Studios has always produced polished games and this title reminds us a lot of The Bard's Tale IV: Barrows Deep. Hopefully it'll be a polished experience when it launches in 2019. Operencia: The Stolen Sun should also feature Xbox One X enhancements, Xbox Play Anywhere support, and be available on Xbox Game Pass at launch.
Try to escape
(opens in new tab)
Operencia: The Stolen Sun
It's like the Legend of Grimrock

Operencia: The Stolen Sun embraces everything you love about classic first-person dungeon-crawlers, enhancing the old-school turn-based experience with modern sensibilities. Gather your team of memorable characters and guide them through a world inspired by Central European mythology.
Asher Madan handles gaming news for Windows Central. Before joining Windows Central in 2017, Asher worked for a number of different gaming outlets. He has a background in medical science and is passionate about all forms of entertainment, cooking, and antiquing.
If PC gamers thought there would only ever be steam, then they are incredibly niave. Epic will gain more and more exclusives. That's what competition does. Steam need a rethink or they will end up with loads of games missing from their catalog. This is business. When people realize that, they will grow up.

I honestly don't think Steam will change until it's too late. Steam will probably be the go-to for indie games from now on, and Epic Games Store for "AAA" experiences.

Don't forget, if Valve don't rebuild Steam with the new APK and urge devs to support appxupload, there will be no Steam for the new generations of Windows (Core == IOT, AR, MR, Xbox, ARM64 + any new form factors and new HW architecture future might offer). And MS is releasing GamePass to PC, phones and "Cores" either through xCloud or XPA.
If people and kids (esp people and families who owns Xbox already) are gamepad or KBM playing FIFA, Apex, Anthem, Brawl games or other multiplayers on their phones or NBs, it's highly possible they will bring in more users into the ecosystem. A copy from Steam runs only on Linux and x64, x86 Windows PCs.
A copy from Xbox ecosystem, runs on a lot more devices.

What does this have to do with PC gamers? It's an Xbox exclusive... so it isn't running on a PC anyway?

PC and Xbox, there's no such thing as an Xbox exclusive any more.

Incorrect. There sure is such a thing as an Xbox exclusive. Forsa Horizon 3 is such a title for example. It is an Xbox title on both console and PC.

Xbox exclusive matters to MS and maybe it's fans. But should it matter to a consumer? If you are a gamer it is whether you can play the game or not depending on what you own.
If you have a PC, you can play a game whether it's on steam, epic or MS store. As a consumer/gamer is it good that companies are paying for timed or artificial "exclusivity"?
I really don't think it is. Instead of investing money to delay games on your competition why not use that money to create your own games? That is actually good for the consumer.
Spencer doesn't like these deals. That's why I'm surprise about this.
https://www.gamereactor.eu/news/493133/Phil+Spencer+dislikes+timed+exclu...

Did every miss the part at the bottom about this game being available on Xbox Play Anywhere? That's pretty inline with what MS prefers as an option to gamers

Xbox is a platform nowadays. It's no longer just the console.

Look, Tim Sweeney, walled gardens are only bad until you create your own, amiright?

The game looks interesting. Funnily enough I've skipped the game yesterday after just a few seconds of it's trailer in the Xbox Games Store. Now that I've read this article and watched the trailer I'm intrigued to give it a try especially thanks to it being part of Xbox Game Pass.
Windows Central Newsletter
Thank you for signing up to Windows Central. You will receive a verification email shortly.
There was a problem. Please refresh the page and try again.