E3 2018 Xbox news to expect from EA, Ubisoft, Bethesda, and Activision
Here's what to expect from the biggest third-party Xbox One publishers this month at E3 2018.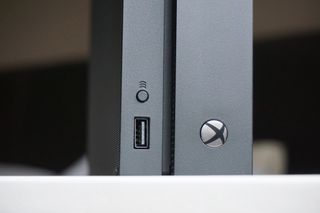 E3 2018, the biggest video game showcase of the year, is only a few days away from kicking off in Los Angeles. Bringing together the world's biggest publishers for a week packed with game announcements, there's a lot to look forward to as gamers. And beyond Microsoft's official press conference, third-party publishers have a promising Xbox One lineup.
We've wrapped up what to expect from the biggest players during the show.
Everything Xbox gamers need to watch at E3
Electronic Arts: Battlefield V, Anthem, FIFA 19
Like recent years, Electronic Arts is shifting its efforts away from E3 2018 in pursuit of its own "EA Play" event. Hosting a space at the Hollywood Palladium, the publisher has planned its press conference and hands-on opportunities under a separate roof.
This year's show looks to put a heavy focus on its flagship military shooter with Battlefield V. Following a rocky reveal that left many with mixed opinions, it's up to the publisher to impress with an extensive multiplayer reveal. Anthem will also be in the spotlight, with more on the shared-world shooter and its content.
We also expect the customary EA Sports segment, presenting the first look at improvements coming to FIFA 19 and Madden 19. NHL, NBA Live, and UFC may make appearances, through new entries for the coming months.
Rumors of new game debuts lie ahead, beyond EA's previously announced titles. Plants Vs Zombies: Garden Warfare 3 is looking likely after an official Amazon book listing (opens in new tab) referred to its unannounced third installment. Dragon Age producer, Mark Darrah, has confirmed a new game is in development too, though its current status is unclear. EA has confirmed a follow-up to its yarn-based platformer, Unravel, but details are once again limited.
Ubisoft: The Division 2, Assassin's Creed Odyssey
Ubisoft has been somewhat transparent about its E3 offerings, confirming the presence of several major titles this year. Tom Clancy's The Division 2 is expected to occupy a significant portion of its press conference, with an unveiling of its setting, mechanics, and a gameplay demo. The newly announced Assassin's Creed Odyssey will also see a world premiere, after its Ancient Greece setting leaked last month.
Beyond Good and Evil 2 is set to return for a deeper showcase, expanding on last year's surprise reveal more tangible gameplay expected. Skull and Bones will also be present, diving deeper into its mechanics following its debut last E3. And although The Crew 2 is set to release this month, expect an appearance outlining content for launch and beyond.
Downloadable content packs are also expected for existing Ubisoft games, as the publisher continues to embrace the "games as a service" business model. Rainbow Six Siege, For Honor and Far Cry 5 are all likely candidates for the stage, providing a look at what's next for the titles.
Bethesda: Fallout 76, Rage 2
Fallout 76 is Bethesda's flagship title of the year, delivering what's expected to be a new take on the franchise. While digging through previous games has provided an idea of its premise, the event will hopefully bring firmer details on the project.
Following its reveal in May, Rage 2 is equally set to have a major presence at E3 2018. After a CGI trailer and gameplay reel, we can expect a full gameplay demo and breakdown of what's changed. Rumors of a new DOOM game have also been circulating, while downloadable content for Prey and Wolfenstein II: The New Colossus looks promising.
Activision: Call of Duty Black Ops 4, Destiny 2
Activision avoids a single press conference once again, instead announcing news through less conventional channels for major publishers. While it's not scheduled to debut a huge library, some big franchises are under its wing.
Its blockbuster shooter returns to the show with Call of Duty: Black Ops 4, building on the strong foundations of the series. While its multiplayer is comprised of smaller incremental upgrades, a new battle royale mode could be a big focus of the show.
Destiny 2 will receive its biggest expansion yet, in a similar vein to the original game's The Taken King expansion. This is set to outline content for the second year of the game's post-launch support.
Over to you
What do you hope to see from E3 2018? Drop into the comments section below with your wishlist for the week.
Matt Brown is Windows Central's Senior Editor, Xbox & PC, at Future. Following over seven years of professional consumer technology and gaming coverage, he's focused on the world of Microsoft's gaming efforts. You can follow him on Twitter @mattjbrown.
Only thing we know is the One X will have the best version of all the third party games for the consoles.

Nothing so far, but I guess we'll see :P

Pppppppplease!!! Titanfall 1&2 are my favourite FPS this gen

XBOX ONE X that works would be fantastic

? You ain't getting my one....

Can't wait for battlefield

My dream E3.. Ninja Gaiden 4 as an Xbox exclusive, an announcement that Shadow of the Tomb Raider will be timed exclusive, Forza Horizon 4, the new Ori launches shortly, The Last Night and Below are now both Xbox exclusives, Microsoft acquired Sega and has them begin reviving series like Streets of Rage, Space Harrier, and Phantasy Star (straight JRPG, not MMO) for Xbox consoles, MS contracts Capcom to revive Ghosts and Goblins and Breath of Fire for Xbox, Microsoft signs a new deal with Hironobu Sakaguchi to make new JRPGs exclusively for Xbox consoles and this is kicked off with a Lost Odyssey remaster, and then I would make a pure fan service game where the Halo and Gears of War universes collide and combine gameplay elements of both series. And Fable 4. Oh, and Phil Spencer announces the return of Xbox console exclusive games that won't be appearing anywhere else (including PC) and the end of new games appearing on Game Pass at launch. That's my dream E3 2018. No VR, no cringe e-sport nonsense, no gimmicks, and no new controller skins. Just pure hardcore gaming goodness. Build strong mindshare with gamers and make the Xbox the console gamers can't live without, which means the focus is strictly on games.

And Dead Space 4.. Xbox exclusive.

Hardcore gaming without e-sport??? I agree with everything except the end... I want my games on PC i dig the play anywhere option, without having to pay twice that's hardcore.... VR is fun but MS is in AR and AR is a sure future sooner or later even motion tracking like kinect is but it's just not mature enough.... AR and more advance motion control will be to mass market in 20 years what smartphone is today there is no question there unless we stall progress.... E-sport is the definition of hardcore... People leaving from gaming how more hardcore can it get??? But to be fair I see what you mean and I agree but both can and should cohabit if you want to get a strong Xbox brand across the board.... MS has an exceptional advantage to merge what they own in the PC space couple it with their console glory age of xb and 360 and shoot for the stars... To me a united front is better than trying to differentiate at least in MS position which far better than ninty and Sony in that regard

I would love to see 7 days to die 2 with a new engine and transformed into a mmo. Why would we need dayZ after that.

I would like to see final fantasy 14 make it's way to Xbox, Black desert be released already, Anarchy Reigns 2 (X enhanced but I'm dreaming), DayZ, Lawbreakers (X enhanced come on already) or even ... Wait you ready for it? Some of the older classic Mario games for the X but that will be the day.
Windows Central Newsletter
Thank you for signing up to Windows Central. You will receive a verification email shortly.
There was a problem. Please refresh the page and try again.