The earliest you can receive a PC with Windows 10 pre-installed is July 30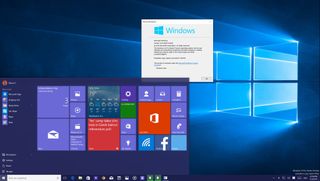 Microsoft has yet to offer a RTM (Release to Manufacturing) version of Windows 10 to PC makers, and it looks like it will be waiting until the last minute to do so. Microsoft's head of Windows marketing has confirmed that PC buyers won't be able to get one with Windows 10 pre-installed on that launch date.
Bloomberg spoke with Yusuf Mehdi, Microsoft's vice president of Windows and device marketing:
In this case, "very soon" is in fact the day after the Windows 10 launch, July 30, at least for one OEM. As we have previously reported, Dell started taking pre-orders for a number of their PCs with Windows 10 pre-installed a few weeks ago. The company has said that any Windows 10 PC pre-orders in the US made by 1:00 p.m. Eastern time (10 a.am Pacific time) on July 29, and your system will ship the same day. Those pre-orders will all get free next-business-day shipping, which means those PCs will be delivered to customers on July 30.
Source: Bloomberg
Wow...sooner than I expected.

Microsoft clarified to Dina Bass that they were mistaken and that there would be multiple PCs available on the 29th

Yes they are Dell 3520 :-)

When it will be available through update from windows store??

Wonder when the $99 stick will actually be in stores

How I install windows 10 in my pc..... My pc has windows 8.1 embedded version..... But I didn't get any notification from windows 10......

Not everyone will get it on day 1. It will be a staggered release.

I've got the same issue....

Microsoft are still working on making it compatible for everyone hence staggered release. You will get Windows 10, just not on day 1.

Not sure if windows 8.1 embedded is included but I don't see any reason why it shouldn't. Make sure youbhave the KB3035583 update installed. Then browse to windows\system32 folder. Look for the gwx folder in there thenn run the gwx.exe file. It should launch the upgrade app.

It was a dream if someone expected to buy a computer on 29th and get it with win10. But can't wait to get it. Win 10 looks nice. works nice. Yeah it has some stuff that need work. But we will get them eventually. There is no more big release. There is insider program and we will eventually get small tweaks.
If you used something like Adobe it feels nice they are working faster and better and you only keep paying the smaller money for their products, they don't have a insider program but they update faster and work better since there is no more big release barrier. So I expect windows 10 to become better and more consistent and better and better each update big or small. It's funny people complaining about it on touch ONLY because it doesn't have full screen app list. Like if that would ruin the touch experience.
It's good and sometimes better than win8. Do I expect positive things about it. Unless it's a dumb "I don't want metro" people. They are the only people I expect to complain. But win10 is nicer and will become better and better

kinda off topic but slack replied to me confirming they are working on a Windows phone app :) https://twitter.com/SlackHQ/status/620592468300562432

Dunno what slack is.. But you should be tipping wc..!

already sent. :) slack is a communication app for teams, kinda popular on mac and android and iOS. :)

We have reported on this for a while now ;) http://www.windowscentral.com/looking-job-slack-wants-full-time-windows-engineer-build-windows-phone-app-and-more

This OS is getting so nice now. I use it on my SP3, and aside from a couple of glitches, and random app crashes, it is pretty incredible.

Only thing that's not working properly or needs improvement is Edge..Other than that everything is smooth.. I am sure the experience of Edge will be better in RTM version..

Not bad. I was not actually expecting a device that will come out with Windows 10 immediately after the launched. At least, those devices at home will first get the new OS because they can download it to upgrade their old OS, and new devices would follow only after few weeks. But Dell having reported to deliver a new device with the new OS the next day of launch is pretty awesome. So those who will place order will be worth it.

A bit of topic but I just purchased a $59 7" Windows 8.1 tablet and I'm not upgrading to Windows 10, here is why: 1) My tablet only came with 16GB of storage, I mainly use it for two purposes, my little child uses its education games to learn, and also to stream TV kids shows (Netflix, youtube) to large screen since I have Microsoft Wireless display adapter. If i upgrade to Windows 10, I won't get the full desktop version of Windows 10, only the mobile version, and my device does not come with drivers to support the mobile version. 2) I disabled Windows update since it only has about 4GB of free storage, which I am using to install apps, no more room for OS/system files on a device so small. 3) screen feels so small since it has a 1024x800 resolution, this is not a problem when it projects to monitor where it can output 1366x768 at 60hz with no issues thanks to BayTrail CPU, but on small screen, I'm afraid desktop is too small to use. Also, charms menu is OK, I almost never use the desktop programs and I use Modern UI about 99% of time, rest 1% was for installing desktop Spotify and VLC media player. In windows 10, charms is going to be replaced with notify screen, but notify screen is just too tiny for my such small tablet screen. Windows 8.1 was designed for tablets like my 7" tablet, so I'm going to stick to 8.1 on this one.

Uh oh, Windows 10 defence force incoming!!!

Not gonna comment on the other things, but windows 10 should take up less space than win8, so maybe there should be enough space to enable updates... Which you should be doing anyway, for security reasons. :-)

How about the Alienware line? I want to pre-order one with Windows 10. Clean OS install onry pls.

Your title is better than Neowin's title, Johnny America! The differences in comments clearly show it.

Might want to update this article. Microsoft clarifies to Bloomberg that there would be multiple PCs available on the 29th.

Windows 10 does not even have the limited Easy Transfer program anymore. You will need to use a tool like PCmover from Laplink to get your apps, data and setting from your old PC to your new Windows 10 computer.
Windows Central Newsletter
Get the best of Windows Central in in your inbox, every day!
Thank you for signing up to Windows Central. You will receive a verification email shortly.
There was a problem. Please refresh the page and try again.