Elden Ring known bugs, launch issues, and how to fix them
Here are the top issues affecting Elden Ring at launch.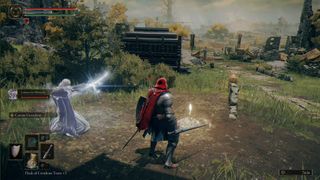 (Image credit: Windows Central)
FromSoftware's latest fantasy action RPG, Elden Ring has finally arrived on console and PC. The game takes players on a grand adventure across the Lands Between as they explore a massive open world and face a significant number of perilous environments, dangerous enemies, and ruthless bosses in a quest to collect powerful weapons, armor, and spells, and unravel the mysteries of the game's world.
Unfortunately, Elden Ring also has some bugs that are affecting players at launch, and while most of them are minor, a handful of them are also making it incredibly difficult for players to enjoy the experience that the game has to offer. Here's an overview of all of Elden Ring's known bugs and launch issues, as well all of the available workarounds.
Top Elden Ring bugs and launch issues
While Elden Ring is fairly polished on both consoles and PC overall, there are some bugs and issues that are impacting players diving into FromSoftware's new adventure. The developers have announced that they're actively working on fixing these problems, but until then, it's important to keep track of what these problems are and how you can avoid or mitigate them.
Elden Ring framerate drops
A large number of players have reported that the framerate for Elden Ring will occasionally drop below 60FPS during boss fights or exploration of the game's open world, even when using a device that meets the Elden Ring system requirements. This issue occurs on both Xbox and PC systems, but appears to be more frequent and severe on PC. On PC, players can attempt to fix this issue by lowering their graphics settings. Updating your graphics drivers may also help mitigate the problem, as will running the game in Borderless Windowed mode. Another potential solution is to set your PC to run Elden Ring in high performance mode by going to your Windows Settings > System > Display > Graphics settings, making sure Hardware-accelerated GPU scheduling is on, then selecting your Elden Ring executable and then selecting "High performance."
Elden Ring stuttering on PC
Elden Ring also appears to have the occasional stuttering issue on PC, which causes the game to hitch and "freeze up" for about a second or so. The issue can begin occurring anywhere in the game's world, but generally, it's more likely to happen when fighting bosses or exploring areas that are dense with enemies. You can attempt to solve this problem by lowering your graphics settings.
Elden Ring crashing
Some PC players have reported an issue where Elden Ring crashes to desktop on startup or in the main menu. An effective way to combat this issue is to disable the Steam in-game overlay in Elden Ring. Another is to restart your PC.
Failed to initialize the game launcher
On PC, players may encounter an error that states that Elden Ring "failed to initialize the game launcher," preventing them from starting the game. Exiting and restarting Steam may fix the issue, but verifying the integrity of the game files or restarting your PC may solve it as well.
Controller not working on PC
Some PC players have shared bug reports that Elden Ring isn't recognizing plugged in Xbox or PlayStation controllers, preventing them from being able to play. Restarting the game may fix the issue, but if it doesn't, players should try restarting their PC or reinstalling the game. Some players have also reported that they've been able to fix the issue by enabling Steam Input in Elden Ring's controller tab within the game's Steam properties menu.
Network status check failed issue
While trying to log into Elden Ring's servers, players (especially Xbox players) may encounter an error called "network status check failed." This indicates that the game's servers are being affected by issues. Try waiting for a while and then attempt to connect again.
Game not saving
On PS5 systems, players have reported that Elden Ring doesn't properly save your progress if you turn the console off unexpectedly or put it into rest mode while in-game. To avoid this, you should save your progress properly by selecting the Quit Game option in the menu.
Can't summon players
Many have reported issues with Elden Ring's co-op systems, preventing them from summoning other players or being summoned themselves. This issue can often be fixed by restarting the game, but players may need to wait for the game's servers to stabilize as well.
Can't open menu
Some players have also reported being unable to open their in-game settings menu in Elden Ring due to the menu button not working properly. This can be solved by forcing the game to close with the Task Manager or through the Xbox dashboard and then restarting it.
Black screen/white screen issue
A rare, yet frustrating, bug that some players have encountered is that Elden Ring won't launch properly on PC. Players will only see a black or white screen and (possibly) their mouse cursor. To resolve this, try exiting out of Steam completely and then restarting it. If this doesn't solve the problem, try verifying Elden Ring's game files. You can also try restarting your PC or reinstalling the game.
Elden Ring: Other bugs and issues
In addition to the top issues listed above, players are also experiencing a wide variety of smaller bugs and problems with the game as well. The complete list of these follows below:
Enemies may, very rarely, become invisible. This bug is typically solved by reloading the area with a save and quit.
Elden Ring's lightning may sometimes render incorrectly. Reloading the area or restarting your game should fix this.
Occasionally the player's weapon may become invisible after sitting at a Site of Grace. Reloading the area or restarting the game fixes this.
When creating a character, players may experience a bug that causes their character to begin spinning arund. Cancelling the character creator and trying again generally fixes this. If the issue persists, restart your game.
If playing on mouse and keyboard, there's a small chance that mouse inputs will cause performance issues. A restart should fix this problem.
Players may encounter loading screens that are longer than usual when fast traveling. Restarting the game usually fixes this.
Elden Ring may incorrectly recognize a PlayStation controller as an Xbox controller and display Xbox button inputs in tutorials and the controls settings.
Players may encounter an issue that prevents them from speaking to NPCs. Restarting the game or reloading the area will fix this.
Occasionally, Torrent will disappear when you summon him and your character will get stuck floating in mid-air. Reloading your game fixes this.
These are all of the issues we've encountered and seen so far, so let us know if we've missed one that you've experienced and we'll add it to our list! Elden Ring is one of the best Xbox games you can play right now, so hopefully the game's launch issues are cleared up sooner rather than later.
A massive game event
(opens in new tab)
The next FromSoftware epic is here

Elden Ring is FromSoftware's latest fantasy epic, featuring a focus on open-ended design in a universe created by both FromSoftware president Hidetaka Miyazaki and A Song of Ice and Fire author George R.R. Martin.
Windows Central Newsletter
Get the best of Windows Central in your inbox, every day!
Brendan Lowry is a Windows Central writer and Oakland University graduate with a burning passion for video games, of which he's been an avid fan since childhood. You'll find him doing reviews, editorials, and general coverage on everything Xbox and PC. Follow him on Twitter.
The white screen crash on launch issue is seems to be related to the epic game launcher (epic owns easy anti-cheat which is used by Elden Ring). In my case, updating the epic games launcher fixed the issue, but others have reported that they had to fully uninstall the epic games launcher.

Edgar questline spoil warning An issue I don't see mentioned here is Edgar's invasion doesn't trigger for some players locking them out of the edgar/Irina questline. This prevents you from getting one of the special endings in elden ring and a lot of quest items having to do with madness. There is no current fix to this besides killing edgar before he leaves Irina when he is mourning her death