Enable TCP Fast Open in Microsoft Edge for quicker page load times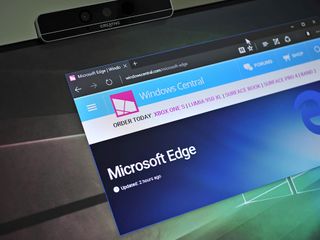 One of the benefits of building a browser from the ground up is you get to put in all the best web technology and standards that are available while avoiding older deprecated ones. Microsoft Edge is slowly but surely becoming one of the most modern web browsers available without the bloat of competitors.
TCP Fast Open became available in some of the most recent builds of the Windows 10 Anniversary Update (Slow and Fast Ring) starting in mid-June (build 14352 and higher). Today I'll explain what it is and why you may want to turn it on in Windows 10 for PC and Mobile.
Get Modern
Microsoft Edge is like Opera, Chrome, and Firefox where users can turn on new features by using the about:flags settings. Users just type 'about:flags' in the address bar, and they are taken to a setup page.
By using about:flags developers and advanced users can 'turn on' new features that are still in testing. Some of these are 'beta' because the World Wide Web Consortium (W3C) is still solidifying the standard for everyone. Other times, it is because Microsoft is still developing the feature. Either way, you get a shot at tinkering today.
We already wrote on the majority of these features in 'Understanding the 'about:flags' settings page in Microsoft Edge for PC' and you should read that article for a deeper dive into the feature.
What is TCP Fast Open?
TCP Fast Open (TFO) is a new extension meant to replace the old T/TCP system from 1994. It is considered faster and includes some basic encryption (cryptographic cookie). According to Google, it can improve "page load time by 10% to 40%", which is the real benefit. The reason it can do that is by reducing traffic back and forth between the client and the server.
In short, the less latency you can have between two far away systems that are trying to connect the faster the load times. By ditching the "three-way handshake" of the old TCP protocol TCP Fast Open can sometimes have dramatic effects on page load times.
Microsoft wrote a detailed blog on Edge, TCP Fast Open, TLS False Start and TLS 1.3 back in June and you should read it more in-depth coverage of these technologies.
Enable TCP Fast Open
Turning on TCP Fast Open in Microsoft Edge is very easy to do.
Note: You can enable this feature for Windows 10 on PC and Mobile
Open Microsoft Edge
Type about:flags in the address bar
Scroll down until you see Networking
Check Enable TCP Fast Open
Restart Microsoft Edge (close and re-open)
Of course, like all experimental features, there could be some issues. Microsoft is collecting telemetry usage of the feature to help them improve it in the future, and they will likely enable TCP Fast Open by default by the Anniversary Update.
If you run into any problems, you can just turn it back off again by following the same above directions. In the worst case scenario just select Reset all flags to default in case you start tinkering with other options.
I'm using TCP Fast Open now in Edge full-time, and so far it is a great experience. Give it a shot and let me know what you think!
Daniel Rubino is the Editor-in-chief of Windows Central, head reviewer, podcast co-host, and analyst. He has been here covering Microsoft since 2007 when this site was called WMExperts (and later Windows Phone Central). His interests include Windows, Microsoft Surface, laptops, next-gen computing, and for some reason, watches. Before all this tech stuff, he worked on a Ph.D. in linguistics and ran the projectors at movie theaters, which has done absolutely nothing for his career.
MS Edge is now my daily web browser!

While Edge in RS1 will probably be the fastest browser on the market, again, personally I cannot live without all of Opera's wealth of features.

Yeah, Opera does have some nifty features. It's a tough choice although for speed and rending I do prefer Edge.

Precisely and that's why I use both at work (Dual Monitors) and Edge exclusively at home.

Yeah, still too many extensions not available for Edge, keeping me from using it regularly.

And it opened some settings with about:flags in windows 10 mobile alsoooo

I got a BSOD after doing this change, restarted the browser, opened it and got the BSOD... yeah... nice 'feature' :))

key words "Of course, like all experimental features, there could be some issues. Microsoft is collecting telemetry usage of the feature to help them improve it in the future"

I expected issues, but not BSOD, haha :D still, Edge is my main browser and my favorite one :)

Admittedly, that is an odd and unexpected behavior. Can't say I have experienced it, but hey, Microsoft thanks you for your telemetry on the matter ;)

hahaha, yeah they should :D I will keep it disabled for now, but will probably try it again after upgrading to the next build or after a clean install :)

One possible reason for the BSOD could be that TCP Fast Open was implemented deep inside the network stack which resides in the kernel. A bug there could bring the entire kernel down, causing a BSOD.

Same for me. Cannot open Edge now, because I have a BSOD instantly. I really cannot understand how you recommend such things Daniel. You broke my PC.

Are you also on a surface pro? More than likely it's related to the network card driver

Are you also on a surface pro? More than likely it's related to the network card driver

Are you also on a surface pro? More than likely it's related to the network card driver

I got a BSOD thrice after enabling this feature. I can't even head into about:flags again to reset to defaults.

try another browser with TCP Fast Open enabled and see if it works. Or see if its just the same sites. Do some troubleshooting to figure out where the issue lies and then you can report it back to MS with helpful details.

same. Anyone know if theres a way to reset to default without opening edge? I'd like to keep using edge and my main bookmarks are there too.

Follow the instructions of the third option, "Reset Microsoft Edge Through PowerShell". It worked for me.
http://www.howtogeek.com/237527/how-to-reset-microsoft-edge-in-windows-10/

Wow thanks for the help man! it worked. Now I just gotta wait for my bookmarks and settings to re-sync. Good thing I have a Surface Pro lol

Thank you thank you! This irresponsible story didn't have any clues on how to revert back. After doing this my Edge now opens up and BSOD's my entire PC. Your post saved the day!!

It is buggy.. But my 1preference is edge for wp

WORKS LIKE A CHARM IN MOBILE. SORRY FOR CAPS BUT I GOT SUCH A HUGE BOOST IN PERFORMANCE IT IS TOTALLY WORTH IT. I mean it.

Ok. I want this now! Please push me the anniversary update Today.

Join insider fast and get it now.

Thanks for the lecture, it was really knowledgeable

Just opened about:flags on my unbranded 950xl DS. No Networking or TCP fast open settings. Non insider. What am i missing?

Never mind... Just saw it... Only for insider slow and fast rings

You're missing being an insider...

"Non insider." Is why you don't see it. Either wait for the Anniversary update or join the insider slow or fast ring.

Doesn't make much difference...
.... For me!!
Anyone else?

Would be nice to see an article on this now, I was wondering about the web payments option now

What about the other options on about:flags? The earlier article, that Mario wrote, was before a number of other options were available. I'm interested in knowing what the "Enable experimental H.264/AVC support" flag does.

We'll try to address those too.

Honestly, Edge is so fast sometimes, I really can't tell if this feature makes a difference. One thing I've always been a proponent of is technology moving at least as fast as we can think. There is nothing worse than software that breaks your mental stride. Glad to see Edge is leading the way there. Good job, MS!

I turned it on in PC and Mobile. Not discerning much difference in PC. In mobile, nothing would load.

I have issues withe google.com website when this flag is enabled. Iam on slow ring(14372).

I like this kind of articles. As Arstechnica and Anandtech moves away from Microsoft I need another place to read depth stuffs.

This is the only thing I haven't tried. Edge is deathly slow (not responding) The only other thing I haven't tried is restore. Firefox is blowing it away. I'll give this a try.. Guess I won't I'm non insider. Firefox until red 1 update

Just be careful if you are an insider. Enabling it on the latest build causes my SP3 to crash every time.

I enabled it on my first gen XPS 13 with current production build of Win10, no issues. I enabled it on my 950XL on current production build, no issues. Seems faster on the laptop, not sure of the 950XL.

There's no such option on Lumia 550???

Doesnt work for me! Does not appear "Networking"

For me also, "Networking" option is not available.

Hi, I like it but how come it uses so much memory like 4x Operas. Any pointers to lower Ram usage?

I don't understand the guys who write these articles, I had the same issue with an article on WinBeta. If you post how to enable something that isn't ready for primetime AT LEAST POST HOW TO REVERT BACK !!! The caps symbolize my frustration, enabling tcp fast open now causes BSOD's when I start Edge. How do I go back? The article has zero mention of this. Thankfully I followed the link from v_emman and was able to fix it. Let me just say that this is MY fault, I read the article, I understood it's a developer tool and has risks associated with it. I'm not blaming whoever wrote the article for my own recklessness. I'm simply saying that they should research and list how to revert from things like this if they don't work.
Windows Central Newsletter
Thank you for signing up to Windows Central. You will receive a verification email shortly.
There was a problem. Please refresh the page and try again.