Everything we know about the Surface Pro 4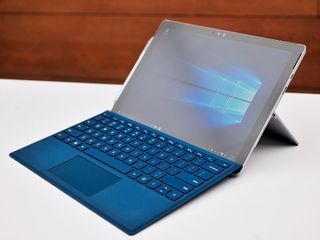 Microsoft finally unwrapped the Surface Pro 4 at their #Windows10Devices event in NYC. We've finally got the full run down its design, features, and specs.
Few were expecting the Surface Pro 4 to have significant hardware revisions, particularly as Microsoft confirmed it would have compatibility with existing Surface Pro 3 accessories, like the docking station. The Redmond giant did have some surprises in store for Surface fans, though, outlined in further detail below.
The Surface Pro 4 comes in several configurations, just like its Pro 3 predecessor. Its headline feature, arguably, is the inclusion of Intel's fresh Skylake CPU. The 6th generation processor boasts increased efficiency and large gains for integrated graphics, particularly when compared to the Surface Pro 3's Haswell setup.
Specs
Category
Specification
Operating System
Windows 10 Pro
CPU
6th Generation Intel Core m3, i5, or i7 (Skylake)
Graphics
m3 Intel HD graphics 515, i5 Intel HD graphics 520, i7 Intel Iris 540 graphics
Display
12.3-inch PixelSense Display at 2763 x 1824 (267 PPI)
Contrast ratio: 1300:1
Aspect Ratio: 3:2
Storage
128GB, 256GB, 512GB or 1TB SSD options
RAM
4GB, 8GB or 16GB
Rear Camera
8MP
Full HD (1920 x 1080)
Front Camera
5MP
Full HD (1920 x 1080)
Windows Hello-compatible
Dimensions
11.50 x 7.93 x .33 in (292.10 x 201.42 x 8.45 mm)
Weight
i5/i7: 1.73lbs (786g), m3: 1.69lbs (766g)
Ports
Full-size USB 3.0, microSD card reader, 3.5mm headset jack, Mini DisplayPort, Type Cover port, Surface Connect
WiFi
802.11ac WiFi wireless networking; IEEE 802.11a/b/g/n compatible
Battery
Up to 9 hours
Pen
Surface Pen
1,024 levels of pressure sensitivity
Magnetic storage
Power supply
24W power supply (Intel Core m3)
36W Power supply with USB chargin port (Intel Core i5 and Core i7)
Other
Stereo microphones, stereo speakers with Dolby audio, ambient light sensor, Accelerometer, Gyroscope, Magnetometer
In The Box
Surface Pro 4
Surface Pen
Power supply
Quick Start Guide
Safety and warranty documents
Overall it seems that the Surface Pro 4 is a solid iteration on the Pro 3, touted as 30% faster during the event.
The optional Intel Iris 540, i7 Skylake CPU and 16 GB RAM for the higher tier configurations will boost the Surface Pro line's capabilities significantly.
While Intel's Iris 540 tech won't run the latest games on the highest settings, they'll provide a welcome improvement over the Surface Pro 3's most powerful spec option. The Iris 540 supersedes the Iris 6100, which could run modern games fairly adequately on mid to low settings.
One of the primary drawbacks of the Surface Pro 3, particularly for heavy users, is the heat generation. In certain situations the SP3 could overheat, and throttle the processor to compensate. To remedy this, the Intel i5 and i7 Surface Pro 4's have 'hybrid cooling' systems, which distributes heat more evenly using phase changing liquid that travels around the components in metal tubes. The Intel m3 Surface is reportedly fanless, but retains the vents seen in the models demonstrated during the events.
The Surface Pro family certainly isn't intended for gaming, though. The inclusion of the Iris 540 is primarily intended to help the SP4 power external 4K monitors, utilizing the new Surface dock, as well as perform intensive tasks like video rendering.
Speaking of visuals, Surface inventor Panos Panay noted that they shrunk the SP4's bezel to pack even more pixels into the screen. Thanks to a technology Microsoft are calling PixelSense, the SP4 rocks over 5 million pixels in what they describe one of the brightest and most accurate displays the devices team has ever made.
Microsoft also unveiled a brand new Surface Pen, which has an eraser-like material on the reverse end and interchangeable nibs to simulate different types of physical inputs. The new Pen boasts 1,024 levels of pressure sensitivity, and now includes a magnetic region to attach it to the tablet itself. Say goodbye to flimsy pen loops.
There's also a brand new Type Cover, which sports various usability improvements, a 40% larger trackpad made of glass, and an optional fingerprint reader.
The Surface Pro 4 has improvements all-around over the previous version, which missed out on Intel's delayed Broadwell chipset, aging fairly quickly in the process.
Still, the SP4 is very familiar when compared to its predecessor at face value. Discussing diminishing returns, Panos Panay noted that the only reason they couldn't get the SP4 any thinner was because they wanted to ensure it still supported a full-size USB port. As someone who's been using Surface Pro devices as their sole computing solution for the last three years, I was more than happy with what Microsoft had to offer.
That's not all, though. Panos Panay shocked the tech industry by closing the presentation with the unveiling of the Surface Book, a beastly MacBook Pro competitor with a unique 2-in-1 design. The Surface Book wields a dedicated Nvidia GeForce GPU in the base, which is also detachable, supporting multiple positioning configurations. Be sure to check out more on that over here.
We certainly haven't seen the last of the Microsoft Devices team, as noted by Panos Panay himself. The future of Microsoft hardware is certainly looking bright.
Pricing and availability
You can customize your Surface Pro 4 spec at the checkout on the Microsoft Store, but it also comes with some pre-defined configurations with fixed price tiers. If you want the Core i7 version with Intel Iris graphics, you have to hit the "Customize" button on the US product website. For UK readers, Microsoft announced that pre-orders will go live on October 7th, with prices starting at £859.99. Listings have appeared for other European territories, such as France and Germany, with pricing starting at €999,00.
The Surface Pro 4 is expected to ship on October 26th in the US, and November 12th in the UK.
128 GB SSD / Intel Core m3 / 4 GB RAM - $899.00
128 GB SSD / Intel Core i5 / 4 GB RAM - $999.0
256 GB SSD / Intel Core i5 / 8 GB RAM - $1,299.00
256 GB SSD / Intel Core i5 / 16 GB RAM - $1,499.00
256 GB SSD / Intel Core i7 / 8 GB RAM - $1,599.00
256 GB SSD / Intel Core i7 / 16 GB RAM - $1,799.00
512 GB SSD / Intel Core i7 / 16 GB RAM - $2,199.00
1 TB SSD / Intel Core i7 / 16 GB RAM - $2,699.00 (Listed as coming soon, as of writing)
Pre-order the Surface Pro 4 at the Microsoft Store (US) (opens in new tab)
We have Dan and Mark on the ground at NYC, so keep your eyes on Windows Central for all the latest and greatest on Microsoft's brand new devices.
For the rest of our NYC #Windows10Devices coverage head here:
Lumia 950
Surface Pro 4
Surface Book
Microsoft Band 2
Jez Corden is a Senior Editor for Windows Central, focusing primarily on all things Xbox and gaming. Jez is known for breaking exclusive news and analysis as relates to the Microsoft ecosystem while being powered by caffeine. Follow on Twitter @JezCorden and listen to his Xbox Two podcast, all about, you guessed it, Xbox!
Wot, no 3G card? That had got to be the biggest failing of the SP3. Without a 3G card I cannot justify upgrading to an SP4!

Still can't believe there is no type c usb Posted via the Windows Central App for Android

This is what I don't get. All the competitors have USB-C. I'm actually pretty disappointed with that aspect.

i still don't get why someone would want integrated lte instead of using a mobile hotspot. with integrated, you are paying for connectivity for one device. with the hotspot, you can use it with any device.

Exactly, I use the hotspot and get 4G plus connectivity through my phone. In addition, I can still fully use my phone at the same time, even make calls whilst still working on my SP3.

Short answer 1: It doesn't waste phone battery. Short answer 2: Convenience.

At the cost of paying ANOTHER bill that you might not use. I don't know about you, but my SP is mainly used at home and at the office. IF I'm out and about, I tether it via wifi hotspot and I don't pay a dime extra! I understand why you WOULD want it. But it's def. not a deal breaker, and in fact, those extra atennas would raise the price. I'm just glad they're not FORCING you to buy it WITH the antennas!

Ur on point ... I use my phone as hotspot device... Why not utilize the features of your phone... And not worries I have a powerbank

Every upvote this guy (zkyevolved)

This is very typical thinking for an Apple fanboi who doesn't see anything wrong with forking out twice as much money every month for two data plans. They pay twice as much for their out-of-date, overpriced Apple toys so why not pay twice as much to the out-of-date, overpriced phone company too? I have a Lumia 1520 with a battery that lasts a day and a half even when I tether it. The amount of extra power needed to send and receive data to my Surface is minimal - although it would obviously flatten the battery of one of these new iPhone toys.

With Phone batteries lasting longer, and portable battery packs, I have no quirks with using my phone as a hotspot! HECK, hook it up to your Surface so your phone can stay charged!

LTE is mandatory, your argument is baseless.
... Also, Looks like there's no hard start button.

Apple always makes this an option. I'm tired of the no lte shit.

Agreed. That was a let down, though imo, it's the only issue, for me. Lte has real uses, especially for Enterprise. Oh well. Have to say, the surface 3 lte is epic! But I'm buying a sp4 and a book anyway.

Meh. I tether it to my Windows phone, since tethering is free.

Would love to know how the battery life of the Core M3 version compares to the i5 and i7 which I assume are the U series... what do you think?

I don't understand why they didn't use the m7...

Isn't it 28w vs 4.5w for the i vs m? Correct me if I'm wrong but that should be a big difference in power consumption. I know there are a lot of other factors though.

The m7 uses 4.5w like the m3

Does the pen only attach to the left side, or does it stick to the right side as well?

depends if you have an inny or an outty

Depends if you partake in anal pleasures

Now they added an additional magnet but you can pretty much do the same on existing SP3. Magnet is to the right.

yes but it is hella weak. easy for the pen to fall out in a bag.

Depends on if your foreskin covers the full tip, or some is still visible...

What stops me from buying them is the lack of an HDMI port...

Uhhhh... That's why we have the Surface dock...

I use the mini DP - HDMI adapter for HDMI otherwise Miracast...

Not hard to fix that. Mini-Display port to HDMI

You guys didn't come to the party! :/

I'm all the way in the UK :((((((((((

I thought there was a USB-C port and a full sized 3.0?

This is the biggest issue for me. Every single device Microsoft announced today uses a different charging connector. This kills the dream of charging all my devices with the same cable. I am pretty surprised they went this route. The other big issue is storage. 512GB is really the minimum I would consider, but a $400 premium just to go from 256 to 512 is inexcusable. I will likely go with a different device, such as the similar Dell system coming soon. Pretty disappointed overall with some of the design and pricing decisions Microsoft made with the Surface Pro 4.

Don't know for sure, but i think it's because of the backwards compatibility-choice. But i agree with you. Damn connectors. As for the expensive storage upgrade.. you can always add some extra space with the SD-Card slot. It's probely a bit slower, but's is definitely cheaper :). I'm also waiting for Dell to announce the XPS12.. we'll see what they'll bring to the table

U realize that's an ssd right? It's not like they stuck a cheap 5400rpm drive on there, ssd are still alot higher in price

Yes but $400 to go from 256 to 500 is ghastly. A 500 SSD costs $400 by itself... So it should be at most $250 to $275 more going from 256 to 500.... unless 256 are free.

Is it fanless ,in both the pro and the book they didn't talk about the cooling system....!!

M version is fanless, but still has vents, indistinguishable from the outside. i5 and i7 have a hybrid liquid cooling system which distributes heat more evenly than the SP3, have updated the article with what I've been reading on the subject.

Does the M have better battery? And how does skylake m stack up again earlier gen i3

Where's the Power Cover. 9 hours of battery life doesn't fit my 10 hour work day. Still getting it though.

Anyone know if the new surface pen will work with full eraser and cortana functionality on the Surface Pro 3 or non pro 3?

same question. I think it might, but also there are new sp3 pens on the msstore site in different colors...dunno if thats new or not. I would think that they would want to retain compatibility since accessories have great margins.

Wait am I reading this correctly? HDD???.... Please someone tell me that's supposed to be SSD

It's solid state. It's not even possible to fit a standard rotating disk drive into an enclosure this thin. So did you really have to ask?

Really? I thought it had a punch card reader. So bummed.

I actually didn't know that to be honest! The more you learn. No need to be condescending. I am one of the few people who read the article properly lol

Haha perfect! Had me worried there :P

WC.. get one of these, run a high performance game and review! :D

It was so great when they were unveiling the Surface Pro 4, up until Surface Book appeared, and then it made Surface Pro 4 looks so cheap.

Well, it is cheaper. The Surface Book costs $1500 so I would expect it to feel more premium.

from what I read, no kick stand for the Surface Book. If they had that, i would of ordered that instead of the Pro 4. Might get the 2nd gen of SB.

Is this pcie ssd or just generic ssd like sp pro 3?

They did mention it was PCI-E.

when will u get the surface book and the sp4 review units?

Read the article brother ... It supports Windows Hello

I feel pity on those who are gonna use a PENCIL without an eraser ;-)

Being an artist, I was looking for some detail review on the drawing performance with the pen on SP4. After lot of search found it on, there is a detail video review by an artist on the specific topic. You can check the video reviews on Microsoft surface pro here https://fanreviews.co/mobiles/microsoft-surface-pro-4-2015-user-videos/microsoft-surface-pro-4-drawing-overview You can also see many more videos touching differeent areas of Surface Pro 4.

how do i use ethernet on this gadget?

Would have liked to see a USB-c port in addition to the USB3. It is interesting how Apple has USB-C on their latest laptop but their new phone doesn't support it, while Microsoft's latest uber-tablet doesn't have a USB-C but their new phone does. I guess that the SP4 is still better since the MacBook has the older USB standard in the USB-C formfactor, doesn't support fast charge, faster throughput, etc.

Don't rush USB C. What devices do you own that are USB C? USB C is only good when you have other USB C devices! I don't own a single USB C device. So I could care less. Not to mention 99.99% of the world still works with USB 1/2/3, all that backwards compatability will be gone unless you carry around an adapter... I'll wait a little while longer before demanding a USB type C device :P

I'm ready for USB-C. With that, we can all have the same charger, ports, and cables. Eventually. And... the format is simply easier to insert.

You can easily add devices as they come, but you can't add the port to the Surface. It should have C.

Just because you don't have any devices that support it means that SP4 shouldn't have it? This is the flagship device, their new phone has the port, it should be ready for the future. Having it in addition to USB3 on the flagship device would be a good thing. I will still get one, but a bit disappointed.

The iPhone doesn't use USB-c because Apple makes money on accessories based on their propreitary Lightning port. If they used the new stardard, they would lose all that cash.

Anyone else notice that the Core M3 model is 766 g whereas the Core i5/i7 Model is 786 g? Is the Core M3 model fanless?

Yes. The other two are hybrid liquid cooled.

Apparently the pen is still laggy according to people that attended yesterday's Adobe keynote where you could play with the Surface Pro 4 and Surface Book. Also built quality seems to be subpar with one guy mentioning "huge issue on the Pro 4 is that when you shade hard (or put medium-hard pressure in general) using the stylus the screen buckles inwards in the centre."

Just tried the SP4 at the Microsoft event tonight in France: the new pen is much better that the SP3 pen. Very sensitive, really close to the paper experience, no lag in OneNote.

My SP2 handles gaming pretty well at 720p. You mean to tell me the SP4 can't handle a few games. A gaming rig, no, but tearing through some semi-old steam and blizzard games, yes. Posted via the Windows Central App for Android

I play Civilization 5 on my SP2, and it runs great. (I have to leave it plugged in, but otherwise it works better than my desktop.)

Will the core i5 be worth spending $100 more over the core m3?

It appears that, with the i5... you can get 8gb RAM as well. That we are stuck with 4gb with the M3 is a hassle.

Yes. There is a huge performance increase from M3 to i5. The difference is somewhat more slight from i5 to i7.

Well, the i7 does have Skylake, so the difference will be a bit more noticeable, particularly since it comes with the new graphics chip Iris 540.

I like how Microsoft engineered and designed their new product lineup. Specwise, it's almost like they didn't hold anything back. Apple and Google have just announced their latest Surface like devices, then here's Microsoft, unveiling the Surface Pro 4 and Surface Book. It seems like they don't give a chance for Google and Apple to catch up with their phase. In my opinion, the Surface Book is an overkill to the Pixel C and both Macbook Pro and iPad Pro based on tech specs and functionality, which is very versatile and has a broader set of features to offer. The delivery of products were very good. I think Microsoft nailed it.

What I'm waiting to hear-"Surface Pro 4 outsells the iPad Pro"..

Does it charge over USB or need a traditional outlet like SP3?

I'm guessing a regular AC outlet. It would take forever to charge something like this over USB. Posted via the Windows Central App for Android

That's disappointing. I would still like the option understanding it will take significantly longer...

It'd probably drain the battery faster than it can charge it.

So many awesome devices! How am I gonna afford to buy them all? At least I'm gonna get the 950 when it comes!

Is the rear camera fixed-focus, like the Pro 3, or auto-focus, like the Surface 3?

I re-watched the video from Microsoft, and saw that the rear camera is indeed auto-focus.


People who are going to buy the SP4, what version are you planning on getting? I'm leaning towards 256 GB SSD / Intel Core i5 / 8 GB RAM - $1,299.00

i7/16gb/256GB. after tax, the damn sexy thing is around 2k .... not much better w/ i7/8gb

I bought the i5/8GB/256GB SSD config. WOuld have probably bought the i5/16GB/256GB SSD config if it hadn't been sold out. An i7 seemed overkill to me, especially given the price differential (i.e. an i5/16GB/256 GB SSD costs $100 less than an i7/8GB/256GB SSD).

Does the Iris540 only come with the I7 chip?

Yes. Iris 540 is new with Skylake and only the i7 option comes with Skylake.

no. All versions are 'Skylake'. m3 to i5 & i7 is 6th Gen Skylake. Tho Iris 540 is only for the core i7 models.

I just hope that the SP4 doesn't suffer from a batch of "flimsy kickstands" like my SP3 and many others' did . . . Still love my SP3 to death and do not plan on buying another PC for quite a while.

I'm confused about the "Hello-compatible" comment. I thought Intel RealSense camera's were required for Windows Hello. Is that not true?

For the Iris scan yes but these normal webcams will scan your face or in the case of the type cover with finger print reader, your finger.

Panos aka P. Diddy; Surface team aka Bad Boy Entertainment, "Thought I told you that we don't stop"...

Time for Microsoft to include the Type Cover in package. The device is expensive enough, add in the added cost of the cover and it makes it a non starter for many people.

Wish they had a 128GB/8GB option for $1,099. I want the extra RAM but don't need the additional on-board storage. Still it is a compelling upgrade for those still on an original Surface Pro or Pro 2. Microsoft is really on a roll lately with top notch hardware.

No windows button? What? How do we pull up start screen in tablet mode?

Isn't that what the taskbar is for (the one in tablet mode)? Anything that goes fullscreen to the point it covers the taskbar, it should give functionality to exit that fullscreen.

I like the windows button though. It's useful.

But you asked a question and in such a way as if there was no easy answer. I was simply providing the answer. The merits of one method over the other is another debate entirely.

Ok but is there still a fan inside these things? I sat next to some dude the other day and his Suface sounded like he fired up a leaf blower.

He was doing real work! Not Candy Crushing! LOL...

The SP4 looks really nice and is probably overshadowed a bit by the Surface Book, but the Book is no doubt overkill for most. I was a bit worried that I made the wrong upgrade from the original SP to the SP3 last Xmas, but I got a good one-day deal and now realize that the improvements in the SP4 aren't really critical for me. Battery life has never been a problem--as long as it gets me through a couple airports/flights I'm fine.

Have you talked yourself outa' regretting that purchase? :)

Once I got home and opened it up and started using it, my uncertainty dissipated. :D Just like my SP used to be, my SP3 is the best computing device I've ever owned.

Sp4 is great but the sp3 is fine enough and I'm not spending an extra thousand dollars just for a little more speed and pen. Posted via the Windows Central App for Android

I just hope they push availability this time. Here, they still haven't moved on from surface 2 .... :(

During the event, Panos commented how great the picture was on the display. Is that due to the display itself or does that rely on the graphics chip? Only reason I ask is that I'm curious to know if the i7 is required to get the awesome picture or if the Core M is enough. I'm not talking about for video games, but movies and pictures.

It will look just as good :-) You can go to the Intel site and see the specs of the Core m3, it supports 4k at 60Hz, It just won't be as fast for 3d stuff.

For me, features are ok, but not good enough to warrant the upgrade considering the price. Would have bought the SP4, Band2 & 950XL but given the price, just going for the 950XL.

Is the ram on the SP4 upgradeable? I heard it wasn't soldered on like in the SP3.

It's soldered (has to be to make it so thin) and the case is not designed to be opened (just as before). Wel'll have to buy it with enough RAM and SSD in the first place :-)

Any idea if the SP4 will be carried by other sellers like Best Buy or Amazon after Oct 26th?

Preordered my SP4 from Best Buy last Thursday night. So have to assume it'll be in stores when they open on the 26th. I hope to simply go pick mine up at 10:00 a.m. on that morning.

surface pro 4 hands on post.....MISSING
Windows Central Newsletter
Get the best of Windows Central in in your inbox, every day!
Thank you for signing up to Windows Central. You will receive a verification email shortly.
There was a problem. Please refresh the page and try again.