Everything you need to know about the July 2017 Xbox One update: guides, tips, and more
Today's Xbox One update will bring custom gamerpics, new Club features, and Mixer co-streaming to the public.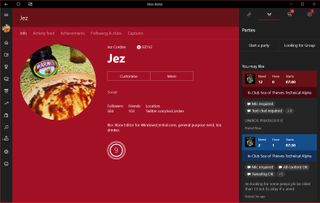 (Image credit: Windows Central)
Having been in testing for several weeks, the latest Xbox One features are finally rolling out to the public today. Here's everything you need to know about the update, and guides on how to get up and running with the latest features.
How to update your Xbox One
First and foremost, you should check if you have updates available. The update will likely roll out in waves, so if it's not available at the time you read this, check again at a later time.
Tap the Xbox logo button on your controller. Or, if you're using a Kinect just say "Xbox, go to settings" and skip to step #3.
Select Settings. It is the gear icon.
Select All Settings.
Select System.
Select Console Info & Updates. Then it will inform you if there's an update available.
Custom gamerpics
The biggest change this update will bring is the addition of custom gamerpics. Up until now, the ability to add custom gamerpics was restricted to Xbox Insider testers and users of the Xbox (beta) app on Windows 10.
The process to add a custom gamerpic is extremely straight forward, but it will require that you use a 1080 x 1080 square picture, so that it matches the Xbox One's high-definition user interface. Hit the link below for a full walk-through on how to get going.
How to create a custom Xbox One gamerpic
Mixer co-streaming
Co-streaming allows up to four players to simultaneously stream their game feed to a single Mixer page, which gives Mixer a definitive edge over Twitch to complement the service's extremely low latency.
Mixer co-streams were limited to invites via the website up until today, but now you can invite and initiate co-streams right from your console.
How to start a Mixer co-stream on Xbox One and PC
Attach a controller to your sign-in
With this update, you can now attach a controller to your account. This is great for families who are sharing a single console, and also a great way to further personalize your experience by having a controller dedicated just for you.
To enable this, follow the steps in the link below.
How to attach an Xbox controller to a specific profile
Create Killer Instinct tournaments within Clubs
There are also some updates for Xbox's fledgling Arena system in this patch, allowing users to create tournaments directly within Clubs. In tournaments, you can set a specific time, a description, and even pre-check registrations for combatants. As of writing, Arena only supports Killer Instinct, but no doubt more are on the way.
If you want to create your own tournament, see the link below.
How to create an Xbox Arena tournament on Xbox or Windows 10
Miscellaneous: Android/iOS updates, Club updates, and more
The July 2017 update also brings some new features to the Android/iOS Xbox apps, as well as some updates for Clubs.
You can now view Android chat bubbles using the latest version of the Xbox app, allowing you to continue conversations with an overlay interface on your Android phone.
The Android/iOS Xbox apps are no longer tied to a region, and can be selected manually just like on the Xbox One via the settings menu.
You can now view available Xbox Game Pass games on the iOS/Android Xbox app store pages.
Clubs can now select custom pictures and branding too, and it works the same way as it does for custom gamerpics.
General UI polish and stability is also in tow.
Preparing for the future
This Xbox update brings us closer to the launch of the Xbox One X, which is widely expected to launch with a Fluent Design System UI refresh. Whether it happens or not remains to be seen, but one thing is for certain: Microsoft is aggressive with its updates to the console and showing no sign of slowing down.
Stay tuned to Windows Central for all the latest and greatest from Xbox, and in particular, the Xbox Insider Program where we'll get a first look at any upcoming features.
Jez Corden is the Managing Editor for Windows Central, focusing primarily on all things Xbox and gaming. Jez is known for breaking exclusive news and analysis as relates to the Microsoft ecosystem while being powered by caffeine. Follow on Twitter @JezCorden and listen to his Xbox Two podcast, all about, you guessed it, Xbox!
I know its not related to the article, but I really dislike the new Xbox UI. I find it difficult to use. I don't use the Xbox One much and maybe I just haven't gotten used to it, but it drives me crazy.

Agreed. Hot mess comes to mind. PS4 and Android TV are so much simpler. UI is not an Xbox strength

You're not alone. The Day One Xbox One UI was far superior. Everything since they forced NXOE on us has been a step backward. This is why forced updates should be illegal.

Totally disagree. Day one was a horrible UI that was buggy, frequently had crashing problems and otherwise just worked poorly. I returned my first Xbox One as a direct result of the awful UI, which wasn't even half as good as the 360's UI. It's better now, but still not great.

No one forced you to update. Disconnect your Xbox from the internet and it will never receive any updates.

I'm torn, but partly agree. I like the minimalist design, but I dislike that so many things are hidden, and that I can't have my pins at the TOP of the homepage instead of the bottom. It has, to its credit, improved a lot over the last year or so.

This is the issue. Put games front and center, get rid of ads and simplify simplify simplify. Microsoft is the king of overly cluttered UI. I have the same issue with W10 tablet mode

UI is faster in action and faster to navigate i like the new system of Guide button getting you one or two clicks away from most tasks and very simple to stream from

We need Fluent Design for Xbox One as well as the Windows 10 app. (Acrylic Hamburger is not enough lol)

I want the hamburger menu to go away.

Wait, this stuff came with update on July 9th. Is there something else coming today? Or did I just get the update a few days earlier.

Are you in the Insider program?

You are probably on preview ring 4 which is useless. I know because I am.

You are probably on preview ring 4 which is useless. I know because I am.

I want the option to have a game only UI. Do not want to browse, run apps or play videos. All these extra features are just wasting cycles and slowing game startup. If I have physical disk in the box, it should just come up to the game menu.

Simple. Have a games tab, media tab, store, etc. Then let people choose what order the tabs are in. If I want games first I set it that way. If I want media that way I set it and so on.
Windows Central Newsletter
Thank you for signing up to Windows Central. You will receive a verification email shortly.
There was a problem. Please refresh the page and try again.