Exclusive Blue Lumia 735 finally available for pre-order at Carphone Warehouse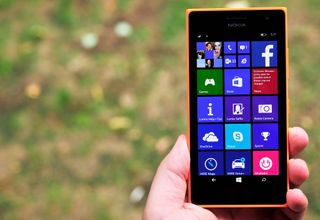 The Lumia 735 has been on sale at Carphone Warehouse for a while, but one color was conspicuously absent until now: blue. The color is exlusive to Carphone Warehouse and is available now for pre-order.
The handset will set you back £199.95 sim-free, or £14.50 per month on-contract.
If you'd like to read a bit more on the 735, be sure to check out our unboxing and hands on with the device.
Are you excited for this fancy exclusive color? Let us know in the comments if you'll be picking it up.
Source: Carphone Warehouse (opens in new tab)
Windows Central Newsletter
Get the best of Windows Central in your inbox, every day!
Dan Thorp-Lancaster is the former Editor-in-Chief of Windows Central. He began working with Windows Central, Android Central, and iMore as a news writer in 2014 and is obsessed with tech of all sorts. You can follow Dan on Twitter @DthorpL and Instagram @heyitsdtl.
In the UK "blue" is the word for orange.

For colour blind people, it probably isn't far off to be fair...

You misspelled color. Haha. I know you all spell it differently than here in the states. ;-)

Lazy Americans:) I live here and really thought they're misspelling color

All of you made some funny comments. Nice way to start a thread without being nasty.

Dude, at least learn how to use 'that's what she said' jokes properly. 'Nice' is hardly funny. I bet you not a single person found that funny. A woman could say 'nice' simply after tasting a bowl of soup. There's simply no innuendo there.

I actually think I saw one of these here in Philly about two weeks ago, probably a prototype

It had software buttons, that was what caught my eye. I work im retail and a customer put it down on the counter.

Omg my favorite color Blue
Shut up and take my money

IDK I've seen blue HTC and it looks Ugly

It is the same cyan blue as the old Lumia phones... Looks great, but I'm happy with my green one.

Any indication of payg price?

http://m.carphonewarehouse.com/mt/www.carphonewarehouse.com/mobiles/choo...

Oh nice! Interesting price...

The blue color should go world wide!

Agree. They should make different colour shells. The L730 and L735, also L830 as a removable case. So we can replace different case according to our mood.

I hope it's the old cyan color from prvious Lumias. The last time I saw it was on the Lumia 920. That phone in that color was sexy.

it's cyan.... well, from the pics it's cyan. I was hoping for a deep blue...

Grey shows as Black. So Blue could very well be a different kind of Blue. I like it though. Then again still waiting on availability of the White and Green covers.

Yeah. I too would love a deep blue color!!!

Maybe they should sort out stocking the Lumia 830. Useless.

Nice, should go on a trip to the UK in the near future.

The Lumia 735 walked into the room and said: https://m.youtube.com/watch?v=68ugkg9RePc

I have a 735. Its amazing for the price. The Moto G and the Lumia 735 are the best value in phones right now.

Will this work on att, and how much in the usa

Don't know, in Europe, sorry.

The pic has an image of an Orange Lumia....c'mon guys change it...!

The blue one: https://www.windowscentral.com/e?link=https2F2Fcrea...

Se, if you found it, couldn't WC? Or, update photo if it wasn't available at the time of writing...

Lucky Brits. I always wanted a cyan Lumia, but it never worked out.

Spotted this earlier... In other news, Microsoft ads have been all over primetime TV in the UK tonight, new ads for Surface, Cortana (735) and Xbox One CoD bundle.

The back will probably be all over eBay and Amazon before long.

Also the gadget show was filmed with a Lumia 930 to tonight

Need a blue shell for the 830 that would be pretty neat

Some pictures would've been nice.

Get a case for the color you want and or a extra case and have it airbrushed with your personality. That is always the best way. I like my hybrid cases. I have them on my windows 8 phones... HTC 8XT and Lumia 1520.

As far as I can see it's cyan. So obviously I am in love with it and need it. So, Windows Central folks, please find out how we can buy the case from Carphone Warehouse seperately. Because they oddly decided to announce it a week after the phone launched everywhere else, I already bought mine (with plans to buy a white cover and dye it cyan) and as awesome as the phone is (seriously, best Lumia of the *30 series imo) I don't want to buy another one... Exclusive colours are just as crap for customers as exlucive phones are and I'm genuinely annoyed and upset that there doesn't seem to be a way as yet for me to turn my Lumia 735 cyan without spending another £170... I have tweeted at Carphone Warehouse, Nokia UK, and Windows Phone UK to ask but none of them bothered to reply. :/

This 730/830 deal is turning into hype now... Considering the specs these phones have, there shuold've been way less talk about them and much more sooner release dates. There are androids out there that beat their specs for the same $$€€, and what's more important - they have been on the market for quite some time...

its cyan, cyan would look great on Lumia 930 and 830 hopefully next wave of lumia will offer blue globally

But this one is orange in colour....

they put source link go check it out :)

Ahh I missed the cyan colour! Really wanted one for my 1520, but yellow was a solid consolation colour

Can I brought the back cover only in this color?

How "blue" is the blue!!!!

I love the cyan colour Nokia have been using, it's a shame it's not on more devices. I'd have definitely got my 930 in cyan over the green. Not that the green is bad though! The 735 design really reminds me of the 800. My mum has a cyan 800, which is due for an upgrade...

Oh I've been hoping they would bring cyan back. Now if there was only a way to get it in north america.