NieR Replicant gameplay trailer: Explore a temple with the help of a smug floating book in the
The video also shows off some of the game's re-aranged music.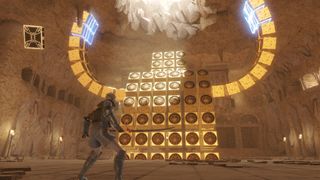 (Image credit: Square Enix)
What you need to know
NieR Replicant is a retelling of the 2010 PS3 game releasing on April 21.
The game is a prequel to the post-apocalyptic action RPG NieR: Automata.
Square Enix released more than nine minutes of new gameplay for NieR Replicant today.
Square Enix announced last year that it will be releasing a new version of the 2010 PS3 RPG NieR: Replicant on April 23 for Xbox One, Steam, and PS4, and today the developer released more than nine minutes of gameplay video to get players psyched to preorder the game.
The video shows the protagonist entering a strange walled desert city with the help of his brooding companion Kaine, who gained entry because she once saved a local kid from a pack of wolves. She doesn't speak the language though, leaving you to puzzle out what the masked inhabitants are saying. Also of little help is Grimoire Weiss, a floating book with a smug British accent who explains "I am a brilliant book of unspeakable value, not some dog-eared travel guide."
The video then cuts to the Barren Temple, where the hero does some platforming and gets locked in a room sealed by arcane forcefields where he must learn to use combo attacks to dispatch increasingly fierce foes. It also provides a showcase of the game's magic system, where you can select from abilities like Dark Hand, which lets you pummel foes with a powerful magical arm that gets larger when charged, and Dark Lance, which lets you launch a devastating magical spear, releasing more spears when charged.
You get to show those off in a boss fight where you must rescue a child locked in a column of sentient cubes shooting out spheres that your hero must either blast or evade. The cubes then coalesce into a more humanoid shape that tries to pummel the hero with cube hands until Kaine shows up to bail him out with some massive swords.
NieR Replicant is a prequel to the 2017 game NieR: Automata, which is one of the best Xbox One role-playing games. The game is set 1,000 years earlier and follows on a young man trying to save his sister.
Become as Gods?
Discover why we fell

In this game set long before the events of NieR Automata, a young man seeks the Sealed verses in order to save his sister who has fallen ill. The visuals have been redone and there's likely other changes lying in wait.
Get the Windows Central Newsletter
All the latest news, reviews, and guides for Windows and Xbox diehards.