Extensive updates to Windows 8 core experience apps detailed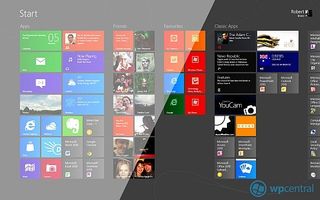 Windows 8 has been pegged with the RTM title for some time but that does not mean it is really done. The code was simply ready to ship to PC makers and for developers to get busy creating apps.
The end user experience in Windows 8 has remained problematic, mainly due to the incomplete nature of the core app experiences when using the tile based WinRT interface. Whilst there have been a few minor updates nothing much has changed from when the OS was in its first public preview. All looks set to change as Microsoft just announced a slew of coming updates to the entire set of Microsoft WinRT apps.
Whilst there is much excitement for things such as Surface tablets and new PC form factors there has also been some worry about just how well Windows 8 will work in everyday use. With Windows 8, Microsoft has kept the core apps separate from the OS, they're just apps like everything else and can be updated through the Windows Store in the same way and as often as they like through that mechanism. Therefore, unlike Windows Phone, which currently requires a full OS update to change the People hub, mail and maps, Windows 8 should be able to keep up with new services and features as required.
What can we look forward to?
In short they have detailed (opens in new tab) lots of small but important functional updates are coming that will greatly improve how robust the out of box experience is on the new OS. Here are some that we think should be greatly welcomed. Mail is set to get IMAP support and a Conversations view, which many will be happy to see. SkyDrive will finally let you create a custom sort order and search, which should help those like myself who have over 100GB of files. The photos app picks up some basic editing abilities and the interesting inclusion of photos on network locations being made visible from Windows Home server, Standard network shares and HomeGroups (opens in new tab).
Maps gets some nice additions such as the inclusion of indoor maps and the fantastic Birds Eye view. The Music app is set to receive expanded music services so we're wondering if others will be able to plug into the built in Music experience, we'd love to see a unified place for other music buying and streaming services. In the case of the expanded Music services, we'd guess this is just the addition of the new music streaming services we now know about. Games get updated to include features such as in game purchases.
SkyDrive
Search within SkyDrive
Rename and move folders and files
New first-run experience
Custom sort order
Photos
Crop and rotate photos
New auto-curated collage slideshows
View photos and videos on network locations in your Pictures Library such as Windows Home Server, network shares, and HomeGroups
Move through photos in your Pictures Library even when you open them from the desktop
Maps
Bird's eye view
3,000+ indoor venue maps
Driving directions hints
Improved navigation and layout
Improved customization, including custom pushpins and roaming options
Integration with Bing and Travel apps
Bing
Richer search results for local content and images
Bing rewards integration
Use zoom on your search results to see related queries
Use the file picker to select an image from Bing to use on your lock screen or in your other apps
Finance
Additional news and magazine content
More market exchanges enabled
Finance videos
News
Additional news content from partners such as The New York Times and The Wall Street Journal
Enhanced article reader, including font customization, zoom, pagination, and more
Improved offline reading experience
News videos
Slideshows
Sports
Additional news and magazine content
Sports videos
Slideshows
New soccer leagues, including MLS, J. League, and Brazilian League
Travel
Additional news and magazine content
Improved flight search and new flight progress indicator
Improved hotel listing page
Interactive 360-degree panoramas (gyroscope supported)
Weather
Improved default location usability
Hourly weather forecasts, up to 10 days
Day & evening high/low temperatures
Video
Purchasing in local currencies
Closed captioning
Search by actor or director
Music
Expanded music services
Rich "Now Playing" experience
Discover more music with SmartDJ
Games
Exciting new games
In-game purchasing
Invites and turn notifications
What they don't mention
These are very short bullet points on what appears to be the final push to get these core apps up to spec in time for the big day at the end of October when Windows 8 is released. We'd expect the look and feel of these apps to change fairly radically when they appear. As these are going to be delivered at the time of the full OS launch, we're sure there will be more than a few extra surprises here. Of course, there is something they haven't mentioned, the new software to enable Windows 8 and Windows Phone 8 can sync.
As ever, we would like to hear from you. Any features here that excite? If you have been using Windows 8, what are your thoughts on those built in apps?.
Source: MSDN (opens in new tab)
Windows Central Newsletter
Get the best of Windows Central in your inbox, every day!
Is a build of any Windows OS ever ' finished '? Glad MS is getting things ready.

Yes, nothing is ever finished but lets hope those core experiences remain a work in progress and don't stagnate like the old Windows Live programs… RB

Yeah really, because last I was using the messenger app I had to actually goto outlook.com to actually message someone it was saying "can't send message at this time" That was on the RTM. I tried downloading windows live essentials and quite naturally it wasn't compatible :(

I just want to post something to twitter in the People Hub and post something to facebook that isnt a comment, not sure thats coming, but i hope it does.

Yeah, tell me about it! How about a more extensible system to allow other people to simply plug into the hub too to allow really powerful new capabilities? RB

This is possible now, in RTM. You just don't know how to use it.

Can you enlighten us then?

Yeah in the RTM version you can post Twitter and Facebook updates from the "Me" page i.e. click on the giant profile picture. and it's right there in front of you underneath the heading "What's New"

You are able to send updates to Facebook or to Twitter but cant select to send to both. I presumed that was what was meant. RB

Hopefully you're doing this on your own time and not company time

if they don't change the music app i'll probably never use it.
i need to have it in sidebar mode and i need to be able to drag music from a folder on the desktop into that app. Or at least create playlists via ctrl+enter or something.
I mean i'm still on Release PReview here but the Music App is absolutely horrible.

Xbox music on Windows 8 is totally different. You can't even compare it to the one in release preview, it's very fast and I personally like it and use it as daily music app.

Agreed, it has serious usability issues. I'd rather use media player… even on the RTM version. RB

Honestly guys the RTM Muisc is much improved, but unfortunately still not perfectly designed--and crashes frequently.

I'm sure it will be great by the end of the month, they have had a good while now to work on it! RB

Its useless if you use a NAS because the music or video libraries do not index network shares, in this case the media does not even show up in the app. You have to manually search for music on your share and its slow because of the lack of indexing. This indexing issue goes back to Windows 7 but needs to be addressed.

That's funny, I'm using the same version you are and its never crashed

@OMG55 Crashes because he has crap hardware and bad memory more then likely. I love how idiots blame the OS for so many bugs when the real culprits are poorly written drivers and buggy hardware.

True. I'm staying with winamp for now for easier handling and vastly more powerful library managment, transcode and sync capabilities.

And I'd really like matroska support for the video app. As of now it's pretty useless since I don't watch anything not mkv nowadays. It's the standard format for video enthusiasts, why can't the industry catch on? They don't even have to pay licensing fees...

Hope they've fixed the maps app. Anyone else have issues zooming in? It wouldn't load up any zoomed in maps for me.
And the mail app, they better have that "empty junkmail" function implemented by now.

Will these updates be released all over simultaneously since I have windows 8 consumer preview on my laptop in India?

Aside from localization based impacts, I don't see why they wouldn't all cone out at the same time. have any other windows updates suffered regional lags compared to the us release?

They won't ever show up for consumer preview or any other non-RTM version of Windows 8.

That is some serious screen glare right there.

Yup those shiny screens eh? RB

I hope to god that they make the people app auto update the what's new feed then I'll be able to get rid of tweet deck.

Yes, they need to make the People app as nice as Windows Phone 7.5, that should be job number one! RB

What about sharing-setting for files in Skydrive? Right now I hate to go to the Skydrive webpage to do that.

And why cant I share a file to a person that does'nt have a MS LiveID-account? My friends always get promted to create an account.

Sharing through Skydrive is somewhat broken.

I agree (but this is unrelated to Win8).

What? It is very related to Win8 as the Win8 SkyDrive Metro-app doesnt have any settings for sharing.

You gotta set sharing to "anyone with a link can view and edit"... That way nobody has to sign in

I know but it doesn't work. There are many posts about this on their supportforum.

If they make accounts, it raises awareness for people who didn't know about SkyDrive; free advertisement, they are a business and need to gain customers

That's not the way it should work.
In all my cases people I wanted to share with said "Fuck it it doesnt work, use dropbox or something else". People dont bother registering to download a small .zip-file.

Honestly the only metro app I've had problems with is the Music app.

"Of course, there is something they haven't mentioned, the new software to enable Windows 8 and Windows Phone 8 can sync."
Does this mean the companion app will be released this week or am I getting this wrong?

Hopefully the web cam will work correctly now... Its never worked for me

In the copy/paste, Robert did not include the changes to Skydrive and Mail/Calendar/People/Messaging. Go to the original message to see those.

Ahh, yes, the copy and paste, I must learn how to do that! :) RB

I'm hoping last.fm gets integration with the music player!

Will Xbox Music replace the Music app on Windows 8 or will they exist side by side???

Do we get these updates if we have RTM?

everytime i see Modern start screen it makes me want to stare at it the whole day

Does anyone's Weather app properly show on the Lock Screen? I would have thought it would display weather but not sure if Lock screen apps can do that (seems like only icon + number). I know it displays its icon when there's an alert but that's it.
I want the current temp on my lock screen!

I hope they update the music player where you can search easier instead of scrolling...blah...and clickinging on an artist...maybe have it so you could see all the albums you have. Seems geared/forced to do everything over the cloud instead of what you own

ALso fix the built in pdf viewer..so it can print

I want to see support for the volume bar play/pause/next/back media controls in desktop apps. I was disappointed when not even wmp made use of it...

Facebook app? Twitter app? Imdb app? YouTube app?.... IE app which works!

I hope my DVD rom and web cam will work lol

The mail app is a beauty. And simple to use. And works. Me like.
Actually the entire win8 is great. And those are big words coming from a die-hard maccer!

Anyone seeing the Conversaiton View in the updated Mail app?