Facebook for Windows 10 Mobile updated with new design, Continuum support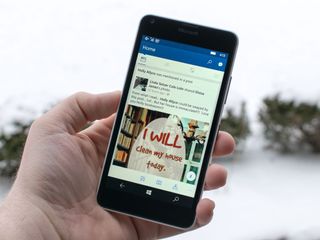 Windows 10 Mobile users can download an update to the official Facebook app from the Windows Store. This looks to be a major upgrade, with a new design, support for Continuum and more
Here's what's listed in the change log for the Facebook app, which has the version number of 10.2.1:
Redesigned for Windows 10
Improved user experience for bigger screens
Interactive notifications
Improved navigation
Improved photo viewing experience
In-line video playback and improved video experience
Continuum support
Narrator support
Improved localization quality
More languages supported
Web Account Manager SSO support
If you see anything else in the app that's new or improved that's not listed in the change log, please let us know in the comments and we will update our post.
Thanks to everyone for the tips!
Download Facebook for Windows 10 Mobile
Windows Central Newsletter
Get the best of Windows Central in your inbox, every day!
About time! Also, I've never been "first" before. Not the adrenaline rush people think it is. Whoopee.

Congrats. I was first once, then got flamed because of it - lol. I'm always happy to see updates where Continuum was enabled. In this case it's nice, but if you're on Continuum, may as well use the Edge browser for the full featured experience.

Same crappy app... Still showing latest updates 2 days old! **Edit: Hard reset for better results.

That works? I think there is some problem with my account algorithms or something, cause even when I log in through desktop website it still shows random weird old new mixed posts.

Even when you choose 'Most Recent'?

So up to date with the beta? :)

Still behind the beta by a update or 2

Actually the latest Beta update (couple days ago) was 10.1.102.0 and this Facebook update is 10.2.1, so I would say that not only did it catch up to the Beta version but surpassed it.

It's hard to tell, but this one seems a little more "together" than the Beta right now. Beta's most "Most Recent" doesn't seem to know what year it is.

Actually the beta is behind at 10.1.120.0 at least in my case.. edit: 10.2.1.0 is the actual version Posted via the Windows Central App

I didnt think the beta was a W10 app

Beta has interactive notifications?

I actually wonder who in the world is managing this beta and who the full version.. surely must be two different teams in order to have to code basis that are individually maintained.. else someone would release something to beta. check for results and release the same code for full version. also the people hub in the beta is totally ruined not showing for example why suddenly posts appear there(when people liked or shared it) and stuff. sync doenst work properly either

Just pulled a Plex update too. Sweet.

I like updates but when Facebook app gets updated, I get worried... :-S

When is the real windows 10 universal Facebook app releasing? Tired of this bs Microsoft app

This one is real Facebook, not MS anymore

The real one is on pc theres a beta on pc by Facebook that will be the universal app not this clunky broken app

Where is this so called beta facebook app for windows 10 desktop, the only app I see is the same one I have been using since 8.1.

It's a hidden link since it's in internal beta. It looks to be an Islandwood port from iOS. I've downloaded it but can't sign in. Just get the pop up saying it's in internal testing and will release "soon".

Does it ever update through normal channels?

Sure does, through the store. You really have to find an article with the link to find it. It didn't even show up in My Library after a hard reset.

Works for me, but I was invited via the facebook website

"Universal" as in also for Xbox One?

Publisher Microsoft Corporation

Yep. Microsoft stated that Facebook and Microsoft would work closely together on it, and Microsoft is publishing the "official" Facebook app as a UWA. Not quite where it will be, but it's a start.

That's probably the one. It wouldn't be receiving that many new features if a "real" Facebook app were being developed.

The real one is the new beta on pc. They are probably only updating this app for now until the pc app is done and made universal

Don't get too excited. MS will probably still be developing this app (with Facebook help) for Mobile and Facebook itself will be releasing a Windows 10 PC and Tablet one (where the real market share is).

UWP means they're the same app. They will consolidate under one code base eventually, and that will be Win10 UWP with platform extensions for Xbox and Windows 10 Mobile.

As said before uwp does not mean that the app is on all windows platforms.

I can't see Facebook doing that iOS ported app available on phones. They never supported our mobile platform that much, (Instagram?, Messenger calls? Etc etc).

when will people realize that THIS IS THE EFFIN' OFFICIAL FACEBOOK APP THAT THEY CO-CREATED WITH MICROSOFT? tired of this kind of question, as this is bs -_-

Was. New one is in the works, by Facebook.

For PC and Tablets. Not for phones, there's no indication of that PC app coming to phones.

This is just the old facebook app that they were co-creating.. being supported by Microsoft. There's still the new one coming.. the iOS port.

I thought this was the iOS port and they, Facebook, was making a universal..... I'M SO CONFUSED!
Anyway, the new update works well, we have more features than we had on 8.1, the newsfeed somewhat resembles today's posts, so all is well in WP Facebook Land.

How would you think this was the iOS port lol? This has nowhere near the amount of features, speed, or stability of the iOS Facebook app. It is better than what we had a few months ago, but this is just an updated version of that.

Well of course the iOS is gonna be more stable they been working on it for how long now lol

Considering I've never held an iPhone, much less seen the Facebook app, who the f*** knows?
The comments was saying more about the wonderful discussions we have here. Time for a beer!

This was the 8.1 app.. Facebook said nothing about co creating a windows 10 app with Microsoft they said they were developing a universal app.

although the continum support is good, i would MUCH rather have iOS port of thier FB app and modify IT to support continium than for them to keep updating this app

Guys, this also includes commet replies

That was there in the last Beta update :)

Anyone knows about the messenger update?

Somebody shot the Messenger.

The messenger was the sherriff?

Yes, but I swear it was in self defese, oh no noooooo!

Of course the sorting on the home screen still makes absolutely no sense!

Facebook's default order now (on all OS) is "Top Stories", you have to manually go to "Most Recent". Top stories can be quite old, but commented on lots by your friends and things like that.

I did not know that was the default elsewhere. Man it's awful! Why does the Top Posts change everytime you refresh it then - second to second - even if no new posts have hit your feed?

Agreed -- whatever algorithm they're using on W10M for the newsfeed is pretty terrible. It's also terrible that you can only see one post at a time. It makes no sense on 5.2 inch screen...

Whatever algorithm they are using on mobile it is the same as what is used in the offical Facebook (Beta) app on Windows 10 desktop which is developed by Facebook. My feeds in both apps are identical with the exception one thing which is the desktop app made by Facebook has sponsered posts AKA ads in the feed.

Doesn't seem to have changed at all?

m.facebook.com on edge browser is still better than this....

1000000 times better!!!!!!

I preferred also the web version in edge browser

You know I have that "app" pinned. Really cool looking flip tile.

Yeah this app sux. Web app still better.

Still shows my post from 20 hours ago, so how was that an improvement?

This is the default to all FB apps, including the website. Top Stories.

Maybe actually show recent stuff instead of weeks and months old?

it seems to finally be doing just that, just scrolled down for 5 mins and it's still showing the most recent posts in order :)

Absolutely amazing, isn't it?

That was Facebooks mandated change. It's the same on iOS too

Oooooooolldd news!! http://windowsphoneapps.es/2015/12/facebook-para-windows-10-mobile-ya-so...

Actually, no, this is the non-beta app that finally has Continuum support now. In December, that was only the beta app.

It's running very smooth on my 1520 so far!

Nicend I wanst to say I commend Plex for dating their windows phone app and android in same day as well. W10 mobile is looking up!

This drives me crazy. I could not get this to connect with Windows for the people app so I switched back to the beta a few weeks ago. The beta connected fine so I'll stay put. This rolling out of beta final beta final seems a bit schizophrenic.

I kinda don't get how this App jumps ahead of the Beta version. That would probably mean there are things in this App that the Beta version doesn't (even if it's as simple as bug fixes)....and if that's the case, how did they test those features out before releasing? Wouldn't you think they put it on Beta, push it out, then implement it onto this App once they see there are no problems?

Hopefully they will finally fix the issue where it shows 2 current posts and then jumps 2 weeks back. I'm constantly missing recent posts unless I go to the mobile website.

That's because Facebook shows top stories by default, across all devices. You need to manually choose most recent in the menu.

Just pin the "Most Recent" feed to your start screen, then it'll automatically go to Most Recent when you open the app...

It supports replies, but still cannot access the comments of the shared post it always opens the original post comments. Also cannot upload images as page

So, go with this over beta?

Yeah, sound like it. I wish they would stop doing this to today of us who participate in the beta and submit crash reports.

What is this fuzz about, app looks the same to me after update. And still contact sync problems....

I've actually stopped using the facebook app on windows. News feed is a complete mess. Recent feed updates jump from just now to posts from 24 hours ago or sometimes even further back in the week/month.

The messy newsfeed is the same on iOS and Android... it's standard across all the FB apps. They have somem stupid algorithm.

Its much worse on windows phone though. Especially when you go into the recent feed.

This is far from the truth. I own a 950XL and an iPhone 6s Plus and there is no comparison.

That changelog has been around for ages. This update brings the features the beta app got a while back e.g. inline replies, editing posts etc.

I've had all those features since last update. There's nothing new here for me.

Still ****** slow and buggy...there is always a browser.but hell,i have edge browser :D as much as i dont care about continuum,since i dont have it,i appreciate the development.but before you introduce new features,FIX the damn app.its been broken for 2 months now...and it is at least 5 times slower than 8.1 app.or hire a dev...

any difference with the Beta? if no, then I'll keep using the Beta (as I have manually synced my contacts with it...)

Same as beta and same as since last update.

"Redesigned for Windows 10" I don't think that's a good thing.

Stop calling this app official! This and the Beta version are crap!!!

What's better this one or the beta ??

Anyone notice that the contact syncing take a long time.

Still not gettimg notifications :(

I see no improvements, the changelog is an old one and the syncing issues with contacts is still prevalent. Pretty much a terrible experience on most counts.

just installed it ... it isnt much different ... when you launch it reloads all the old data you have already seen then updates the data instead of just loading the new data the first time ... i go to the "most recent" stream and its not even close to most recent ... the mobile version of facebook works better ... notifications still are spotty at best.

Most Recent Feed still shows about 8 or so items, then goes back a day or two. This has been broken for months. No improvement in update that i can see.

Continuum is supposed to be so easy to implement into an app, yet these people still can't figure out how to just get a landscape mode working. =/ Ugh. Really hope the Windows Central app gets this right at least.

If you a w10 app from scratch landscape works fine, changing the text size on a 1520 gives me the same view as my PC...ports are obviously different....

But really though, isn't Continuum essentially a landscape mode in itself?

Of course, there is more to life than FB...... Why not go out for a beer with your thousands of 'friends'. I enjoy 'networking' with my 'real' close friends over a curry and a beer....
Ah, sarcasm. Lowest form of wit, highest form of intelligence. Lol ;)

It's a good job you know when my apps have updates cause my phone doesn't have a clue !

Wait, isn't this the same app? I don't see any changes. Still made by Microsoft, still feels incomplete..

This I wonder why this is a 'major' update. It still is the same a few weeks ago, just a minor update.

Is this really a big update? The revamped FB app for mobile was released already before.

LOL who wrote this?! It's the same app with a minor update that brings it to the beta status. Anyway I'm loving it on my 950, fast (if on 4G or wifi) and with all the features I need. A little buggy on the notifications side though...

Still crashes when you try to save photo locally ... Try it...

No problems here, tried it now. (I'm onbeta but it should be identical)

This update doesn't seem like a new one atleast for me... IDK about continuum support... But all these features were already there in a previous update .. Or may be I am missing the point here. .. Somebody please educate me on this... :-/

I said the same thing. I've had this design and feature set for a while, Bothe standard and beta.

Does anyone know if this supports video call? Posted via the Windows Central App for Android

Thanks Posted via the Windows Central App for Android

Please make a hands-on video.

Funny it doesnt show up for me at all on my 950. says I am up to date.

My newsfeed goes from 12mins to 12hrs ago. Lol. Guess I'm still using the browser for now...

So keep using beta, right? Nothing new over the beta version?

Great! A new design to display the feed from 4 days ago...

THe feed order is so herky-jerky random I am sure it dissuades Win Phone users from being on Face Book...which is probably a good thing...

Do you know if this is the same version as the beta?

I see the comments showing replies now.

If it is official then why it's tagged with Microsoft corporation.........?

What new design? It looks just as horrible as it did before. I see nothing new about it.

I'm thinking the same thing...looks the same as it has since the last update.

You can reply to comments now. Before you could just "Like" NIce addition.

Good.Things are improving. Thanks and keep it up team MS.

Hopefully the Windows 10 desktop app is almost ready

I gotta say. It doesn't look any different than it did yesterday or the day before that. Same layout I've had since the last update...icons are the same. It says 10.2.1. Am I missing what's new in the UI? If it helps to understand what I'm seeing, my main FB and the Beta look identical with the same features, just the beta is glitchy.

The interface does seems more responsive now ( 950xl ) . The newsfeed also seems to load faster and update smoothly while scrolling . The save post/video option is still missing though which a use a lot . I hope to see further improvments soon as I have almost given up using FB/Edge on my phone . I usually use my Ipad now when I get back from work .

What does "interactive notifications" mean?

You can reply or comment from the notification banner or action center...

In action center you can reply to comments and other things.

It's by Microsoft.. Then how the hell you say it's "official".?????????????????

Nothing looks different? Lol wtf

Still a piece of shizzz. I don't know what's worse, this or the companion Messenger app. Hopefully the iOS port will arrive sooner rather than later and put this embarrassing attempt under the rug where it belongs

I'm still waiting any ANY word of an update for the official Twitter app... but, then again, Twitter has been in the sh****r for a while, now.... Maybe it's useless to update an app for a dying website.

I still use the mobile browser so I could use other reactions other than 'Like'.

**** this App Keep loading and slow when open other profiles and pages and anything else

This is what i don`t understand, they keep Facebook Beta and this Facebook while they seem to develop for each differently ... why spend resources on two different programs that do the same ? Some might say, but the beta is a test ground for the "official" app.. well the "official" app has a higher version that the beta ... so what`s the point ?

What about the comment filtering? I want to see the most relevant comments on top on a public post. With the current its just random. Is it just mine or FB for windows phone doesnt have comment filtering up until now?

Are there any differences between this and the beta one on Windows 10 Mobile?

To much stress for a app. People, you need to live your lifes. If you need more futures, use a freaqin pc. Get your heads out of your smartphones and go outside, live a little, for God sake!

We need upgrade on Facebook messenger

That's werid because I had Continuum support for FB app for about two weeks now. The problem with it was that it was useless, the most wanted feature, messenger, was stripped away from Continuum version of FB. Has that changed?

Yesterday I compared FB on WP8.1 and W10M side by side. The old version launched and loaded news much more faster...

Well they should fix something. When I'm in Facebook from my phone I can't see the polls. It just says that someone created a poll but I cannot see that.

Don't feel anything new on this app

Still a terrible app though. The app for 8.1 was so much better.

seems like a step in the right direction, seems a pretty good update

Not syncing with my outlook contacts now.... :/ Anyone else?

i noticed reply to comment feature. Anyone sees it?

The Facebook app has been straight up garbage since day one, and it still is. It's missing well more than 50% of the features it has on other platforms. I'm growing tired WP and their sh*t quality of apps. Windows phone developers are the shitstain of the mobile developer world. They suck major d*ck. I wish they'd stop sucking major d*ck, and develop at least one...maybe two apps that don't look and function like something a blind retarded crackhead that was dragged off the street developed. Step up your developer game Microshit!

This made my day. If only liberal use of the word "jerkoff" had been inserted, I would give this post a 10/10

Have been using since a while, not sure how i got it. It is slow as hell, not optimized.

I don't really like the app quite slow and crashes quite a lot :( I hope the next update starts fixing stuff

Come on Facebook! Chronological realtime, rather than flubbly bop bang bibbity whoosh posty timeline.

Those are technical terms by the way.

Basically, don't make me go on my laptop to check Facebook....or my mates android phone.

Please let me know, which one is better for WM10, this one or Facebook beta ? And which one is better to keep ? Thx

I'd say the official app now, coz it's just caught up with beta. They need to sort out the timeline on both, plus posting and notifications...which are jarg.

i liked the facebook we had gurr, ill just have to use the new one and see what i think.

But does it work...consistently?

To be honest they still have alot to patch up on this facebook, it doesn't change even when you set your phone to desktop....., it still sucks

Am I missing something? This is the same I I was using since W10M Insider upgrade.

It's someone try upgrade from 8.1 to 10 from Windows insider?? I have Lumia 640XL and I'm a little bit scary..haalp meee

And one more thing I'm from Croatia

Glad this hit...Hope it fixes all the issues with this app, it was a buggy mess...

I tried the beta and regular version. Now I am using the web on edge and have to say it is definitely better. Only down fall is that you cannot sync with contacts. Still trying to figured it out

My Lumia 650 has only 1GB of RAM for universal Facebook. It can cause universal Facebook to perform unstable. What can I do if some universal Facebook apps performing unstable?