Fallout 4 Pip-Boy Edition is back in stock at Amazon for $120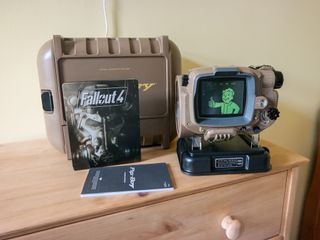 Having sold out earlier in the year, Amazon has found some more Pip Boy editions of Fallout 4 and are selling the limited version of Bethesda Softworks' acclaimed post-apocalyptic RPG for $119.99
There's no telling how many copies Amazon has of this edition of the game, so if you wanted one but were not able to grab it before Fallout 4 was released, you have a second chance. The big part of the edition is the wearable Pip-Boy replica, which is designed to be a holder for smartphones and used with a second-screen app for iOS, Android, and Windows Phone devices.
Check out our impressions of Fallout 4 Pip-Boy Edition
Buy Fallout 4 Pip-Boy Edition at Amazon (opens in new tab)
Totally beats the iWatch or Microsoft Band. NERDS FTW!

Holding onto my copies until the right deal comes my way...lol

So awesome! Who wants to get me one?!

Laughing at people overpaying on launch night in line I was in for them, by hundreds

****, I already bought a copy on PC. I won't be buying another one, but it would have been nice to know they were going to restock them...

I know exactly how you feel lol. I would have waited a few weeks just to get the pipboy edition but I already have it. Oh well. Posted via the Windows Central App for Android

Anyone know if the Lumia 1520 will fit in this bad boy?

I've got one - and I highly doubt the 1520 would fit into it. My Lumia 640 doesn't fit into it.


It's listed on amazon.com's global ship site to bad the dollar has taken a nose-dive

I saw this in a retail store the other day but it was something like $70 more expensive than the game by itself. Easiest pass ever!
Windows Central Newsletter
Get the best of Windows Central in in your inbox, every day!
Thank you for signing up to Windows Central. You will receive a verification email shortly.
There was a problem. Please refresh the page and try again.