Fallout 76 BETA schedule: All times and dates
By Matt Brown last updated
Playing the Fallout 76 beta? Here's a list of all the times and dates you need.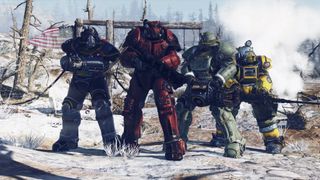 (Image credit: Bethesda Softworks LLC)
Bethesda has kicked off the first Fallout 76 beta test; its upcoming shared-world role-playing game (RPG) headed to Xbox One, PlayStation 4, and PC. Dubbed the "Break It Early Test Application (B.E.T.A.)," the trial provides a chance to get hands-on before its slated November 14 release.
The Fallout 76 beta is available exclusively via a preorder, granting access to a pre-release version of the full game. However, despite several weeks of testing, Fallout 76's beta won't be playable 24/7. To gather large pools of players for testing, servers will only be live for small timeframes, ranging from "four to eight hours."
We've wrapped up all confirmed dates and times for Fallout 76 beta sessions so far. We'll update this post going forward with future updates.
Updated November 9, 2018: Fallout 76's BETA has wrapped up for all platforms. For now, you'll need to wait until its scheduled November 14 release for Xbox One, PS4, and PC.
How to play the Fallout 76 beta
See at Amazon (opens in new tab)
Fallout 76 Xbox One beta dates and times
Fallout 76's beta launched first on Xbox One, with sessions since expanding to other platforms.
October 23 – 7 PM ET to 11 PM ET (4 PM PT to 8 PM PT / 12 AM to 4AM UK)
October 27 – 5 PM ET to 7 PM ET (2 PM PT to 4 PM PT / 10 PM to 12 AM UK)
October 28 – 12 PM ET to 2 PM ET (9 AM PT to 11 AM PT / 4 PM to 6 PM UK)
October 30 – 7 PM ET to 11 PM ET (4 PM PT to 8 PM PT / 11 PM to 3 AM UK)
November 1 – 2 PM ET to 11 PM ET (11 AM PT to 8 PM PT / 6 PM to 3 AM UK)
November 3 – 5 PM ET to 9 PM ET (2 PM PT to 6 PM PT / 9 PM to 1 AM UK)
November 4 – 2 PM ET to 9 PM ET (11 AM PT to 6 PM PT / 7 PM to 2 AM UK)
November 6 – 1 PM ET to 3 PM ET (10 AM PT to 12 PM PT / 6 PM to 8 PM UK)
November 8 – 2 PM ET to 8 PM ET (11 AM PT to 5 PM PT / 7 PM to 1 AM UK)
Fallout 76 PlayStation 4 beta dates and times
Fallout 76's PlayStation 4 beta has kicked off, with sessions continuing through November.
October 30 – 7 PM ET to 11 PM ET (4 PM PT to 8 PM PT / 11 PM to 3 AM UK)
November 1 – 2 PM ET to 11 PM ET (11 AM PT to 8 PM PT / 6 PM to 3 AM UK)
November 3 – 5 PM ET to 9 PM ET (2 PM PT to 6 PM PT / 9 PM to 1 AM UK)
November 4 – 2 PM ET to 9 PM ET (11 AM PT to 6 PM PT / 7 PM to 2 AM UK)
November 6 – 1 PM ET to 3 PM ET (10 AM PT to 12 PM PT / 6 PM to 8 PM UK)
November 8 – 2 PM ET to 8 PM ET (11 AM PT to 5 PM PT / 7 PM to 1 AM UK)
Fallout 76 PC beta dates and times
Fallout 76's PC beta launch wasn't seamless, but players still have more sessions ahead.
October 30 – 7 PM ET to 11 PM ET (4 PM PT to 8 PM PT / 11 PM to 3 AM UK)
November 1 – 2 PM ET to 11 PM ET (11 AM PT to 8 PM PT / 6 PM to 3 AM UK)
November 3 – 5 PM ET to 9 PM ET (2 PM PT to 6 PM PT / 9 PM to 1 AM UK)
November 4 – 2 PM ET to 9 PM ET (11 AM PT to 6 PM PT / 7 PM to 2 AM UK)
November 6 – 1 PM ET to 3 PM ET (10 AM PT to 12 PM PT / 6 PM to 8 PM UK)
November 8 – 2 PM ET to 8 PM ET (11 AM PT to 5 PM PT / 7 PM to 1 AM UK)
Check back in the coming days for future Fallout 76 beta schedules.
See at Amazon (opens in new tab)
Updated November 9, 2018: Fallout 76's BETA has ended, following a November 8 session.
Matt Brown is Windows Central's Senior Games Editor, Xbox & PC, at Future. Following over seven years of professional consumer technology and gaming coverage, he's focused on the world of Microsoft's gaming efforts. You can follow him on Twitter @mattjbrown.
Pretty lame. Well, we pre-order-ers have been duped. It's a "B.E.T.A" not a "beta."

Totally agree with above post, it was a massive let down, wasn't impressed that it was only a 4hr trial of the game with a 4 day wait to get another 2hrs of gameplay. Still buying it though cos I enjoyed the gameplay and can't wait for the full release

If they wanted to really test the servers leave them open 24/7 everyone has different times zones and not everyone will be on in that little window they provide. Then they can see when their peak times may really be. Some BS 4hrs here then 2 hrs 4 days later, We paid good money for beta not a big tease on our emotions

Except for the fact that if they did this people who could farm all day would be well ahead of everybody else when released. I would hate to get into a server with a bunch of high levels who have everything when I'm just starting. Personally I think they should just give everybody like 15-30 gameplay hours so everybody gets the same amount of time

Yep that's called an advantage. Put the work in and reap the rewards. Nobody has time for your commie cry baby share the wealth we're all equal bs. If you can't hang GTFO!

Actually we paid good money for the game the beta is just compensation for ordering the game early which helps fund the project and improve the quality of the final product and the windowed times make sense for testing the servers as more people are likely to log in at the same time if it's open and limited. The initial window being 4 hours makes sense as it gave us time to enjoy and get somewhere to a place where we are having fun so we look forward to the next window. The next window will have more word of mouth and likely a denser login. They are probably analyzing the data they recovered from that session and adjusting accordingly. If after reading this you still agree that it's a poor move and you feel entitled to a 24/7 beta let me remind you this isn't an early access title and you are absolutely not entitled to playing a full game 3 weeks before release to your hearts content regardless of what you have paid. You will get your finished product when it is released and get to play whenever you like, but for the time being at the very least try to understand that this B.E.T.A insures come launch day that they will be somewhat prepared for the flood. (Let's just think back to GTA Online's brutal launch for a moment) Enjoy the time they allow you to have in testing their product and servers. Feel privileged that they allowed this at all.

Yes this is very well put. Awesome glad to see there are some logical, understanding, appreciative people who still game and can actually take a look at something like this beta without only having their own selfish unappreciative immature thoughts vomited out in a discussion without using their brain first. Well done sir, well done.

They advertised as it as early access and to put on for 4 hours then another 4 days later you can play again if your able to due to timezones, people can sit there and defend this all you like but if they put the beta on for 2-3 am where you live youd be in outrage to, or if you had to work or busy for those 2 hours, and you paid the money to see if you like orwhatever but if you dont hhave chance to try this out then it's a waste

Speaking for a person that was not able to play any of the first 3 hours and 45 minutes of the first window, I am not at all outraged. They have been pretty open on YouTube and social media stating that there would the B.E.T.A. would be available in windows. I greatly enjoyed my slim 15 minutes. The last thing I will ever let me get outraged would be a videogame. Real life is enraging enough at times. If not being able to play in the available time slots is the worst thing to happen to me in any given timeframe, then I would consider myself incredibly lucky. Side note, I will be able to play about 1 hour on Sunday's time...so not completely blocked out, just stating to completely disclose.

They are the ones that mislead the public. They said nothing about it being a hit and miss affair. Preorder and get early access to play the beta is what they advertised, your progress would carry over. They mislead the buying public into purchasing this game earlier than they might have. I'm surprised that they feel so entitled that they can lie to their fan base like this. If their is any entitlement it is on their side for misleading the public. I'm surprised that a company would abuse the trust of their fan base by misleading them the way that they did.

Pretty much have to agree with Bill here not to mention the way they have gotten with Fallout 4 extra DLC on their little store is a joke. Kinda feel like they made the cuts cause the game is a bit lacking. Yeah, would have made sense if they have a few days at a 2 to 4-hour limit for a few days to stress test. So I don't know if everyone is gonna agree, but so far I kinda feel they have been bitten by the money bug that bit EA.

The DLC for Fallout 4 was a joke. I was expecting the DLC support that actually added alot to the game like F3 & FNV got. I bought the season pass at $30.00 and still feel like I was short changed the people who bought it at $50.00 bucks really got shafted. I wouldn't have put Fallout 76 on preorder if I had known they were going to do the beta like this. I stopped putting anything on preorder after No Man's Sky & The Division they were disappointing on launch.

You do realize they don't care when you buy it just if you buy it. They still get the same amount of money. So they really don't care

Actually, that is exactly what they said all along. It was even explained during the initial announcement. They have never said anything different than it being a beta with limited time playing it. Either you didn't pay attention or just completely ignored it.

If, like me, you live outside the North American time zones, the beta windows are really super convenient. NOT! What, I was supposed to play between midnight and 4 am the first day, and next one is from midnight to 2am for me?! If Bethesda isn't considering their market outside the US, why should we consider them? :facepalm:

They seemed to have forgotten that Hawaii has internet also. But hey make sure the UK has play time. We too work...

It should be advertised to buy in advance to access the beta, but not really.

You people are the worst, selfish, garbage people. First of all if you preordered it on Xbox, you haven't paid yet. Also a preorder does not ENTITLE you to a beta. Also the way they are doing it forces people to be on at the same time rather then spread out. Be happy that a beta was given to you. No one has to give you that option.

And they were very upfront on how the this would work. They told everyone that this was the way they would be doing the beta. Yet, people either don't know how to read or research properly. It has all been explained even during the initial announcement. They have NEVER said it would be available all the time.

Personally im kinda bummed out. People that either dont have jobs or no family time get the beta test. I was going to pre order it but these Windows of playing arent anytimes I can get on, cause I dont get on til about 9 cause I work in a hospital all day and I dont play on the weekends to have family time, so I get to login when release to people already building in areas and lvl 10. I dont think they planned the beta windows well at all. And fyi no offense at all to those that can play the windows. Im just frustrated in this. Bethesda... You hurt my heart on this one.

It is funny how many people are complaining about the limited time slots because they have ALWAYS said from the beginning that this is how it would work. People need to do research and read about this stuff before complaining because of YOUR lack of understanding about the topic.

Nope, just someone who is smart enough to be able to read.

sadly, in our world, there are few people like that.

According to the launcher after pre-load, the time on the 30th for PC starts at 5PM ET

The only thing that was frustrating was that my Bethesda Launcher didn't automatically install the game. I came home with an hour to spare assuming it would have been loaded. Lets just say waiting on 47gb to come down wasn't going to happen in an hour. Thankfully there are a few more days I can enjoy breaking this game still.

These times are not accurate because they had a beta last night 10/30 and I was able to play nearly all night.

The people on PC get 8 hours less beta time than console and all of you are still complaining about having to wait. And again it was made public from the initial announcement that it would be small focused windows of game time....

You know... I love the gameplay so yes, it sucks only having a certain amount of time to play but I completely understand why. It just sucks having to stop playing but makes me even more excited for the game itself. These people complaining about the times allowed to play the beta, happen to forget that only a select few games give us betas to try. We are lucky that they have given us the opportunity to even play at all before release date because a lot of games don't even come with betas. So be thankful you got the opportunity to play at all. Love this game. Can't wait for it to come out next week :) 💜
Windows Central Newsletter
Get the best of Windows Central in in your inbox, every day!
Thank you for signing up to Windows Central. You will receive a verification email shortly.
There was a problem. Please refresh the page and try again.