How to play the Fallout 76 beta
The Fallout 76 beta is your chance to explore the wasteland early. Here's how and when to play.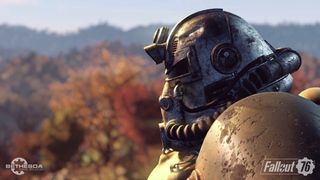 (Image credit: Bethesda Softworks)
Fallout 76 marks a new direction for Bethesda's post-apocalyptic role-playing franchise and is shaping up as one of its most ambitious titles yet. As a shared-world multiplayer experience, you'll have the ability to build a home, hunt creatures, and uncover secrets with friends for the first time.
While its expected November 14 release is still some time away, Fallout 76's beta test is your opportunity to play early. Here we wrap up everything we know about the Fallout 76 beta and explain how to play it yourself.
What to expect from Fallout 76 beta
As announced alongside Fallout 76 at E3 2018, Bethesda plans to host its B.E.T.A. (Break It Early Test Application) for the game ahead of release. Common among most big upcoming titles, these tests are an ideal opportunity to squash issues before release. And being the first online Fallout title, a large pool of players is ideal for scaling its networking technologies.
Unlike many beta tests for previous shared-world role-playing titles, Bethesda has announced its plans to release the B.E.T.A. as the "full game." While various restrictions on content and progression were expected, it appears the test is now simply an early access trial of the near-final product. This indicates the B.E.T.A. is solely to prepare Bethesda for server management and optimizing the opening experience on launch day. Furthermore, Bethesda plans for all progression to transfer to the final game, giving you a boost on launch day.
Bethesda has also announced no form of non-disclosure agreement (NDA) will be enforced, while encouraging content creators to cover the B.E.T.A. Whether you're live streaming, uploading videos, or simply sharing screenshots to social media, you'll be covered by this policy.
How to sign-up for Fallout 76 beta
To gain access to the Fallout 76 beta test, Bethesda currently requires players to preorder a copy of the game ahead of launch. Fallout 76 is available for preorder in three separate versions: the standard game ($59.99) (opens in new tab), the premium "Tricentennial Edition," ($79.99) (opens in new tab) and the highly coveted "Power Armor Collector's Edition" ($200). (opens in new tab) Each of these editions guarantees a key upon preorder, across Xbox One, PlayStation 4 or Windows PCs.
For those who preorder Fallout 76 digitally, beta access will be provided automatically once the test commences. After preordering digitally on the Microsoft Store (opens in new tab), PlayStation Store, or Bethesda.net eShop for PC, beta access will be tied to that account. There's no need to worry after ordering – you're ready to go.
For those who preorder at Amazon (opens in new tab), GameStop (opens in new tab), Best Buy (opens in new tab), and other participating retailers, you'll be provided a redeemable key. These keys can be redeemed at Bethesda's online beta portal, securing access for later this year. After placing your order, expect the key to arrive via email a few days after.
Fallout 76 beta release date and times
The Fallout 76 beta is currently set to launch on Tuesday, October 23 for Xbox One, via an exclusive early access period due to a Bethesda partnership. Seven days later, availability will expand to PlayStation 4 and PC on October 30. There are no plans to offer a pre-load before launch, meaning participants must install an estimated 45GB once servers go live.
Despite several weeks of beta testing, Fallout 76 also won't be playable "24/7" for the whole period. To gather large pools of players, servers will only be live for small timeframes, ranging from "four to eight hours." The first Xbox One session times have now been detailed, with future sessions to be announced in the coming days.
The beta awaits
As Fallout 76's release nears, we'll be sure to update this article with the latest details on its beta. In the meantime, Fallout 76 is now available for preorder starting at $59.99 (opens in new tab), ahead of its planned November 14 release for Xbox One, PlayStation 4, and Windows PCs.
Updated October 23, 2018: Updated this post with new timings for the Fallout 76 beta launch.
Windows Central Newsletter
Get the best of Windows Central in in your inbox, every day!
Matt Brown was formerly a Windows Central's Senior Editor, Xbox & PC, at Future. Following over seven years of professional consumer technology and gaming coverage, he's focused on the world of Microsoft's gaming efforts. You can follow him on Twitter @mattjbrown.
Pre ordering a game? No, thanks.

S'ok. We'll play the beta without you then.

To be fair, it is an always online Bethesda game. It will surely be a broken, unplayable disaster, preordering this is not a good idea. I hope I'm wrong but I worry for this game.

I have been Alpha and Beta tester of many games, many, even of the same game in its different stages and I never saw this before. Preorder to try a Beta? Nice...

It's hardly new. Some devs do it, some don't. Call of Duty, for example, does this every single year.

Some do it but when they're confident people will go crazy to try it and will have great sales no matter what. It's a pretty crappy policy though, devs are the one benefitting from the whole beta, now they're charging for it too, it's crazy.

Am I the only one that thinks the BETA coming out only ONE month before the game is ridiculous? That's not enough time to find and fix the numerous bugs this thing is going to have. The BETA players will find much more wrong with this than the testers in the lab. Not only that, not all of the folks who preordered the game will be able to jump into the BETA right away; it's a staggered release. They only have a month!

I think that their intension is to test the load on the servers to properly size the cloud for the release rather then squishing bugs.

You couldn't just let me stay angry....

Here, you can have mine ------E
:)

God are those graphics dated.

yeah, releasing a new game looking like that at the same time RDR2 is releasing looking like it does...

they should let you in the beta if you HAVEN'T preordered to let people unsure about buying get a chance to check it out and see if they want to spend their money on it.
Windows Central Newsletter
Thank you for signing up to Windows Central. You will receive a verification email shortly.
There was a problem. Please refresh the page and try again.