Fanband customizes your Microsoft Band's theme with your favorite sports team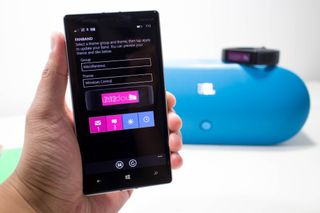 It's hard to avoid the Apple Watch news this week, but Microsoft Band owners also have something to be excited about. The Windows Phone app, Fanband, recently caught our attention. It lets you customize the theme of your Microsoft Band with your favorite sports team, video game, tv show, and more. Want to put the Windows Central colors in the Microsoft Band? You can do that with Fanband, too. Watch our hands-on video to see it in action.
Make sure your Windows Phone is connected to your Microsoft Band via Bluetooth when you use the Fanband app. Select a group from the list and then choose your theme. Fanband currently includes Football, Basketball, Colleges, Baseball, Hockey, Soccer, Fun, and Miscellaneuos. You get a preview of the theme at the bottom.
Tap the save button once you're happy with your selection. It's going to sync your Microsoft Band with the new theme.
If you don't see a theme that you like, you can request for one in the app. Tap the three dots on the lower right corner and tap 'request a theme.' It's basically a shortcut to write an email to the developers, Liquid Daffodil. If they sound familiar, it's because they've also developed the Gleek third-party Twitter app.
If you feel like wearing the Windows Central colors on your Microsoft Band, select Miscellaneous in the group and then look for the Windows Central theme. The Me Tile and other tiles with notifications are in magenta, while the other tiles are blue.
Fanband is 99 cents at the Windows Phone store without a trial. It's a great way to change things up when you're bored with your current theme. Would you use this app with your Microsoft Band? You're installing the Windows Central theme, right?
Windows Central Newsletter
Get the best of Windows Central in in your inbox, every day!
"a theme that you like" ... About the app, nice to see devs exploring MS Band SDK.

Very nice to see. Microsoft needs to keep opening everything up for devs. Also, bought the app and really like it. I'm sure more will be added in future ...you can request themes in the app.

Fun app. The different colored tiles for one's with notifications is an interesting twist, really like it.

Loved the addition of the notification color change to pimp my band in the last update as well

So, lets talk about global availability of the band once again.

How about no. #dealwithit

Damn!!! No washington capitals or new Orleans saints, haha I guess ill wait for updates.

You can make requests within the app, just saying ;)

I requested Manchester united football club, cos I'm a brit

Yep, already requested Dallas Stars, Texas Rangers, and a TV category to house the already existing "Game of Thrones" family crests and "House of Cards", along with requesting "Breaking Bad". Was thrilled to see my Texas A&M Aggies already available.

Send a request. They're pretty dedicated.

Just email the folks at Liquid Daffodil and they will add any theme you want. Typically they do it in just a few hours, although since its Spring Break in Texas they may wait until Sunday. Use the "request a theme" link referenced in this article.

Best decision ever leaving out the AINTS! #RISEUP

Requested Sonic and Sunset Overdrive

Why does it seem like there is a name in the background of the theme when the time is displayed???

Because there is. It's part of the theme.

This app is a not brainer if you have a Microsoft band

that's cool, but you can kinda do the same thing with pimp my band.. advanced settings allow you to pick colors for plain tile, tile with notifications and tile when pressed... so I'll stick with " Pimp My Band " for now anyways... and the dev is cool too p.s. just find and download a pic you wanna use and voila ;-)

How do you get to advance settings?

it's right in the same section where it says "dominant color" click that, then select advanced settings (you may have to scroll down to see it) then you can select your three colors

Mark, It's truly really not that hard to avoid apple watch news. I don't do any device apple and I know I am not getting iPhone which one would need to use apple watch.
Thanks for the band app info though, keep them coming.

"Pimp my Band" is free and lets you pick any image from youre phone.

Liquid daffodil...! Where have they been lately? Great devs.

MS...... Always late to the party... Flat tire this time.
.............
http://www.fool.com/investing/general/2015/03/11/does-microsofts-windows...

Dude, you need a vacation away from tech and the internet lol.

This is my vacation. Lol.

Lol for real. It's got to be such a sad life trolling all day. Get well soon Rodney.

Trolling what you call trolls.... Now, that's super pathetic....
...........
But, that's your happy life.. Lol.
...........
Do you like pears❓

I picked up a couple of extra bands... if anyone is looking... S and L.

Sent you a message via the Forums.

sorry off topic. why does all his apps(excluding the one in the article) costs $99.99?

To deter you from buying. Well the twitter related apps cue to token usage

Ms needs a smartwatch . Unless there's a very nice smartwatch that's fully compatible with WP.......the ms band is just a band .

Smartwatches are over rated, the band does what a smartwatch does and more.

Hmmm. I own the Band. It doesn't.

What is I missing. Just ordered one and I really want to know the difference???

What should a smartwatch even be/do? Apple thinks they're status symbols and simply a visible extension of someone's iPhone. Provides great margins and is a more sustainable business model than the iPad which is great but it's not bringing anything mind-blowing to the table.

Apple Watch it's a smartwatch and where the GPS on it? None.

I like the band. But a smartwatch revolving around Cortana and Windows 10 would make a lot of sense.

MS is doing just fine with the Band. I like it. Cutting edge tech with all the sensors and decent battery life.

But it doesn't look like a watch .....more like a women's watch and yes I would like a smartwatch to look kinda like a watch just smart! It does look like a fitness band of some sort . But that's what it is . Going down town for the night, maybe a wedding, you would not catch me with that ms band on . But the apple watch.....maybe especially that rose gold but would not be doing fitness with that rose gold either. But apple has sports models...makes sense. So ms should have sports version and pimp version!!!!

No. The band is perfect in every possible way, just like all Microsoft products..
No need for the negativity because it is superior to everything on the market.

That actually sounds more like an Apple fan. I like my Band and would have picked up a FitBit if I wasn't able to grab one of these. I don't want a typical looking watch...or I'd buy one.

I'm all for the bands function but like apple with the iwatch,the galaxy gear,Moto 360,pebble has a nice one,those look sweet .there going for those who like a nice watch but can also pair up with your phone.nothing wrong with that. If im going out .....nice suit sorry but that band looks ugly on the wrist does not compliment the outfit but the ones I mention do. That's who I think those companies are targeting.that's why ms named it the ms band not the ms smart watch although it has smartwatch features and more it does not look nice for going out but ms could make one I'd buy one!

Awesome, nice to see LiquidDaffodil still developing for Windows Phone :) Love the implementation of using different colours for tiles with notifications!

Would be awesome if the app could update the theme automatically using Cortana and your teams selected in Microsoft's Sports app to show your favorite team from each sport that has a game that day.

I would like a theme whereby I can set my main tile as an analog watch, may be 2 faces side by side with 2 different time zones...any developer? Anymore up for a challenge?

Got it. Now my Band has Spam on it. Lol

Certainly will see more available when they hit best buy stores

Although this app is a winner, honestly we need one app that can do all of this theme type stuff because I don't need more Than one app to performed standards tasks like themes, language, etc. Different health monitoring apps are a different story due to the layout and maybe the information they collect.

FC Bayern Muenchen, what do you know. And other cool stuff. purchased

Everyone please request the ninja cat riding a fire-breathing unicorn theme

And then you can fix this band directly on your willy... In the action you can see how rainy will be :D

Be nice if we could get the band across the pond

Not one of my teams represented. I sent in a request with all of them. *The University of Michigan Wolverines
*Detroit Lions
*Detroit Red Wings
*Detroit Tigers
*Detroit Pistons

Nice app, not too sure about the text behind the time and the colour on the Bears theme's not really Navy so I think I'll go back to my custom wallpaper but I like the general theming etc.

Top stuff, whens the band coming to Australia :(

This makes me want to take a beautiful leak on an Apple Watch. Look how beautiful that band is! And it's just a fitness band!

How come the Buffalo Bills are not shown in the screenshots. Does this app have/license all the teams?

That Notifications via the Tiles changing colour is a really nice touch. It might be slightly more difficult to implement on the Phone (unless they started doing Themes), but it really would be handy, especially for Items that are grouped, where it can sometimes be hard to see the numbers on the tiny Tiles.

how about a how to for pc users
Windows Central Newsletter
Thank you for signing up to Windows Central. You will receive a verification email shortly.
There was a problem. Please refresh the page and try again.