Fantasia: Music Evolved for Xbox One and 360 will 'Let it Go' to those who preorder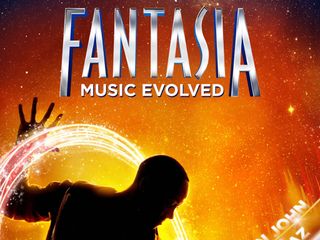 The Kinect is no longer as important to Microsoft's Xbox One plans as it used to be (neither of the Call of Duty nor Sunset Overdrive bundles will include it). The Xbox One launched without any compelling Kinect games (though we enjoyed Zumba Fitness World Party), and developers haven't been too eager to pick up the slack since then.
Luckily, Harmonix is on the case. The studio has two Kinect-specific Xbox One games in store for the fall: the downloadable Dance Central Spotlight and the retail Fantasia: Music Evolved (Xbox One and 360, published by Disney). Dance Central comes with built in-good will from Xbox 360 Kinect owners, but Fantasia is a more unknown property. To help get things moving, Disney has announced that Fantasia preorders will include a bundle of three bonus songs – including "Let it Go" as performed by Demi Lovato!
Return to Fantasia
Having developed an arsenal of music games that includes Dance Central, Rock Band, Amplitude, and Frequency, Harmonix is no stranger to music games. They also made the only Kinect games that people really liked (Dance Central), so we know they have a good understanding of motion controls.
In Fantasia: Music Evolved, players will be able to conduct songs similar to the Sorcerer's Apprentice scene in Disney's Fantasia film. Arrows will pop up on screen, and players gesture along to those arrows. As they do so, colorful visuals will come to life in the background. It's not quite dancing game, but you'll still be moving along to the music.
Fantasia: Music Evolved also supports 2-player local co-op! Both players can progress through the entire game together, unlocking new songs and remixes of songs as they go. Songs will require players to move in sync together as well as taking turns. I thought Dance Central was a lot more fun with another player, so Fantasia's co-op is most welcome.
Song list
A music-themed game lives or dies by its music. Although Fantasia: Music Evolved's song lineup doesn't seem especially Disney-centric, it certainly has a fine selection of songs for players to interact with. Here are all the songs that have been announced so far. The game will ship with over 30 tracks, which means Disney and Harmonix still have a few more to announce before the game's release.
Antonin Dvorak – "Symphony No. 9 from the New World"
Antonio Vivaldi – "The Four Seasons: Winter, 1st Movement"
AVICII – "Levels"
Bruno Mars – "Locked Out of Heaven"
Cee Lo Green – "Forget You"
David Bowie – "Ziggy Stardust"
Depeche Mode – "Enjoy the Silence"
Drake – "Take Care" (ft. Rihanna)
Elton John – "Rocket Man"
Fun. – "Some Nights"
Gorillaz – "Feel Good Inc."
Kimbra – "Settle Down"
Lorde – "Royals"
MIA – "Galang"
Modest Mussorgsky – "Night on Bald Mountain"
Nicki Minaj – "Super Bass"
Peter Gabriel – "In Your Eyes"
Police – "Message in a Bottle"
Queen – "Bohemian Rhapsody"
Tchaikovsky – "The Nutcracker Medley"
White Stripes – "Seven Nation Army"
The Who – "The Real Me"
Wolfgang Amadeus Mozart – "Eine Kleine Nachtmusik"
Preordering Fantasia
Preorder at participating retailers to get a download pack containing these songs:
EDM DJ AVICII – "Lay Me Down"
Demi Lovato– "Let It Go" (Shame it's not the Idina Menzel version!)
OneRepublic – "Counting Stars"
Amazon hasn't updated the game's pages to include the bonus at the time of this writing, but the retailer is very likely to implement the bonus soon.
I know we have some Kinect fans in the audience. Are you guys planning to support the peripheral by buying Fantasia and Dance Central Spotlight later this year? That's the best way (really the only way) to show Microsoft and game developers that we want Kinect and Kinect games to stick around.
Fantasia: Music Evolved – Xbox One – $59.99 – Amazon Link

(opens in new tab)

Fantasia: Music Evolved – Xbox 360 – $49.99 – Amazon Link

(opens in new tab)
Paul Acevedo is the Games Editor at Windows Central. A lifelong gamer, he has written about videogames for over 15 years and reviewed over 350 games for our site. Follow him on Twitter @PaulRAcevedo. Don't hate. Appreciate!
Let it go? I hate that song. JFK, watching that movie was a chore.

I thought I was the only one. My sister turned my two-year-old onto this song and I hate it. It's so generic and the girl singing barely changes her tone. :(

It has a good message (and ties in perfectly with the movie's themes), which is more than you can say about most pop songs. But no song is for everybody.

I liked that song, even though I watched the movie once but I downloaded the song video and watched it several times to memorize it. :P
But yeah, Disney movie songs are the only songs I like. And lion king had better songs than any other movie :D (Don't call me a kid but I still love Disney movies :P )

Oh yeah, Lion King's songs are very memorable. My favorites song-wise are Aladdin, The Little Mermaid, and Beauty and the Beast.

Funny, those are all faves of mine too. I also like the music in The Hunchback of Notre Dame. Actually most of the cell-shaded Disney movies had enjoyable music.

Nice taste! I had to decide between Hunchback and Beauty and the Beast for my third pick. I went with Beauty because unfortunately I haven't seen Hunchback in a long time, so I'm not sure how I would rank it now.

Exactly,I watched hunchback only once,and that too almost 10-12 years ago,I think, so I don't remember any of its songs at all :(
I should probably watch it again once I'm finished with Game of Thrones :P

Nice! Mine are lion king, frozen, beauty and the beast,Mary Poppins,Toy Story 1,Bambi,Mulan,The fox and the hound etc :D

@Usama Nothing wrong with liking old Disney movies. I still prefer those over most of the current stuff. I'll probably tear up though next time I watch Aladdin. RIP Robin Williams. :'(

Haha, yeah, agreed :P
And yeah,R.I.P :(

Are there ever options to pre-order 'digitally'? Going disc free has been a huge $$ saver with little kids who scratch the discs. However you tend to miss out on pre-order offers like this.

Microsoft will be rolling out digital preorders this fall. No word on whether those will support preorder bonuses like this though. We can only hope!

Actually, just yesterday I tweeted to Harmonix, well, technically to @FantasiaGame, asking if digital buyers can get this preorder bonus too and they replied: "We haven't shared our plans for digital orders yet. Stay tuned". Seems hopeful! Anyway, thank you for this article: Kinect deserves more recognition and coverge, especially Harmonix's always excellent offerings. It's quite a pity that Microsoft didn't bundle Kinect Sports Rivals in at the Xbox One launch (of course, Rare couldn't even finish it in time, but even had they, Microsoft probably wouldn't have bundled it). Had they done that, I think the Xbox One and the future of the Kinect would've been better off. It worked for Wii Sports and Kinect Sports Rivals is a much better game than that (I quite enjoy KSR but it shouldn't have launched at $60. $40 would've been fairer). Anyway, I really hope that Dance Central Spotlight and Disney: Fantasia do well and Kinect gets a second wind. The former absolutely should sell well if Microsoft markets it correctly--the base game is only $10! Fantasia has a lot of potential too with Disney's marketing muscle and name cachet behind it. I like what they did with that new live trailer that was just released. Additionally, all signs point to Fru as breathing new life into Kinect games with an innovative take on motion-controlled gaming. I hope that game inspires other ID@Xbox developers (and, hey, big publishers too) to push more boundaries. Fruit Ninja Kinect 2 could make some waves if it's priced reasonably (i.e. $5), but my guess is that it's going to be dead on arrival at $15. Nevertheless, there is still hope seeing as how Microsoft is still investing in Xbox Fitness (new workouts from P90X, JJ Watt, and Russell Wilson), and Ubisoft is releasing Shape Up this fall too. Now, if only they'd release a Kinect-controlled sequel to Child of Eden or if Sega released one for Rez, that would be Kinect-tastic.

Good comment, dude. Agreed that Kinect Sports Rivals was priced too high and should have been bundled with the console. I had forgotten about Fru - that certainly has some potential. Maybe indie games will keep Kinect owners happy if the retail releases don't continue.

Thats cool. I hope they have these for digital download with the extra tracks. My kids will love it. I wish there were more kinect games for the Xbox One - geared towards kids. They still love the Kinect Party from the 360. Something like that would be a huge hit in my house.

Yeah, I would pay ten bucks just for an exact replica of Kinect Party on Xbox One. The improved camera resolution alone would make the game sooo much better.

Meh. Don't really like the Demi version.

This. Idina Menzel did it better.

That pun in the heading of the article xD

Prefer Idina's version by a LOOOONNGGG shot.

Your sex had me locked out of heaven... Really pop... Can't we have an "authentic" Fantasia experience?

An instrumental Fantasia would probably get as much audience interest as Fantasia 2000 did (very little).

Then use a smaller team. Budget accordingly. Don't use the name Fantasia, use Mickey Mouse Club...or something. Just feels wrong.

Harmonix commented on this many times already about how the original Fantasia movie was actually a lot more progressive, musically, then people remember it as. It contained a lot of contemporary songs at the time--not just classical stuff--and, furthermore, Disney approached Harmonix about this project and told them to "reimagine" Fantasia, not to merely replicate it. So, Harmonix is including an eclectic library of music, ranging across many genres, from classical to contemporary, in the spirit of the original movie.

I get that, sure, but the lyrics are what makes a difference for me. Not tempo or time period. You get a movie that is well made, say Jurassic Park where the music is original but with no lyrics, it is hard to date, it becomes timeless, but if a song sings about receiving a page or an aim from someone it dates it. I want the game to be like the movie, timeless. That takes forethought.

I'll buy Dance Central... I don't care too much about dancing games but it's good to have options when someone want's to play and I liked the pricing model... sell the core game for a small fee and then add the songs as you want.. I think it's better than Just Dance that you buy the game... buy songs as DLC and then they launch another game...

The thing that concerns me is Microsoft seems to be abandoning the Kinect. At Gamescom, they didn't spotlight any Kinect features or games (Dance Central and Fruit Ninja Kinect are the only two I remember, and they were only in montage videos -- they *might* have mentioned Fruit Ninja by name), and they announced three console bundles, all sold without Kinect. We still don't have a firm launch date for the Kinect being sold separately. I guess enough people hate the device for them not to waste money on it, but I like it; their push for a mandatory Kinect sold with every Xbox was one of their original policies I actually liked, made me hopeful that the software would improve.

The problem with mandatory Kinect is that they basically had no games in development to support the peripheral's inclusion. Super huge strategic error. With no games to convince gamers the product is worthwhile, everyone turned to resenting its inclusion and impact on the console's price. If these Kinect games actually sell well, it will inspire Microsoft to continue funding game development. But I'm afraid a lot of the people who like Kinect really just like it for the voice command support, not gaming. We'll see!

Admittedly, that's what I mostly use it for, but that's because that is what is always available. The games haven't really used the camera much. To your point, the games that really take advantage of it just aren't there yet (though I've played the Kinect Sports demo, and it feels very responsive). I hope they don't completely drop it before it even gets a chance to shine with appropriate software, especially with how much better the new sensor is. (Trying to control the console with gesture controls on the 360 vs. One is like a fight scene in old Star Trek vs. Next Generation -- wild, exaggerated gestures vs. more subdued and natural.)

Sentences, Fernando. Use sentences and stay on-topic.

LOL :P And use your cerebral cortex according to Daniel, he believes in you, lol :D

Get the notification in app title, i think the new article about fantasia painter because it seem to me like that. Then i check, but what the fu...! My mind is wrong !

Well, at least your last sentence seems to be correct.

I saw a couple of videos on youtube about this game and I still don't know what's the point of it. I'll just stick to KS Rivals and Zumba Fitness WP for now, maybe even Dance Central.

Think maestro. That's what it seems to be about. Looks promising, I say, but yes, I also enjoy KS Rivals and willd definitely get Dance Central Spotlight. I also like Xbox Fitness and look forward to Fru too.

People always underestimate Harmonix games. The gameplay for Fantasia is excellent. Harmonix is one of the best game designers in the industry. Don't get caught up in the song list. A.) you are remixing the songs so they sound very different each time you play. B.) The gameplay is why you keep coming back to Guitar Hero, Rock Band, Dance Central, Frequency, Amplitude, and Fantasia. There will be dozens of songs to get and remix as DLC for Fantasia.

I actually wish that Microsoft would buy Harmonix and make them first party so they have a first-party studio completely focused on Kinect games, as it seems now, from Phil Spencer's recent comments, that Rare will no longer walk that road. That said, Harmonix is already making a lot of exclusive Xbox Kinect games, so maybe it's not necessary to buy them, but their next few games appear to be Amplitude, exclusive to Playstation, and Rock Band (not an exclusive game but an IP worth owning), so I'd snatch them up before that happens, if I were Mr. Spencer.
Windows Central Newsletter
Get the best of Windows Central in in your inbox, every day!
Thank you for signing up to Windows Central. You will receive a verification email shortly.
There was a problem. Please refresh the page and try again.