Fhotoroom updated for both Windows Phone 7.x and 8, brings a many features like silent likes and UI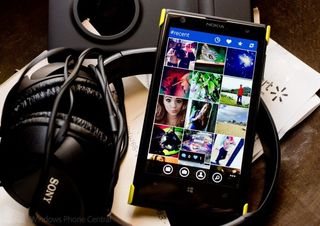 We always dig apps that get regular updates and support from their developers. One of those is Fhotoroom for Windows Phone, which has been getting fairly regular updates since its inception. The latest update is for both Windows Phone 7.x and 8 users and totally worth checking out. Details below.
Fhotoroom last saw an update in late August. That update brought a handful of features, but mainly brought a new camera interface, security updates, and more. What's new in the latest version? Here's what:
New Search Pages
New Tagging Support
Silent Likes
New Welcome Screen
Save Camera Settings
New High Res Icons
Major UI overhaul for more focus on photo
Bug Fixes
Performance Increases across the board
Fixed Quotes and < > characters in comments
Website App Launcher (Windows Phone 8 only)
First off, this update is applicable for basically any Windows Phone device you can think of. From Windows Phone 7.x devices with 256MB of RAM to Windows Phone 8 devices with 2GB of RAM. Quite a feat from a development standpoint.
Fhotoroom is part editing software and part social network. Earlier this summer they passed the 2 million download mark, so you're bound to find users with similar tastes as yourself.
Interested in trying out Fhotoroom for Windows Phone 7.x and 8? Head to the Windows Phone Store and pick up your free copy. Otherwise hit up the QR code below or swipe to the right in our app.
Girlfriend is still stuck on a Focus 2, if you can believe it.

If Fhotoroom is anything to go by, South America.. :P

+1 I think Fhotoroom could be the instagram if South America :-)

What country is missing from South America? I keep adding more countries but i tread carefully as our Win8 has been having approval issues for this very reason.

I sold my Lumia 900 as soon as WP8 was announced. No way was I gonna be left behind.

I do. Waiting for the successor of the 920 on AT&T before I upgrade. I'm doing this because, like the 1020 with GDR2 and the 1520 with GDR3, I expect the 920 successor will be one of the first phones to experience WP8.1. Now that's what I'm looking forward to!

I do. Lumia 800. 6 mths to go of 2yr contract. Hardware-wise, this still has one of the better cameras around. My last upload on Fhotoroom got a heap of likes. Love Fhotoroom, and really appreciate the developer support for WP7.

I still use WP7 on my HTC HD7. Love my phone, best phone ever for me.

+1 lol... I just realised this is an ancient thread - whoops!

I do. In Argentina we just got Lumia 620 six months ago, Lumia 920 four months ago and Lumia 720 this month, with 520 expected in the next few months. Considering I got my 710 in November last year, I still have 8 months to go in my contract. You'd be surprised at how slowly technology moves around here

Sorry to hear that, hopefully it gets better someday!

*raises hand* but only by defaultv because Sprint just started offering -two outdated- (in tech years) WP8. I've been ready to switch, but I also still like my HTC arrive because of its physical keyboard.

This article is "late" isn't it? Just checking 'cause there's nothing to update here for me and the App says last update of the 12th.

Great to see a dev still supporting WP7.

I may not have all the fanciest animations, but that is so I give a universal consistant feel to everyone. This also allows for very fast rewriting down to WP7 from WP8. I plan to fully support WP7 for a while longer.

Still not available for Vietnam. Come on! You said you'd check and fix it in the coming update.

Minor inconvenience, just do what I did:
Change your location to another country (US,UK or somewhere else that you know can download the app), reboot phone, download app, change your location back to Vietnam and reboot again. Voila ... you now have Fhotoroom on your phone. :-)

I love this app just wish it was more popular. Though that has more to do with the fact that fhotoroom is WP only I think

Soon our iOS friends will really be able to see how beautiful WP photos are. Unlike other apps which will make sure WP photos never make the popular page, heck not even get tagged properly. WP photos will always be front and center in Fhotoroom ;) The Greeks had a story about this i believe ;)

Can i create Lockscreen pics now with the new update for 7.x ? :D

Nope.
Not yet. If you wanna make lockscreen pics, use Photoshop

The WP8 method doesn't work on WP7, i just need the time to develop the workaround solution to fix this.

I can not see the update for my Omnia W in India :(

I hope this fixes the extremely slow loading of pictures on my 8X... Otherwise, love the app!

If the photos load slowly, this update should help but tryout the Bandwidth Saver option as it will make things much faster. Under Settings.

I have WP7.8 and there's no updated. The lastest version is 3.6.0

Still in approval process will be available very soon.

@Sam Sabri, if you had a WP7 you see our updates far more frequently as we tend todo a WP8 update then a WP7 and then another together. Oh ya, squeeze in a Win8 update into the mix as well to keep everything in sync.

I still use wp7 7.8 focus s still just as fast as wp8
Windows Central Newsletter
Get the best of Windows Central in in your inbox, every day!
Thank you for signing up to Windows Central. You will receive a verification email shortly.
There was a problem. Please refresh the page and try again.