Fido offers up Lumia 635 prepaid starter kit for $150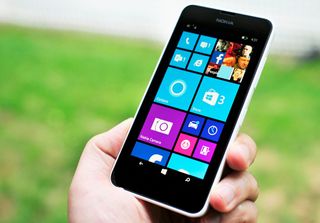 If you're based in Canada and looking for a great deal on a Lumia device, Fido has your hookup. You can now score an 'all-in-one prepaid kit' from the carrier that sports a Lumia 635 along with a $20 prepaid airtime voucher for a cool $150.
The kit, which comes in a unique dog bone-shaped tin, appears to be the cheapest route to a new Lumia 635 in Canada, with the closest off-contract price coming in at $200. If you're interested in the kit, a list of what comes inside can be found below:
Nokia Lumia 635
$20 prepaid airtime voucher
SIM card
Web key for easy on-line activation
Yellow phone shell
Stereo headset
Portable USB charger
Charger
Battery
Quick guide
Get to know Fido guide
The kit represents a pretty good deal: not only do you end up saving $50 on the device itself, but you also snag another $30 in savings through the inclusion of a prepaid voucher and a Fido SIM.
If you want to get your hands on one of these kits, you can do so from the source link below. Let us know in the comments if you plan on picking one up.
Source: Fido
Thanks to Steven H. for the tip!
Dan Thorp-Lancaster is the Editor in Chief for Windows Central. He began working with Windows Central as a news writer in 2014 and is obsessed with tech of all sorts. You can follow Dan on Twitter @DthorpL and Instagram @heyitsdtl. Got a hot tip? Send it to daniel.thorp-lancaster@futurenet.com.
I have been super happy with my 635 since its release date on tmobile. Recommend it to anyone who wants the basics yet the ability to load lots of files with an SD card.

I picked one up to play with... I have to say I am very impressed as well. Definitely feels faster than my 920 and 1020... not quite sure why (optimized for the newer processors maybe?).

The 1.2ghz 400 is similar in terms of processing power to the 1.5ghz dual core powering the old flagships, but it has a better GPU and is pushing less than half the pixels. So yeah, it's gonna feel faster. Because science.

Most of the comments I have seen up until now have said that the GPU in the 635 is weaker than the one in the 820/1020.

Gpu is weaker however the CPU score is what matters for 90% of the stuff we do. Unless its games the gpu does very little very little. And the CPU is I believe better on the marks.

http://results.rightware.com/basemark_os/all-all-phone-windows_phone-all
http://results.rightware.com/basemark_x/all-all-phone-windows_phone-all

That's a pretty nice deal

Woohoo, and as a bonus it's my tip. :-)

Got a 635 as a backup phone when my 1520 broke. Not a bad little phone. And compared to my 1520, it IS little. :)

Same price as moto g lte on att....
Really Microsoft needs to compete better with moto g, it is stilled unmatched in budget segment. The Nokia lumia 635 could be compared with moto E and it would win. As for Nokia lumia 520/530 nothing else comes close for the price.
The Nokia lumia 830 is still too much, my oneplus one cost $350 for 64gb storage, snapdragon 801,3gb ram, 5.5 inch 401 ppi screen, 13mp camera, and 5mp front camera. So why would I pay $100 more for a lower spec phone? I also think you can get the old moto x for $250-$400,the new one is $50 more than lumia 830.
So until Microsoft gets prices right, they will only sell low end phone like 520 Posted via the Windows Phone Central App for Android

I don't understand... on Amazon, the Moto G is $180. The 635 is $80. How are they the same price?

Moto g lte is $150 from att Posted via the Windows Phone Central App for Android

Ok... but $80 still seems cheaper than $150... and definitely not "the same price".

The CDMA moto g is less than $100 on eBay Posted via the Windows Phone Central App for Android

Here here. I don't see how it's called an affordable "flagship". With specs weaker than last years Nexus 5 and the OPO. Similiar specs to the Moto G last years and this year's models. And those are 179, 199, 220 dollars for the most part depending on storage Posted via the Windows Central App for Android

If you'd've started off with "Hear, hear..." I might have read to the end. ;-)

That's some nicely done grammar policing. I tip my hat to you. :)

Comparing the Lumia 830 with the oneplusone.... just because you were able to get one doesn't entitle you voice opinions as facts lol, if the oneplusone was widely available like the 830 then it would be a different story :P.

No matter what I've got in other phone like the moto's series. I never envisaged those because they are not Windows Phone.

Well let's compare it to the moto x (2014). For $50 more you get bigger screen, choice of back covers, hands free voice control,front speakers, a higher resolution camera, and more....
Also the new moto g (2014) is good enough to be compared to lumia 830, it doesn't have lte but costs $180. 5 inch screen, 8mp camera, front camera, front speakers, sd slot, etc. My aunt has a lumia 900 and she is thinking of going with a moto g. No wonder! If the nearest thing to a "affordable flagship" is a $450 830, she won't buy that. The 635 would be a downgrade, so moto g is the only decent phone with rear flash and front camera with great reviews for $200 or less Posted via the Windows Phone Central App for Android

Yeah, bit it's 3G. Her current phone is LTE. Does she really wasn't that big a downgrade? I wouldn't.

Idk why they don't make lte moto x, you could get the 2013 model which is still great option Posted via the Windows Phone Central App for Android

I could, but then I'd be saddled with Android, which I don't want. I want better performance, standardization, and security than Android offers. That means iOS our Windows Phone, and I go with Windows Phone because it offers all that plus more choice than iOS.

Also, LTE would make it more expensive. You're comparing price, versus an LTE phone and noting that it's cheaper. Well, that's a big part of why. 3G-only chipsets are decidedly cheaper than LTE-capable chipsets. If not for that, almost every phone would be LTE by now.

The reason why the specs aren't as mind blowing as a Moto x is because this is not android, Windows phone can run smoothly on all current phones but the fact that android glitches out on low-mid/high range is something you need to look at and consider this advise try something before you bash it

My oneplus one never had any "glitches", it runs fine. I had more problems with my iPhone 5 and had more reboots on lumia 925 (and I barely use it) Posted via the Windows Phone Central App for Android

Fido is Rogers, and their network is a joke if you don't live in a bigger city. In my town they barely have 2G. So add $50 to unlock it and and you're back up to two bills.

Every time I've unlocked a Rogers Lumia handset on cellunlocker.net it's cost me $7.99 USD.

I'd also add, Rogers' coverage is not a joke, not by the standards of T-Mobile in the U.S. and Wind in Canada. Like any network, they have good spots and bad spots, but their coverage is close to Bellus overall in Canada, as opposed to T-Mobile which is nowhere close to AT&T and Verizon. Your town excepted, apparently.

It's $50 if you get Rogers to unlock it for you but much cheaper if you get the code online.

Actually it is a pretty good deal for a number of reasons, my wife might purchase one of these packages just for the milkbone shaped tin box!

Why would I buy this when MS is launching Lumia 535 soon, which is a much better product than this one....

True I bought my brother the 635 then told him about the rumored 535 lol he wasn't happy.

No face front cam, no flash, it seems that the next MS lumia will have those option...

Ah, but how much will it cost, and how soon will it come to Canada? There's the rub.

If I wasn't rocking my 1020 I'd buy it. Rogers plan is $80/month for 1gb.

That's ridiculous...i pay $57 a month on fido with 1gb data... You're getting ripped off

i get 2gb for $60 from fido..:)

Lol gee, I'm getting ripped off!!

Great deal on fido! They can be unlocked for $20, I believe. So with the included $20 card it is kind of like a new unlocked phone for $150

It's $50 just like Rogers & and most 3rd party services will charge the same

All the providers charge $50 because that is the maximum they are allowed to charge by law but you can get the unlock code much cheaper online from places like cellunlocker.net.

This handset may be different, but I unlocked Rogers Lumia 920 and 1020 handsets for a whole lot less than (cellunlocker.net). I have no affiliation with them, just used them and been happy.

Exact, and no flash too. The next MS Lumia seems to bring us these basic elements at the same price...

When denim update will be available for lumia 625 ?

I would consider it, since I'm not on contract with Telus, but I own a 625. Not much difference and no front camera. Plus I want to upgrade to the 830.

I bought this offer back in september an I couldn't be happier about it. I went to Fido hoping I could get the lumia 520 but the only Windows phone they had was the lumia 635. I fell in love with the bone-shaped box and everything that came with the phone. It was my first smartphone and So far, i really enjoy it ! I'm surprised the salesman recommended me not to get a windows phone, even tough all things considered, he did warn me I would have more app choices if I chose Android. Aside from this, I wish there was a front-camera, but for the price I paid, I guess that's asking too much. :P

I haven't found a salesman yet that points you to Windows phone..... Always had to ask about them after they pushed Android and younger

Well I might be working at Fido soon so if you're in the Gatineau area stop by and visit me :P We can talk about Windows Phones haha. I can easily recommend this kit if anyone is looking for the Windows Phone beginner's experience or just a pre-paid option.

Definitely the next 520 in terms of sales and market share. $197 in Australia. Think this phone is perfect for ppl that aren't power users and just need a phone. Onya Nokia.... I mean MS..

I'd like a front facing camera otherwise I would think about it. Pretty decent deal to be sure.

not bad for $150. Of course if you're already with Fido, you just saved $50 on a new device. I wouldn't mind seeing a prepaid kit with the 830 for a similar price-point ($50 off the normal price)
Windows Central Newsletter
Get the best of Windows Central in in your inbox, every day!
Thank you for signing up to Windows Central. You will receive a verification email shortly.
There was a problem. Please refresh the page and try again.