First impressions of Windows 10 Technical Preview (Build 9926) on the Surface Pro 3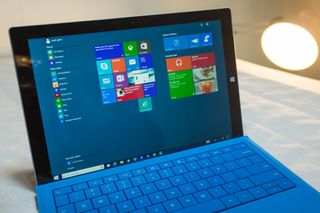 The Surface Pro 3 is the only Windows machine I have in the house, so I was hesitant to install Windows 10 Technical Preview on it. After hearing good things about the recent Build 9926, I finally caved in and decided to install the Preview. Here are my first impressions so far.
The first few minutes were frustrating. I didn't know that Windows 10 had a tablet and non-tablet modes that can be enabled or disabled from the notifications panel. I was frustrated because the on-screen keyboard did not automatically pop up when I tap on text fields. I was also frustrated that the handy gestures I knew from before, like swiping from the top and snapping apps to the left or right, were gone. I felt stupid after realizing tablet mode was off and after enabling things felt more normal.
The app I frequently use on my Surface Pro 3 is Internet Explorer. With the current version of Windows 10 Preview, only the desktop variation of Internet Explorer shows up. The address bar and back/forward buttons are smaller, making them harder to tap. I also can't swipe to the previous page.
After those two major gripes with the preview, I'm mostly happy with the experience. Windows 10 feels more unified. It doesn't feel like there are two separate operating systems.
Attaching a Type Cover to the Surface Pro 3 sends a notification that asks me if I want to switch to desktop mode. The opposite happens when I de-attach the keyboard. It seems like a nice feature, but I find myself sticking with tablet mode even when the Type Cover is attached.
I like the new Start button. It feels familiar especially if you're a Windows Phone fan. You can rearrange the tiles, by tapping, holding, and dragging. You can also pin apps as tiles, but I found that the current version only lets you do that with the trackpad or mouse input.
It's great to see Cortana on the Surface Pro 3. She also sounds better. It's probably because of bigger speakers on the Surface Pro 3 compared to the ones found on Windows Phone devices.
I like that swiping in from the left side of the screen shows all my open apps in bigger thumbnails. It's called Task View. This solution feels faster at switching apps compared to Windows 8.1. There's also support for multiple desktops, but I haven't needed to use them yet.
I think this version of the Windows 10 Preview has poor standby battery. I turned off the display and left for lunch. When I came back, I noticed the low battery warning.
Should you update to Windows Technical Preview?
If you're like me and the Surface Pro 3 is your primary Windows machine, I would not recommend installing the Windows 10 Preview yet. While it's great to get an early experience of Windows 10, my web browsing experience and battery life has suffered. Those are two critical things to me. I'd wait until Microsoft's next-gen web browser, Project Spartan, is included with the Preview. If you need a second opinion, Daniel has shared his first impressions on an earlier build.
Do you like your experience so far with Windows 10 Preview? Let us know in the comments!
Get the Windows Central Newsletter
All the latest news, reviews, and guides for Windows and Xbox diehards.