First NexDock lapdock units have started shipping to Indiegogo backers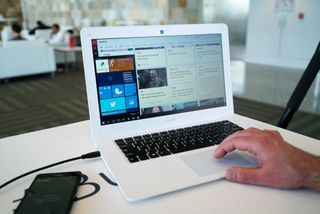 The first units of the NexDock lapdock accessory that work with Continuum-supported Windows 10 Mobile phones have begun shipping to their first backers.
Windows Central reader "dalydose" sent over a tip informing us that his NexDock unit has shipped, and is expected to be in his hands on Tuesday or Wednesday. The NexDock Indiegogo page also posted an update today confirming the first batch of units will begin shipment this week:
Two more shipments for the rest of the backers are in the works. One should begin by the week of August 22 at the latest, according to the company, and the final batch will start shipping the week of August 31. The lapdock has a 14-inch display with a built-in battery and Bluetooth keyboard. It can connect to a Windows 10 Mobile phone with Continuum support, allowing that phone to be used like a Windows 10 notebook. It also works with Windows 10 PC sticks, Android-based smartphones and tablets and Apple's iPhone.
People who backed the project early got the NexDock for $79, and the rest were able to buy it for $119. So far, the company behind the accessory has not indicated plans to start up production again after these units have shipped
Thanks again to "dalydose" for the tip!
Windows Central Newsletter
Get the best of Windows Central in in your inbox, every day!
Mine is on it's way. Just got the tracking number woot!

Thx for the update. I did not get shipping info yet. Must be soon. Order ID: 48

Earlybird: #161 (United States) and mine shipped this morning.

Got my shipping number too, tracking says it left Compton, that's not too far...

haha straight outta compton i see

This would be nice if it used USB-C to connect to everything, like the announced HP Lap Dock

Yeah. It would have when the $ 500.000 goal was reached. It unfortunately didn't. Anyway, I can't complain because of the low $ 79 pricetag. At least the NexDock became a reality.

I did the 2 NexDock deal, but late in the process. No word yet, but I'm excited.

I did the 2 NexDock deal, but late in the process. No word yet, but I'm excited.

I'm wondering if anyone has found a good cable/adaptor solution. Ideally, I'd like it to have USB-C on one end for the phone. On the other end, I'd like it to split to HDMI for NexDock and then USB to plug into my external battery. I imagine that the phone won't last long, otherwise.

I got my shipping notice today! Happy to see it finally come. Looking forward to more Continuum goodness with the Redstone Updates!

I got one off of Amazon. I haven't tested it yet though. https://www.amazon.com/gp/aw/d/B017VXY43W/?tag=hawk-future-20&ascsubtag=...

That looks like the solution. I'd be interested to hear how it works.

My Nexdock has left Hong Kong. I'll test it when I get it.

I would have gotten this if they went with USB type C. Without it, this device doesn't make much sense to me. I will probably get HP's Lap Dock when it will be available.

So no more production? That's lame. They could make a fortune off that thing and instead no additional runs. Lame

Since it's 4 months later than intended, they might feel that it's worth a refreshed design.

If the refresh is 1080p with USB type C and Miracast I'll order that instead of the HP one. Got mine coming but will be using it with my Raspberry Pi 3

Why and how would anyone use this with Android or iPhone as the article mentioned?

Android is usefull albeit less than with a for example Lumia 950. But Iphone is not. Not even worth to mention. John should have rather mentioned a Raspberry Pi

Actually iPhone will work with games and you use the screen to see the game and the phone to control it using touch and tilt controls

Yeah sure, but hardly worth buying it for. I wouldn't. A NexDock is worth buying for a Lumia, RaspberryPi or PC Stick.

I didn't say if it was worth it or not. Only what it does. I agree it's not worth it on iPhone but I just wanted to tell him what it does.

Actually it would be useful for an iPhone. I often connect my iPad to the TV with hdmi and use a Bluetooth keyboard for entering text. Although iOS does not have mouse support you just use the screen as a touchpad. Works great. Posted via the Windows Central app

Android has a rom I saw on their facebook (nexbook) site that acts just like continuum.

This needed to support UIBC standard to be worthwhile long-term.

I don't get it?
Not dissing, but if you are going to carry this, why not a proper laptop?

Many people don't need or want a proper laptop. It's also another $600 at least for a cheap laptop. There's a reason there are more smartphones out there than PCs... Personally, I don't always want to carry a $1500 laptop with me but an $80 dock made sense for most travel scenarios. I'm sure others have their own reasons.

Comparing it to a $600 is a bit rich. Comparing it to a sub $200 laptop with an Atom processor is more realistic, but it begins to tread into the price point of this device.

Don't compare it by price only but what do most people do on a 600$ laptop? Surf, Word, Excel, Facebook, watch Netflix... Pretty common stuff you can perfectly do on a 950(xl) with nexdock imho...

To compare apples with apples, cheap laptops are way less than $600

When you have to think about it, than a NexDock is not for you ;) I plan to use mine business wise. Maybe also at home. Second 'laptop', second screen, everything on the phone is on that screen too. Just to name a couple of use cases. Real world usage will show real value. Just a little wait to find out.

Because when you change your phone you are essentially getting a new laptop. Posted via the Windows Central app

I'm probably not going to carry it. It will be on our table as a quick place my wife can bring up her email and watch Netflix from her 950. Same for me. Basically a big screen with keyboard for me and my wifes 950. Now that my surface has the anniversary update I can also project continuum to it.

If you're keeping it on a table, why not just buy or repurpose a monitor with the Continuum doc or a Miracast adapter to a small TV with a BT keyboard?

Or buy a cheap laptop.
I must be missing something here.

@n m : If you have a powerful enough phone on which you can do 85 or even 90% of the tasks regular people do on a budget laptop... I'm talking Word, Excel, surfing, email, Facebook, twitter,Netflix, ... Perfect use cases for this combo...

You'll never buy a laptop THIS cheap. Traveling with this will be great. I'll use my phone's unlimited data - no laptop data plan required = SAVINGS. It's something that's not too expensive if it gets dropped or stolen. If it is stolen, it won't have any data or programs on it. It won't use another Office license, since it will be powered by the phone - more money saved. I can use it WITH my laptop as an extension screen, which will come in handy when doing research or photo/video editing. It may not be for you, but I have some real world use scenarios that this will work nicely with.

Because of portability I suppose... For example, take it outside when the weather is good? That is what I would do but I'm really going to test it for productivity on the go. Too bad i was quite late to the backing party so I'm not expecting mine very soon.

Lol tried that...wife had a fit when I had a 24 inch monitor plus all the cords on our table with our 2 year old. This can be put away and charged somewhere else. I will use it some in testing for portability but a battery operated keyboard, mouse and screen that i can put away for 79? sold! I also have a mini pc which may ger some testing.

Nice! I want either this one or the HP Elite Desk Dock. Unless similar devices hit the market soon.

Quite a nice idea. I see people comparing this to a laptop. It isn't. I would use this, as I do my MS dock. It saves me carrying around a 2-3 kilo laptop. When on the underground It will be less likely to get smacked about.. Carrying a large laptop in some of the less desirable areas of cities could mean trouble. Sometimes, people use a machine to watch catch up TV in the kitchen or the bedroom. Don't want a heavy machine sat on you in bed, or taking up a large section of workspace. Don't forget, cheap laptops / netbooks struggle with Win10. I've got a couple of acers running an atom, 1gb ram and huge HDD. They are awful!!!!

I wish I had gotten in on this...

http://imgur.com/a/P5tTw I saw this today and was made the most happy boy ever.

ARRIVED!!! The out of box experience is dreadful:
* It's REALLY frustrating that they didn't include USB-C or the cable from USB-C to HDMI - so no L950 access
* The HDMI to HDMI cable is only a few inches long. It won't reach from it's left side HDMI to my laptop's left side HDMI, so no extension screen for my laptop.
* They have a mini USB to USB cable, so I tried plugging my Windows tablet into a USB drive on the NexDock and that doesn't work. No Continuum for my tablet. So, they have a nice Windows button on the keyboard and clearly marketed this to Windows users, but then made it (no hyperbole) useless, out of the box. I've exhausted all potential uses that do not require an additional purchase and I've yet to find a way to use this thing.

I got mine today as well. I just opened it and plugged in to charge. Now I need to figure out how to use it with my 950XL. In the video, it doesn't look like it requires a DisplayDock, but I need to get some sort of converter cable. Anyone knows what cable I need to get to attach 950XL directly to NexDock?

I'm annoyed that this wasn't included or even offered as an add on accessory item.
Windows Central Newsletter
Thank you for signing up to Windows Central. You will receive a verification email shortly.
There was a problem. Please refresh the page and try again.