Fitbit rolls out new community features and more to Windows 10 PC and Mobile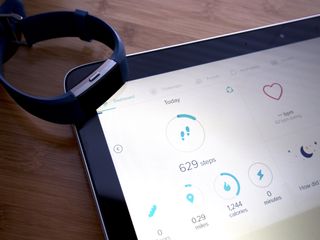 The Fitbit app for Windows 10 PC and Mobile is getting a little more social with a new update heading out now. As announced by Fitbit product manager Tristan Rice on Twitter, version 2.20 of the Windows 10 app is rolling out today, bringing a new Community Feed, profile design, and much more.
The changes rolling out today were actually announced by Fitbit all the way back in January with a big focus on bringing Fitbit users together. A huge part of that is the new Community section of the app, which is split into sections that all make up a sort of Facebook-like experience for Fitbit users.
Inside the new Community tab, you'll find sections for your Feed, Friends and Groups. Feed is where the Facebook analogy comes in, offering a place for you to scan for and comment on fitness updates from your friends, and post your own. The Friends section, on the other hand, is just a new location for your friends list and step count leaderboard. Finally, Groups is a place where you can meet others based on shared interests. Here's how Fitbit described it:
Alongside all of the community-focused features, Fitbit is also rolling out a new, more customizable profile design. All of your personal stats, badges, and trophies can be on display here, and you can personalize each section to your liking.
The update to version 2.20 should begin rolling out today, but it may take some time to reach everyone.
Download Fitbit at the Windows Store (opens in new tab)
Get the Windows Central Newsletter
All the latest news, reviews, and guides for Windows and Xbox diehards.
Dan Thorp-Lancaster is the former Editor-in-Chief of Windows Central. He began working with Windows Central, Android Central, and iMore as a news writer in 2014 and is obsessed with tech of all sorts. You can follow Dan on Twitter @DthorpL and Instagram @heyitsdtl.
Please tell me there's GATT support!

This only works with Creators which has GATT

So the Creators Update of Windows 10 Mobile *does* have GATT support in the Bluetooth implementation (I seem to recall it first showing up in a January or February build). The public version of the Fitbit app still doesn't support it, though, but there's a limited beta of the app (not accepting new users right now) that *does* have GATT support. I don't expect to see the Fitbit GATT support going live until sometime after the Creators Update of W10M has gone live itself.

If i remember, Daniel said in a podcast that Fitbit is waiting for MS to fix some gatt server issues.

Well the Creators Update SDK (which as you noted is where GATT support arrives) only became available, yesterday, so..... http://www.windowscentral.com/microsoft-releases-windows-10-creators-upd...

Fitbit's been working on it since January. Still not working, maybe someday.

That makes sense, it was more wishful thinking than anything else. I've read what some ppl with the beta app are saying; the option is there but no one is really getting any notifications. I think Daniel Rubino mentioned that in one the podcasts recently too. Tbh,I like Garmin's hardware better but I have a feeling Fitbit will implement proper GATT support faster.

I'm on the beta and like a lot of people the notifications are working fine. There are others though where its not and apparently these need an update from MS to fix.

Thank you for pointing out that it *is* working for some people, and that real progress is being made.

That's great news reded23, r u on CU as well?

I'm thinking of jumping ship from my Garmin Vivosmart HR to a Fitbit, either the Surge or the Charge. Does anyone have any experience of this? My biggest issue is that notifications have been broken on the Garmin for a long time now, and I'd either go to a high-end Fitbit or to the Microsoft Band 2, which seem to be the only ones that work reliably with notifications.

I used to have the Band 2 but traded for a Blaze. My Band kept breaking and the stores don't carry it and sending it in is a minimum of a month. The Band app is pretty much abandoned and hasn't had feature updates in a while. The only one showing active support and app development is Fitbit. Notifications don't work yet though.

If you can find a Band 2, the notifications work fairly well. No idea if that'll continue to be the case with the latest update. Supply is basically gone though, so warranty support might be lacking. The build quality is pretty bad, i went through 3 in less than a year before i just asked for my money back. Notifications on Fitbit are not working yet (ever?), i wouldn't spend the money if thats what you want from the device

I've had Band 1 and 2 and then thought the same,high-end Fitbit considering they work closely with Microsoft and I was hoping for notifications to start working. Fitbit Surge was a huge disappointment,returned it after 2 weeks. I'm not saying that just to praise the Band; the Surge is big, clunky,slow,the GUI is antiquated and the screen is really small for such a big device. I enjoyed good battery life and great screen readability in bright light(a little dim in normal conditions) but that's pretty much it. Notifications are important for me too but I also want good data outcome from the device as I use it for running and exercising. I was thinking to try Garmin actually but now I'm on the fence and waiting for the CU to be released publicly on mobile and see who's gonna fix notifications first.

I'm on a Vivoactive HR, but returning it to Amazon. Is there a Fitbit that has heart rate + built-in GPS + is waterproof/resistant?

Nope. "Alta HR is rain, sweat and splash proof, but not shower or swim proof."

Hi! I just went to their website. That's right but it seems it's just the bracelet that isn't . In fact, when you read the warranty leaflet that was in the box, it only mentions not to wear the Alta HR in a sauna and not to charge it when wet. I thus assumed you could take a shower or swim with it. Mind you, I didn't try ;)

Waterproffing? No not really. Waterproofing is actually pretty difficult. Per Fitbit: Can I swim or shower with my tracker? All Fitbit trackers are water-resistant, which means they are rain-proof and splash-proof and can stand up to even the sweatiest workout. Do not swim or shower with your tracker unless noted below: The Fitbit Flex 2 is swim and shower proof. The Fitbit Alta is shower proof.

Difficult? Maybe. Unprecedented? No. Trackers at the level of the Blaze should be swim/shower proof. That's why I lured to the Garmin Vivoactive HR, plus it has it's own GPS built-in and way longer battery life. Fitbit has some catching up to do. They are living on their brand right now.

Yeah, I've tried 3 different Fitbit trackers and returned them all. Might consider the Blaze but waiting til I switch to android next month. The Samsung Gear Fit 2 looks like a worthy Band 2 replacement, same asthetic, and cheaper than the Blaze.

Question, since I just got a Garmin Vivoactive HR, why are you thinking about Fitbit over Garmin?

"MICROSOFT IS ABANDONING WINDOWS 10 MOBILE" why would a company that has closely partnered with Microsoft to build GATT support continue to improve and maintain an app for their products on a platform that's "dying"? It's just not logical.

What's it like to be the last guy shuffling deck chairs on the Titanic?

this isn't the titanic so nice try

True, the Titanic did actually work properly for a short time.

actually pretty awesome! Have the whole boat to myself, which means no annoying neighbors like you :)

Their app works on ANY Windows 10 device. I have used it to update and monitor my account on my Surface. There is more than just Mobile and it works quite well without it.

GATT is only for mobile devices

Wrong. GATT works on desktop and mobile exactly the same with the Creator Update.

Cool, we're talking about W10M though and it's lack of functioning GATT support.

Not according the podcast. It's a back end server issue on Microsoft's side.

Which podcast? I didn't hear that one.

I'm not 100% on this but I think it's this one. They kind of rambled on at one point and Daniel made a comment about Fitbit waiting on MS. http://m.windowscentral.com/windows-central-podcast-43?_ga=1.10583860.14...

I agree. I dont think its dead. Or dying. I do think its being slowly phased out for windows 10 on arm as mobile :).

Well I got a few notifications on my charge2 the end of March and then when I downloaded the newest update it crapped out the Bluetooth again and im trying to figure out how to revert or download something to get it back. I've switched to slow from fast but nothings happened yet. SIGH

Don't worry, Coming Soon™

"The huger part of it" not sure if it's technically a real word now but nice use nonetheless!

Aha so Fitbit steps up to fill the space that MyFitnessPal left behind with the whole community thing. Had to happen, good news, lots of opportunity for quality apps to succeed on W10M. Who knows maybe one day it might pay off. Big potential when you start with small shares apparently.

I'm sure it's only a matter of time before they discontinue support for Windows Phone.

And yet, still no notifications support. FAIL LOL

That fail is on you for failing to realize it's not Fitbit's fault. It's a Windows 10 issue.

No, if Microsoft doesn't support GATT, Fitbit can write their OWN CUSTOM BLUETOOTH STACK. Like Vector. Like Garmin. Fail, fail fail.

I must have something really broken on this end ... I did a hard reset on my 950XL two weeks ago, and the FitBit app won't re-install (Windows Insider Fast Ring). Just tried installing it on my laptop, and it won't install there either (not subscribed to Windows Insider). My Charge is starting to feel lonely :-(

Fitbit Surge - experience with it? Please share....My band2 while still working...the strap will not last....even with the sexy duct tape...

I'd love to see my Alcatel Idol 4s supported! Please!!!

I think Microsoft may consider buying Fitbit, which has good reputations for its wearables. People know Fitbit but not Microsoft Band.. sad. Wearables and smartwatches are becoming quite popular. I see more and more people are giving up their traditional watches and have switched to wearables / smartwatches. In 3-5 years, the majority of "watches" would be wearables / smartwatches. Of course, there are still lots of people who never want to wear something on their wrist. The market for wearables/smartwatches is not as huge as smartphone, but still, very huge - about 20-30% (just my reasonable guess based on daily observation) of people in the world wear watches - that market is indeed huge enough.

Just today ordered a Fibit Charge 2 (after long debating that or the new Alta HR) since my Band 2 started ripping. Sent it in to Microsoft only to be told that in a few month's time, I'll supposedly get an email with what the next step will be (likely a refund check...for what amount, who knows). Looks like I'll need to pray every night that Microsoft makes everything available to the Fitbit team for notifications to work, as that is the major reason why I loved my Band 2.

Get that Band 2 returned before the 1 year warranty runs out & thy'll give you a full refund via check or store credit.

Did return it over a month ago (still under warranty), but have yet to hear back. But they have not told me if and when I'm getting a refund check nor for how much.

I sent my Band 2 in, took them about 2-3 months to tell me they did not have any more replacements. They gave me $175 refund check. Bought a Garmin Vivoactive HR for $170, so I'm good to go now.

Thanks for the comment, makes me feel a little bit better about how long they're taking with me. Is $175 what you paid for it? Or do you think that was sort of randomly determined?

I paid $200 for mine when it was on sale. They did warn me before I sent it in that if they had to go the refund route that the amount would be based on the current market price for the condition the band was in. So a little bit randomly determined. Overall though, I was shocked to get $175 on it. Mine even had a split running through the band and the screen scratched up a little.

Interesting. Would be nice if I got a similar amount, but who knows now that the Band is not even on sale. I took pretty good care of mine, so that's why I was surprised that out of nowhere, a tear started to appear. We'll see I guess, thanks again.

This is a very interesting topic for me, hope I'll try it

Will this also support and include Vector watches? Nowadays own by Fitbit.

Not seeing this update on the HP Elite X3 on Insider Release Preview... anyone else have this issue?