Seeing a Command Prompt box flash quickly on Windows 10? It's because of Office, and here's the fix.
Do you see a Command Prompt box flash quickly on Windows 10? It's Office 365 fault. There is a fix coming, but here's what you can do now.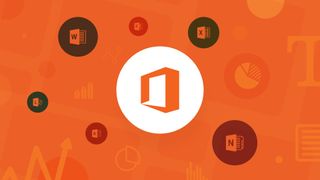 If you recently started noticing a Command Prompt box flashing quickly every hour on your Windows 10 computer, you should know that it's not a virus or malware trying to steal your information. It's actually a bug with Microsoft Office 365.
The anomaly is caused by two tasks, including OfficeBackgroundTaskHandlerRegistration and OfficeBackgroundTaskHandlerLogon that Office 365 automatically configures with the Task Scheduler on Task Scheduler Library > Microsoft > Office. And every time they run, they cause a window to appear quickly in the screen every hour, and every time you sign in to Windows 10. However, this is not an issue affecting everyone; it only seems to be happening for those users who are enrolled in the Fast ring of the Office Insider Program.
There is a workaround floating around the internet, but the fact is that Microsoft is aware of the bug (opens in new tab), and it has already fixed the problem. However, the fix is included starting with build 16.0.8201.2025, which currently is only available for those who are participating in the Slow ring of the Office Insider Program.
How to stop the Command Prompt box flashing quickly
The update will eventually roll out to everyone, but if this Command Prompt box flashing quickly on the screen every hour keeps bothering you, it's possible to temporarily enroll your installation of Office 365 to the Slow ring using the following steps to address the issue:
Open an Office 2016 application.
Click on File.
Click on Account
Click the Office Insider tile.
Click on Join Office Insider.
Check the Sign me up for early access to new releases of Office option.
Select the Insider Slow level.
Click OK to complete the enrollment.
Once you completed the steps, check for update and your Office 365 installation should now install the latest version available in the Slow ring, which includes the fix.
More Windows 10 resources
For more help articles, coverage, and answers to common questions about Windows 10 visit the following resources:
Windows 10 help, tips, and tricks
Mauro Huculak is technical writer for WindowsCentral.com. His primary focus is to write comprehensive how-tos to help users get the most out of Windows 10 and its many related technologies. He has an IT background with professional certifications from Microsoft, Cisco, and CompTIA, and he's a recognized member of the Microsoft MVP community.
I always got kicked out of full screen whenever it popped up. Good to know I'm not the only one having this issue :)

Ahhhh i thought i was seeing things every time that appeared. I would normally be watching Netflix when something kept appearing/disappearing. Only thing i would say is that you sure it's related to office insider? Mine is on the standard production ring.

Mine is on production too and I saw it, but reportedly Slow fixes it. Fast did not, which is weird. Then again, I also didn't reboot so that may be a part of it.

fast will nolt fix itr, which isnt weird. Especially fast builds are causing the problem, and apparently production builds as well. Builds on fast are not the same as on slow or production.

I just noticed it last night, myself, and I'm also on the standard production ring. I do have Office 365 installed, though.

I am experiencing this for last few days, but not in any Insider Rings! I am in latest creators update on production.

I believe this is affecting anyone using office 365 apps on the "production" release (not the office insider ring). The fix is to join the insiders "Slow" ring and allow the update to get applied.

I'm experiencing it on a device with office 2000 installed on latest creator's update. No other versions of Office were installed since a clean install of Win10.

Interesting that this update didn't go live to the Fast ring. Switching rings did the trick tho. If only it worked the same way for Windows builds on PC :')

Gah! That's been driving me crazy! I don't have any Office 365 programs though, unless OneNote 2016 counts? I've also noticed it today on my old Windows 7 box... That only has Office 2010, but does have OneNote 2016 as well

OneNote absolutely most certainly does count and thanl goodness for that! Onenote is AMAZING! It doesn't meet compliances such as pci, hippa, etc but I don't care. The functionality is so on point and my workflow has increased and benefited in so many ways since utilizing it as my notebook for essentially everything. Not that I want your install to be included with those with the bug, but ya just to answer your question. Hopefuly the patch will come to all in production instead of having to go to the slow ring sonner rather than later, especially with articles like this out

I recently switched to the Fast Ring and thought I was going crazy. I never saw the command window flash directly, but a few times while I was away from my desk I could swear I saw it. It wasn't until I decided to do a screen capture on Sunday that I noticed it. Thanks for posting the fix.

Production ring here also.several machines with 365 installed.luckily it does not kick me out of full screen ☺

Thank you! I was actually getting a bit worried that it may be some weird malicious software...

Me too, I was worried my machines had all been infected by some malware, phew!!

On my Lumia 950 XL Office apps don't work.

I have been noticing this for a few days now and it has been driving me nuts trying to figure it out. The thing is that I am NOT on the Office Insider Program nor do I have Office 365 installed, I have Office 2016 retail version.

My sister installed Office365 suite for free from her homeschool program and its causing the command prompt thing too but she's not on any insider program. Hope we get the fix soon too

I'm seeing this prompt but not a part of the office insider ring. However the machine is on the release preview ring for windows 10

Good to know... Lol.. I did think I got infected especially with the recent news with the wanna crypto ware..

lol same here... Yesterday I decided to do a full system scan just to check, with nothing returned. Actually, during one of the popups, I managed to catch a glimpse of something with Office, but I thought it might have been used to mask something malicious. Good to know it wasn't.

I'm not on any preview ring nor is my office a 365 version and yet I was seeing this, but it seems to have stopped now

Law of attraction...i googled for a fix an hour ago :) gj guys and gals

Pensé que era el único, hasta que en el portatil de un amigo también vi aparecer esas ventanas. Es raro, porque estoy en el anillo de producción de Office y de Creators Update

Holy frijoles! It's muy loco!!

I got this box when I connect my laptop with internet. I don't even join insider program for office, but still got it. How to fix?

Have this too, but i'm not an Office Insider.

It must be something else because this was happening to me at work (Office 2007 on Win7)...

It's the Office task scheduler... look in your Task Scheduler, under Microsoft, under Office. You should see "OfficeBackgroundTaskHandlerRegistration" set to run every hour. I only have Office 2010 on my W10 and W7 boxes, but I DO have OneNote 2016 on both machines. The updater points to an Office16 folder. I can't seem to find the file it's referring to, but I guess it's popping up whether it's there or not

Ah, that would explain it...I believe I do have OneNote 2016 installed on that desktop.

I can't post how I solved this because the commenting system keeps flagging it as spam containing references to money or has links, which it doesn't.

I'm on Win10 Pro x64, only Office 2007 installed and got the flashes a few days ago and resolved it a couple days ago. I eventually timed the flashes down to every hour at 29 minutes and 25 seconds. Also, the orange icon with the white up arrow for the Microsoft Office Uploader or Upload Center (something like that) appeared in my tray at the same time these flashes started occuring. Figured they were connected incidents, so I resolved it by doing the following (may not be perfect recollection since it was a couple days ago):
Right-clicked on orange Office icon in the tray, opened Settings, and I think there was a checkbox in there to turn off or disable it from the tray. I think I rebooted and the flashs haven't happened since. I don't have Office 365, just 2007, but I did download & tinker with the new OneNote online version several months ago for a couple hours. It's still on the computer, but never used. When I installed that, it also installed that Office Uploader thing, but I disabled them months ago. MS must have pushed some update that reactivated something in there.

LMFAO OMFG TYYYYY THIS PARTICULAR PROBLEM IS CAUSED BY MANY DIFFERENT THINGS AND HAS BEEN AN ANNOYANCE FOR YEARS. GOOD TO KNOW THAT THIS IS PROBABLY THE REASON MY COMP HAS RECENTLY STARTED DOING THIS. IVE BEEN SEARCHING FOR LIKE A WEEK FOR A PERMANENT FIX. SO THANKFUL THIS IS BEING ADDRESSED THIS WEEK AND NOT SOME OLD POSTS FROM EARLY 2000'S WHEN THERE WAS ONLY TEMPORARY FIXES. KUDOS.

I'm not an Office insider and this is still happening to me. I really hope it is Office and not a virus xD

I am experiencing it on the release version of Creators Update (15063). I have Office 365 but I am not enrolled in Office insider. I am not going to put a primary computer on any ring of any insider program so I await a general fix to ship.
Windows Central Newsletter
Thank you for signing up to Windows Central. You will receive a verification email shortly.
There was a problem. Please refresh the page and try again.