From the Forums: the new Outlook.com and migrating your ID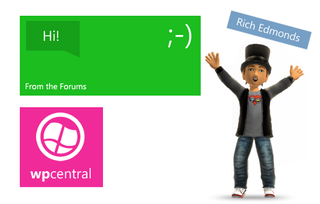 Yesterday was a fairly huge day in the world of Microsoft news with the unveiling of Outlook.com, the successor of Hotmail. But what's so great about the new service and how does it affect Windows Phone users, if at all? The Windows Phone Central community forums have been bustling with discussions, with a thread covering today's announcement.
One of the pressing questions about the new Outlook is if you change your email address (from @hotmail.com for example) to the new Outlook email domain would you lose all your Windows Phone apps and have to re-purchase under the new email address. mtmjr90 created the thread "Update to outlook.com and keep purchased apps" asking exactly just this.
Luckily, we've answered this concern with a positive article detailing how Microsoft propagates all content from the previous account to the newly created one. That's the good news, but as with any good news, there's bound to be some negativity. While you'll keep all your stuff, you'll be required to hard rest the Windows Phone.
What's missing in Windows Phone 8?
We covered the leaked Windows Phone 8 SDK and found some interesting pieces which were worth looking at. Unfortunately, we don't believe all was revealed so we expect (or rather - hope for) more surprises closer release. gusto has created a thread asking the question, "what's missing from the SDK?".
We agree that there are some features that are missing or weren't present in the SDK but we're interested to know what you want to see in Apollo, which hasn't been confirmed or mentioned yet. There have been a number of entries in the "WP8 (SDK,Dev.Conf.) what's missing??" thread, but we'd like your input to the discussion.
Miscellaneous: AT&T enraging Windows Phone owners
Tango, everyone loves to Tango. But what happens should you not be able to Tango? We should ask AT&T, T-Mobile and Sprint that very question. Billed as Windows Phone's "premier partner" it's surprising to see that customers haven't received the Tango update yet. Even Verizon has begun rolling it out for the HTC Trophy. This is the anger inteller has vented on the forums, with many agreeing with his points.
Are you on AT&T and have some concerns you'd like to voice with others? Be sure to head on over to the "Tango...aka royal screw job by the 'Premier Windows Phone carrier'" thread for more details and a centralised location for all the ranting! More customer pressure on carriers normally gets them moving slowly, but surely.
Rich Edmonds is Senior Editor of PC hardware at Windows Central, covering everything related to PC components and NAS. He's been involved in technology for more than a decade and knows a thing or two about the magic inside a PC chassis. You can follow him over on Twitter at @RichEdmonds.
That's good to hear. I was going to switch from hotmail to outlook.com today but was wary with the whole debacle on the forums yesterday. Okay, so I'll have to reset my phone. No biggie.

But you have to reinstall all your apps after hard-reset? Bit of pain isn't it?

Not really, you can reinstall from the web. If you go to the my phone page from there you pick and choose which apps to reinstall to your phone. I had to do this after picking up my new L900 when my focus died. The only issue I ran into was how after reinstalling the app on anything other than page 1 of multiple pages it returns you to page 1 rather than the page you were on. Should be an easy fix for MS to correct this.

Well using the Reinstaller app would be easier.... It's more of a pain to lose all your data associated with each app. I need to reset my phone due to an IE bug (can't use tabs) but I can't face losing everything :(

I reset my phone and everything was good. For those who play gun bros and the such, no worries, I just reopened the app and I don't have to restart the game.

But you had to reinstall all your apps after hard-reset?

There is an app called reinstalled. It will help you redownload your apps. I used it when I switched from my focus to my titan.

It's more about the lost app data...

I made my alias and will rename my account once I purchase a WP8 device. Wondering which carrier I should dump Sprint for...

Verizon, their day is coming.

I'm probably gonna change my Microsoft account to outlook once windows 8 and WP8 are all fully out and I have my new devices.
As for the tango thing, I'm glad vzw rolled out the update. Shows that Verizon will be the future premier carrier of WP

I have an @live.com domain, what's the point of changing it to outlook?

I asked myself the same thing. Change it for what?!

Just to have @outlook.com I'll keep my live domain

There is no point, except maybe if you don't like your current email. You can add an @outlook as an alias to your current live account and don't need to worry about migrating anything, but still have reserved the email address.

Not much actually unless you were the early ones that snatched a good name.
old @live.com users can keep their 25GB skydrive too.


I like my @live.com domain

Still not changing my hotmail. Every site I go to use it. My Xbox, Zune, wp7 use it. Also, on tmobile and no update for my hd7 either. Carrier shouldn't have any control over OS updates. They obviously don't care. Lets see how employees of these companies like when they can't get the same updates for weeks on end.

Wait, I'm confused. I'm with T-Mobile, Lumia 710 and I have Tango 8773

Was it released with Tango, instead of being updated?

No because I have the latest update on my TMobile 710 and did it through Zune. If the update hasn't shown up follow the force update instructions.

My daughter has the 710 on tmo, she received two updates early last week (Tango)

Did any of you get the outlook app

What Outlook app? There is no Outlook app and you dont need one, well there seems to be an old hotmail app for Android that you can use, but who use Android anyways? ;)

I registered my account jwmoore2@outlook.com to reserve it. I then sent a few test messages and had a friend help with a couple of test messages. Later in the day I noticed the last tile on my Start Screen is Outlook

Can anyone answer why I don't have the option to rename my ID to an Outlook.com prefix? I only have the option of hotmail.co.uk or live.co UK? My account clearly states re-naming a Microsoft account with an @outlook.com address is not allowed. Any ideas, please?

Hey guys... if your phone is interop unlocked and rooted , you can actually change you migrate your account to outlook and then use an app named idswitch(you get it from bazaar) to switch your account.

I transfered all my purchased apps and xbox live information from my gmail account to my new outlook account using an xbox and then used idswitch to make the change in my phone. =)

... My contacts didn't transfer though, I had to add them again. I'm guessing that if you change your hotmail account to @outlook your contacts will do transfer.

Anybody come across the problem of not being able to sync all the emails in one contact?
ie: I have multiple emails for 1 contact in google and only 1 email syncs to outlook. Update: Syncs fine with Windows Phone (linked to same outlook ID) , but still no luck with outlook.com on web.

Simply put Microsoft should extend the 25GB customer loyalty offering to those who want to migrate from their hotmail and live domains to outlook.com...

Why? It's easy to switch and keep your 25GB

Update the Outlook app is in my app list it has options to add accounts flagged folder unread all search synch select

So I set up an alias for outlook and now I decided to go ahead and rename my account. How do I delete my alias? I can't find where it allows me to do that. I see close account but it asks if im sure I want to delete my @live.com account . Am I supposed to close that account or am I missing something?
Windows Central Newsletter
Thank you for signing up to Windows Central. You will receive a verification email shortly.
There was a problem. Please refresh the page and try again.